We are happy to announce that a new 4front meetup #12 for frontend developers will be held on May, 17 at 19.00 (UTC+3) in the IMAGURU business club (Fabritsiusa Str., 4 Minsk, Belarus).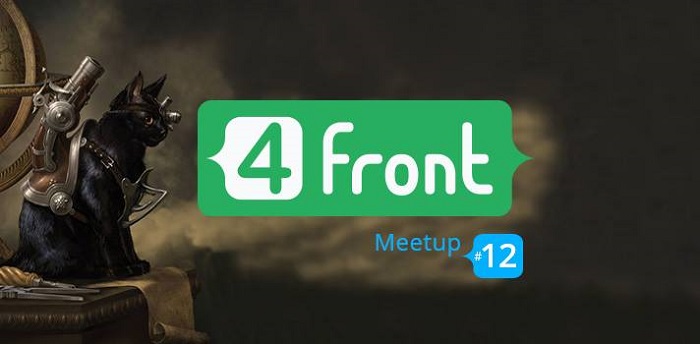 4front #12 will gather the best speakers from Belarus and Canada. They will tell about functional programming, sockets and the alternatives. Also, you will find out how to get your project ready for summer vacation and how to accelerate your app to supersonic velocity.
As usual, there will be relaxing friendly atmosphere with coffee and cakes.
Meetup program:
1) Sockets, P2P, and The Alternatives. How to Sync All Apps in an Ecosystem
Egor Malkevich (frontend developer, new technologies lover)
Some inspiring intro

The age before sockets

Sockets, protocols

WebRTC

Why is it so difficult?

Alternatives

Tricks
2) Is Your Project Ready For Summer Vacations?
Irina Levina and Elizabeth Selivanova (frontend developer at  LeverX and frontend developer at HiQo Solutions)
Intro to greed

"Getting skinnier" in HTML

"Getting organised" in CSS

"Getting modest" in JS

Little tips on keeping in shape

Resume
3) Functional Programming Tools With Little To No Religion
Pavel Klimenkov from Canda (expert in functional programming)
Immutability of thoughts

Purity in actions

Body of Curry

Revelation of functor

Grace of monad
4) AMP Or How To Accelerate Your App To Supersonic Velocity
Vladimir Dashukevich (web developer at XB Software)
Facebook Instant Articles or Apple News

Why is the app running slow?

How to write an app without

JavaScript

Do you need AMP?
Free entrance, as always.  The number of seats is limited.
You can register for the event here or with a help of Telegram bot.
You are also welcome to participate as a speaker in the forthcoming 4front meetups that we held on a regular basis.
Subscribe to our facebook group to be always up to date about the upcoming frontend events.