XB Software invites you to the next 4front meetup that will be held in the Imaguru business club (Fabritsiusa, 4 Minsk) on November, 21 2014 at 19.00 local time. 4Front meetup is an educational event arranged by web-developers for web-developers.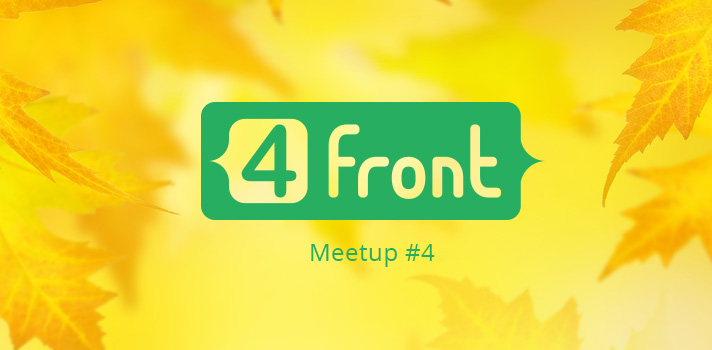 Traditionally, we invite 4  experienced web developers who have something to share with the audience. This time there will be 3 speakers from XB Software (the organizer of this event) as well as an invited speaker from Yandex, Moscow.
All presentations will be held in Russian.
Here is the full list of topics that will be discussed at the meetup:
1. "Creating a Browser-Based Presentation In 10 Minutes – Myth or Reality"
Andrey Kozyakov ( XB Software web developer)
How it all began…
impress.js as a fast problem solution
The basics of library work
Where to start and how to become a guru of impress.js
Advantages and disadvantages
2. "Managed Animation"
Ilya Basyuk (XB Software web developer)
Different ways to create an animation
Css animation, requestAnimationFrame, SVG Smil animation
Problems with creating an animation
Lots of demos
3. "Automating the Process Of Continuous Front-end Build"  
Sergey Sergeev (Yandex web developer)
Expertise in build automation for a big project by distributed team.
Building infrastructure and evolution of tools
Methods to work with version control system to secure fast release cycle
4. "Speed Up Loading of Web App by 40% in 5 Minutes"
Vladimir Dashukevich (XB Software web developer)
HTTP/1.1 or how it all began
How you shouldn't load statics to the client Как не нужно грузить статику на клиент
SPDY. Promising Future from Google
HTTP/2 or how it's going to continue
You are welcome to come to 4Front meetup and have a nice time with us. As always, we will award prizes to those who ask the best questions!
You can follow 4front events by joining our group on Facebook.
Our meetups can be held in English too. So, if you'd like to take part as a speaker in the next event, just let us know. Watch this video from the previous meetup.