Over 175 satisfied clients. Over 150 experienced IT specialists. 70% retention rate. 154% average company growth. All these achievements are the merit of XB Software team.
One of our main intentions is to enrich the market with useful web products. We believe that great things start from small beginnings. XB Software's major assets are our customers, employees, and team leads. We understand that our continued success and steady growth depend on our clients' achievements.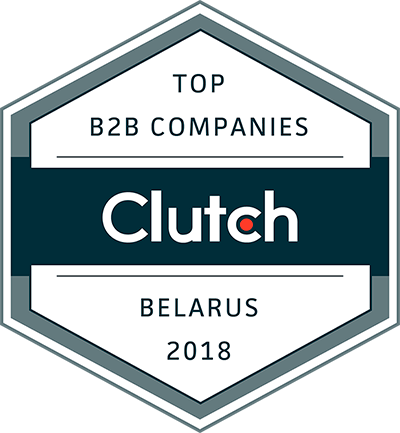 An independent research agency Clutch has declared XB Software as a Leading B2B Service Provider 2018 from Belarus.
Clutch's analysts have carefully reviewed B2B service providers and selected the best players in the market. As a result, businesses can easier reach the most dedicated specialists, teams, and companies that provide only high-end services in the industry.
It's an honor to be a part of the Clutch community. We're doing our best to provide our client with professional services and demonstrate our great competence and expertise in web app development year by year. In 2017 XB Software was recognized as a Top Developer from Belarus 2017. Clutch also recognized our expertise in QA and ranked us among top software testing firms:
Whether your business needs to create a high-end system or app from scratch, please contact us to get a consultation. Our qualified specialists will help you to find the best solution to your business issues. We can create both high-end comprehensive systems and modules expanding the functionality of the existing solution.
An independent research platform of in-depth client reviews, data-driven content, and vetted market leaders. The company is based in Washington, DC in the United States.
XB Software is a dedicated developer of custom enterprise and eLearning solutions. Also, we create our own web products. Since 2008,  the company has implemented over 175 projects for its customers from all over the world.