There came the fall, so it is time for 4front #10 meetup that, as usual, will take place in the IMAGURU business club on Fabritsiusa Str., 4 at 19:00 on October 7.
The speakers invited to this event have a diverse experience in web development that's why you can gain a lot of new knowledge in absolutely different areas: from startups to UI creation.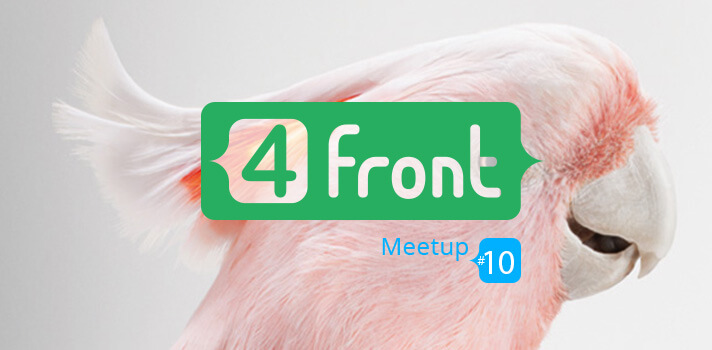 This time we have three speakers to share their knowledge. The earlier you come the more chances you won't miss the presentation of a true Java guru – Dmitry Kaygorodov.
On the Agenda:
1. "Kuoll — how to fix bugs, even without reproducing them"
Dmitry Kaygorodov (Java-developer with a 11-year experience)
What is Kuoll startup and why I turned to independent development
Kuoll is the tool to improve the quality of web products and the life of web developers
P.S. Sharing experience of fast start of product development
2. "XSS of attack and methods to fight against them"
Vladimir Dashukevich (XB Software front end developer)
What is XSS and how it looks
100 and 1 way to hack the site with the use of XSS
Tools to fight against XSS
Content Security Policy
How to find safety issues in a code
3. "How not reinvent the wheel, or secrets of  handy web intefrace creation in short"
Elena Belonozhko (business analyst of XB Software)
The principles of optimal use of web technologies (information on the basic principles of design)
Design templates (examples and anti-examples)
4front is an excellent occasion to get an instight into current IT trends, and also have a nice time in cozy and friendly atmosphere that is associated with each meetup, and therefore brings together so many people.
Hurry up to get registered for the free meetup because we have a limited number of seats!
To stay tuned and not to miss the next event, subscribe to 4Front meetup group on social networks:
Facebook https://www.facebook.com/groups/4front/
VKontakte http://vk.com/4front
Twitter https://twitter.com/4frontby
You are always welcome to speak out at 4front events, just let us know and will take care of your staying here in Minsk. Come and have a wonderful time!