XB Software is glad to invite everyone to a 44-hour hackathon for true geeks What The Hack 2.0. The event will take place in the business club IMAGURU (Fabritsiusa Str., 4 Minsk, Belarus) on March 27-29 2015. IMAGURU is a long-standing partner of our IT events.

Unlike many other hackathons that are held in Minsk now and then, What the Hack 2.0 doesn't aim at the creation of a startup or presenting a ready prototype of how to save the world. The main goal is to encourage self-fulfillment by the hackathon participants who will have only 44 hours to present their own project to the expert judges and the audience. We do not put any limits in the use of topics, technologies and implementation methods. That's why we invite any web developers, mobile developers and other developers of any level of knowledge, area of expertise, age, sex and opinion.
The winners will be awarded in the following nominations:
The best What the Hack 2015 (1st place)
The best What the Hack 2015 (2nd place)
The best What the Hack 2015 (3rd place)
The most spectacular hack
The most technological hack
The most tangled hack
The best female beauty-smart-hack
The most useless piece of code
Hacks that won the main prizes in the hackathon What The Hack last year can be found here.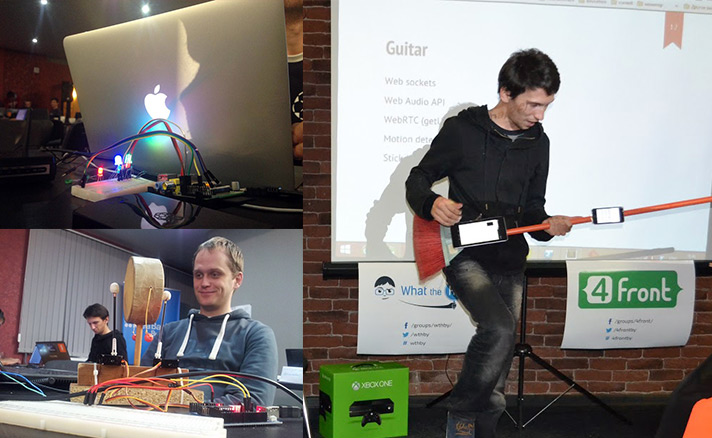 This year the hackathon will be judged by:
– Anastasia Khomenkova (Bel.biz)
– Dmitry Dudin (4front, html5.by)
– Mikhail Larchenko (Web not Bombs)
– Eugene Nevgen (Web Not Bombs: Design & UX)
– Maksim Kozhukh(4front)
– Nikita Velmaskin (uchetkin.by)
– Anna Selezneva (CreativePeople)
What The Hack 2.0 official partners – Yandex, GitHub и IMAGURU.
Register for What The Hack 2.0  and come to learn something new, get acquainted with interesting people and spend time with pleasure and benefit.
See what a great time we had last year and find out what geeky hacks presented by the participants of the previous What The Hack here.