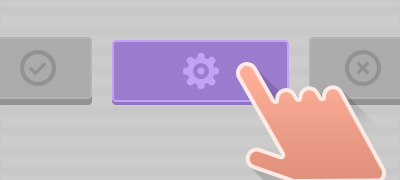 If you already have a prototype or design sketches that are used during project design, it is necessary to test their usability.
We check out whether there are any critical errors in prototype design and find out how easy it is to use by potential clients.
Our QA team will thoroughly evaluate your prorotype and make suggestions on its improvement. As a result, your product will become more user-friendly.
When required,we start with general design evaluation before a prototype is created. We check out project structure and category names to see how information is organized and how categories are defined.
As a rule, prototype usability is tested in several phases:
testing a rough prototype at the initial design stage
testing a prototype of average detalization (focus groups involved)
testing a detailed final prototype with approved design
A rough prototype is the skeleton of future project that's why we visually evaluate how information blocks and elements are arranged.
Prototype of average detalization includes functional elements and is filled with specific information, understandable for a user. It is already an operating prototype that misses design elements. An operating prototype is tested for markup correctness, navigation, interactive connections and imitation of target actions. A focus group is involved to test the prototype.
Prototype usability testing is a recurring process necessary to clarify how convenient and clear the created prototype is for users. We create a set of verification scenarios and a focus group is asked to try them out. When we collect and thoroughly describe information about user success, the prototype is amended in accordance with recommendations and then repeatedly tested. You'll find more details about testing with focus groups here.
In case any errors are detected in the prototype, it is improved and then tested again.
While testing a prototype, we compare it to similar designs and competitors' products, which may bring more useful improvements for your design.
It should be noted that detection of errors on this stage of testing is much cheaper than elimination of bugs on the development stage.