There is one more award in our collection! XB Software team is pleased to say that we were chosen as one of the Best Website Management Firms in May, 2017 according to BestWebFirms.com rating. It's a great honor for all of us to have been listed and recognized as a stable and reliable web development partner. Since 2008, XB Software has successfully realized over 150 projects for our clients worldwide, and we keep going forward. XB Software team will always do its best and even more.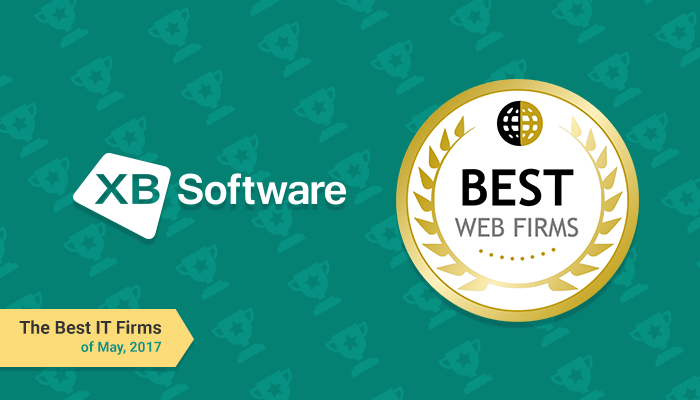 BestWebFirms.com selects The Top 10 Best Small Business Web Firms from over the world, every month. The companies listed in this rating have been chosen on the basis of data gathered, with a thorough review of each company's professional success. This estimate includes design quality, clientele use case research, on-line analysis, timeliness, responsiveness, and more, which are evaluated by independent industry insiders with deep knowledge of what it takes to run a successful web development business.
XB Software team cares about its customers' needs and requirements first of all and is capable to provide the best service.
If you are interested in working with us, check out our featured case studies.
About BestWebFirms.com:
BestWebFirms.com is headquartered in San Diego, California. The company's mission is to provide entrepreneurs with a resource for finding web service vendors that put the success of their clients first. The BestWebFirms.com staff is made up of individuals from worldwide who've labored in the online branding and net design & improvement.
About XB Software:
XB Software is a software development and quality assurance company that focuses on web app development, custom software product development services and software testing. Since 2008,  the company has implemented over 150 projects for its clients in the USA, UK, EU and other countries. XB Software has been a resident of the Belarus High Tech Park since 2014.