Even if you're not a big fan of blockchain technology, most probably, the emergence and rise of NFT haven't bypassed your attention. Over the past year, you didn't have to visit specialized tech websites to get bombarded with tons of news articles related to NFT. After first appearing in 2014, this tech has reached its peak popularity in 2021. According to Statista, the number of unique wallets involved in buying and selling NFTs almost reached 600,000 back then: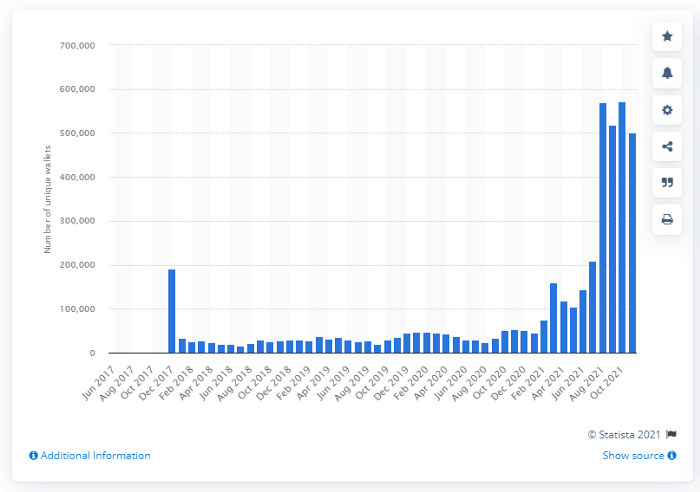 In the vast majority of cases, when somebody mentions NFT, the news is related to the digital art trade or gaming industry. However, with due attention to the software development process, NFT adoption can bring many benefits to companies from different domains. Today, we'll discuss the main specifics of this tech and look at how it can change your business for the better.
How Another Blockchain Incarnation Has Changed The Way We Trade Online
NFTs were invented five years after Bitcoin, another groundbreaking technology based on blockchain. NFT means Non Fungible Token and the core idea behind it is to provide a mechanism of ensuring the authenticity of an asset, be it a set of ones and zeros stored on your computer or a physical object. The very term "non fungible" means that it cannot be replaced or changed in any way. Since NFT relies on blockchain tech, the probability of stealing, duplicating or corrupting it remains pretty low. This feature helps to ensure that a piece of digital art you have bought, for example, wasn't stolen or replaced while you were away from your laptop. Thanks to blockchain, you can be assured that your NFT "Mona Lisa" was actually drawn by the hand of the artist and wasn't just copy-pasted from a random website.
Read Also Simple Guide to Building Your Own Cryptocurrency Exchange or What You Should Pay Attention To
Additional features that blockchain enables widens control over your assets. For example, NFT helps to determine all current and former owners and the purchase price. So, besides digital code that says "Yes, this asset is authentic!", you get access to the history of its wanderings from one owner to another. This feature can become a huge helper for copyright infringement, for example. If somebody will try to use your NFT art on their website without your permission, you will be able to confirm its origin in no time thanks to the blockchain.
However, when we talk about blockchain and NFT in particular, the area of application is much wider than helping artists to create unique works of art and sell them via their websites. This tech can be adopted by almost anybody who relies on groundbreaking solutions. Modern software development industry can adapt NFT to various scenarios to help businesses to deal with their challenges regarding marketing, supply chain, and many other aspects.
How to Use NFT to Improve Your Business
Marketing and Advertising
Besides selling digital art online, the next thing that comes to mind when we think about NFT is probably marketing. Let's be honest, we all want to have something unique in our collection. Taking possession of the first edition of Arthur Conan Doyle's "The Adventures of Sherlock Holmes" may be a little bit pricey, so NFT can become an excellent substitute to help satisfy this passion of ours. Especially if you can receive one of them as a part of the advertising campaign.
When you open a website of your favorite company and see a banner offering you a 3% discount that you can get by ordering some goods online is one thing. A bunch of NFT giveaways is a completely new level. Whether you decide to butter up your potential customers with some movie posters or items for online games, NFT can become a significant part of your brand development.
Loyalty Programs
Another important aspect of relationship development is loyalty programs. If a customer has to login on your website every time there's the need to receive bonuses guaranteed by the loyalty program, some problems may appear. For example, the password could be stolen. Everything can be changed if you provide your clients with NFT loyalty cards. Blockchain will take care of security issues, and people who rely on your products and services never have to struggle to remember a website password to prove they are who they are. Mobile wallets backed with the blockchain tech will help to prove the authenticity of an owner in a blink of an eye.
Supply Chain Management
Any company that has enough expertise in providing software development services knows how to automate your supply chain and improve your control over it. The NFT era brings some extra aces up their sleeves. The use of IoT devices in the supply chain no longer surprises anyone. If certain goods require special conditions of storage and delivery (temperature, humidity, etc.), their constant monitoring is a must.
The question is how you deliver the results of constant monitoring to the customer. Regular notifications or a dashboard available on your website can be a decent solution. However, In case of especially expensive deliveries, additional layers of security will not be superfluous. Data received from sensors installed in vehicles can be saved in the blockchain linked to the NFT that uniquely identifies the product and its owner.
Paper Certificates Replacement
Software development companies got a good hand in delivering advanced document management systems. Making business on paper may look classy, but the efficiency of such an approach leaves much to be desired. Besides all the inconveniences, paper documents are simple to fake. The level of destructiveness of the consequences depends on the nature of your business. Probably, it's not a big deal if someone fakes a paper coupon for a 10% discount on ice cream. A fake nuclear physics degree sounds more terrifying.
Seals and holograms help to solve the issue to some extent, which unfortunately doesn't give you 100% guarantee. Technologies such as blockchain can help businesses to overcome these challenges. For example, important documents you have to work with can be digitized and issued as an NFTs. This model has already been implemented in San Marino as a NFT vaccine passport.
Conclusions
Software development trends work in unpredictable ways. Inquisitive minds are constantly looking for new ways to implement seemingly familiar things. Some minor development technology appeared in the news article that you might not even notice can become the basis for a breakthrough startup in a year.
Blockchain that is most often mentioned in relation to cryptocurrencies has brought to life another exciting technology, NFT. Being the basis for an alternative approach to digital art trading, the NFT stirred up the media. Following the intention of constant evolution, NFT hasn't stopped there and found a new embodiment as an additional safety measure that could be used almost anywhere. In an era when everyone should think twice before opening a link to an unknown website received via email, additional digital security tools are more a necessity than a luxury. If you want to boost your business by adopting blockchain technology, feel free to contact us.