Each year, more and more news mentions blockchain technology and everything connected with it. NFT, cryptocurrency, Bitcoin (BTC), Ethereum (ETH), Dogecoin (DOGE) – nowadays, it is hard to find a person who didn't hear about at least one of these names. Some people mislead one concept with another, while others decide to implement them into their business strategies. It is important to understand what this technology is and what it can bring you, because there are many ways nowadays to make it environment-friendly, useful, and game-changing.
Many investors believe that Bitcoin was the first ever made cryptocurrency, founded in 2009 by a group of programmers or a person under the pseudonym Satoshi Nakamoto. However, according to Investopedia, there are reports that show that this concept has been with us from 1980-1990s, when people were trying to create different types of electronic cash and token currency. Considering how popular it is today, we have to understand that it won't go away in the near future.
Therefore, it is essential to consider its environment-friendly usage when you want to build cryptocurrency exchange platform, think through the pros and cons, and have an idea of which instruments you want to implement. Let's look at the details that you need to focus on in order to develop a crypto exchange platform that will respond to the customer demand.
Which Type of Cryptocurrency Exchange Platform to Choose
To understand which type of cryptocurrency trading platform to build, it is critical to know what these platforms are and why you may need them. So, what is a cryptocurrency exchange platform? This is online software that allows you to transfer cryptocurrencies, buy them, and sell. Both small as well as large investors are attracted by these platforms, which means that you shouldn't have problems with finding your target audience. Such a platform can be built as desktop software or a mobile app depending on your goals. Whether you want the fastest or the safest crypto exchange, to build a blockchain solution that will attract customers' attention, you need to consider the following types and decide which one will be included in your development plan:
Centralized Exchanges (CEX)
This is the most popular option in the crypto sphere. Centralized platforms use intermediaries, which means that it is controlled from the main server or by a third-party company. Thus, it offers the options of both fiat-to-crypto exchange and crypto-to-crypto trading. Such a solution has easy-to-use UI & UX, gives clients a quicker response, and you can add an unlimited number of features into it. High trade volumes and liquidity along with a great reputation is what these platforms offer. However, choosing this option will mean that you aren't the owner of the private keys, which is why you will need to think about security measures.
Decentralized Exchanges (DEX)
In the case of DEXes, no company is in charge of the assets. Buying or selling cryptocurrencies happens automatically and with the use of decentralized applications and smart contracts. Also, you should know that most of the decentralized solutions operate using Ethereum, which means that it might not be the best option for Bitcoin for example. Unlike CEX, DEX doesn't require to store user funds on trading accounts.
Read Also Smart Contracts: Industry Examples and Use Cases for Business
Hybrid Cryptocurrency Exchanges
To simply put, this is an option that combines two previous solutions. Thus, you can include both the advantages of DEX and CEX, such as fast transaction speed, secure assurance, and the ability to hold the private keys. This type is not as advanced, but it is rapidly gaining popularity.
Peer-to-Peer Exchanges (P2P)
This is a direct purchase or sale between platform users, and a good option for beginners, because it includes only these two functions of selling and buying. In this case, there are no intermediaries as well, and the software transfers cryptocurrency confidentially from the deposit of a seller to the buyers' wallet. Usually, this type of platform includes the escrow services that offer users more guarantees of getting payment. It means that the users obtain their funds only after the conditions of an agreement are met.
Instant Exchangers
An instant crypto exchanger has access to the best rates of trading pairs, which allows users to instantly exchange one cryptocurrency for another. With such an app, you can just register and receive funds or deposit directly to the wallet of another user. Usually, instant exchangers have the highest transaction speed and support large orders, but some users may find it complicated to use.
Pros

Cons

CEX

Easy-to-use UI/UX
Very fast matching speed
Fiat gateway available
High liquidity

Easier to hack
Money kept on the account offered by platform

DEX

Don't need to store funds on exchange accounts
Automatic process of selling/buying

May not support Bitcoin
Hard-to-use UI/UX
Slow matching speed
Low liquidity
No fiat gateway

Hybrid

Easy-to-use UI/UX
Don't need to store funds on exchange accounts
Fast matching speed
Fiat gateway available

Low liquidity

P2P

Suitable for beginners
Buyer doesn't pay fees for operations
Users are protected

Difficulty to dispute charges after transactions are made
Exchanges may take time
Low liquidity
No fiat gateway

Instant Exchanger

The highest transaction speed
Large orders are supported
Moderate liquidity

More complicated to use
No fiat gateway
What to Consider When Building a Cryptocurrency Exchange Platform
Of course, it is vital to define which cryptocurrency you want to use in your solution. But, it is not the only detail to reflect on. If you are wondering how to build cryptocurrency exchange platform and want to know which development processes to include, we can lead you in the right direction.
Ways to Develop a Crypto Exchange
This is the first point that you will need to bear in mind, because there are two ways that you can choose to follow. You can develop a crypto exchange platform from scratch by yourself or get a custom turnkey solution from a software development company.
The first option takes more time and resources, and you must have the required experience in the field to ensure that your project follows regulatory compliance. It is always a plus for the platform, because it increases user trust. Especially, if you choose to work with fiat money. Moreover, you need to ensure implementing various security measures, like two-factor authentication, cold wallets, as well as secure frameworks and libraries. You should also think about the manual administrator confirmation when large transactions are in process. The application of such policies as Know Your Customer (KYC) and Anti Money Laundering (AML) should be considered as well.
When you decide to get fully ready and functional custom software from the experts, you will be able to acquire what you need faster. Asking a skilled team of professionals will ensure that everything is done properly and that your blockchain development solution works as intended. It means that the cryptocurrency payments go through without issues, and clients don't worry about the safety of their investments.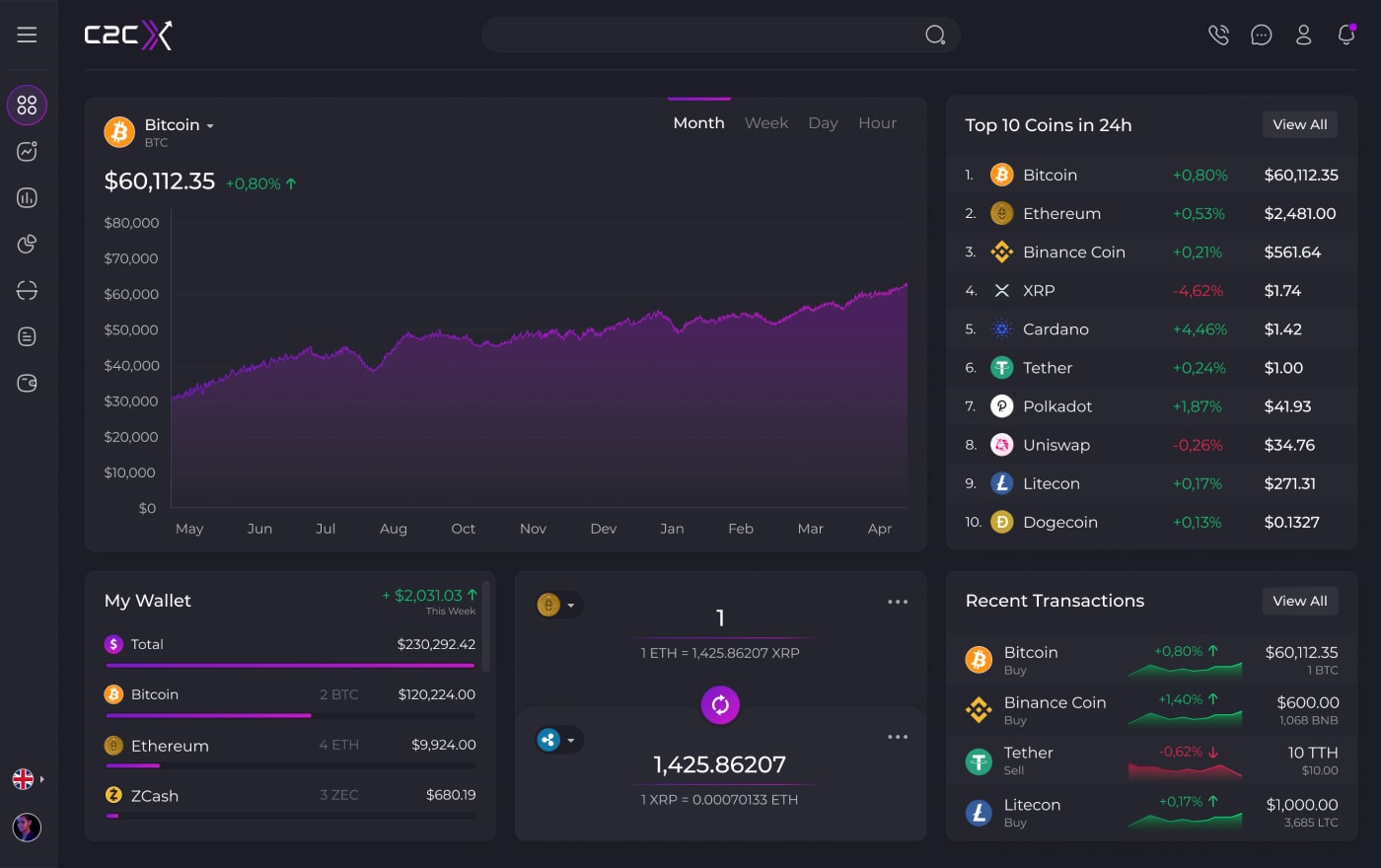 Source: Bitcoin Exchange Market Solution
Elements to Include
Users don't need a crypto trading platform without dashboards, transaction history, order book, charts, and other critical elements, therefore, it is important to think about adding them into your platform. If a customer gets the notifications and alerts about price changes, is able to integrate their bank cards, or get analytics of the required data in real-time, they will be pleased to use your application. The more user-friendly trading instruments you integrate, the better experience you will provide to your users.
Liquidity Provider
A liquidity provider is a market broker that is at both ends of currency transactions and behaves as a market maker. It means that such a provider sells as well as buys a particular asset at certain prices. Your task is to find a reliable one. The provider should have a large network of existing exchanges, there should be no questions about its legality, and you need to pay attention to its regulations, especially money laundering.
Creating Your Own Cryptocurrency
Depending on your goals, you can even consider implementing a subtask of creating your own cryptocurrency. And then include it into your software as one of the options for crypto exchange. In this case, you will need to understand that the right development team should be chosen for this task. The programming behind making your own cryptocurrency can be complex, because it is important to think through all the development details. Thus, you need to decide whether you want a new coin or a token, decide on the creation of the rules for smart contracts, and more. If you want a new coin, you will need to create a new blockchain. On the other hand, the creation of a token is relatively easier. You need to understand that this is an interesting idea that may draw attention, but it will take more of your resources.
Conclusions
Developing your own cryptocurrency trading platform is a difficult process that requires a lot of your time, resources, and efforts. You need to make sure that the users will have a user-friendly interface, 24/7 customer support, and security measures that will ensure the safety of their funds. That is why businesses usually ask outsourcing companies that have experience in the crypto exchange platform development and are able to follow your desires and goals. The development process can take from several months to a year or even more if you decide to do it yourself from a scratch. The field and technology is changing and growing each day, so you will need the help from professionals who can lead you through this competitive environment.
If you want to make a perfect software that will attract clients and make your business stand out among others, contact us, and we will help you to develop a cryptocurrency exchange platform or give you a consultation on how to improve your project.