Having a smooth management process and surpassing future fundraising endeavors is what every business aims for. That is why product managers are rooting for the creation of roadmaps both for a startup and established enterprise. Creating a product roadmap is a good way of knowing how the product will be developed and what plans a company has. It helps to keep an eye on the development process in general.
However, it is important to understand that a roadmap made for one business may not be suitable for another one, especially if these businesses are a startup and an enterprise. A product manager needs to know which details a roadmap should include, how it should look like, and what it is vital to focus on. Therefore, let's look at the general understanding of what a product roadmap is and how it can be helpful for your business.
What Is a Product Roadmap and What Are the Types?
A product roadmap is a plan of action that summaries long-term and short-term goals, priorities, product vision, possible risks, development process, and other information related to your product. This guide helps stakeholders to carry out the product strategy and achieve the intended results. It is used by many companies in different spheres, including software development, gaming industry, and more, because it explains, leads, and ensures that a team is going in the right direction. It is supposed to be easy to present to any audience, simple to update, and packed with visuals.
Ideally, a roadmap covers a product strategy and features, metrics, goals, technology stack, milestones and deadlines of each development stage, as well as the results that a team needs to get. A product manager is the specialist who creates this strategy. They have all the needed skills for this task and are able to communicate with clients and stakeholders, analyze the market and company competitors, estimate the required work, and keep track of the roadmap. They can use project management software for their tasks and follow various principles, approaches, and frameworks. For example, utilizing such a project management app as GanttPro is a wise decision for a product manager.
Read Also Product Managers vs Project Managers. Software Project's Success From Different Perspectives
There are several types of product roadmaps that can be created by a product manager. Thus, one of the options is to go for the portfolio roadmap. This is relevant when there are several projects that you need to lead. Such a roadmap showcases the planned releases, helps teams to see the activity of the projects, and provides a strategic overview of a proposal to advisory boards or CEO. If you need to show the new features that will be released for your project in the future, your choice will be the features roadmap. It facilitates the understanding of what should be done by the team and when. Your customers will also be aware of the further changes that may take place.
There are also goals roadmaps that include strategies, goals, and efforts that are required in order to meet the project's objectives. It is perfect for showing stakeholders how the milestones fit into the business plan. Another type is known as release roadmap, and it is used before you make the product available to the public. With its help, it is easier to coordinate the members of a team effectively and efficiently. Which of the options is the one you need depends on the state of your project, plans, and goals.
Benefits and Principles of Creating Product Roadmap
Creating a product roadmap gives plenty of advantages both for companies that have been in the industry for many years and those businesses that are only starting. Let's look at how a roadmap can help:
First of all, it provides better product management and makes overall coordination and company processes more efficient;
It helps internal and external stakeholders to understand how the team is able to contribute to the common cause;
Prioritization is another benefit that comes along with the roadmap, because it allows you to see the full picture and understand why a feature will be implemented at this or that stage of the development process;
In general, it gives a sense of purpose, expresses everyone's expectations for the product, and ensures that each member of the team is on one side;
Besides that, there are more chances that while having a roadmap a company will spend less resources on the project due to the avoidance of unexpected expenses.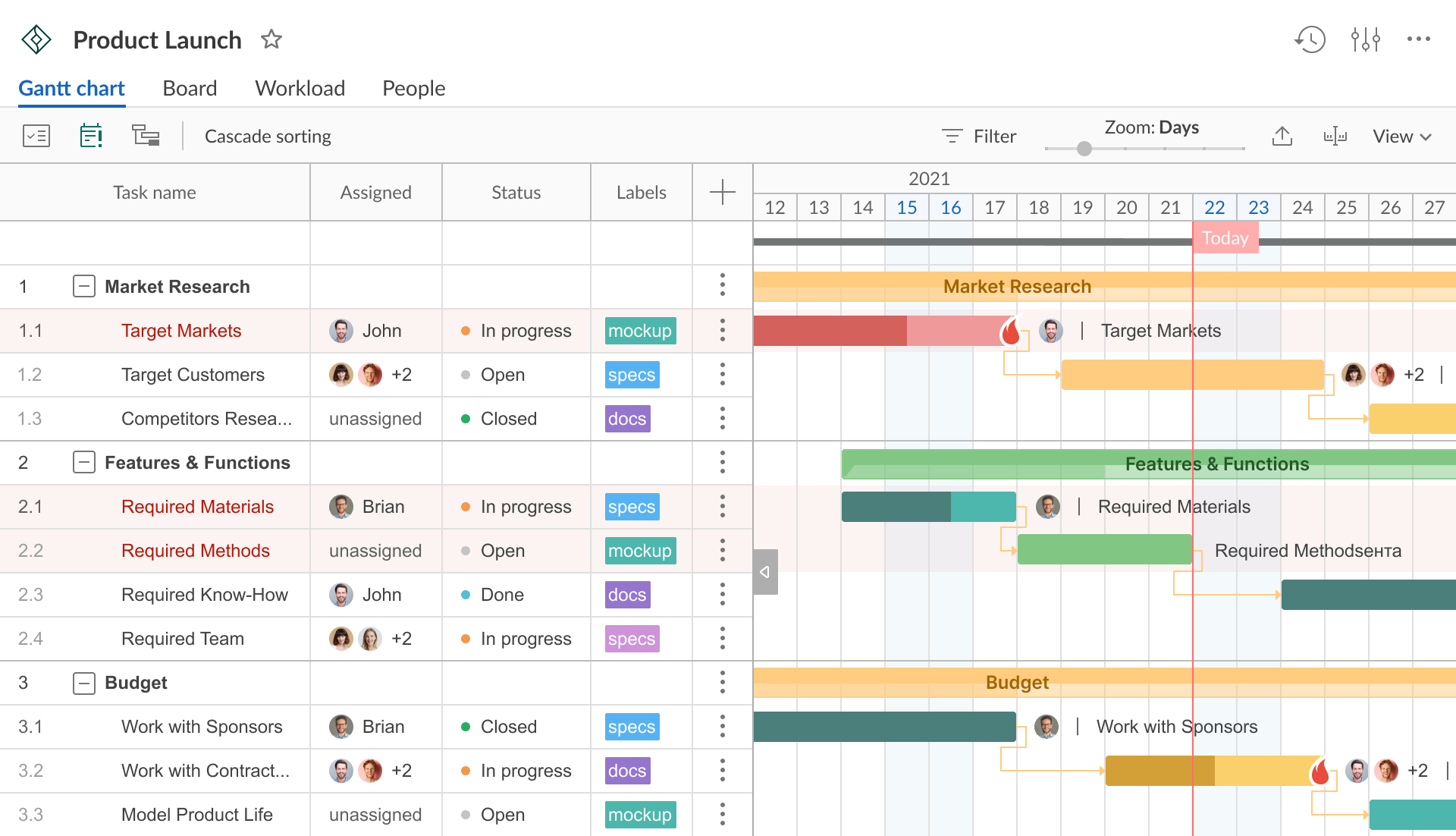 Source: GanttPro | Effective project management app
In order to obtain as many positive aspects as possible from creating a product roadmap, a product manager has to understand which approach to use and which frameworks and principles to follow. One of the best tips that we can recommend is to be flexible. Everything changes swiftly, and anything can happen, which is why it is essential to be ready for possible issues. It means that you have to pre-plan but be prepared for the modifications that may be needed in the process if the situation dictates.
The skill of a manager that helps them to recognize what should be excluded is equally important as the ability to know what to include. And a team needs to understand that if a product manager refuses to add someone's idea, it is not their whim, it means that it can be modified into something bigger. Being able to categorize features and updates into steps from the most vital ones to those that can be added later is also great, because it requires good analytical skills. All in all, the better a product manager understands why they are here and knows how to act, the better result your team will get.
Read Also SaaS Product Checklist Creation for Successful Launch
Different Product Roadmaps and Challenges of a First Roadmap
When talking about creating the product roadmap for startups or for enterprises, it is possible to see differences and similar points. Thus, the software development for startups and enterprise application software offer a wide choice of options, which can be used in both cases or have specific features for particular business only.
| | | |
| --- | --- | --- |
| | Startup | Enterprise |
| Timeframe | Short-term | Long-term |
| Content | More innovative ideas and info on development process | Balance between innovation and maintenance |
| Objectives | Promotion and drawing attention | Maintaining current clientele |
Timeframe
If looking at the differences, the first factor a product manager has to pay attention to is the timeframe of a roadmap. Usually, the timeframe for a startup is shorter than the one created for a larger company. It may not even have certain dates, because it mainly focuses on strategic initiatives. It is important for a startup to gain attention from its target audience as soon as possible, which is why there is no need to create a roadmap that will look like a calendar. While for the enterprises, on the contrary, it is better to make a product roadmap with certain dates and stages. Careful and slow coordination between teams is more suitable for such a company.
Content
Another distinguishing feature is the content of a roadmap. For a startup, it will be a set of new ideas, while a product manager working at a large enterprise will create a roadmap that contains both new goals and familiar strategies. A new business will obviously include the details about the development process, and an established company will technically have more information about updates and changes, because its product is already released. Balancing between innovation and maintenance will be one of the main principles for an enterprise.
Objectives
Setting opposed goals is what also differs a roadmap for a startup and the one for a company that has many years of experience. A startup needs to promote its project, so the marketing strategy will surely be implicated in a roadmap, while a business with an established clientele doesn't have that need. It is also better for a new company to release new features and updates more frequently in order to draw attention to its product. It is beneficial for a well-known business to gain new sponsors but maintaining the current ones is more important.
A startup should also be ready to face possible challenges that can occur on the way to success. A product manager should keep an eye on its team so that no one gets distracted. The original mission is a priority, and it is vital to show this to others. Your business can still be growing in numbers, so it is also essential to be ready to shift continuously because of the new ideas incoming. Besides that, it can be challenging to connect data to the roadmap. Gathering feedback and using metrics can help you greatly in this situation.
Conclusions
All in all, creating a product roadmap can be a struggle for a startup and can be a lot easier task for a large company. In any case, everyone should understand what they are doing, when, and why. When you have a smooth management process that runs like clockwork, it is possible to gain success faster. So, if you have any questions or want to get consultation from our experts, contact us, and we will be glad to help.