Smooth execution of every project from the very beginning to its completion is what every business wants to have, which is why the proper control of the project scope is required. In order to not be afraid that any assignment of your team may face scope creep, it is important to know and understand which changes affect the schedule and costs or even might compromise the fulfillment of your goals. To avoid this most widespread project management risk, ensure maximum efficiency of work, and keep every task on time, you shouldn't ignore making the project scope management plan.
The key goal of the process is to identify all phases, and deadlines to be able to manage the workflow easier and make the needed changes without issues. It includes various procedures that are supposed to be done. Therefore, in this article, we will look at the importance of creating a plan and lead you through all the steps that should be made in order to ensure the best outcome of your project.
Effectiveness of Project Scope Management
Prior to project scope management, it is better for you to dive into the scope definition in project management first. Simply put, this is the complete set of various features, requirements, and other details of a task. Having the project scope fully explained, you are able to manage the assignment much easier and make changes if required without having issues.
An effective plan can change the workflow of your team and the result of the work drastically. You won't fall behind the deadlines, there will be less changes required during the process, and you won't go over the discussed budget. With the right plan, it is easier and more efficient to meet the expectations of the stakeholders and clients. You will also be capable of controlling those possibilities that might alter the life cycle of your project as well as avoid well-known pitfalls.
Thus, the project scope statement should contain the timeframe, its objectives, those specialists that are responsible for the processes, and the conditions for the approval of each procedure. It is useful to have such a statement as a part of the essential documentation to protect your interests during any dispute with a contractor, client, or any other party. To create a successful plan, we recommend you to draw your attention to the following advice:
A successful project manager has to understand the task, and it can be achieved by identifying the objectives and customer's interests and needs, therefore, be sure that your manager is qualified for the job. A Business Analyst that will be helping in the process should know all the details as well;
Various team members shouldn't miss an opportunity to intensively collaborate with each other during the first stages. It is necessary in order to prevent further miscommunication and get better understanding between all participants. That is why all processes have to be identified as clearly as possible, because avoiding vagueness in the project scope really helps in averting stress and doing extra work;
Identifying the strengths and weaknesses of the team members will also help a lot;
Plan better engagement not only with the team members but with the client as well. Always discuss and check the scope of the project with them in order to know the results that are expected from your side;
Don't forget to use project management system software. A tool that suits your team and tasks and is able to manage your business information and workflow in a simple way can ensure that everyone knows what they are doing and why;
Identifying potential threats to your case is essential, which is why you can also practice risk management. Thus, you will be able to avoid possible mistakes during the project execution.
Read Also How a Risk Management Plan Can Stop the Overflow of Different Business Risks
After you are done with gathering information for the scope, don't forget to present it to your client. Utilize this chance to discuss the expected results and benchmarks. Also, share the details about the expected budget and timeline.
It doesn't matter which project management methodology is used, it will be wise to follow these tips. To help you understand where to start in the project scope management and be ready to heed these pieces of advice, let's look at the steps you need to make.
Steps Towards Thriving Project Scope Management
To ensure the effectiveness of the plan, it is recommended to go for these steps: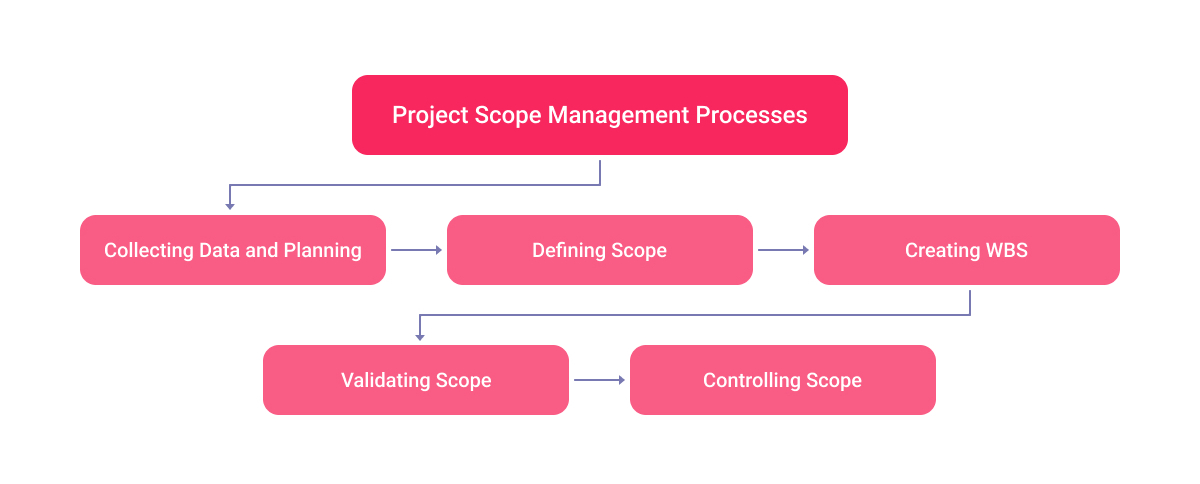 Step 1. Collecting Data and Planning
Of course, planning and collecting information is the first thing you should begin with. Preparing with great deliberation is essential if you want everything to go as planned. Therefore, you will need to start with creating a scope statement. This document should include detailed project scope, different requirements, client's expectations, and available budget. It is important to talk through what the stakeholders expect from the project, what your managers could offer, what is required, and which budget the company has for it. Schedule an online meeting if demanded and decide on how the task will be maintained, verified, and controlled.
Meet with your team and define those requirements that are not functional and those that can be fulfilled, determine the time that you need for the software project, and specify the objectives. Don't forget about the business goals and requirements as well as include the training or support requirements if applicable. Check your risk management plan if you need to in order to prevent the scope creep. Gathering all the necessary information will help you to move to further steps more efficiently.
Step 2. Defining Scope
At this stage, all collected data and documents you gathered should be aimed at work decomposition and a project estimate. After the requirements are verified and the additional documents are reviewed, your next step will be to define the scope of work for the entire project. It means that you have to consider all the functional conditions and create a complete description to show the product that you want to deliver.
The main task is to ensure that every participant knows what they are going to do. You need to:
Determine the phases and subphases of the work;
Make a schedule;
Allocate the processes and resources;
Establish a budget.
The detailed description should clearly state the achievable objectives of your project and those goals that cannot be accomplished.
Step 3. Creating WBS (Work Breakdown Structure)
After everything is decided and verified, your further task is to create a WBS. This is the phase when you will need assistance from the project management systems, because you will need to break down your assignment into more manageable pieces. These deliverables can be assigned and tracked a lot easier so that it will be possible to prognosticate required time and resources. Using the relevant software assists you in creating hierarchy of procedures and grants you more efficient planning.
All in all, break down your whole software project into the crucial tasks that should be performed in order to meet the requirements, define the sub-tasks for each phase, and discover how much work is already done or should be done. Include the budget for each stage and distribute them according to the schedule. If there are additional resources that have to be spent due to some of the procedures, list them as well.
Step 4. Validating Scope
When every part of your software project is defined and recorded, it is time to give the project scope to the executives and other stakeholders and let them validate it. You need to know under what conditions the deliverables will be acknowledged, so review your plan before submitting it and ensure that everything is documented correctly. Check the mentioned stages, if the specialists that will be responsible for clearing the tasks are ready and available for performing their duties, and look one final time at the schedule – ensure that everything is listed as intended.
If during the scope verification process, some new requirements and changes arise, you have to record them. With the project scope being approved and ready-to-use, you will be sure that if an issue occurs, it will be easy for you to find where exactly it turned to the wrong path.
Step 5. Controlling Scope
It is impossible to perform the tasks without monitoring them and ensuring that everything goes according to plan. This last stage includes not only the managing part but also the monitoring of the modifications that come up during the process and that should be listed in order to prevent scope creep and project termination. This is another time when some of the project management tools can give you a helping hand, and such an option as XBtrack customizable web-based online task and bug tracking system is a good choice.
Due to monitoring, you are able to control the schedule, manpower, resources, and budget to let the project stay within the defined project scope and doesn't have missed deadlines or overtime. Don't forget to notify your client about any change, if it was already made or not, and if the quality control took its place. When the change requests have been rejected, the reasons for this rejection must be provided as well. You need to understand that even if everything looks clear at the initial project stage, it doesn't mean that the scope control procedure should be neglected.
Conclusions
In order to be sure that the project is up and running swimmingly, give a try to the project scope management plan. You will see that this document can assist you massively in the process enabling you to deliver the product as proposed. It is for sure a good way to arrange all tasks in order and ensure clear communication, understanding, and that the goals will be met. Effective project scope management is perfect for avoiding challenges and inability to cope with unpredicted issues. It is an ideal way of controlling all mechanisms of the process, monitoring different factors that can affect them, and giving your client assurance that they need.
If you want to have an even easier solution that can help you in this case, you can contact us in order to get a free consultation on the subject you are interested in or to know if your need in getting software can be satisfied according to your requirements. We will be glad to help you and find a solution that will suit the goals you have in mind.