Constantly improving customer relationship management is the task that you cannot omit, because your target audience grows and changes with time. Developing your brand according to the preferences of your clients and attracting new ones is a guarantee of a successful business. It is vital to show your customers that you value them and aim at offering a better service than the one your competitors provide.
Your customer relationship management (CRM) software may also need some upgrades or should even be migrated in order to let your data be efficiently organized. If a CRM platform is not up-to-date or is not even fulfilling the basic needs, it is time to consider some other options. Luckily, there is a wide variety of custom CRM development services that can be given to a company in need. In today's article, we will look at the advantages of the CRM data migration process and pinpoint some tips that you should pay attention to minimize the possible risks and help your business to thrive.
What Is CRM Data Migration and What Are the Benefits?
First of all, it is important to define if you understand the process correctly. CRM data migration is the procedure of moving all client data, attachments, and other important information from one CRM system to another. This is a complex process that may require a lot of time and money. That is why, foremost, analyzing all the customer-related data collected throughout the years of work is essential. You need to be able to understand what bits of information you should update or reorganize and which parts must be kept unchanged.
The next preparation step is to look at the benefits of the procedure. Any change can be scary, especially when you need to perform an application modernization process. However, a change is not always a negative experience. If done the proper way, effective CRM data migration may significantly improve business operations, increase client satisfaction, enhance efficiency, strengthen security, and even lower company's costs. Let's take a closer look at some of the advantages that such a software migration procedure can bring.
Productivity increment
After the CRM software migration is done, the work of your team can be performed a lot more effectively and faster with the easier access provided. With the new or integrated features and possibilities, the members of the team can spend less time on switching between different platforms and more hours on customer service, sales, and marketing.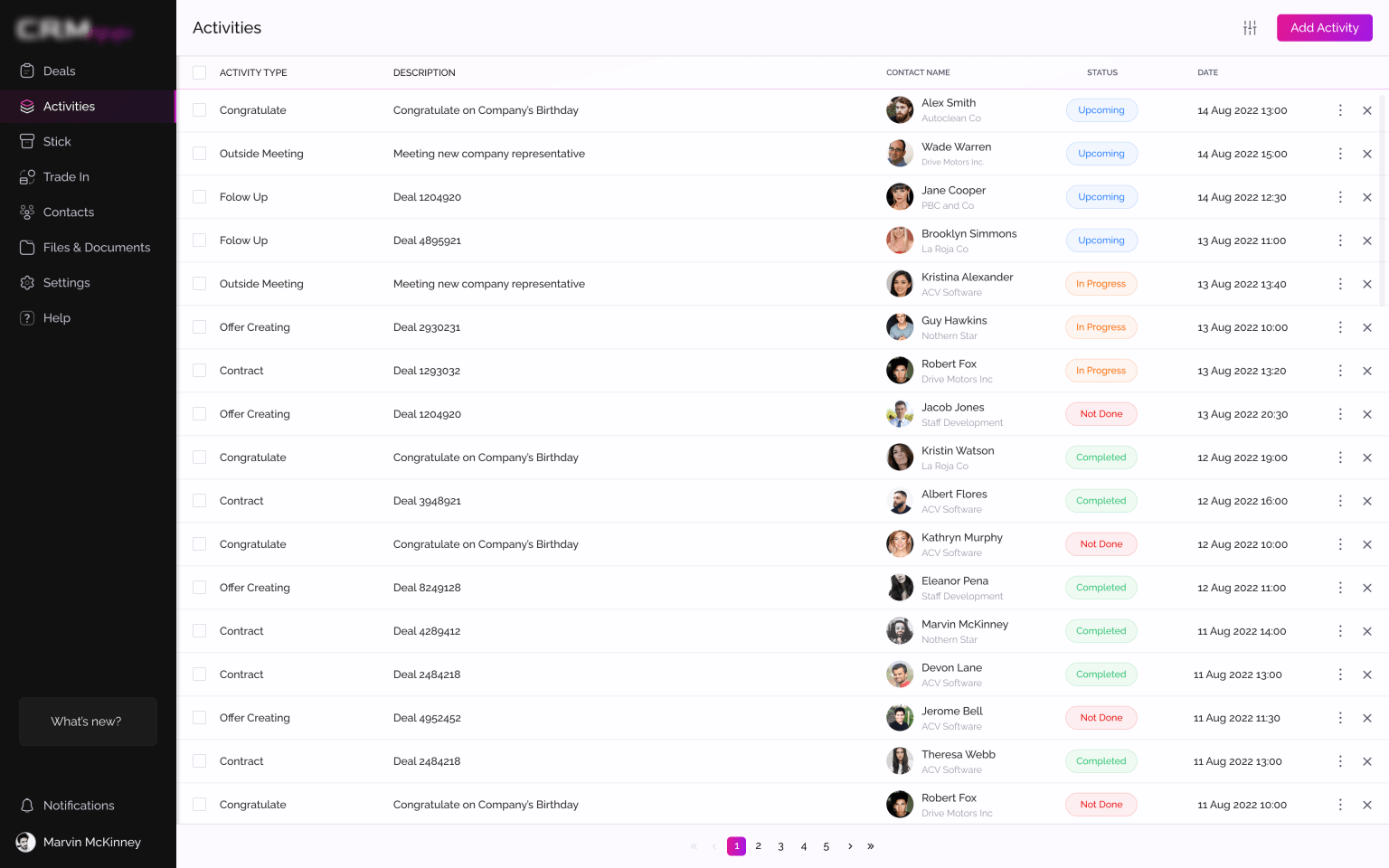 Source: Handy Custom CRM Software
Smother collaboration and precise insights
A better collaboration between stakeholders is what every team wishes for. Especially, when all the data and feedback requested or submitted by the employees and customers is easier to find and analyze. As a result, it positively affects the decision-making.
Higher-quality customer service
Using CRM software is already a good option for increasing customer satisfaction and retention. After integrating it, a more comprehensive view of each client becomes available. All emails, calls, phone numbers, and other relevant customer details are easily accessible, which gives your team an ability to deliver a positive and customized experience. With a migrated and upgraded system, you can open unseen horizons. For example, a CRM system can be integrated with ERP software that can greatly boost the performance of employees and make the overall working process more user-friendly.
Improved data security
The migration of CRM software can also enhance the security of data that is gathered and monitored by a system. It is possible to implement advanced features that give access to a wider range of security functions. Thus, you will be able to protect the data from any security breach by restricting certain types of users from sensitive and important parts of the system.
Read Also The Customer is The King. How CRM Systems Help Companies From Different Industries to Reach Their Potential
Reasons to Perform CRM Data Migration
There are many reasons why your business may need to migrate CRM software. Therefore, let's look at some of the most common ones:
You use outdated software solutions
Probably, the most common reason for CRM migration is the use of obsolete software solutions. New software developers appear in the market, programmers constantly create new technologies, and yesterday's best CRM solution can turn into legacy software tomorrow. Also, applying cutting-edge technologies and software development techniques or frameworks allows building a CRM system quicker and more efficiently. As a result, software developers can build more affordable solutions or shift to its new version.
Your business is a startup
A newly developed and rapidly growing business may bring prosperity but also require new investments. If your company enters new markets and you have to deal with brand new challenges, you have to make sure that your CRM system can increase its capacity and expand functionality. Otherwise, lack of scalability may become a serious reason to start planning the CRM migration process.
Misleading UI, UX, and data visualization
Clumsy and unintuitive UI and bad user experience can also be a solid reason for CRM migration. If it takes a significant amount of time to find specific info, the team's overall productivity will decrease, which can lead to low customer satisfaction. If you want to make sure that all your company's departments work as a well-coordinated mechanism, most probably you want to ensure unimpeded data flow. Thus, you may have a need to improve your current data visualization and make an advanced UX.
Read Also Misleading Data Visualization: This Is What You Should Avoid
Steps to Consider During CRM Migration
If you weighed the pros and cons of the CRM migration process and decided that the reasons are valid and the benefits will immensely help your business, it is time to create a plan with the steps that your team should undertake. It is difficult to create the one that is suitable for any situation, however, there are certain points that have to be mentioned in it. Thus, it is recommended to include the following in your CRM migration checklist:
Explore the Best Options of CRM Platforms
It is vital to define how you see the new version of your CRM system. Which features should be included, discarded, or implemented? Will it be user-friendly and efficient for your team to work with such a system? The suggestions offered by the target audience of the software have to be heard. Salesforce, Zoho CRM, Nutshell, etc. – all the possible variants that fit your criteria should be explored. According to the specifics of your business, your CRM may use a specific set of types of data, records, and fields. It's essential to ensure that you won't lose any information during the migration into the target CRM software due to the differences in data processing and presentation.
Prepare Your Team for the Changes
The communication with your team needs to be double-sided, which means that both you and your employees should listen to each other. Not only their suggestions matter, but your decision carries weight as well. It is important for everyone to have the ability to accept and adapt to the further changes. Also, allow stakeholders and CRM end-users to share their expectations regarding the functionality of the new CRM system.
Proceed with Data Analysis and Mapping
When migrating CRM data, don't forget to analyze and map it. This is one of the important steps in a CRM migration checklist. Determine what data should be moved and why and which data you can delete. After that, decide where the data will reside in your new CRM. Organize it into groups and ensure that it will be easily accessible for the specific users. Also, don't forget to back the data up if you are afraid of even the slightest chance that something will go wrong.
Run Some Tests
Along with the backups, testing is another crucial part of successful migration. To ensure that everything is going as intended, we recommend performing a couple of tests in order to see how the system will be affected by the changes. That's when you can also see if some information can get lost during the CRM migration process due to format incompatibility. Use different samples of data and run several trial migrations. Monitor all the errors that are occurring in the process and find out the reasons behind them. QA and software testing team can be of great help in this case.
Migrate CRM Data
If you have tested all the possible scenarios that can pop up during tests, it is time to perform the real migration. Now let the developers finish their job and migrate from legacy CRM into a new one. This is the most pleasing moment of the whole process, because seeing the 'Successfully Migrated' message on the screen proves that everything is done perfectly.
Read Also Moving Out: How Application Migration Should Be Executed and Where to Start?
Conclusions
When every step is noted and the team members complete their tasks in a responsible manner, there is nothing to be worried about. The amount of work required for successful migration may seem unbearable. However, if you have reliable specialists with solid expertise on your side, the whole process will go smoothly, and the results won't dissatisfy you.
If you want to learn more about CRM migration benefits and possible risks, please contact us.