XB Software got into another rating of software development companies capable to provide the best service to its customers. This time it was ranked as the TOP10 HTML5 app development agency by the Top App Creators, a comprehensive listing service from New York. It's a great pleasure for all of us to have been listed and acknowledged a qualified HTML5 application development agency for November 2016.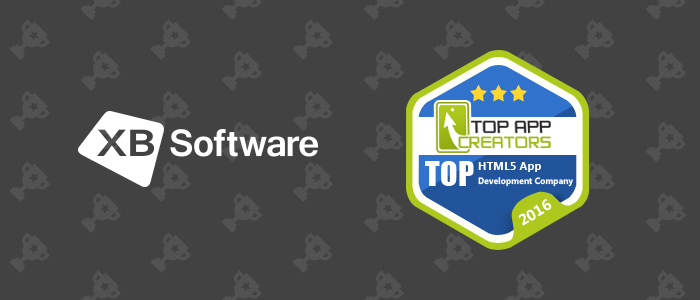 Top App Creators (TAC) lists only the top-range application development firms who have demonstrated verified and proven results with their customers. The companies that got into the listing have been hand-picked and passed through the TAC's proprietary vetting process. The process includes evaluation of the company's success record,  innovation, reputation, market penetration, and a range of other factors.
HTML5 App Development
HTML5 is probably the most popular base code that many companies choose for creating cross-platform applications. The main benefits lie in the single database, and as a result, reduced costs for app development and maintenance. Cross-browser apps built on HTML5 are faster to develop that two or more native applications.  Besides, HTML5 based apps provide immense potential when combined with CSS3 and JavaScript.
The examples of such powerful solutions are showcased by XB Software in its portfolio. It includes the range of HTML5 enterprise applications such as project management systems, data storage solutions, web portals and resource management systems, etc.
About Top App Creators (TAC)
Top App Creators is a New York comprehensive listing service that hand-picks application development companies around the globe rates them using a proprietary rating system and provides direct exposure of the best companies to the prospective clients.
About XB Software
XB Software is an outsourcing IT company that creates robust web solutions for different industries (business services, logistics, and transportation, customer services, information technology, e-commerce, etc.).  Its technology expertise covers JavaScript, PHP, HTML5, CSS3, jQuery, Node.js, React.js, and other technologies to develop rich web apps for its clients.
Dream of creating a beautiful, fast, and robust multi-platform application? Leave your inquiry here.