When starting up a business, or if you are already leading one, it is critical to understand that every action of your company can be interpreted in different ways and not all of them can be pleasing for the customers. You may want to try to kill two birds with one stone by covering several target audiences or may not be so sure about the path you are on. Your every decision, any unexpected deadline you run into, the services that you chose to offer – everything should be planned in advance and suit your target audience, goals, and stakeholders' expectations. To be able to cover all of it, you will need a clear business strategy, and implementing business intelligence strategy is one of the best choices that you can make.
Business intelligence (BI) is all about the broader scope of the processes happening along the way. It can tell you about the market demands as well as helps to gather data and develop a proper systematic process of your entire business. With BI, it is possible to get an edge over competitors by making better decisions. Therefore, today, we will talk about the achievable profits for you in case you decide to follow the business intelligence data strategy, solutions and tools that you need to pay attention to, and which latest trends you can utilize.
Making the Most of Business Intelligence
Adopting this approach requires creating a solid roadmap, whether it is used for small or medium businesses. You will need to define the goals, stakeholders, and steps of the roadmap, find KPIs, and evaluate the situation. It is vital to include in your roadmap the making of informed strategic decisions in order to be able to measure the performance, identify competitive benefits, and understand your customers. Thus, you will be able to reap the benefits of the business intelligence solutions. Let's look at how implementing BI can assist you.
Saves Time and Money
It helps you to establish the needed budget, create a perfect plan, and spot bottlenecks in order to avoid spending extra resources and get improved risk management. You will know how much you have to spend on business intelligence software and which features will cost you the most. It is recommended to think about including analytics platforms, and various BI applications that can improve the process. Thus, such options as customizable project dashboards, file manager systems, Webix UI widgets, and other analytics and tools should be used. And while everything is planned in advance, your time is saved as well.
Boosts Speed of Decisions
With  business intelligence software, it is possible to have real-time decision-making. You can act according to the actions of the competitor companies and counteract when they drop their product prices or change something in their strategy. It aids in acting on the spot and effectively as well.
Increases Revenue
It is important for businesses to see their revenue increasing, which is why various business intelligence services have to be discussed. The solution you use should be able to discover sales drawbacks, detect sales shortcomings, and compare data across different dimensions. With BI strategy, you can do this with ease. Watch for your rivals, listen to customers' feedback and needs, improve your inside and outside operations according to the information you gather. Most vendors raised their revenue because of this approach.
Improves Total Experience
Consisting of customer experience (CX), employee experience (EX), user experience (UX), and multi experience (MX), the total experience (TX) of your company will be greatly enhanced by business intelligence strategy. This solution pushes you to monitor KPIs as well as create a bond between employee engagement and their happiness. The more details you know about your customers' satisfaction and employees interest, the better you can understand how to act. Various business intelligence tools can assist you in this case.
Read Also Total Experience Management
Ensures Data Mining and Visibility
Analyzing data helps a lot in drawing insights and identifying trends. Therefore, you will certainly start to realize that business intelligence solutions support you in gathering data and analyzing it. Data is presented in infographics, charts, bars, and in cooperation with other elements and features that offer you detailed information on all the needed processes. Thus, the BI software you choose can collect, store, organize, and analyze the data that you need and present it in a visually appealing and easy-to-understand report.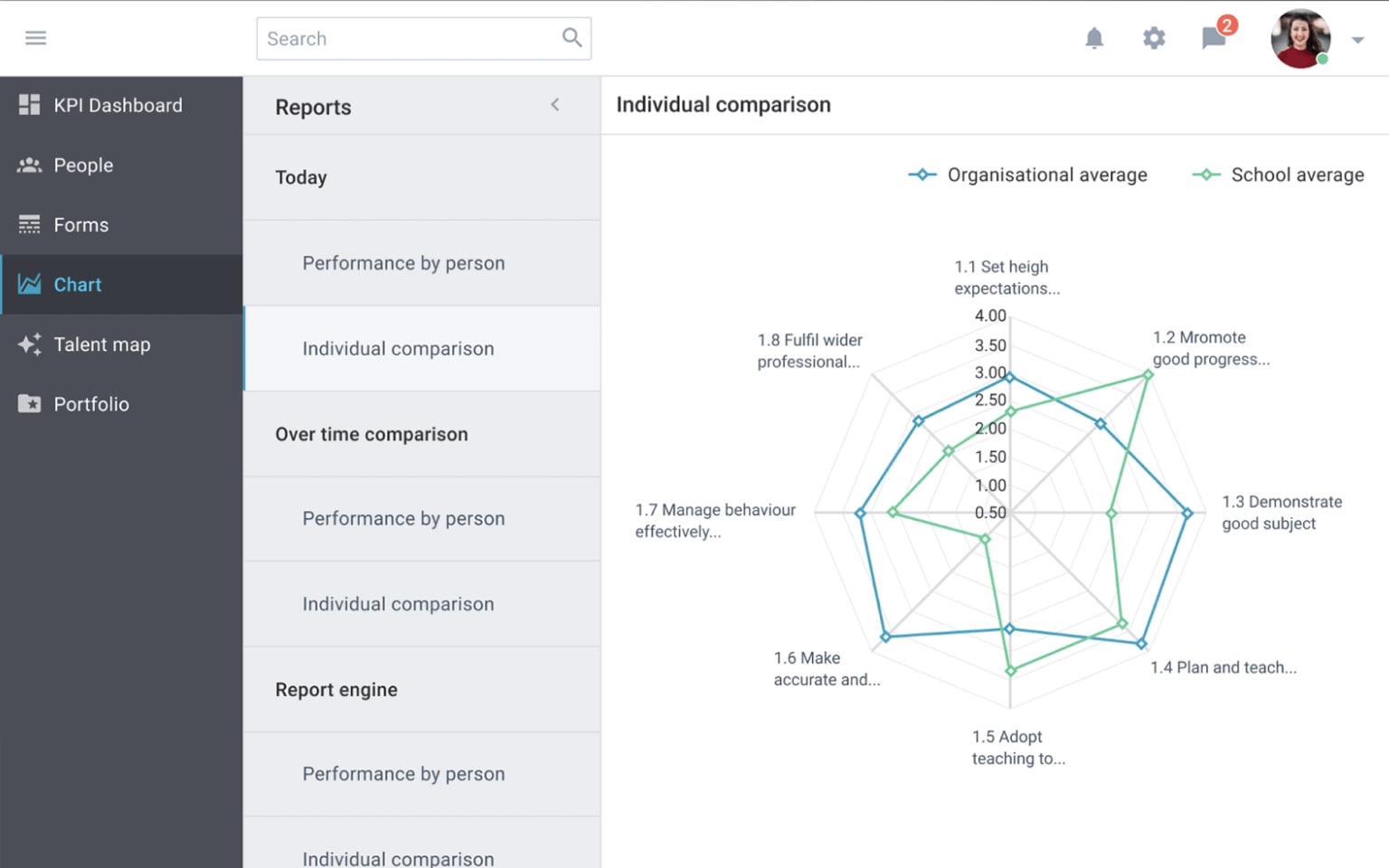 Source: Online Staff Performance Management System
Allows Predictive Modeling
With the help of data mining, machine learning (ML), and other predictive analysis features and statistical methods for modeling, you can easily make predictions about future outcomes. They give you the opportunity to identify business threats and possibilities to know what to do next.
Encourages Effective Communication and Collaboration
This is another advantage that you get when following a business intelligence approach and using different applications. Any new update, change, or any other action made by employees are notified to the other participants of a process. It means that data stays up-to-date, and work, as well as your business, doesn't stop.
Discovers Trending Features
BI encourages to make informed data-based judgments and identify trends that can lead your business to optimization and evolvement. This is one of the benefits that can drastically impact the future of your company.
Read Also The Importance of Business Intelligence Solutions for Modern Business
What Is Trending in BI Now
When you are starting to think about how to create a business intelligence strategy, you need not to forget about the trends that are popular now. Various business intelligence software that you choose to use as well as sophisticated visualization tools offered nowadays allow companies to keep track of productivity, sales, and shipments. They can improve the processes of your business remarkably. Thus, we began to talk about the business trends, so why not look at which ones are sought-after nowadays.
Collaborative business intelligence
As we mentioned earlier, BI opens up a door to the efficient collaboration between stakeholders, therefore, more and more companies implement the apps that will surely help them in successful communication between their employees. Machine learning systems are added as well to improve the experience even greater. It is believed that a more connected system of users is the future of BI.
Storytelling in data visualization
Adding intuitive visuals along with storytelling is one of the popular ways to engage clients into action and help them understand critical insights. Huge blocks of texts and reports with numbers and plain text is a nightmare for those who will use the solutions you implement. However, not all BI tools can boast of having a solution that offers charts, graphics, and especially data storytelling. That is why many companies appeal to the software development companies that can offer high-quality custom software development services that can delight any industry sphere. Developing interactive reports or building a narrative through dashboards is what can be implemented if you want.
Mobile, Automation, and Cloud Adoption
All three features invaded the market and are popular in use among different industries. Thus, the mobile version of any application and software is more sought-after among users than the desktop version. When you have access to dashboards and reports from anywhere and at any time, it gives you more maneuver. Mobile BI features should be responsive, because the lite version of the main analytics platform can give insights directly in the user's hands. Also, when every process and analysis proceeds automatically, you don't need to wait for insights for too long. Besides that, more and more companies tend to migrate to cloud-based BI. Some of them choose private or public cloud, while others go for SaaS solutions.
Natural Language Generation (NLG)
Natural Language Generation, also known as NLG, is a type of artificial intelligence (AI) that enables the software to generate answers that are easy to understand depending on the question that was asked. It allows you to interact with data by asking questions in certain formats and get linguistically rich descriptions of insights. It can generate spoken or written answers depending on the settings and technology skills you use. You can even integrate it into the voice-activated digital assistants to make your application even more user-friendly.
Conclusions
When you have a business to lead, you need to be able to juggle many different processes, and BI strategy can help you immensely in this struggle. It can bring you a lot of benefits, and you can find various trends to follow to have more chances to succeed. However, you should not forget that there are no flawless processes, and anything can be unexpectedly muddled at any time. That is why you need to have backups and a solid plan that will include the implementation of the business intelligence tools and features that are suitable for your company in particular.
If you want to successfully implement business intelligence software or want to know if a trend can be used in your case, contact us, and our experts will break it down for you.