Business Intelligence was a pretty hot topic during 2018, and it looks like this year the trend is not going to subside. To help you decide whether BI solutions are worthy of your attention, we'll consider the main benefits of their adoption for modern business.
In this article, we'll take a look at how BI solutions work and how they can help you to gain competitive advantages in the market.
What is Business Intelligence and How It Works
First of all, let's define what's the business intelligence and how it works in a nutshell. Business intelligence or BI is a software solution that consists of a set of tools intended for extracting the essential information from big data. As an example of BI, you can think of interactive operational reports, dashboards, geo-mapping, data analysis management tools of different kinds. One of the main fields of application of BI technologies is the effective measurement and analysis of KPIs and metrics across all levels of a business organization.
With a BI dashboard designed in accordance with the specifics of your business, you can display multiple charts and reports on a single page. Such software solutions help to review and analyze the most important metrics in-a-click. BI software solutions can provide both summary and in-depth views of performance. Now, let's take a closer look at how this technology works to make all of this possible.
First of all, business intelligence is about the data. Therefore, the information infrastructure is the first layer of any BI system. Such precious info as orders, sales, client profiles, and performance indicators should be stored somewhere for further analysis. Data warehouses are precisely what's needed for this purpose. They allow integrating info gathered from different departments that stored in multiple sources and provide access to a centralized repository. You, as a user, don't have to worry about storage features. Instead, you can use a single query to view the information you need and get a big picture of your organization.
The next question is what's the better way of representing raw business data. Getting fast access to data is crucial, but you should also think of the mechanisms allowing you to extract useful metrics and key figures from this data and make it as quickly as possible. One of the better solutions available today is the use of data visualization services for creating informative BI dashboards.
Intuitive BI Dashboards as the Best Way of Data Visualization for Business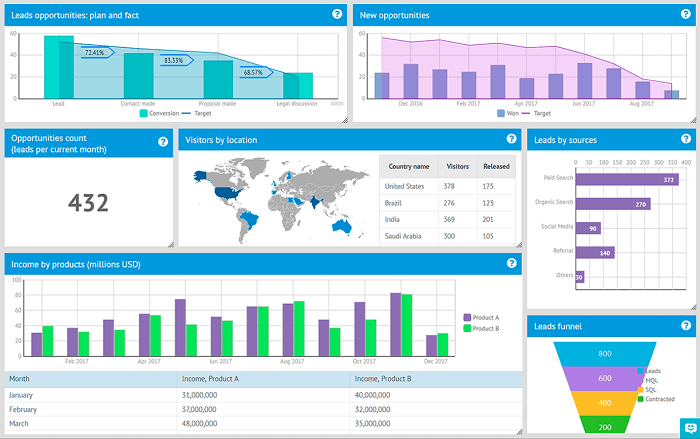 BI dashboards are informative, easy-to-read, real-time user interfaces that provide visual representations of complex business data. For example, you can create a simple query and review the performance of different departments of your organization, various product lines sold, sales numbers for different regions, or any other data.
Besides reviewing the real-time data, you can generate advanced reports. Reporting tools allow using different types of queries helping to answer specific business questions. Custom-made BI solutions allow creating reports with the use of built-in templates which helps to save time. Also, nowadays, BI software is usually cloud-based. This feature enables users of your organization to access reporting tools from any device which results in higher mobility.
A fully integrated reporting module developed by XB Software is an example of how an advanced reporting software tool can look like.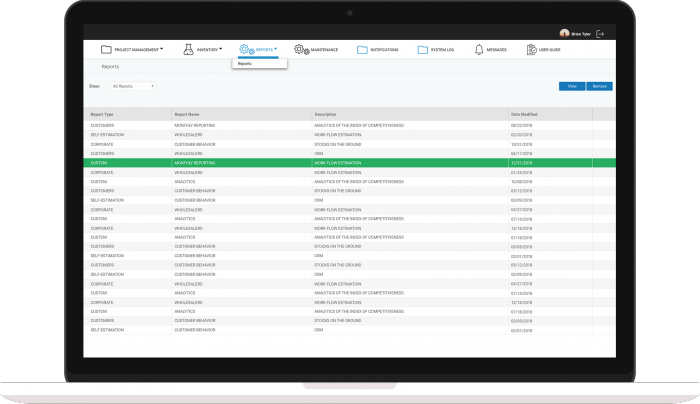 It allows gathering and analyzing the required information and reporting. The system enables the company to manage and analyze relevant data and streamline product development processes from conception to manufacturing.
Another possibility of interaction with business information is data discovery which can be described as a business-oriented process that helps business organizations to detect patterns by visually navigating data or applying guided advanced analytics. Software systems with such functionality allow analyzing information and extracting patterns that would go unnoticed otherwise. For example, you can analyze regional trends of sales and discover sociological groups that use particular products more often on specific days of a month.
As an example of an app that provides described functionality, you can check the hotel performance management system developed by XB Software.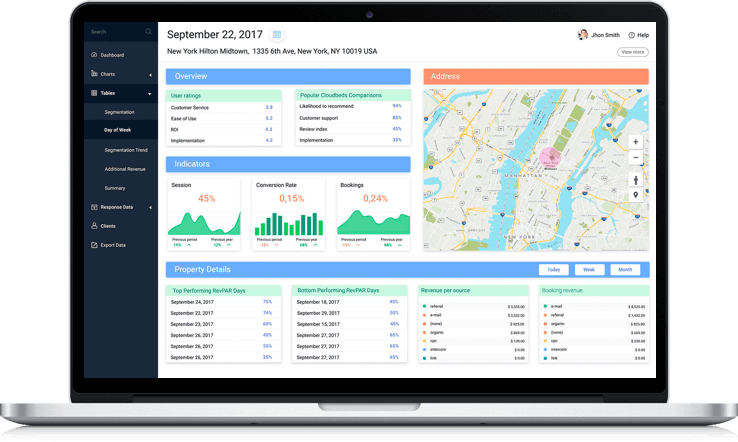 This business intelligence system implements technologies that allow providing users with interactive visualizations which helps to simplify the analysis and allows comparing performance indicators across the local market.
The Main Benefits of Using BI Solutions in Business
As you can see, modern BI software systems are comprehensive solutions that provide users with different ways of interacting with business data. In this chapter, let's consider how BI solutions can increase your performance, decrease the risks, and strengthen your position in the market.
Modern business is the daily risk of your assets. In a promptly changing world, a reliable risk management solution is a must. The best possible option for those who want to stay afloat is to rely on fact-based information instead of making decisions by intuition. The use of a BI solution designed according to the features of your business can significantly mitigate the risks by quickly and efficiently detecting market trends and informing you about the change in customer behavior patterns. Also, BI solutions can help to ensure compliance with statutory and regulatory requirements which will be helpful for companies that have many branches across different countries.
Modern BI solutions created with the use of cutting-edge technologies can improve the effectiveness of business processes which will result in increased incomes for your company. Your company can reduce ongoing costs and optimize the use of the existing resources thanks to detailed reports on the performance of each of your departments. Analyzing the data gathered by your organization, you can understand growth patterns and define where to invest.
Improved customer satisfaction is another benefit of using modern BI systems. Real-time understanding of your clients' preferences and expectations will help you to develop an efficient insight-based market strategy. BI solutions can help to determine profitability across different regions and products. This data will enable you to find new opportunities and adapt your marketing campaigns accordingly.
Conclusions
The implementation of BI solutions in modern business can become helpful for companies of any size. The adoption of such systems will help you to make decisions based on the most relevant and accurate data. BI software allows businesses to:
define a growth strategy
increase revenue
create a more effective business model
get a consolidated perspective of your clients
gain a competitive advantage
At XB Software, we offer different types of personalized Business Intelligence systems such as:
custom-made full-featured BI solutions. Our broad expertise in building high-end BI systems allows creating multi-featured tools according to the individual needs of our customers
embedded BI modules. We can build and integrate different types of BI modules to extend your analytical capabilities. These BI modules will enable you to review enterprise-wide data without switching between different systems
updating third-party software systems with BI modules. XB Software development team can develop and integrate BI modules into your applications developed by third-party companies
If you're interested in one of these options but have any doubts, you can get a free consultation from our specialists that will be glad to answer all your questions.