Project managers adopt many concepts and use various JavaScript UI frameworks that help them and their teams to make the development process of any solution easier and more effective. And, using Gantt charts is one of many options that can be chosen from.
A Gantt chart provides you with a visual presentation of what needs to be done and when exactly and helps you to track the progress at all stages. This function is available in many project management apps, like GanttPRO or DHTMLX Gantt, to assist you in planning and scheduling all the needed assignments.
This type of a management tool usually shows a list of the activities on the left that needs to be done to complete a project. The right side of a window is covered with a timeline that you can manage by dragging team tasks and dropping them on certain days of a calendar. Each activity is presented by a colorful bar, which length is equal to the days given for its completion. It means that you can see the start date and end date of a task and are able to connect them with others if needed.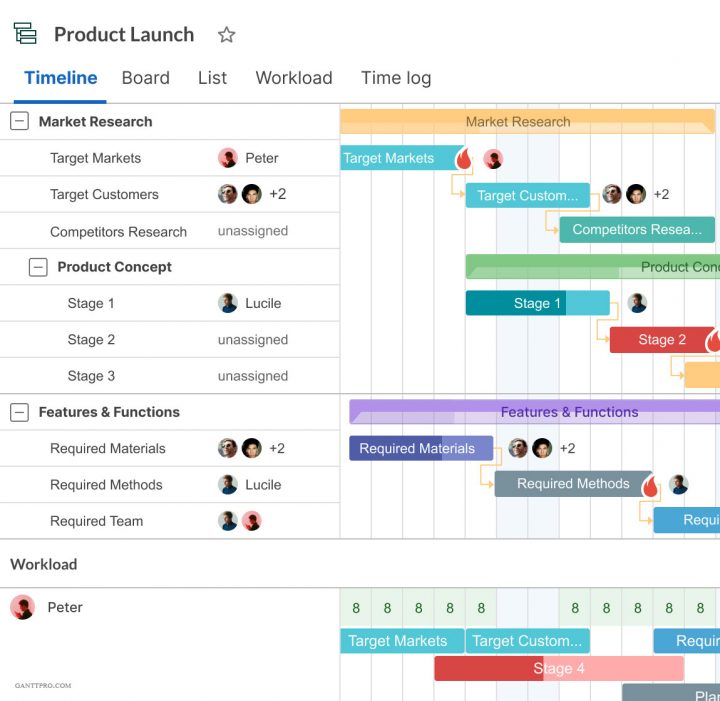 Source: Online Gantt Chart Maker for Project Planning | GanttPRO
When and Why You Need Gantt Chart
Utilizing Gantt charts is an effective and useful way to check the progress of each participant. It is as simple as it is: any project that is developed with the help of various specialists is better managed when a Gantt chart is used. This is definitely a helpful management tool that is used for projects of any size and in many spheres, including software development, content marketing, manufacturing, etc. For example, you can use a Gantt chart for software project management to be sure that it will be successfully developed in time. It is also a valuable option when you are in the project management software development process and are looking for a tool that will make it less complex.
A Gantt chart is commonly used in project management, because it helps to understand hurdles to make critical decisions and find the best way to move forward. A project includes various activities that your team needs to be engaged in, and all of them can be included in a chart.
Thus, you can easily establish a schedule to understand who is going to do which assignment, when exactly, and how long it will take for each member. It is also convenient to use a Gantt chart when some adjustments are needed to be done and when you need to monitor progress and see reports on each step. It is also helpful when you don't want to miss out on any emerging issues and want to deal with them right away without skipping. With a Gantt chart, you can see if a task is behind schedule and if you need to take action to bring it back on course. Working with a Gantt chart is also a sure way to facilitate better collaboration between your team and stakeholders.
Read Also Project Management Steps that Should Be Taken for Successful Project Launch
What Are the Benefits of Using a Gantt Chart?
Using a Gantt chart is one of the most popular ways of displaying all activities at once. It is possible to detect potential bottlenecks and identify which tasks may be executed in parallel. It can help your team greatly in understanding what is needed from each member and when. All in all, there are many benefits of using Gantt chart in project management, and some of them are the following:
Visually appealing and easy-to-understand view
The start and end dates, timelines of the minor milestones, who is included in each stage – you can see all necessary details in one window. A chart shows those who are deeply involved in the process as well as those who have less participation. It also simplifies an intricate set of tasks that your team has and gives a simple and clear view on it.
Better tracking
You can track all changes that are happening in the chart, such as overall workflow, benchmarks, and possible issues. It is easy to adjust each phase and what it includes according to the requirements with just a couple of clicks.
Balancing several projects
With a Gantt chart, you are able to easily track and manage multiple assignments. It enables you to balance the work by indicating how to provide the necessary resources at the right time.
Setting up realistic deadlines
After building a chart, you will see the relationships between the tasks you set up, which will help you to understand how much time your team needs to complete the entire project. With a chart, you can break it down into more manageable chunks as well. Thus, you will also be able to set deadlines for each phase.
Boosting productivity and motivating team members
A Gantt chart allows all assignees to collaborate with each other more productively due to the high-level of visibility it provides. They will stay focused on their assignments and will be more motivated to complete them, because they will see the results of their actions. Having a clear view of how and where their resources are used is vital.
Communicating with team members
All the comments and suggestions that you want to add to one task or another can be left and be noticed by other members in real time right in your Gantt chart project management tool.
Easier management of remote teams
If talking about managing your project while working remotely, it is a lot easier to do it with a Gantt chart. If the whole team or only some of its members work remotely, it is important to be able to coordinate with everybody and keep them on the same page.
How to Make Gantt Chart for Project Management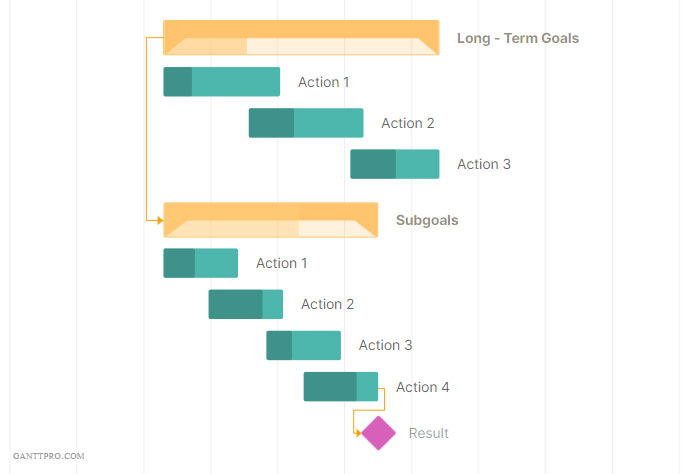 Source: Online Gantt Chart Maker for Project Planning | GanttPRO
If looking at the main steps of the creation of a Gantt chart, you need to pay attention to the following:
Identify all essential tasks and create a work breakdown structure (WBS). Type out or import them from another program if the project management software tool you use supports the function;
Choose the columns you want to display depending on which information you need, such as cost, start and end date, milestones, assigned team members, and so on. Choose currency and fill in the details of each category;
Organize assignments into phases and milestones on the waterfall timeline by linking them by the dependencies. That is why you need to understand the relationships between the tasks. Some of them should be completed before you can start the other ones;
Put assignments in order, highlight subtasks, and drag everything into the right phases;
Choose the color of each stage to let it stand out;
Assign tasks and allocate hours people will spend;
Add needed notes and files to the tasks that are required more details;
Review your chart from time to time to reflect changes, updates, and overall progress.
Thus, if your solution is about developing and installing new software, you need to consider the whole development process and include such stages as selecting a product, testing the software, and deploying it. Make a milestone for each phase, set duration, and create dependencies. It means that your team will be able to proceed with testing software only after the first phase of selecting and so on. Say the overall duration of a project is 40 days, so the stages can be divided into 10-15 days each. The exact dates depend on the resources you have, your team work hours, and other factors.
Read Also How to Make a Customer Fully Happy With the Results of Full-Cycle Development
Set minor tasks, identify which of them should be done in parallel, and delegate them to the members of your team. Be sure to include project managers, business analysts, and designers to the first stage to see the goals of the company and how they can be executed. Assign front-end and back-end developers to the next phase and don't forget about the QA specialists to ensure that everything is ready for the deployment phase. Moving through the process step by step is the answer to the question of how to make a Gantt chart for project management.
Conclusions
A Gantt chart is a very helpful tool that assists you in leading and managing your project. It makes the whole process a lot easier, because of the visualization and functionality it provides. You see all tasks and those who are assigned to them and see the progress. As a result, you may even complete your product earlier and release it to the world.
Learning more about the Gantt charts, how to use our project management software solutions, or how to develop your own project management application is what you may want to know about as well. So, if you still have some questions, feel free to contact us.