Streamlining the scheduling for patients may be as much important as the expertise of doctors that treat them. Patients are still customers, and their satisfaction directly affects the success of your business. As any other customer, your patients have demands to the services you provide, and your medical care organization should meet them.
The scheduling process should be well-balanced and include some mechanisms for reducing the harmful consequences of no-shows and canceled appointments. Advanced software development techniques allow companies that provide scheduling system development services to build comprehensive solutions for the most demanding healthcare companies. These software systems enable keeping no-shows to a minimum and ensuring that patients receive medical attention in full accordance with their expectations. In this article, we'll consider five main techniques that will help your medical care organization to keep your patients satisfied with your services.
1. Enable Self-scheduling Services For Your Patients
Instead of spending resources on call-center specialists, you can provide your patients with the possibility to manage schedules themselves. Nowadays, people feel pretty comfortable online and use mobile apps all the time. You can use this opportunity and provide them with a mobile application for online scheduling, which can provide numerous benefits. Such an approach will help you to increase patient satisfaction and reallocate the part of your staff that deals with manual scheduling by phone.
Web-based applications for scheduling can provide users with the following features:
convenient online schedule planning
easy-to-use filtration by specialists
the ability to choose and manage appointment times with a couple of clicks
review the schedule online
notifications and reminders.
A custom patient appointment scheduling app can be available to your patients 24/7, so they can manage a schedule an at any time.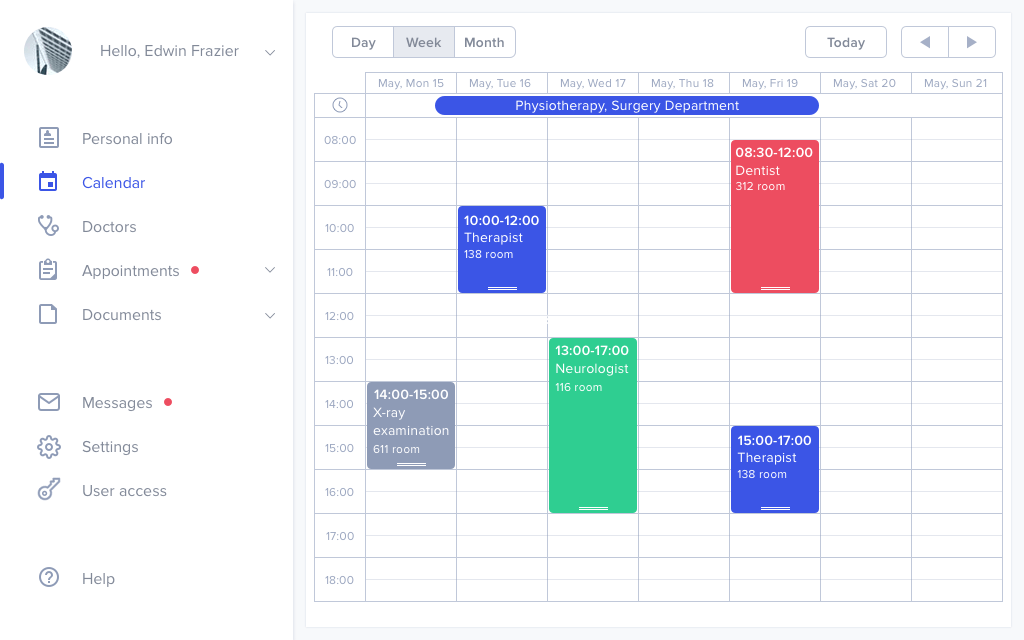 A patient can get access to a web-based calendar to review available doctors and time for appointments. Online software can be accessed from any place with the use of any device. Your patients can use their smartphones, tablets, or desktops to access your healthcare services and schedule appointment at the first signs of illness.
2. Reduce No-shows With Automated Notifications
To reduce no-shows, you have to make sure that all your patients are aware of the scheduled visits to the doctor. Automated client reminder functions of medical appointment scheduling apps can take care of this task. A friendly reminder of upcoming visits sent by email or mobile app notification can significantly minimize the number of no-shows. Moreover, if you provide your patients with access to a full-featured mobile appointment scheduler, they will be able to cancel or reschedule without the need to spend time on phone calls.
Also, reminders and notifications can be an excellent way to remind the patients about your cancellation policy. For example, if your policy includes the collection of a cancellation fee, make sure that this info is included in your automated notification messages.
3. Take Care of the Effective Prioritization Tactic
Patient appointments can vary in urgency. According to the multiple factors described by your patients, you can decide where and when to schedule them. Some issues, such as side effects from taking medicine, can be solved by online consultation. In other cases, patients with a high level of priority should have access to same-day appointments.
Online systems allow patients to describe their complaints and tell about the frequency and intensity of health-related symptoms using intuitive online forms. Using this info, the system can sort all received appointments according to urgency. A staff member with enough experience can make the final decision if a particular patient requires immediate consultation with a specific specialist. If needed, additional information can be received via the phone call.
4. Use Virtual Waiting List
Despite the preventive measures you take, you can't eliminate all no-shows and cancellations. A virtual patient waiting list is a tool that can help you to minimize the harmful consequences of such a disaster.
Automated software systems can inform you about canceled appointments. You can mitigate the negative effect if you have a virtual waiting list of patients. After a new open appointment appears, the system can send a notification to all patients from this list and ask if they would like to receive a consultation earlier than their scheduled visit to a doctor. These patients can confirm or reject schedule change via the mobile application.
5. Get the Most From the Data You Have
Last but not least, don't neglect the abundance of patient-related data that you've gathered during the working process. Try to analyze collected data to understand how you can minimize patient wait times, maximize the quality of provided health care, and eliminate bottlenecks.
Modern Business Intelligence solutions can take care of extracting essential information from the data that you have and represent in an easy-to-read way thanks to modern data visualization tools. As a result, you'll be able to develop new insights and define the most efficient way of optimizing the workflow. For example, you can determine what types of appointments or patients take more time than expected. Also, such systems help to optimize the workload of specialists and define if there's the need to hire more employees. This feature will help you to avoid appointments cancellation due to the lack of required specialists in your team.
Read also How We Developed a Custom Booking System that Tripled the Income of a Healthcare Company
Conclusions
In the medical care industry, there are no one-size-fits-all solutions. Therefore, you can't receive a software system that will solve all your scheduling problems. The better possible option is to rely on a software solution that is flexible enough for adapting to your unique approach based on years of experience. The practices mentioned in this article can be a good starting point for your organization on the way to efficient and reliable patient appointment scheduling.
To learn more about how modern technologies can improve appointment scheduling for your medical care organization, you can get a free consultation from our specialists.