Nowadays, any company that provides some goods or services makes everything possible to leverage existing technological means to reach clients efficiently. Among them, there are some which disappearance won't be a big deal and some which unavailability may cause unpleasant long-term consequences. Let's be honest. We can survive the crash of a pizza delivery app (at least for a week or so), and, in most cases, the unavailability of Uber won't cause more harm than a temporary inconvenience.
Healthcare services, on the other hand, are in high demand at all times. The confusion caused by unordered patient records and personal files and appointments missed due to the use of outdated and buggy software may harm the client's health and damage a healthcare company's reputation. That's the reason why software for medical centers deserves special attention. Today, we'll consider how our developers provided a medical center with a booking web application with dozens of useful features for company employees and clients. We'll see what issues its adoption helped to solve, and what benefits our client has gained.
The Importance of Custom Booking Software For Healthcare Companies
The first question you may ask is: "Why should I even bother about web apps for healthcare companies?" After all, it doesn't seem to be such a big deal. A client receives a call from a medical center, writes down appointment details on a piece of paper, and patiently waits to visit the doctor. It seems like everything's working pretty well without any sophisticated web apps. Well, the fact is that behind the curtains, there's a lot of issues to be solved and tons of benefits both medical companies and potential patients can gain from adopting a bespoke web app.
Today, personal health has turned into a real trend that turned the medical area into a highly competitive environment. That's why every healthcare company is willing to "integrate" into a client's dynamic lifestyle without breaking the usual course of things. There are some workflow inefficiencies that every medical company has to overcome to reach this goal. For example, when company employees use different apps to work with documentation, it may lead to duplicate documents, mismatches, and other problems. The lack of possibility to find the required healthcare specialist and book an appointment "on-the-run" via a mobile device may disappoint many potential clients. Waiting lines, lack of specialists when you need them the most, a high number of no-shows — all these and many other issues can harm relationships between healthcare companies and their clients.
Fortunately, a software solution designed with the specifics of a company's work kept in mind can solve the lion's share of described problems or at least minimize their negative impact. If you provide your potential clients with the possibility to book an appointment anywhere and anytime via a mobile app, you can make your company more attractive. Centralized access to all medical records can increase the doctor's efficiency and improve your services' quality. Automated notifications will help you keep your clients aware of upcoming visits to decrease the number of no-shows. With a custom-made software solution for healthcare, you can also significantly improve the employee management experience. With all the upcoming events before your eyes, you can easily set tasks, assign them to specific specialists, and monitor their implementation. Implementing all these features, you can attract more new clients (and maybe even some new specialists), improve your reputation, and achieve a competitive advantage in the market.
One of our clients, who decided to make the workflow more organized and straightforward, asked us to develop a custom scheduling application. The solution should enable potential clients to book and schedule appointments online with minimum effort. In its turn, the staff should be provided with easy access to the client's personal info and medical records. This info was enough to create a nice-looking and full-featured web application, but we decided to spend some more time with our client to understand his needs better.
We Need to Go Deeper. Analyzing the Client's Needs
Our team of business analysts has enough experience in defining customers' pain points and offering effective solutions. They have analyzed all the apps that our clients' employees were using to provide them with familiar experience and make sure that their transition to the new software solution won't cause any frustration. One of our client's intentions was to ensure his clientele that they are more than just patients for them.
The app should not only allow booking appointments and tracking them efficiently but also take care of the patients between their visits to the doctor. Our company offered some features that, in our opinion, were able to achieve this goal. First of all, we wanted to ensure that the app users won't forget to use their medications on time, which can be especially crucial for the elderly. We also decided to integrate an interactive map allowing displaying the nearest pharmacies with the necessary medicines available.
We decided to develop a software solution that, according to a particular user's role, provides a different set of features. The administrator can create and manage appointments. The doctor has access to the scheduler app that displays all the current appointments. The patient has access to the list of appointments, prescribed medications, scheduler, and account info. At the first stages of development, our business analyst created a mockup that allowed our client to get an overview of the future mobile application for patients: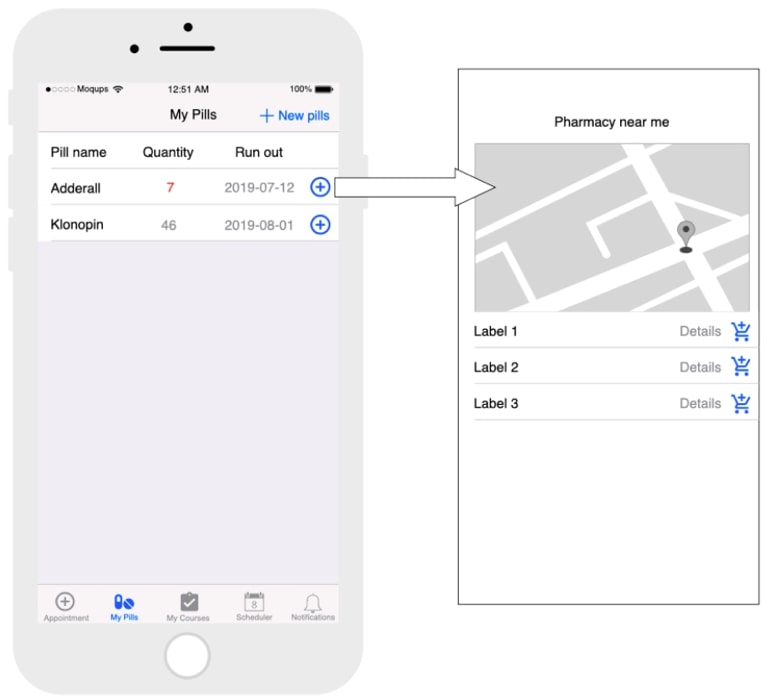 As the primary tool for creating the scheduler app, we decided to use dhtmlxScheduler. It's a JavaScript event calendar component with a wide range of views and great customization possibilities: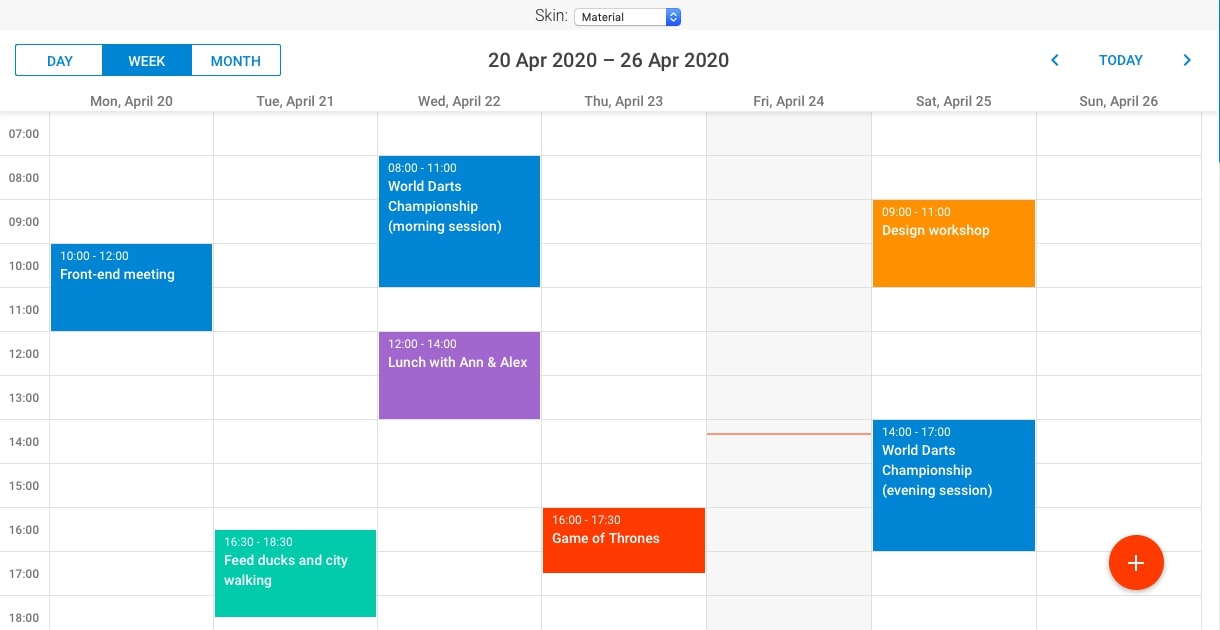 Delivering a Solution That Makes Our Client Happy
XB Software's developers have created an online system for a healthcare company that consists of three main parts: a page for administrators, a page for doctors, and a mobile app for clients. Let's take a look at all these parts in more detail.
The administrator's primary responsibility is to manage clients' requests for specific specialist services.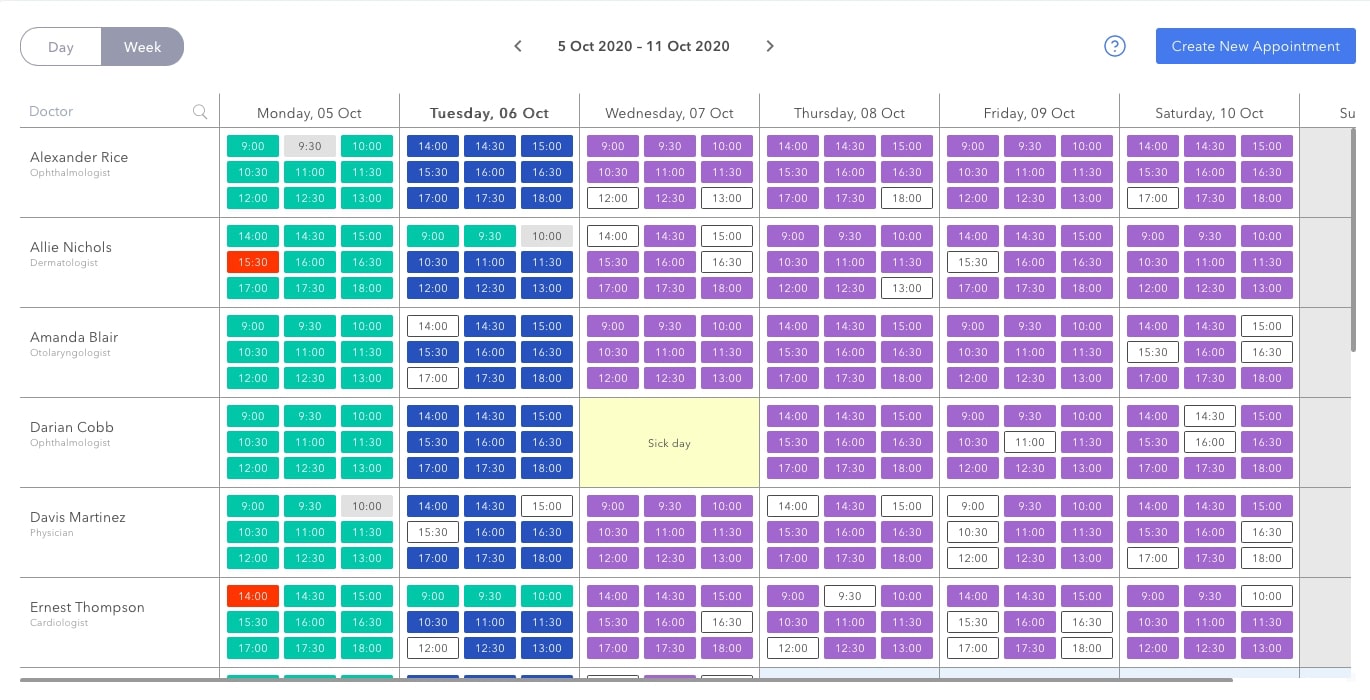 Administrators have access to the scheduler app that represents all actual appointments. Color-coded timeline view allows quickly determining which doctors have appointments and who created them (administrator, doctor, or patient). In a few clicks, administrators can receive the client's contact information if there's a need to clarify some details. A set of built-in filters allows displaying records related to a particular specialist.
A doctor's screen provides pretty much the same functionality plus the possibility to get access to patients' medical records.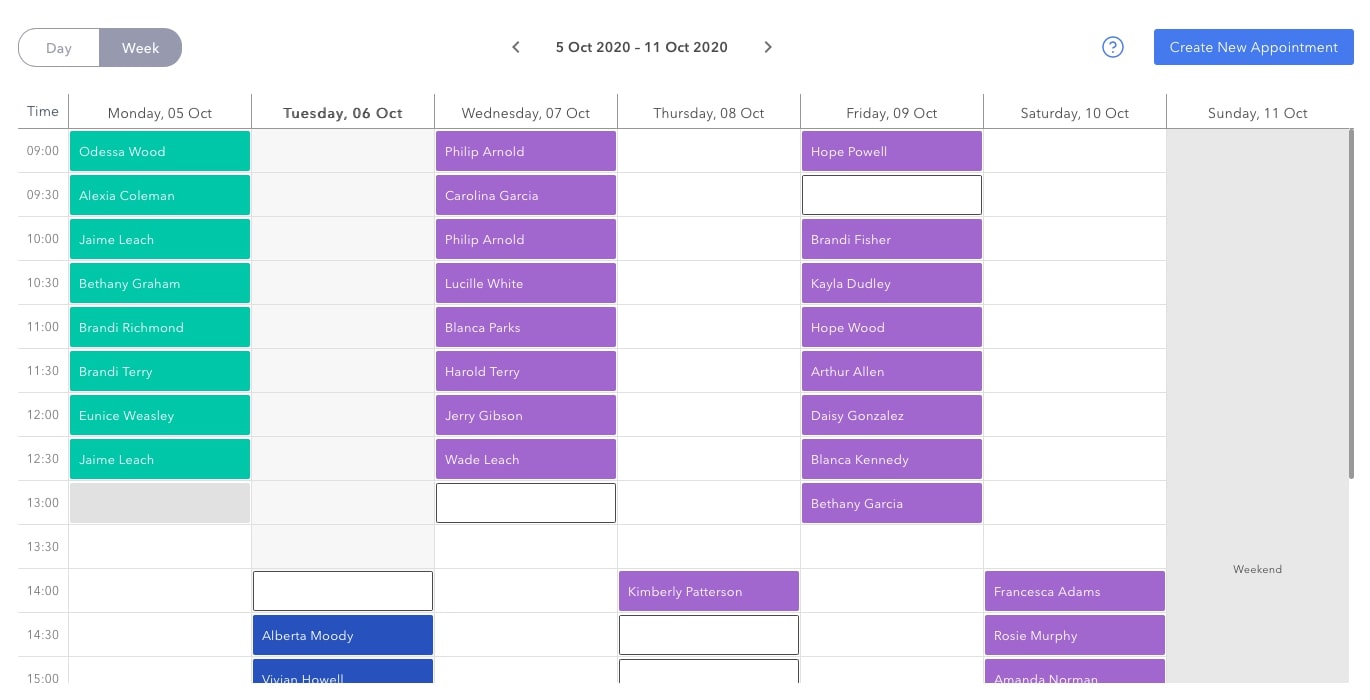 This part of the app shows all actual appointments related to a doctor that uses the system. If there is a need for a second doctor's examination, the system enables creating new appointments. Doctors can access the patient's records that include medical history, symptoms, prescribed medications, and other info. Doctors can also prescribe medicines to the patients, and this information is automatically synced with the patient's app.
The patient's mobile app allows booking appointments and provides assistance functions throughout the course of treatment.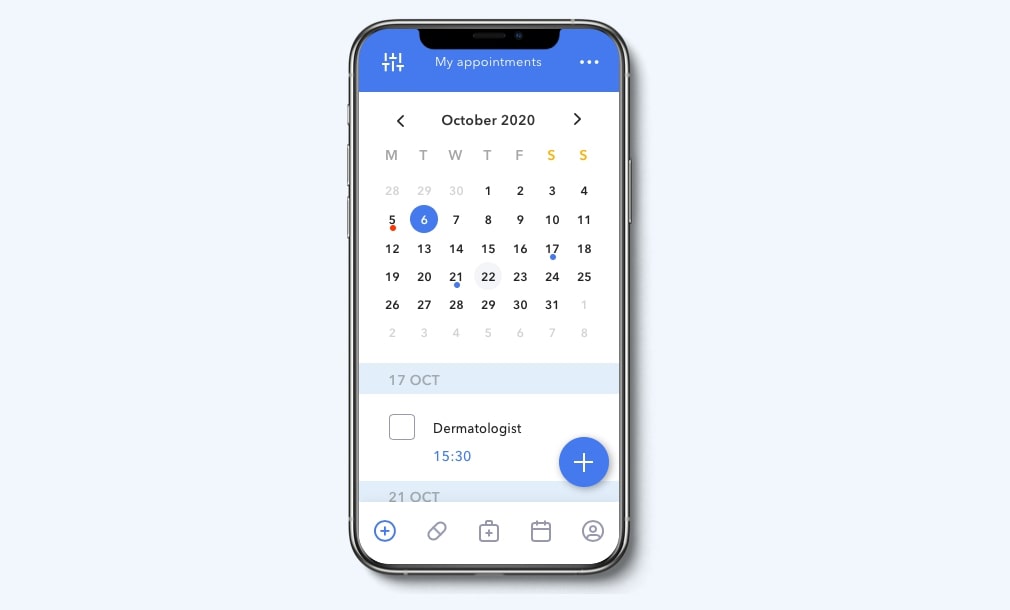 First and foremost, this mobile app allows booking appointments to a specific specialist located in the medical center nearest to the user's location. For providing info about your condition and health complaints, you can either use an online form or schedule a phone call. Also, you can use an online text chat app for that purpose. After the patient booked an appointment, it'll appear on the calendar. The calendar provides easy access to the history of visits to the doctor. According to the app's settings, the user will receive a notification (via email or push notification) at a certain time before the appointment. Additionally, the app will send a reminder about the regular annual or semi-annual visit to the doctor.
The mobile app is synchronized with the doctor's system in the medical center. After the doctor prescribes some medications or exercises, the info will be sent to the patient's mobile device. The medication schedule will be displayed in the personal calendar, and the patient will receive an automated notification. The app can store the number of prescribed pills and notify the user in advance about the need to go to the pharmacy. The app can request information about the availability of necessary medicines in pharmacies near the user and display this info on an interactive app.
Conclusions
According to the feedback received from our customer, company employees have increased their productivity, and patients highly rated the functions of the mobile app. Higher work satisfaction among the staff members and decreased the number of tasks to be performed manually are the primary outcomes of adopting our custom solution. If you want to learn more about our custom-made booking solutions for healthcare companies and the benefits it can provide, you can get a free consultation from our specialists.
---
We respect every client and his idea confidentiality so that we cannot use our customers' systems to demonstrate you how it works. But we also understand that a live app always wins over static screenshots. Just to let you make some clicks and grasp how your future app will perform we created over 10 live examples of various systems for our potential clients.
Want to know how your custom software can look like? Send us a request and your personal customer care manager will contact you with a suitable live app example and some additional questions about your project.