In today's ever-evolving tech landscape, software development stands at the forefront of driving organizational success across industries. Amidst this dynamic realm, the Chief Technology Officer role has emerged. These specialists serve as an instrumental force, harnessing tech to propel innovation, optimize efficiency, and secure a competitive edge on the market.
CTO's role implies solving a much more comprehensive range of problems than implementing a specific feature addressing the particular customer's pain point. You may think of them as visionary architects, expertly navigating the intricate web of development technologies to align business objectives with state-of-the-art solutions. Since CTOs can solve challenges related to technical leadership or operational management depending on the circumstances, the specific set of tasks they perform may need to be clarified. Moreover, they can change over time following the growth of the company, which makes things less transparent. To change that, today, we'll shed some light on CTO roles and responsibilities in the product development process.
What's a Chief Technology Officer?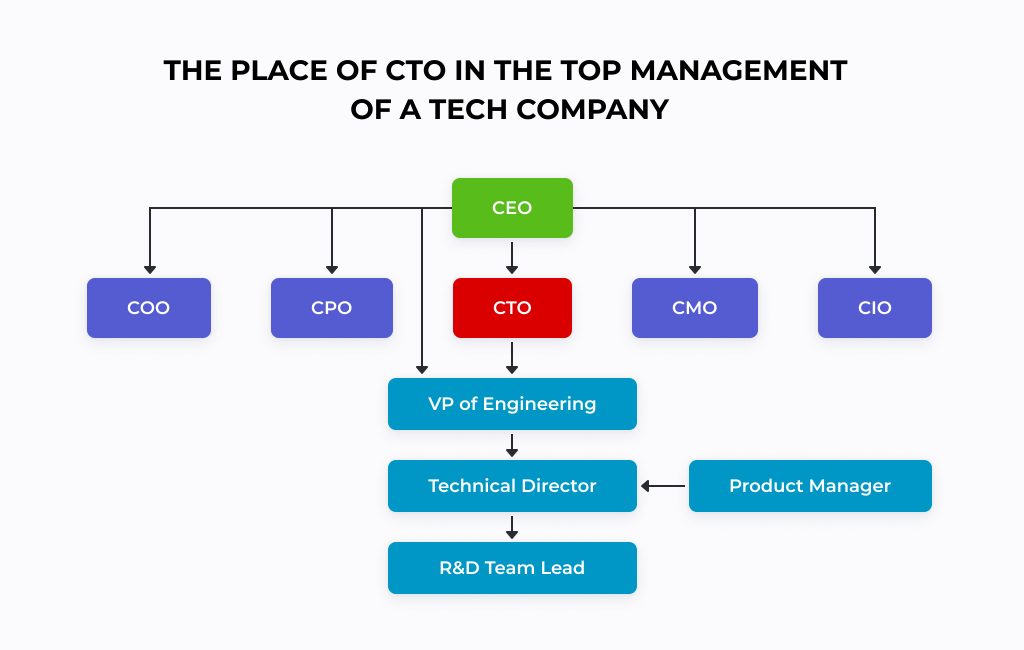 For some mysterious reasons, CTO roles are often misinterpreted. Let's start with the basics. Since it is a member of a "C-suite club," here we speak of a high-ranking executive title in an organization providing software development services. From this top of the corporate ladder, CTO takes care of its primary task: technology management within the company plus research and development (R&D). It includes the current state of affairs and the long-term prospects, making it necessary to keep up with constantly changing industry trends.
To reach these goals, it's not enough to be tech-savvy and capable of deciding whether a specific library is worth adding to the tech stack. CTO must oversee many aspects that lay beyond the process of software development itself. For example, it's vital to ensure that there are enough talented software engineers on the staff and that all are on the same page. Hence, sometimes hiring and mentoring skills are not redundant for an effective Chief Technology Officer.
Now, let's consider some other skills worthy of learning for one aspiring to get a CTO position:
Technical Competency. CTO must deeply understand the latest industry trends and emerging paradigms. This expertise allows for making informed decisions about technology adoption, guiding software development processes, and leading technical teams effectively;
Strategic Thinking and Decision Making. Technology initiatives must align with the organization's long-term goals and vision. Therefore, CTO should analyze market trends, identify opportunities for innovation, and create technology roadmaps that drive growth and maintain a competitive edge;
Product Management. A deep understanding of customers' needs is a must. They must be translated into robust software solutions as a result of the process of cooperation between the CTO and product management teams, development teams, and designers. Such an approach helps to define product roadmaps, prioritize features, and ensure timely delivery that aligns with market demands;
Business Expertise. Here, we speak of financial insight, market analysis, and a grasp of the competitive landscape. CTO can leverage this knowledge to make strategic technology investments, forge partnerships, and drive revenue generation;
Team Building. CTO specialists are adept at building high-performing development teams and fostering a collaborative culture. They possess exceptional people management skills, nurturing talent, promoting professional growth, and fostering a sense of innovation within the workforce;
Hiring Skills. The ability to attract and retain top technical talent is also essential for a CTO specialist. They possess strong hiring skills, identifying skilled professionals who are the right fit for the organization's culture and strategic objectives. Here, we can speak of hiring talented individuals or entire dedicated teams, depending on current needs and resources.They assess candidates' technical prowess, cultural fit, and potential for growth, assembling a capable and motivated development team;
Mentoring Skills. A CTO specialist excels in mentoring and coaching, guiding the professional development of staff members. They provide guidance, share knowledge, and inspire their technical specialists to learn and innovate, continuously fostering a culture of excellence.
Read Also Web Development Team Structure. Key Specialists and Their Roles
Nobody expects a CTO to be a Renaissance man and freely juggle all these and many other skills, especially considering that their applied importance highly depends on the specifics of a given development company. Say, a humble tech organization delivers state-of-the-art tailor-made solutions for the most demanding clients, and expanding the staff may not be the number one priority. In this case, hiring skills will have negligible value.
Major CTO Responsibilities
Combining these skills applied in the right direction and at the right time can guarantee a software development company the best possible outcome. For example, for developing a solid development strategy, the CTO must monitor trends corresponding to current business goals, identify opportunities and risks, and implement specific data projections and QA processes. R&D may require researching the most efficient content management systems, updating information regarding tech standards and compliance regulations, and developing a strategy for adopting new technology and infrastructure designs.
However, efficient skill management and ability to acquire new ones is more important than a knowledge base with which a CTO specialist takes up his duties. The reason is that the need for change is often dictated not only by the technological landscape itself but also by the current stage of development of the organization. Let's consider how CTO's responsibilities can vary depending on the process of business growth.
Pre-startup era. That's where everything begins. Here, the primary efforts are aimed at giving the embodiment of the initial business idea. Regarding the process of software development, this usually means the implementation of a Minimum Viable Product (MVP). It is the CTO's duty to control the design and building of the MVP and adjust the development process according to the received feedback. The startup development company may not possess the required number of tech specialists due to financial constraints. In this scenario, the tech background of the CTO will become helpful as he can serve as a backup and take care of critical processes.
Read Also Why Starting With Minimum Is Not Always a Bad Idea. How MVP Can Help You Startup
Startup launch. At this point, the stakes go up. The company must ensure that during every stage of the development process, the team works as a well-coordinated mechanism. The CTO's rich technological experience can help choose the right gears for this mechanism. Such specialists can partake in the human resource management process and focus on talent acquisition. They also provide the team with a disruptive tech stack to give a competitive advantage in the market. Product management and management on internal or outsourced teams are also a part of the CTO's responsibilities. On a more global level, CTO and CEO work together to develop a long-term strategy that supports the product and organization.
Further growth. In a company that has successfully passed the startup stage, the CTO primarily focuses on long-term technical vision and strategy rather than on current tech-related tasks. At this point, the organization has enough specialists both in the development and management spheres to ensure that product evolution is a continuous process. CTO, in turn, makes sure that this process follows clear strategic goals. For this purpose, stakeholder feedback can be used to make necessary adjustments. Performance metrics defined by the CTO help to determine whether some staff members require additional assistance. Once again, the CTO must keep abreast of evolving development trends and guide departments in adopting them.
Scaling. Probably, there's no tech organization that doesn't aim to become a Unicorn company one day. At the company's peak performance point, the CTO can take some rest of engineering tasks and focus on the process of raising brand awareness through involvement in tech conferences, for example.
Conclusions
The role of the CTO in software development may be unclear. The reason is that, being a jack of all trades, an experienced specialist can take care of the product management process and then switch to mentoring a newcomer. It all depends on what better corresponds to the current and long-term goals of the company. Here, the work scope is fluent and dictated not only by the current state of technology but also by the stage of business development. This article will help you deal with possible misunderstandings.
Contact us if you're looking for expertise web developers aimed at long-term cooperation.