When we want to describe some complex process we often say that it has a lot of moving parts. In supply chain management (SCM), a lot of things are literally moving. Companies, for example, have to track the movement of goods in their warehouses and ensure their timely delivery. Companies can expand over time which will bring new scalability issues. Customers also don't sit still, and it's vital to adapt to their lifestyle and quickly react to feedback a business receives from them. These and many other challenges can be overcome to some extent by adopting supply chain management software. Today, we'll take a closer look at how modern technology helps to deal with decades-old challenges.
The Importance of Supply Chain Management
You don't have to get a supply chain management degree to understand its importance both for companies and their customers. Our lives would turn into a complete mess if we had to take trips every time we want to get a certain service or product. From a business owner's perspective, the chain of business processes that misses a link connecting ready-to-ship products with a client can lead to disastrous consequences.
Read Also: Why Custom Software is the Way Forward within the Logistics Industry
A more profound analysis shows that due attention to supply chain management is not just a matter of convenience. In the majority of cases, a lack of attention to this part of a business can significantly reduce market competitiveness and profitability. For example, according to the Zippia report, 70% of companies consider supply chain management one of the key drivers for achieving top-notch customer service.
However, many companies don't tend to adopt any innovations regarding this part of their business. Statistics show that 43% of small organizations don't use any software solutions for inventory tracking, and 67.4% of supply chain management is still done with Excel spreadsheets. We don't want to underestimate the efficiency of this well-proven tool but years of evolution in the IT industry gave us more advanced software solutions. Now, let's take a look at how it can help companies to overcome some of the most common supply chain problems.
When Cutting-edge Technologies Come to the Rescue
Supply chain management (SCM) software development involves the thorough research of your business to understand your pain points better. Additionally, companies that provide such services take into account the experience received during the previous projects, so you can discover business process improvements that you didn't even know existed: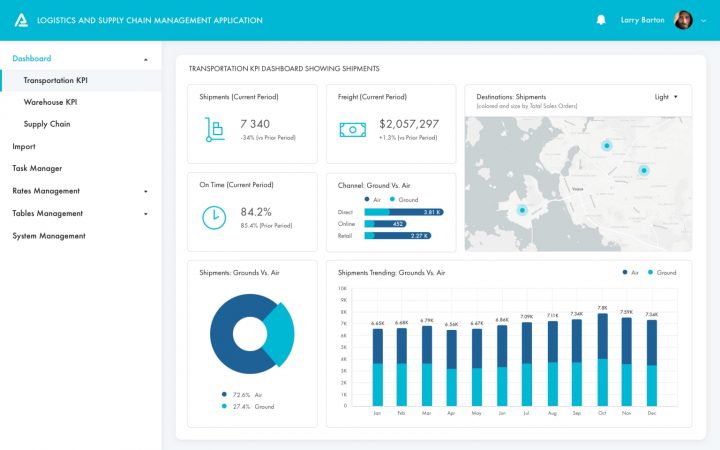 Bespoke software can become a reliable companion for each step of production and delivery. For example, when you plan to order raw materials, it's important to know how much of them you already have, how much you'll need, and what the best prices are. Lack of actual data can lead to an irreversible chain of consequences resulting in customer dissatisfaction and loss of profit. Properly designed software can save your organization from dozens of unpleasant surprises. For example, it can analyze changes in production volumes to inform you about the need to purchase. Detailed info regarding available vendors provided by such software can help you to find those who offer the best prices on the market and fully comply with your requirements.
Both materials and ready-to-ship products require constant control. Software with built-in inventory control and stock management features can improve the transparency of your warehouses and decrease the possibility of losing something to the minimum. Due to human error, one day you may find out that your business can't cover the needs of your clientele or has too much product to sell. This situation can become even worse if you deal with perishable products.
Custom software, for example, can turn such a simple thing as a barcode system into an effective solution to all your problems. The system will provide you with actual information regarding the number of specific products currently available in all your warehouses even if they're located in different countries. Built-in customizable templates will help automatically inform employees in charge when it's time to start producing more. Also, with such software, your business can identify bottlenecks and areas of improvement as fast as possible.
Producing goods that will satisfy even the most demanding customers is only half the deal. Logistics is an area that also has many potential problems. This part of your business is in direct contact with the customer. Any delays in shipments or goods delivered in poor condition can jeopardize your reputation. The more you grow your company, the more clients you have, and the more difficult the delivery network you have to deal with. Increasing the number of vehicles in your possession may solve this problem but it can't be considered the optimal way of doing things. Custom-made software can offer a more elegant solution. Empowered by GPS trackers, such software can provide real-time information about your trucks' location and calculate the most optimal delivery routes for them. Moreover, the use of IoT devices can give you even more control over the delivery process. If you work with seafood and pharmaceuticals, for example, constant humidity and temperature control play a vital role. Supply chain software can monitor data received from sensors and notify you of inappropriate delivery conditions.
Read Also: How IoT Empowers the Supply Chain
A business that is growing by leaps and bounds is every entrepreneur's dream that, unfortunately, can turn into a nightmare. Scalability issues are pretty common for any domain. Every new warehouse you open spawns a stream of new data that must be collected and organized by your software system. When you enter new markets, you have to deal with the influx of new clients with their own preferences and expectations. Custom made software can make every part of your supply chain transparent and easy to interpret. BI tools can represent tons of data as a set of charts and graphs, so you can easily understand your new target audience requirements and identify the areas requiring improvements for effortless scaling. If you use on-premise servers to store your data, providing your new departments with access to it can become a huge challenge. In this scenario, companies that provide bespoke software development services can increase the accessibility of vital business information by migrating your data to the cloud.
Conclusions
Supply chain management is a set of practices that permeates any modern business company delivering products and services to the customers. Ignoring some aspects of it, you risk causing a domino effect leading to customer dissatisfaction and significant losses. Therefore, you must consider the supply chain as a complex organism where everything is interconnected. Comprehensive software solutions built with this idea kept in mind enable new levels of transparency and automation.
If you want to enhance control over your supply chain and ensure that no part of it escapes your attention, contact us.