Supply chain management takes different forms and shapes, and any business niche may require dealing with logistics operations, issues with suppliers and consumers, inventory restock, product manufacturing, and many other business processes. When your company is responsible for the movement and/or storage of various goods and services, you will surely start searching for any solution that can improve the time needed to finish these tasks and bring automation to the process to decrease costs and resources.
Thus, when you need to improve your logistics procedures, you may find yourself on the crossroads wondering whether to choose Freight Management System (FMS) or Transport Management System (TMS). Therefore, today, we will cover these two options to give you a better idea which software to use for your business.
What Is FMS and Does It Really Exist?
FMS is a software system that assists businesses in their freight shipping operations. Business owners want to have such applications to streamline the freight delivery process and save businesses time and money. Building a FMS can help your company to improve freight performance, its efficiency and profitability, and ensure compliance with local and international regulations regarding freight transportation.
This is a system that focuses on a particular part of logistics operations, which means that it can be a part of any other logistics software or be an individual solution if your business doesn't need to deal with other supply chain operations other than the ones connected to transporting freight. A FMS can be integrated with other solutions, such as shipping software, yard management software, and supply chain planning software, to provide complete and seamless freight management solutions. And, besides that, it can be a part of a transportation management system.
Read Also What Yard Management Systems Are and How They Can Help Your Logistics Business
To understand FMS better, let's see the features it can include. Of course, it all depends on the goals you try to achieve during the development of such system, however, most of the times, the freight management system comprises of the following features:
Ability to select a carrier
An application gathers and shows the information on a wide range of carriers depending on your freight needs. A user can sort them out (manually or automatically) by service levels, rates, availability, and reliability, based on the feedback from other companies, to choose the most suitable option. Thus, you can check the documentation and credentials of the carriers to ensure that your freight shipments are compliant with the local and/or international laws.
Optimization of the routes
This feature leads businesses to finding the most efficient and cost-effective routes for their freight deliveries. It means that the system takes into account distance to the destination, truckload capacity, traffic, weather conditions, fuel consumption, and other key factors. With this feature, a user is able to plan and execute their transportation strategies, confirm freight shipments, and deliver them on time and in good condition. Thus, it can collect and analyze data from various sources in order to provide more precise insights and reports.
Documentation and regulations management
Dealing with paperwork (bills, invoices, etc.) and avoiding delays is a lot easier. You can automate most of the operations to take away the overwork and decrease the amount of various resources needed to spend in the process. As a result, the freight delivery process is streamlined and simple.
Data management and analysis
As you can see, the FMS has to analyze a lot of data from various sources (carriers, drivers, vehicles, customers, etc.). Therefore, in order to provide necessary insights on all the processes related to freight transportation, it is also vital to have your data, managed, visualized, and analyzed properly.
Read Also Data Visualization Software: Making Visual Representation of Your Data Effective
Shipments tracking
With the help of this feature, your software will be able to monitor the status and location of their freight shipments in real-time. You can implement different technologies along the way, including Radio Frequency Identification (RFID), GPS tracking systems, barcodes, etc. to get better tracing and control over their deliveries.
What Is a TMS and How Does It Differ From FMS?
This system helps businesses to manage logistics operations associated with the movement of goods by land, air, sea, or a combination of transportation modes. It is often considered a part of logistics software or supply chain management systems. TMS typically provides the following features:
Transportation planning
A TMS allows businesses to plan and execute their strategies, select the optimal realization of goals, book shipments, and dispatch vehicles. As a result, it is possible to reduce costs, make transportation more efficient, and enhance customer satisfaction.
Dashboards, reporting, and analytics
It is basically our good old data management and visualization. This feature cannot be omitted, because TMS needs to provide businesses with a comprehensive view of various logistics operations. And using data visualization tools can greatly improve the processes.
Freight management
TMS helps companies manage the entire freight lifecycle, from quote to contract, order to delivery, and billing to settlement. It also deals with freight costing, rate determination, order management, freight auditing, and payment.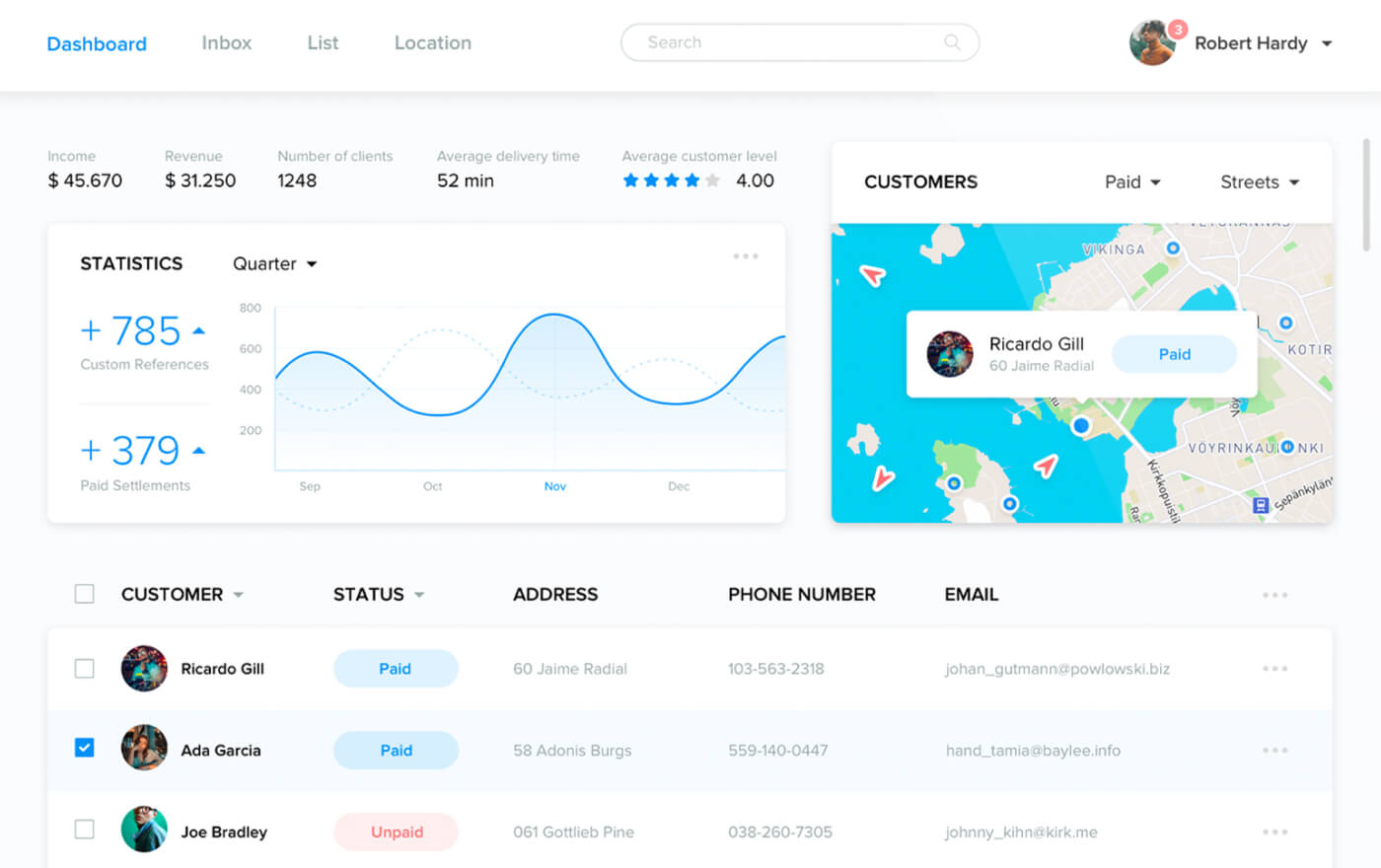 Source: Multi-Modal Transportation Management System
Now, this is when many can get confused. As we mentioned, a transport management system can include features that help to deal with freight management. Indeed, Logistics and Transportation Software is really diverse, and while some companies use several different options at once, others just go for full-featured systems covering all possible logistics and supply chain specifics. It all depends on a business and the operations it performs. That is why, you can run into three different opinions about TMS and FMS:
FMS is a part of TMS
This idea is supported by those who consider the goals of both systems. FMS focuses on the freight shipping process, while the TMS covers the entire transportation and logistics process. And freight, as well as all shipping, warehouse management, and other related procedures, are a part of the logistics operations.
FMS and TMS are different but overlapping systems
This definition is supported by those businesses that divide the both systems into an application that is used for managing third-party carriers (freight management) and software that includes both internal and external drivers and vehicles (transportation management). This point of view is also valid, because both systems may have similar features and specifics depending on which business goals and requirements should be met.
FMS and TMS are interchangeable
Often, these both types of systems refer to software that lets businesses handle their transportation and logistics needs. They both may include route optimization, documentation management, tracking, and other features that some companies prefer to use in one solution. Also, both TMS and FMS can help businesses improve their transportation efficiency and profitability.
Read Also How Inbound and Outbound Logistics Work, and How to Make Them Work Better
How to Spot the Difference and Which One to Choose?
While both FMS and TMS are logistics solutions that help businesses with their transportation needs, they have some key differences. Here are some of the main ways to distinguish the two.
| | | |
| --- | --- | --- |
| | FMS | TMS |
| Scope | Focuses on freight monitoring and shipping. Ideal for companies that primarily manage freight shipments | Covers the whole transportation process of the logistics operations. Suits business that deal with the entire supply chain process |
| Functionality | Specialized and detailed functionality for freight delivery with focus on carrier selection, route optimization, documentation management | General functionality with a broader picture of transportation, freight management, and analytics |
| Integration | Can be integrated with other logistics solutions (TMS, shipping software, yard management software, supply chain planning software) | Can be integrated with other supply chain solutions (procurement software, manufacturing software, order management software, warehouse and inventory management software to provide a more comprehensive and holistic approach |
Conclusions
As you can see, the choice between FMS and TMS deeply depends on the business needs and goals of each particular business. If you are looking for a system that is able to handle the required freight operations, then FMS may be the right option for you. If you want your software to deal with logistics and transportation processes, then TMS will be the better choice. If you want to know more about the variety of logistics and supply chain solutions, you can contact us, and our experts will be ready to provide you with a free consultation and offer you the best software option for development.