Software outsourcing has been one of the hottest development trends recently. In 2018, the global market value rose to 85.6 billion dollars. Outsourcing is popular among big corporations and small businesses alike – product owners hire testing and development specialists overseas and cooperate remotely.
Key reasons: why companies are outsourcing
At first glance, this growth might seem rather unintuitive – outsourcing entails many additional difficulties with communication and management. However, there are also significant advantages that outweigh these potential issues, and the benefits are clear.
Cost-efficiency: outsourced teams don't have to be located in the same place, and business owners don't have to invest in offices and hardware. On top of that, European and Asian providers create a fair competition for American developers in terms of offering lower prices.
Time-efficiency: by outsourcing software development tasks, companies choose to focus on core business objectives and processes.
Global expertise: outsourcing teams feature experts all over the world, accumulating practices from different markets and knowledge bases.
Freeing in-house teams: company's developers can focus on main tasks as well as additional expertise on responsible projects – dedicated teams can handle both secondary and primary goals.
Simplified management: outsourcing teams have their project managers and team leaders that bring their expertise to the project and free the company's management from burdening responsibilities.
Outsourcing software provides a lot of additional opportunities for software development projects. Product owners can focus on research, marketing, advertising, management, and the development team will take full responsibility for the technological aspects, while keeping the business owner constantly updated.
Top 10 ways to manage outsourced projects successfully
To avoid risks and fully reap the benefits, business owners need to prepare before hiring an outsourcing partner. It's a long-term partnership that brings benefits for several years and provides multiple opportunities, so if a company chooses a development provider responsibly, this work will definitely pay off.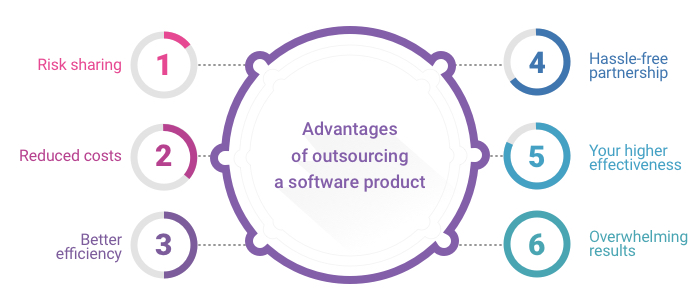 Carry out thorough research
There is a big choice of software outsourcing providers from all over the world, and there are many criteria that come into play. You need to decide on the country, the size of the team, its specialization, and the project budget.
To do that, we recommend examining credible ratings – like Clutch or GoodFirms. These lists of best software development providers are regularly updated by expert developers and business owners and are a good starting point in your selection.
Read also Tips on How to Choose Software Development Company
Help outsourced parties understand your business
Once you contacted a couple of teams, you need to define your business or software concept. Also, you need to describe your business processes, goals, and target audience. More importantly, ensure that your partner understands your business interests and has the same definition of the value as you do.
Share your vision and define the project requirements
An outsourcing team brings together specialists from different countries and backgrounds. People work in different countries, markets, and speak different languages – it's natural that the risk of miscommunication is higher. To reduce the likelihood of misunderstandings, business owners should oversee that and produce a unified guide with documented best practices and project rules to follow.
It's obvious that not all team members can be fluent in English, so it's better to include visuals whenever possible. Additionally, you should assess your business performance and goals by using statistics, graphs, diagrams; if there is a need to visualize the processes, flowcharts are great to opt for.
Treat your offshore partner like a partner
Software development teams aren't just contractors but trusted partners who should be aware of deep specifics of the company's internal processes. This means that a software development team should participate in meetings to understand what is happening to the company's dynamics in other fields, like marketing or business development.
Gain advantage of time zone differences
Remote teams assemble members all over the world, and it's almost impossible to find a time that's convenient for everyone. That's why you have to make sure that you stick to a regular meeting schedule so that every team member can plan their workdays accordingly.
What's more, time zones differences can be a privilege rather than an issue. When you have the end of the workday, one team member might only start the workday – ideally, you should identify the time when every team member will be working.
Make communication a priority
Communication is crucial for mutual understanding and regular updates. You have to make sure that every team member has a clearly defined workload for the day, and understands their purpose on the project. It's best to have daily calls with the team or at least 2-3 times per week. To avoid miscommunication between you and developers or designers it's better to consider hiring a dedicated development team with a business analyst (BA) or project manager (PM). Such spesialists will ensure that every stage of the software development goes smoothly.
Read also What is the Difference Between Project Manager and Business Analyst
Conduct regular meetings
If you are choosing between one two-hour long meeting once per week or 30-minute meetings 4-5 days per week, opting in favor of more regular but shorter meetups is a better idea. You won't exhaust your team members with long discussions but also get regular updates on everyday work.
Use project management software
Powerful collaborative platforms let team members follow their workflow and get transparent updates on the work of their colleagues. Also, they can track their work, time management, and task progress. Having all work-related updates in one place allows them to accomplish more without getting distracted.
The most popular software development task platforms are Asana and Jira – these solutions have a lot of built-in extensions that allow broadening their functionality almost endlessly. Some businesses, however, like to design customized solutions, especially if the project is sensitive in terms of security.
Adopt software development methodologies
Using Agile and Scrum methods allow unifying all development processes and cultivating a single approach to all development-related work. These methodologies are based on flexibility, constant reiterations, and close cooperation between designers, developers, and testers.
Sync up regularly
Effective communication with the off-site team is key to delivering a more productive and profitable project. That's why keeping the team in sync should be done on a daily or weekly basis. You need to find the best times for every team member to share or work out ideas, discuss work, or receive important updates. Whether you are using Slack or TeamGantt, providing project communications and collaboration in one place allows all team members to communicate in real-time and keeps them on the same page.
Bottom line
Software outsourcing allows companies to find a professional team dedicated to a specific project. Not only can a product owner regulate the amount of time and effort spent on the project, but also in-house resources will not be involved. In addition to that, if collaboration and communication between parties are easy and smooth, it can make your business partnership successful and long-term, that will bring mutual benefits for years.