In this article, we'll share some advice that will help you to choose a proper custom software development company among those that offer their services in the market. We've gathered together some tips that will help you to define if a custom software developer has an intention to exert all necessary efforts and learn the specifics of your business to make the future software product worthy of your investments.

1. Take Recommendations and Get Referrals
If you don't have any experience of successful collaboration with custom software developers, there's always a possibility to use someone else's experience. It won't be a hard task to do a small research and find some custom software development companies providing services you may need. Before making contact with one of these companies, you can look for recommendations. Such websites as Clutch and Goodfirms provide unbiased and verified reviews on companies made by their clients. If there's a development firm that provides some services you're interested in, you can check the reviews from the customers with the experience of collaboration.
Besides being the source of criticism that can help to separate the wheat from the chaff, referrals can provide useful info on reliable software vendors that you've never heard of before. Those of them that were involved in the same nature of projects as yours will be at the highest priority. Also, you can always talk to your partners or colleagues to get referrals for custom software developers.
Save your money and time by choosing a reliable IT solutions provider. Get the Right Expertise Now.
2. Check the Portfolio
The next step after you find a company that may worth your attention is to review the portfolio. You can check some projects that were developed by a company recently. It will help you to define if a firm tried and tested a particular methodology in practice. Besides that, you can clarify if a company has any experience in dealing with business challenges specific to your company. If so, you will know that a software vendor is assured of the challenges that may appear during the development process.
It's not enough for your custom software to simply work. The application that you're going to use should be user-friendly, have a good design and great usability. You can check if the company has solid experience in UX/UI design and development and will be able to create a user-friendly application with intuitive UI.
Don't forget to check the business domain of the projects made by the software vendor. The custom software development firm will better understand your business needs if they've been working on projects from the same industry. Therefore, this factor should be taken into account when you choose a development company. Such companies can be more flexible, adaptable, and innovative.
3. Choose a Company That Wants to Know Your Business Better
When you start negotiating with a custom software development company, make sure that it understands that your business has its own unique features. The uniqueness of your company consists of business processes that you're using, culture, relationships with your clients, and many other parts. The main task for the custom software product is to improve the way these parts of your business interact, which will help your company to succeed.
Since a software product can only do what a programmer has defined, before starting to develop the project, a software vendor should take the time to understand the specifics of your business. By doing so, business analysts can turn your needs into a set of software product requirements. Make sure a software company wants to understand your needs and expectations. Also pay attention to the questions that business analysts ask during the project discussion. Notice that to learn more about your company the agency may implement in-depth business analysis that may last a couple of days.
4. Choose a Company That Offers New Ideas and Uses Cutting-edge Technologies
Another important thing that you should remember is that a good development firm usually does more than a simple implementation of your ideas in the form of a software product. Representatives of the company should ask you thought-provoking questions and offer new ideas. This approach will help you to develop new strategies which will help to create a solid basis for the future software product. A software vendor should ask if you've tried some unobvious approaches and recommend some if you haven't.
Modern development technologies implement the current trends that have proven their efficiency. You can carry out the technological expertise of a software vendor to make sure that it follows the most relevant technologies and development methodologies. Companies usually share the most interesting case studies in software development, so you can easily check what frontend and backend technologies are currently in use. The reason is to make sure that the team of developers uses the most relevant and demanded technologies.
5. Choose a Company that Shares Its Negative Experience as Well
A well-experienced custom software development firm has good and bad experience of working on projects. Such companies usually try different approaches and come away with a few "battle scars." Make sure that a custom software company is confident enough to advise you what will work and what won't.
Besides offering a good development strategy, a development firm should also share the opinion on how everything can break in case you choose the wrong approach. You should look for a firm that has enough courage to disagree with your ideas. A good developer can provide an alternative opinion with reasons that are in line with your goals.
6. Ask What Services a Company Provides
Before signing a development agreement, make sure that the software vendor understands your business processes and requirements. Pay attention to the software vendor that provides the full-cycle of development services such as business analysis, UX/UI design, QA testing, and product maintenance. Hiring a dedicated developers team with the complex approach let you ramp-up your project quickly and guarantee the best outcome.
Don't forget the after-development support services. Make sure that a custom software vendor provides software configuration, software customization, software maintenance and software backup services.
7. Company's Location Plays a Role
It's a pretty common practice to outsource software development. As a result, you may face the necessity to work with the development team that you have never seen. In such a situation developing face-to-face relationships with your development firm may require additional efforts.
At XB Software we understand that building a custom software product is a complex process with a lot of complexities appearing from time to time. That's why we hold a kickoff meeting before the project launch. At this meeting the client will get acquainted with the team personally and discuss all the details of future collaboration. Such an approach will help both sides to deal with the bumps and remember that there is a real person on the other side.
8. Remember the Importance of Communication
Properly planned communication process plays a significant role in custom software development. The main point is to provide the optimal terms for sharing, clarifying, and refining the ideas that can appear during the discussion of the project and development process. A right software vendor will offer to hire a project manager and/or a business analyst who aims to take the stress out of you by taking on the lion's share of the responsibilities.
Read also Role of a Project Manager in a Software Development Project
Good communication helps with scoping and budgets for the first release, defining priorities, clarifying questions, and making sure that things work according to the plan. Make sure that you feel good about the quality and quantity of communication with the software development firm you're working with. Being a thing of intangible nature, a software product is highly dependable on what gets communicated, and how it gets communicated.
Conclusions
When a company provides some services, it always leaves some tracks. Using these tracks, you can decide whether the company is worth your attention or not. Even before you start negotiating with the software vendor, you should form an opinion about it. There are dozens of sites that provide reviews on development firms. Make sure that the software development company is focused on the apps of your interest. Portfolio and case studies will help to define if a company has enough experience in your industry.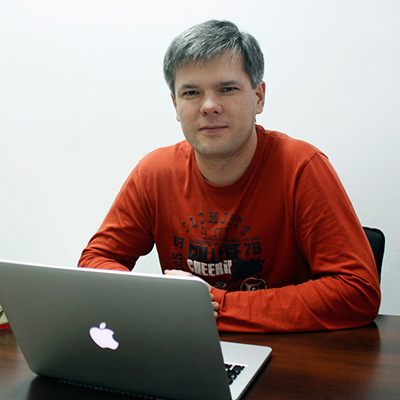 Vitaly Hornik, the Chief Operating Officer of Delivery Department of XB Software, has commented:
When we use the term "firm," we don't necessarily mean an impersonal company being a part of market relations. The reason is that dealing with a particular firm we make contact with real people. Therefore, the best company to implement your idea is the one with people being on the same page with you. If you're lucky enough to get in touch with
someone that catches your ideas and shares your vision
, cling to them and start creating your project. Being a part of the brainstorming process, they'll be able to bring new insights which will lead to the even better outcome than was desired.