When a business doesn't have enough human resources or employees don't have enough skills and expertise, it can be decided to look for an outsourcing company that can offer the required services. Working with outsourcing companies is common in the IT sphere. The pool of choices is really wide, so it's essential to understand how to negotiate when you find the company that will be able to provide the needed help. Therefore, in today's article, we will take a closer look at the outsourcing contracts and give you some practical tips in negotiating one.
What Is the Goal of an Outsourcing Contract?
In order to legally document the terms of the timelines and work that are expected from a company that provides IT outsourcing services, an outsourcing contract should be created. All the details, including the scope of work, warranties, deliverables, termination clauses, payment terms and conditions, etc., should be clearly stated in this binding agreement.
Essentially, every party has to be able to understand their roles and responsibilities before agreeing to the contract. So, basically, this is the document that protects the investment of your business and also dictates how the provider of services gets paid. The outsourcing agreement can also be of different types, so both sides need to know what they are signing.
Read Also Cannot Decide on the Right Type of Contract? The Answer Can Be Found Easier Than You Think
Why Even Bother with Outsource and Signing Contracts?
First and foremost, getting your work done by an outsourcing vendor reduces operating costs. It is understandable for a business to compete with its rivals for the place on top. Having your expenses reduced may lead to transferring your resources to other projects. Besides that, when you hire a dedicated team of developers, you don't need to train your own team. You don't need to spend additional time and resources on the training and can allocate the resources elsewhere.
Moreover, sharing the tasks with an outsource team helps your employees to stay motivated as they don't need to overwork or spare their productivity and responsibilities. As a result, you have overall less risks, because the project is done by a team that has experience in such tasks and is easily scalable almost any time depending on the needs to ramp up or slow down without any HR issues. And, you have easier payroll, because you don't need to deal with separate pay checks, everything is already included.
Read Also How a Risk Management Plan Can Stop the Overflow of Different Business Risks
What Does Outsourcing Contract Negotiations Process May Include?
When compiling a software development outsourcing contract, significant attention should be paid to analysis and negotiation of terms, because the document will affect both parties. In this case, productive and sustainable outsourcing partnership will be attained. So, let's see what could be done to let both sides get what they want.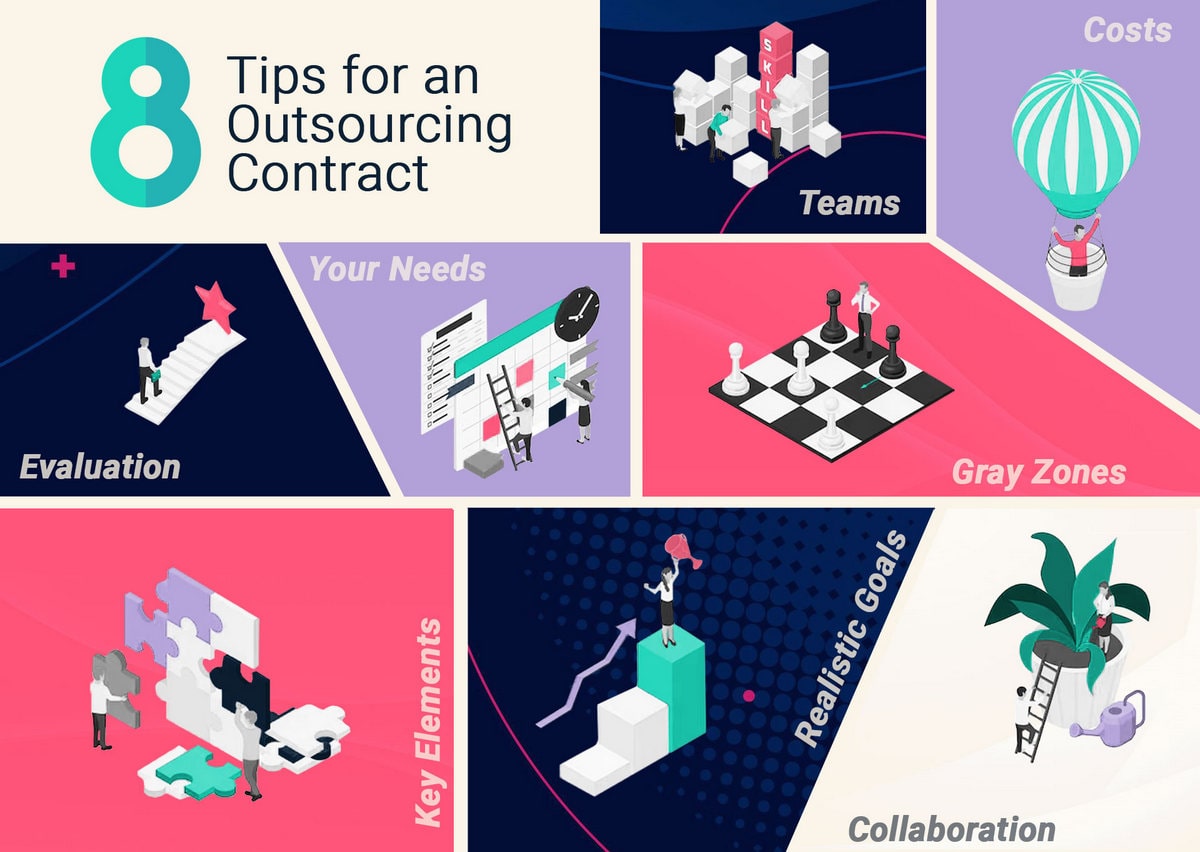 Tip 1. Know Your Needs
To let an outsourcing company provide you with all the required services, you need to determine what you want to achieve. You need to define the tasks that the provider will perform, deliverables, time frames, terms and conditions, what payment invoices should include, warranties, etc. All the possible risks have to be evaluated, and key stakeholders and responsibilities identified. If both parties understand their goals and expectations, it is easier to communicate.
Tip 2. Focus on the Key Elements of the Contract
When you have a clear idea of what your business needs, all the other details that define your partnership should be stated. The key components usually include pricing and fees, intellectual property rights, dispute resolution mechanism, and confidentiality protection. The main goal here is to protect your interests and establish mutual trust.
Tip 3. Set Realistic Goals
Besides understanding your own business operational needs, you have to consider the experience and abilities of the outsourcing company you've chosen. For example, if you are in need of web development services, all the specifics that are important for the future project have to be disclosed to a provider. Otherwise, how would an IT outsourcing company understand that a mobile app is also required or that the product has to contain certain features?
Tip 4. Define the Representatives and Teams
You need to know the team that you will be working with to understand what they are capable of and who even will be contacting you through the whole process. The same goes for the outsourcing team – they need to understand what to expect from your side.
Read Also Making Your Team Bigger the Most Efficient Way. How IT Staff Augmentation Works
Tip 5. Avoid Gray Zones
Gray zones are the activities that are not managed by your company or the provider of services. These activities can increase risks, therefore, it's vital to list all of those that are not in the scope of the document and decide what to do with them before signing the contract. For example, a contractor transfers the rights to the software they made but is not able to transfer the rights to 3rd-party components and services and isn't responsible for them. Many IT companies consider this fact, which is why it may be already inserted into the template of an agreement.
Tip 6. Collaborate More
Instead of dumping full responsibility on the service provider, find out the golden mean. Identify what your business can do and what will be better done by the outsourcing company. By sharing the responsibility, you will also be able to have more control over the process or even reduce the costs.
Tip 7. Negotiate the Costs
Every business wants to spend less resources and gain more. Sometimes, an outsourcing company can offer methods or tools that will speed the software development process and reduce expenses. For example, we suggest customizing applications with Webix or DHTMLX libraries. With their help, the related and total costs can be easily reduced.
Read Also Best JavaScript Libraries for Data Visualization (Featuring Webix and DHTMLX)
Tip 8. Identify Evaluation Criteria
When the job is done, you will need to come back to the contract and check if all services that were stated earlier are provided. If there were changes throughout the process, you need to consider that as well. To make it easier for you and for the service provider, you both can decide on the evaluation criteria. Thus, both parties will know what to expect. The criteria can be based on the tech expertise of the outsourcing vendor, your mutual agreements, the state of the final product, etc.
What Is Easier and Faster Than Following the Tips?
Negotiating and signing an outsourcing contract can take time. And, compiling the contract between you and an IT outsourcing vendor can create trust and better communication, which results in better project outcome. Therefore, there is nothing wrong in stating all the uncertainties and identifying weak spots of each party.
However, instead of spending the time of both companies on considering every tiny nuance, you can ask an IT outsourcing vendor to provide you with the ready-to-use templates of NDA and contract. For example, dealing with customers from different organizations across various industries, our company has created templates for all frequently used documents. We have dealt with a variety of cases, so we already know what you may need and which nuances should be considered. These templates help to greatly save time that can be spent on creating one from scratch. As a result, it is possible to start the project a lot earlier and ensure its better outcome.
Conclusions
The more the parties of a contract understand the capabilities of each other, the better business partners they can become. And if something changes, you can always gain a trustful service provider who is ready to help you. So, if you need any help with your software project, contact us, and our team of experts will be glad to provide assistance.