Clearly defined tasks and transparent communication between stakeholders are some of the key factors that determine success of a project. In an ideal scenario, a software project that you have in mind or the one that is already in progress runs buttery smooth and each project participant is satisfied with the results. And, this is what every project manager seeks for. You can try your best to avoid a scope creep, but this is what can happen when you least expect it. Possible project risks are always around the corner, so it is essential to do everything possible to minimize them and be ready for consequences.
To know how to act when you run into scope creep in project management, you need to have a detailed look at it. Therefore, let's explore some of the examples, define what can cause scope creep, and find out how to manage scope creep.
What Is Scope Creep and What Does It Look Like?
All the work that is required to complete a project involves various operations to perform. Project scope requires determination and documentation of project goals, tasks, deliverables, deadlines, and costs. A good project manager should be able to ensure success in all parts of the project scope. Careful planning, the creation of Work Breakdown Structure (WBS), scope validation – every step has to be made wisely.
Read Also Project Scope Management in IT Projects [2022 Update]
Otherwise, there is a high possibility that your team will encounter scope creep. So let's take a closer look at what it is, and why it is bad. Scope creep is the situation when the scope of a project changes beyond anyone originally expected. It happens after the project begins, starts with a subtle deviation from the original scope, and piles up with a number of requests that ultimately lead to uncontrolled issues. These changes can affect anything related to a project: its budget, schedule, resource allocation, costs, etc.
For example, your original plan included 3 deliverables, but some changes were implemented in the process, and now your team has 5 deliverables. This is scope creep, and it can impact any project at any time. These are some of the examples that you may need to deal with when you encounter scope creep:
Misunderstanding of scope;
Unclear requirements and deadlines;
Vague understanding of functionality;
Too many tasks with uncertain responsibilities;
Extra work that wasn't planned before project execution;
Side tasks that are not related to the project;
Budget reduction or inability to provide team with additional resources;
Additional unplanned rounds of design changes.
Scope creep can take any shape, and these are not all examples of the situations that can happen with your team and project.
Reasons for Scope Creep
This is one of the most common project risks, which means that there are ways to prevent scope creep or deal with it successfully if it happens. But, first of all, it is vital to understand why scope creep occurs. Some of the reasons might be obvious, while others can be under your very nose but rather unevident.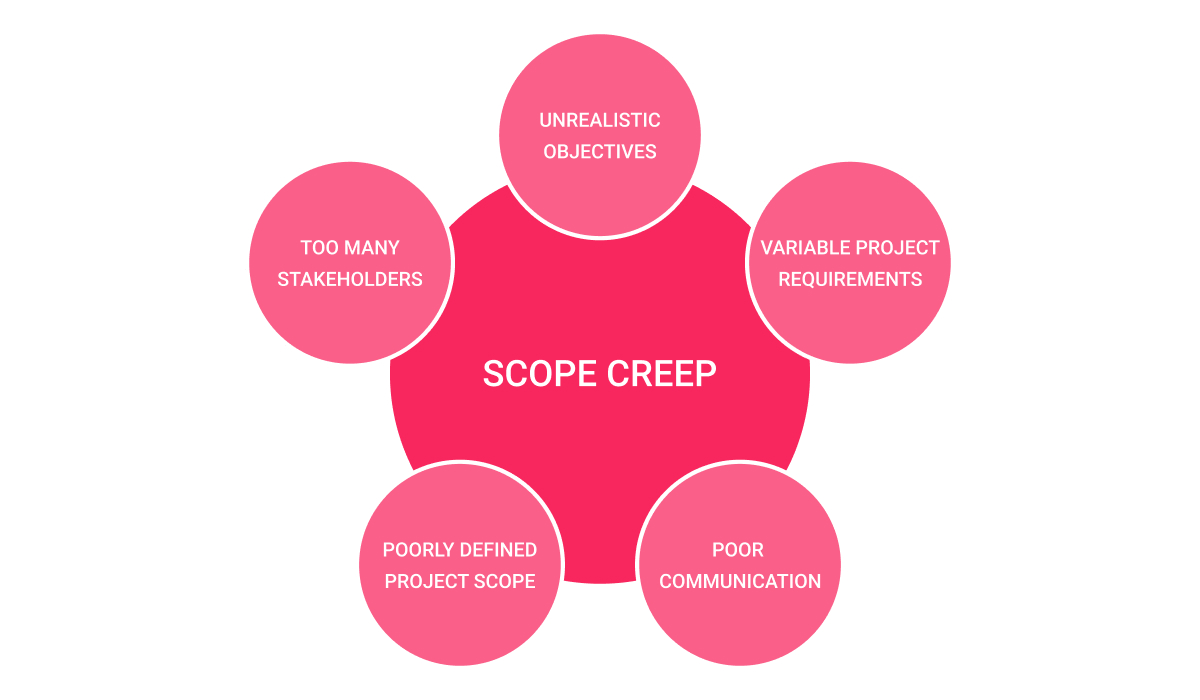 Low level of communication
In any situation, during the execution of any project, there has to be communication between project managers, stakeholders, and other project participants. Poor understanding of everybody's responsibilities never leads to positive results. It is especially important to ensure better collaboration between in-house and hired teams when you choose software development outsourcing services.
Poorly defined project scope
If one of the project objectives is to create a feature for your app that will be taken positively by its future users, you need to think carefully about the outcome of your project. What type of feature is required? Which functionality do you have in mind? Do you even have a profile of your potential customer? This is an unclear objective, because it can be perceived very differently by each team member.
Variable project requirements
The requirements that are constantly changing during the project execution can be really confusing and can even conflict with each other. A wise project manager understands that this situation should not be happening if you seek success in your product. Too many unexpected changes can affect the result negatively, which is why it is vital to avoid them and plan and decide everything during the discovery phase.
Read Also Discovery Phase in Software Development. Why It Is Important for the Success of Your Project
Unrealistic objectives
Besides unclear or variable requirements and goals, it is possible to face the objectives that are absolutely unrealistic for your product. If your team doesn't have the required skillset for the plans you have in mind or there is not enough budget to implement a feature you want, maybe there are other objectives that can be completed realistically.
Too many stakeholders
When there is a dedicated team of developers, a team of QA testers, several business analysts, and new team members coming out of nowhere, the workflow turns into chaos. There has to be a leader that defines clearly the responsibilities of each participant. If your company hires an outsourcing team, but your in-house developers are going to participate as well, think through with the provider about assigning one project manager for each team if needed. Thus, it can be easier to control both parties and put all tasks in order.
4 Useful Tips to Avoid Scope Creep
Now you know which factors can bring scope creep alongside. In order to be able to avoid it, we also want to share some useful tips that will help you to define your actions even better.
Tip #1. Create a Detailed Plan and Document Requirements
A clear definition of the project goals and easy-to-understand plan are two key things that you need to start with when defining the scope of work required for your project. Gather all the stakeholders, listen to each other's ideas and requests, and determine what should be done prior the project execution and during its entire life cycle. Do you have such a plan? Good, now stick to it.
Tip #2. Make a Clear Project Schedule
After you decide on all the sprints and phases, it is time to allocate the responsibilities among team members and set deadlines. This is the perfect time to use project management software, and project management software development services is what you can look for to choose the best option for your needs.
Utilizing Gantt charts is a wise decision, because they show you assignees, their tasks, deadlines, and help you to track and control the overall process. There are many tools that include this feature, however, we would like to talk about the best solution, which is known as GanttPRO. This powerful SaaS project management software is based on a Gantt chart and helps you to manage tasks and projects easily. With GanttPRO, you will be able to gain better results and avoid scope creep.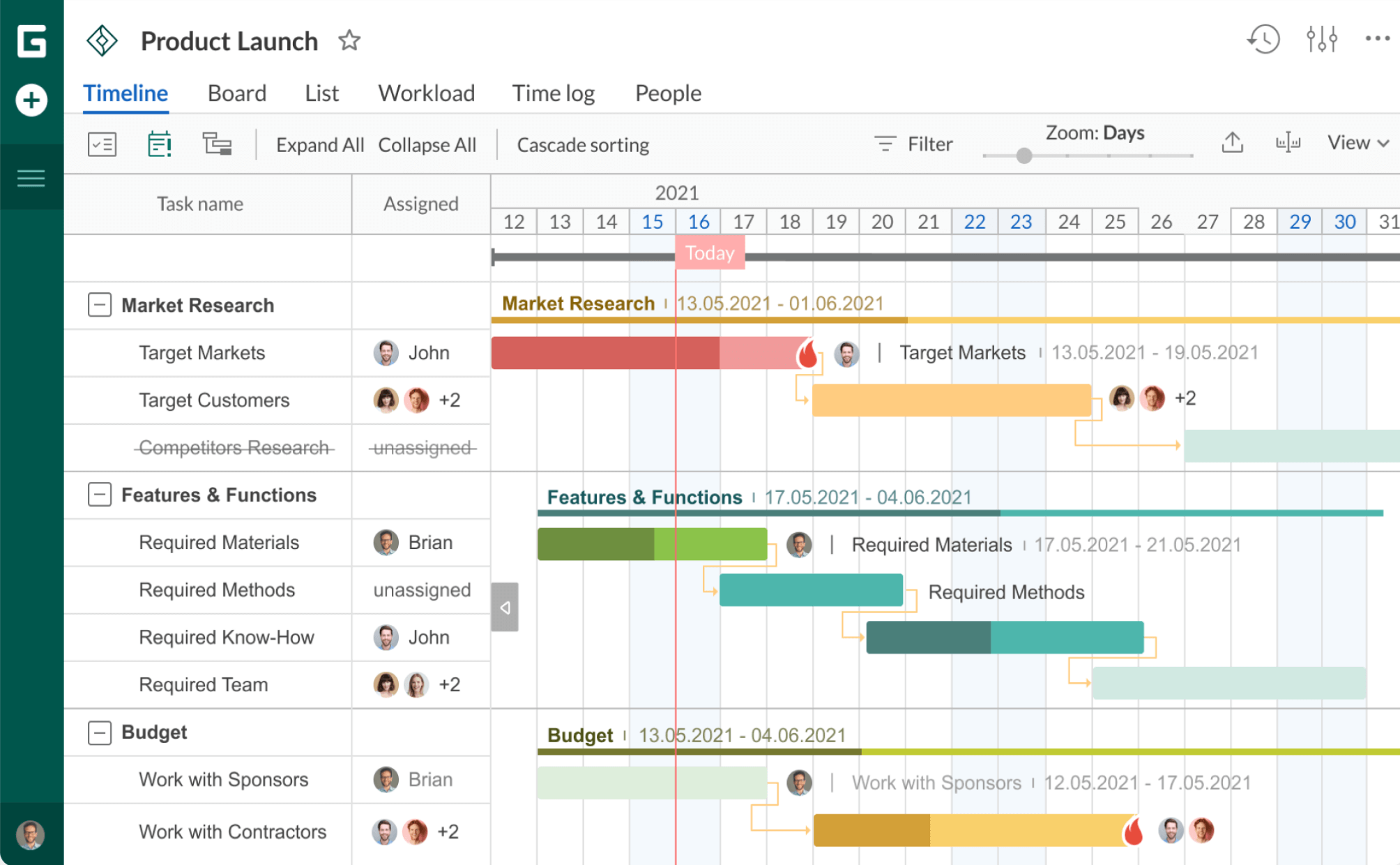 Source: GanttRPO | Project Management Solution Based on Gantt Charts
Tip #3. Develop a Backup Plan
It is always better to have a backup plan than to go without it when things start to break. Create one at the beginning when you will be planning your further steps. This will help you not to forget key details and discuss possible changes with other stakeholders and verify them right away. And if something bad happens, everybody will be ready for this.
Tip #4. Be Brave to Say No
If one of the stakeholders decides to share their ideas with others, it makes the whole team closer to success. But when they come to a project manager and demand to implement some feature that you didn't discuss during the discovery phase, you have all rights to say no. Accepting this proposition may bring many risks and, as a result, a bad outcome. Explain to the stakeholder why this idea may not be the best one and find a better solution that will have a positive effect instead.
Conclusions
Every project manager wants to avoid as many project risks as possible, but unfortunately it is not always possible.The same applies to scope creep. That is why it is essential to cover your project from all sides and be ready for any type of shaking. If you want to know more about GanttPRO, Webix, DHTMLX, or our other project management tools that can help your project managers, please contact us, and we will provide you with the best solution.