Software development is not an easy business niche, and it might be frightening to be a small fish among business sharks. It is easy to get distracted and overwhelmed while trying to cover everything at once when you are just fresh from the oven. That is why every startup should have a clear picture of its business strategy, goals, target audience, and other essential details. Many questions will arise during the process, and you will want to know where your B2B SaaS startup can find success as well as what can possibly work and what doesn't. With a great variety of technologies nowadays, it is easier to develop game-changing products, but you need to understand that everyone thinks the same way. Therefore, you have to be ready to compete and define how to stand out, especially when Google Trends show that the demand for SaaS applications won't disappear in the near future.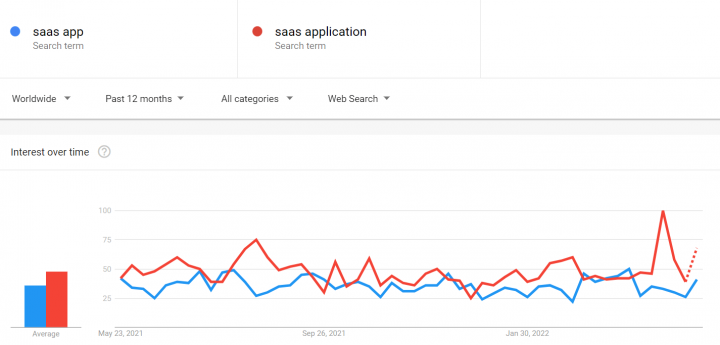 It is critical for your business to start with a little boost, which is why, in today's article, we will provide you with the efficient tips that will lead you to success. We have a significant level of expertise transforming any idea into a high-quality solution, therefore, let's look at what we advise you to pay attention to.
Tip #1. Learn How to Sell a Problem, Not a Product
If your software is the same as many other companies have, you need to rethink your business strategy. Consider what new features you can implement to allure customers, which trending innovation is suitable for your application, and which solution your product offers to an issue going on the market. Include value in your product.
A B2B SaaS application that you provide your clients with can have bugs, might be in beta version, and still be unfinished. But if you present it as the one and only solution that can satisfy consumers' needs, it will have more demand among users. Gauge what you can offer, maybe develop a feature that the SaaS applications of other companies lack. Think as a user, not as a seller. This approach helped to accelerate growth for many SaaS (Software as a Service) companies so far.
Read Also How to Build a Successful SaaS Product
Tip #2. Create Not Just a Sales Team, But a Team of Professionals
Sales team is what ensures that your B2B SaaS business works. When creating one, it is important to include those specialists who have an engineering background, because they will have to deal with a technical product that they should understand. You may need to ask the members of the team to learn some additional skills if required in order to ensure high-quality services. The SaaS app development process is not a piece of cake, and no one said that promoting the solution you developed would be easier.
If you want your sales team to promote and sell the product successfully, let the customers test your product via free trial. Showing useful features and offering even better ones in a paid version increases chances for your software to be sold. Your sales team will need to understand when to reach out to a client to offer them a final version of your SaaS solution that has all the required functions and when to offer the one a buyer can just test out. Besides that, your team has to know the clientele of your business to be able to define which company must have special attention and when. Thus, good soft skills should be acquired by the members of the sales team as well.
Tip #3. Invest in Lifetime Deals
You are at a starting point, which is why there is a small change that you have investors that can help you in growing your business. You can choose the path of an independent business and reinvest your profits in order to grow. This is a slow process, however, there is a way to speed it up. Thus, you can offer lifetime deals. It means that a client buys your product once, but spends a higher amount of money. And you, on the other hand, have more resources to reinvest and increase the growth of your company. For example, if you choose to go the cross-platform software development path to share your B2B SaaS applications both on Google Play Store and App Store, you can decide which pricing will be able to repay the work done.
Read Also How to Make Cross-platform Development Your Startup's Best Companion
Considering that this is a one-time payment, which frees consumers from paying monthly or yearly, you need to decide which services you will provide this way, and which features or additional functions can be acquired with the subscription. Thus, the mobile version of the app can be free but offer additional features that clients need to pay for, while the desktop version of your solution can be bought for a full price only. It is up to you to decide how to juggle with pricing. Just follow the bootstrapping approach wisely. Balance and clear understanding of your goals and amount of resources is what you will need.
Tip #4. Connect with Customers on Emotional Level
SaaS application development is a hard process that can pay off greatly if you build up a dedicated community. To survive in this highly-competitive environment, you need to realize that human beings make decisions that are mostly based on emotions, not facts. Your developers can have the best set of skills and develop a B2B SaaS application that will stand out among others and will work flawlessly. But, if you don't have a customer support that is ready to solve issues of any buyer or your sales team is not able to provide clients with the details they need, the impression of your brand may not be positive.
To avoid this aftertaste, include something unique and personal in your brand. For example, we are glad to help small- and medium-sized businesses by providing different custom software development services, including such processes as software development for startups. We have experience, newly-made SaaS startups don't have that, so show off what your company has now. Is it the enthusiasm of developing an app that no one has, or does the target audience you chose have something special over other customers? Does your SaaS solution solve an issue the market had for a very long time? Was this business of yours a dream you always wanted to achieve? Explain to your community why they should value your business and services. The more personalized experience clients will have with your company, the closer you become.
Try to make this personal approach your company's policy and let it spread its roots. Invest in your employees and consumers and show them that you care. Ensure that not only your customer support team understands how to help others, but the members of the other departments of your company as well.
Tip #5. Develop a Good SaaS Product Pricing Strategy
Pricing portrays value to the target market as well as defines profit for your product and services, which is why it has an important role for your business. The strategy you follow should include overall pricing power, competitors, variable and fixed costs, buyer personas, and demand. The key task for you is not to focus mainly on acquisition, but not to forget about retention and monetization as well. All three parts should be linked, because you cannot bring more clients without strengthening relationships with the ones that already chose your company over others. Custom SaaS applications that provide you with information on profits, costs, real-time forecasts, and performance overviews can help you to ensure the right workflow to lead your business to the right path. They also aid in understanding if you included everything you wanted into the launch of your product.
Read Also SaaS Product Checklist Creation for Successful Launch
Involve customers in your pricing process by gathering feedback from them and asking for reviews. You can try making different subscription plans and offer sales to see which price is more suitable for your target audience. Check your competitors and their pricing. This is not a one-day issue that you can deal with quickly, but after some time you will be able to find the right spot.
Conclusions
It is always hard to start something new, and beginning to lead a B2B SaaS business is not a path that can be covered in a carefree manner. Many bottlenecks can occur along the way, many hardships will wait for you in the future. But, a cat in gloves catches no mice, so if you want to enter the niche smoothly and be able to go up the top rankings of the market, you will need to prepare yourself to face the possible difficulties.
If you want to get help from experts in SaaS app development and want to make your startup path to success shorter, contact us, and we will consult you on how to improve your services.