In recent years, vast improvements have been made in the Energy industry. More and more companies turn to renewable energy, because it opens up the opportunity to save on bills while also investing in a cleaner future. Businesses can work toward becoming more energy-efficient with the help of various types of resources, however, it is vital to know how to use them wisely.
This is the reason why energy management and monitoring systems are quickly becoming a popular choice for businesses and homes looking to reduce their environmental impact and to spend less money. They can greatly assist you in tracking and monitoring your energy usage in real time, which makes it a solution chosen by many. In this article, we will explore the benefits and uses of energy management systems for both home and business and explain why you should think about getting help from a software development company that can offer you custom software development solutions.
In-Depth Look on Energy Management System
The deployment of energy management systems has accelerated recently, and it is expected that their usage will grow even more in the future. According to Precedence Research, the global energy management systems market size is supposed to surpass around US$ 153.62 billion by 2030. That is why let's know more about this type of system and explore what it can provide you with.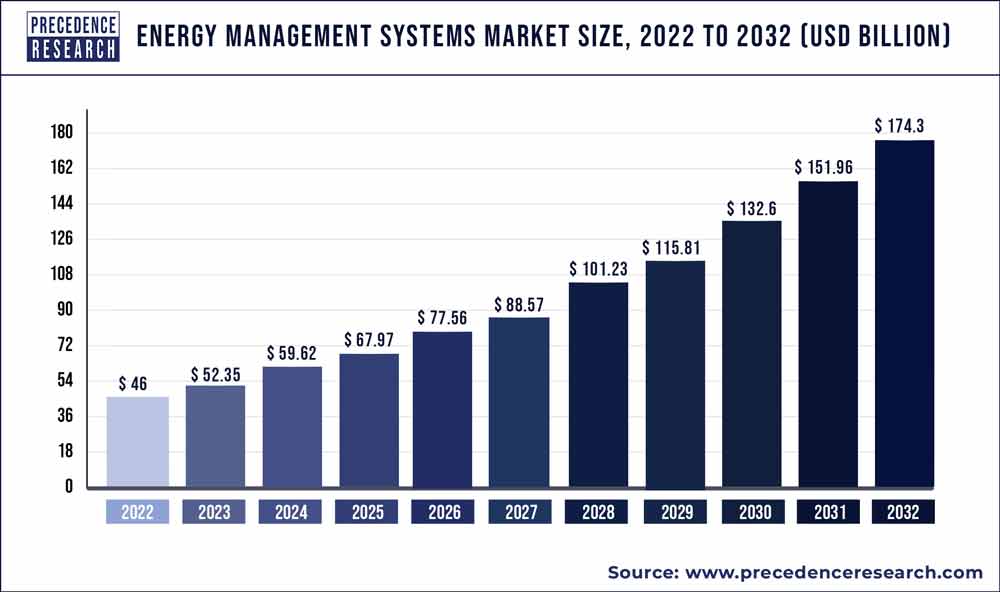 Energy Management System (EMS) is software that tracks and monitors energy usage from multiple sources, helps to manage its consumption, and optimizes its use. It is usually tailor-made, because every business wants to have personalized experience that fits their needs. Based on the applications, such a system can be developed for:
residential;
commercial:
industrial, and others.
This monitoring software grants energy efficiency, cost savings, and better analytics. By implementing AI-powered software, the system helps organizations to identify energy-saving opportunities in their consumption data and provides them with the insights required to achieve these goals. The software is designed to provide energy management solutions that are developed to the needs of a particular organization and match a range of energy consumption requirements, from energy tracking and reporting to real-time monitoring. Having such a powerful set of features, it can aid in making informed decisions about the energy use and its improvement.
EMS can support energy conservation and energy sustainability initiatives, by helping to set efficiency objectives, develop management strategies, and track the progress of goals. If your business is looking for ways to reduce its carbon footprint and become more sustainable, an EMS could be the perfect solution.
Read Also Top 7 Life-Changing Trends in Energy & Utilities Industry
What Can Energy Software Be Focused on and What Are the Advantages?
Nowadays, companies that offer IT staff augmentation services can help in developing various types of energy software solutions. Some of those that are available to meet the needs of any business include the following options:
Energy monitoring software
This type of management system focuses more on the monitoring functionality. It keeps track of an organization's energy use in real-time and provides data that can be used to identify areas where energy is being wasted. The monitoring type of software can also be used to track the performance of renewable energy systems and compare different types of energy sources.
Renewable energy software
This is another type of EMS that is designed to help companies plan, design, and operate renewable energy systems. This type of software can be used to simulate the performance of different systems, such as solar, wind farms, etc, and to optimize the operation of existing renewable energy systems.
Custom energy management software
The most popular option today is when you choose your own focus and turn to custom energy management software development. This type of EMS is developed specifically for a customer's needs and can be customized to fit the certain requirements of a business. It can contain previously mentioned types and include some additional functions. Bespoke EMS solutions are often used by large companies that have complex energy requirements, but can fit the needs of others as well.
Any of these types can lead to money saving by reducing their energy consumption. They can also help them to meet sustainability goals by increasing the use of renewable energy sources. All in all, such a system brings a ton of benefits, so let's look at what you can get from it.
Better Data Management
An EMS typically includes tools for data visualization, collection, analysis, and reporting. It can also have features for resource planning and load shedding, which gives you better performance tracking. Energy management software greatly increases data visibility and management, which helps you to make better decisions and find solutions to enhance customer service. Overall data management of the consumption of resources, possible savings, and other details will be as clear as a day.
Improved Operations
Implementing an energy system can improve the efficiency of operations by streamlining processes and providing a comprehensive view of the entire organization. Software development for the energy sector can help companies to develop intelligent algorithms designed to make decisions more efficiently and accurately in order to improve the quality and reliability of energy operations.
Reduced Energy Costs
An EMS eliminates manual processes and data duplication. That is why by leveraging energy management software, organizations are able to manage resources more easily, resulting in improved efficiency and cost savings. The software allows users to track and analyze energy usage, set up goals and targets, and create custom reports. Additionally, your team can make more informed decisions regarding energy investments, leading to greater returns on investment.
More Green Energy
This is another important advantage of using EMS. With this software, it is possible to improve the reliability of power supply and reduce environmental impacts. By identifying problems early and addressing them quickly, energy software can help you to avoid power outages and brownouts. It also aids in controlling and, as a result, reducing emissions of greenhouse gasses and other pollutants.
Read Also From Adaptive AI to New Green Initiatives. What Tech Trends to Watch in 2023
Comparison of Energy Management Systems for Businesses and Homeowners
There are many benefits that both businesses and homeowners can get when using energy management software, which makes it a win-win solution. So, let's take a closer look.
Source: Custom Energy Management Software
Energy Software For Businesses
As we mentioned earlier, energy management software can help businesses to reduce energy usage and save money on bills. Software development has come a long way in assisting businesses of all sizes in achieving greater efficiency and cost savings. From forecasting energy usage to tracking its consumption, these solutions are equipped with the tools and features necessary to provide businesses with the insights they need in order to make informed decisions. With improved accuracy, visibility, and optimization of energy use, it is clear why software development for the energy sector has become essential for businesses looking to maximize their efficiency.
Energy Software For Homeowners
As for homeowners, these systems can help them monitor energy usage in real time and get all the needed data. By utilizing energy software, homeowners can more effectively manage consumption and identify opportunities to reduce their bills. It allows users to compare their energy usage against the average data. Additionally, it provides insights into potential areas where energy is being wasted, allowing users to make adjustments and optimize resource efficiency. It also gives you an opportunity to set schedules for appliances and lights, leading to a more efficient use of energy.
Conclusions
Today, energy management software is an essential part of any organization that wants to maximize its potential for success in this ever-evolving digital age. By investing in software development for energy management, organizations can make a real commitment to sustainability while decreasing expenses. It brings a bunch of benefits and ensures that resources are used wisely making it a good investment for any business in the energy industry.
If you want to explore the best solutions that can be implemented during the software development stage or want to create custom energy software for your company, contact us, and we will assist you.