Building an ecommerce web app for your business is a seemingly tiny step that can become a gigantic leap for your business. Internet presence is one of those things that helps customers to distinguish companies that keep abreast of current digital trends in order to satisfy their needs from those who are just floating downstream.
Developing a simple web application that enables people to order goods and services online is one step towards improved competitive advantage. Add a pinch of groundbreaking technology, and no one will stop you from becoming the king of the hill. The thing is, ecommerce app development may bring new challenges for which you may not be ready. The good news is that we're here to help. Today, we'll share some tips that will help you build an ecommerce application that will open new horizons for your business.
Making Your Web App One of a Kind
Let's imagine that you want to open an electronics store. You pay close attention to the range of products so that both tight-fisted and the most demanding buyers can find something for themselves. You systematize the layout of goods on the shelves to ensure that everybody can find what they want with zero effort. Shop windows look attractive and there's nothing standing between you and your success. However, there are many competitors on the market, and before making a trip to your shop, most probably, your potential customers will decide to check what others offer. That's exactly when ecommerce web app development can come to rescue.
Adopting such a solution, you enable your potential buyers with an opportunity to access all your current offers anytime and anywhere. This opportunity will help them compare prices and special offers to decide whether you can become a good choice for them or not. Your services will become more accessible and you'll get something in return. Data that you receive from the users of your app can improve your business processes. However, there are tons of ecommerce apps that provide users with a set of basic features. To impress users, you have to dive deeper into the world of web development and see what it offers.
For example, you can use a pinch of Augmented Reality to make your app more interactive. Such a feature helps to combine actual objects with virtual ones. For example, if you sell shoes or clothes, users of your mobile app can try them on without visiting your store. Or you can make choosing a purchase in your store more informative. Say, the mobile app with an ecommerce app installed can display additional information related to the product, such as customer rating, when a user points a camera on it.
Chatbots is another feature that an experienced custom web application development company can implement. Most questions that people come to stores with are repetitive. For example, "What items are on sale right now?" or "Do You have blue door paint in stock?" We believe that your employees have more important things to do rather than answering those questions ten times a day. If so, chatbots can take care of a lion's share of customers' requests. What's more interesting, the use of Artificial Intelligence and Machine Learning algorithms can enable the development of chatbots almost indistinguishable from a living person.
When your buyers know you well, it's good. But it's not enough. You must know who your buyers are as well. To increase customer satisfaction, you can use an app that supports content personalization features. The chances that people who often buy electric guitars will be interested in a pair of figure skates are pretty low. A new batch of tube guitar amplifiers? Yes, please! The data that you gather can be analyzed by the ecommerce app for generating personalized offers based on previous purchases and sending them via emails or push notifications.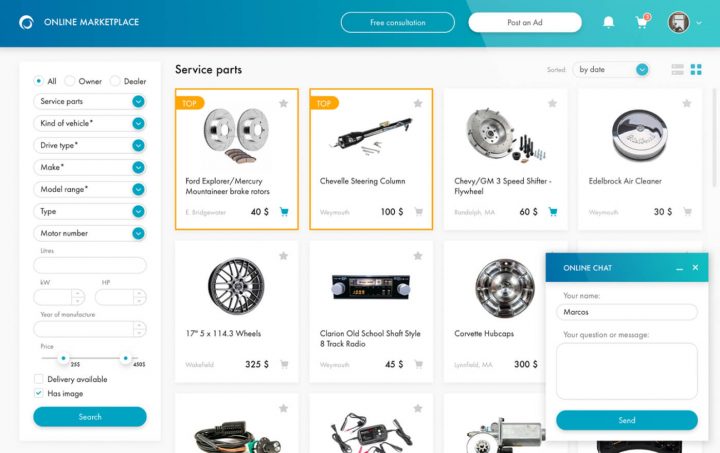 Source: Online Marketplace for Cars and Spare Parts Selling
This list of features can be quite large. Only your imagination and limitations of modern development technologies determine when it's time to stop. Social media marketing campaigns, voice search, geo fencing, and dozens of other useful ecommerce app features can help your business stand out from the competition. What's more important is to develop the right approach. A set of techniques that you'll follow strictly can determine the overall success of the app development process.
Tips That Will Help You Build an Ecommerce App
First, you must understand your needs clearly before you look for a software development company to become your partner on this journey. For example, companies that sell services differ from those that sell goods. B2B and B2C companies also have their unique features.
If you already have an actual store that sells something and want to empower your business with a brand-new app, it can be a good idea to inspect software that you're already using. For example, most probably, there's a warehouse management app in your possession. Here, there's no need to invest in warehouse app development. Instead, you can think of integrating the one you already have into your new system. Such an approach will help you save time and money.
Web and mobile apps help us get rid of the need to go to the store every time we want to buy something. Moreover, why bother with transporting goods to our homes? After you adopt an ecommerce app, the number of buyers will increase and you'll have to rethink your shipping strategy. Can you handle the influx of new orders yourself or there's no other option rather than to rely on a third party contractor? If you decide to rely on your own resources, you may also consider the development of a reliable fleet management solution.
Read Also Avoiding Business Growth Problems. How to Build a Large-scale Application
E-commerce app development has one major purpose: to help you get rid of the obstacles between you and the prosperity of your business. Every pain point that comes into your mind must be taken into consideration while you develop the strategy of building your app.
The next step is to turn your needs and expectations into a set of features to be implemented. There are different ways of increasing customer satisfaction, so you must determine which of them will suit your business model. There's no need to rush and add to this list as many features as you can. Starting with something simple is always a good option as well. Therefore, you can invest in MVP development at first, and then add more features into your app.
After you develop a clear vision of how your future app should look, you can compare the list of features you want to be implemented with the actual expertise of a specific development company. Usually, software developers don't make much of a secret about what they've been working on before. You can either consult with a company's representative or check the portfolio page to understand if the product you need can be built based on experience and not experimentation. If developers have solid expertise in delivering ecommerce web apps, it can be a good idea to contact their previous clients and get feedback on their work.
Costs of Developing an Ecommerce App
Ecommerce app development looks pretty promising from any point of view. However, any breathtaking idea can be ruined by lack of funds. Therefore, before you dream of a new and shiny app, you have to estimate how much it will cost you.
Read Also How Much Does it Cost to Build a Fleet Management App to Make Your Business Operate Like Clockwork
To help you better prepare for this step, let's consider the factors that influence the overall cost of app development the most:
Feature list obviously matters the most. The more functions you want to include in your app, the more code developers will need to write and test;
Platforms on which the app will run also play a significant role. Web-based apps are a must, but you may also want to invest in mobile app support. Companies that provide custom mobile application development services can offer you to choose between native and cross platform apps. Both approaches have their pros and cons, but regarding ecommerce apps, in most cases, cross platform development will do the trick;
Integrations. You may already have some applications and databases that you want to integrate into your app. The cost of completing this task will depend on features they provide. By the way, if you work with decades old apps, legacy software modernization may be a reasonable investment;
Maintenance of your app is an ongoing process that requires constant cooperation with a development company. The more features your app has, the higher the chances that some bugs will appear while you use it;
UI/UX design helps to ensure that the app looks great and users have no issues using it. Building a neat and reliable app that follows the best UX practices won't be a problem for an experienced development team. However, if you want to turn your ecommerce app into a digital piece of art from which it is impossible to take your eyes off, save a couple of dollars for extra design work.
Read Also Mobile App Development: Constant Dilemma of Choosing Either Native or Cross Platform
As you can see, there are too many variables in this equation to solve it once and for all. The cost of developing an application is as individual as the company for which it is developed. A simple solution with basic functionality will cost you approximately $20,000, more or less. Full-featured web applications, in their turn, will require $100,000 of investments.
Conclusions
E-commerce web apps can be an excellent addition to existing businesses or an irreplaceable part of a startup. Such software can erase the endless distances between you and your customers. Products and services that you offer can become as close as their own smartphones. If you want to boost your business with ecommerce web app development, but don't want where to start, contact us.