Every client of a real estate company has a set of unique preferences that should be kept in mind to offer the best possible option from the list of available properties. Your ability to provide a quick response to a customer's request can determine how your interaction will develop in the future. The problem is the more customers and properties you have to deal with, the more sophisticated algorithms for achieving customer satisfaction you have to use.
An enormous amount of data generated by each of your customers, current and potential, is a rather heavy burden to bear. And don't forget about the whole set of restrictions caused by the coronavirus which definitely did not simplify the business environment. Luckily, there are dozens of software tools providing various features that can help you deal with all these issues. Today, we'll discuss how the use of custom CRM software can help your real estate company to adapt to a rapidly changing business environment and improve your overall efficiency.
Overcoming Business Challenges With Custom CRM Systems
Probably, the biggest challenge for companies that rely on direct communication with people is the necessity to decrease social interactions caused by a coronavirus. It's hard to fully assess its impact on our personal lives and the economy, and long term consequences are barely predictable. We can say for sure that social distancing is the new norm, which forces some businesses to shut down, and many employees work from home. The main consequence of these factors is the tendency to increase technology adoption among different business sectors. Modern technology has enough resources to help your company successfully implement work-from-home policies and stay as "close" to your customers as possible in the current situation.
The use of CRM for real estate can empower your company to keep a streamlined system that provides brokers with deal-making data accessible both from the office and their homes. Additionally, such data can be updated and shared in real-time with ease. Custom CRM software provides a wide range of easy-to-use features that can simplify the management of your real estate company's clients' purchases and sales. All the information you've gathered can be analyzed to extract valuable insights about current market trends or even predict future ones. If you don't want to make your customers wait until you prepare a detailed response to their request, you can always rely on a CRM system that can generate an instant report with the most actual information.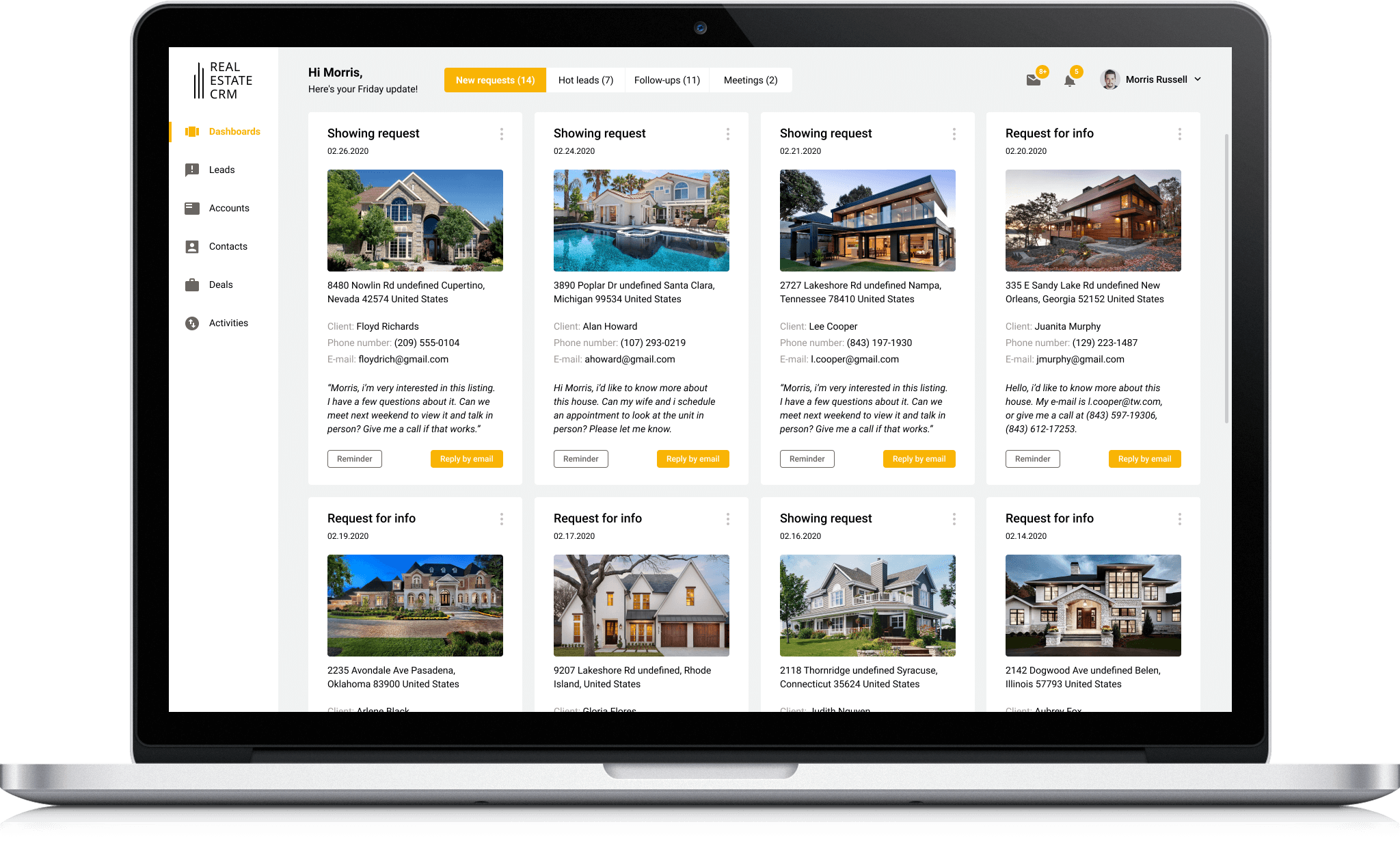 With custom real estate CRM software, you won't be lost in the abundance of data since buying history and contact information will always be well organized and easily accessible. Data from every form filled on your website (e.g., search queries, filtering parameters, or desired price range) can be automatically uploaded into your custom CRM system and stored securely. During all further communications with the customers, this data will be updated to monitor how your relationships develop.
Relationship development is a pretty important aspect of your real estate business, and custom CRM software can provide you with some useful features for improving efficiency in this field. Automated follow-up emails, reminders, live chats, and other communication channels can provide speed feedback and allow you to stay in touch 24/7. These tools will also allow brokers to maintain face-to-face contact with other employees without risking person-to-person transmission of COVID-19.
With real estate CRM software, you can quickly assess the efficiency of the business processes used. A smart reporting feature can provide you with a clear picture of how your business is running. Dozens of revenue metrics can be presented as a combination of interactive charts and graphs grouped by different criteria according to your specific needs.
The best part about custom CRM solutions is that their modular structure allows you to use only those features that you want and quickly expand functionality as you need. If you have a brilliant idea, but your current custom CRM solution lacks features required for its implementation, you can contact your software vendor and explain what modules you'd like to add to your CRM software solution. Since the developer knows every bit of your CRM solution, creating a module that provides extra functionality and integrating it into your system won't take much time and effort.
How We Helped Our Real Estate Client to Feel the Convenience of Using a Custom CRM Solution
Now, we'd like to share a story about one of our real estate clients who has been using a popular off-the-shelf solution for quite some time. At some point, lack of flexibility and required features has become a determining factor in deciding to switch to custom CRM. The time required for implementing new features did not allow painlessly to adapt to new market conditions or accept new business processes as fast as our clients wanted. For some time, the use of third-party solutions helped to solve these business issues to some extent. But a new problem arose. Our client wasn't able to provide transparent data exchange between all the software solutions he had to use. As a result, the customer decided to adopt one of those custom software solutions for real estate that we have been developing so successfully for so many years.
To speed up the development process without sacrificing overall quality, we decided to use Webix, our own JavaScript UI library and framework, to save our client's time and money. With our customer's permission, we'd like to share some features that we implemented during the development process.
First of all, we want to mention a built-in real-time communication tool that allowed our client to stay in touch with all his customers despite all restrictions. Our custom real estate CRM software solution includes text chatting. This feature allows communicating with people conveniently and effectively updating all the required information in real-time. It allows saving the history of clients' activity for its further analysis.
Deal management feature helps to use the CRM system for tracking sales on different stages of the deal. Detailed info about any made deal or deal that is still in the process can be accessed by any employee, any time, or any device.

The CRM software that we've developed helps real estate agents stay in touch with clients, thanks to the contact management feature. It allows avoiding possible mistakes that an employee can make, which helps to eliminate the probability of negative consequences. Our custom CRM provides easy access to communication history, deals details, interactive reports, and other information.
Our broad experience in creating GPS tracking software solutions allowed us to develop an efficient route optimization feature that helped to simplify the planning of the work schedule. If a real estate agent has to visit a dozen of properties, this feature is irreplaceable. There's no need to keep in mind all the addresses to visit during the day. All that is required is to choose with whom you want to meet today, and the app will build the optimal route automatically.
The CRM systems also provide a smart reporting feature. It enables the generation of interactive reports for a user-specified period. Intuitive visualizations made with our custom CRM significantly simplify the understanding of the overall work efficiency and enable a more effective approach to business strategy planning. Besides, this real estate CRM system includes performance analysis and monitoring features that assess the productivity of different companies' departments in real-time, enabling company management to make informed business decisions.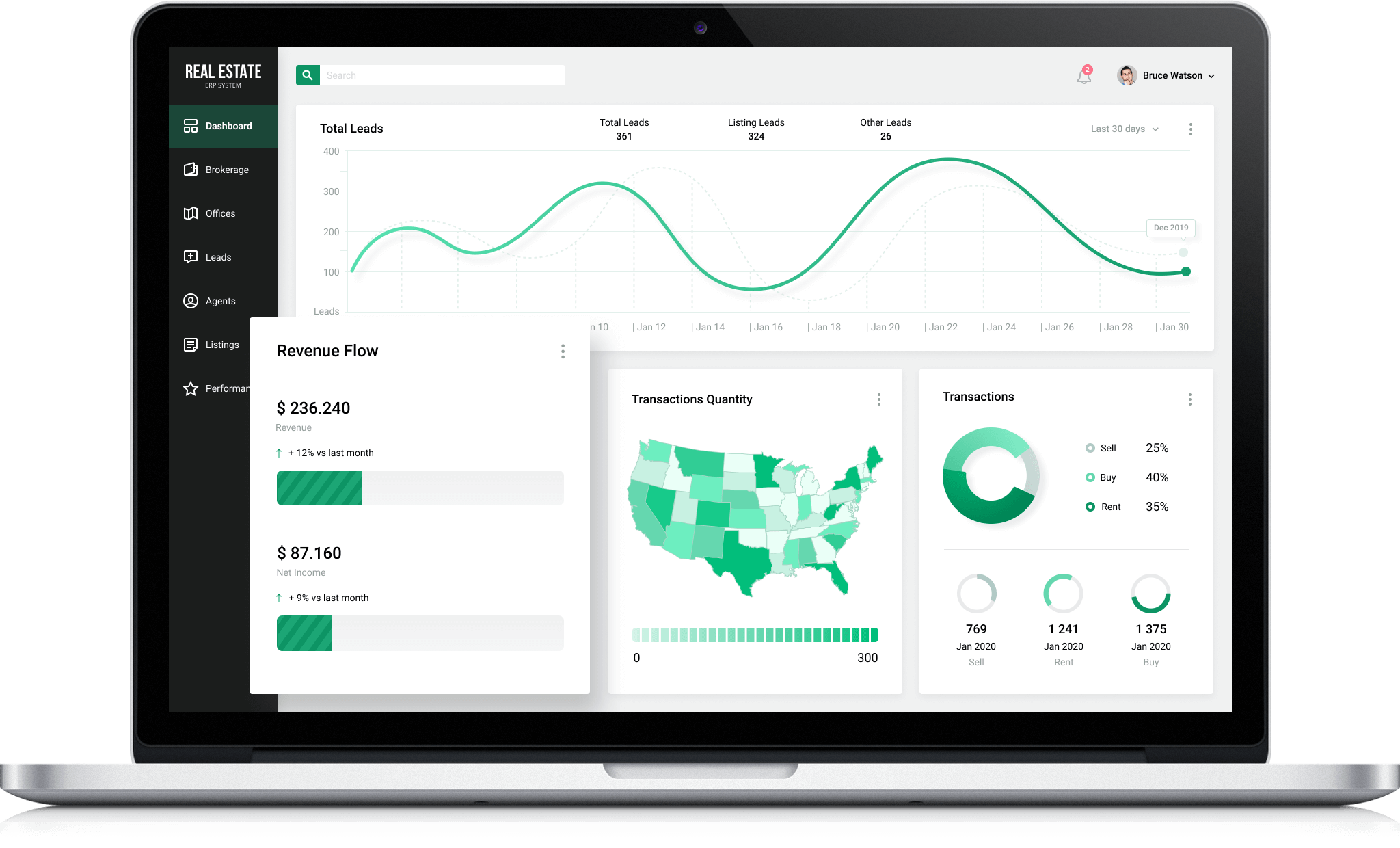 Last but not least, we've implemented some predictive analytics feature that allows using our custom CRM to forecast future market trends. Everything, from search queries to online breadcrumbs left by company customers, can be used to say how they will behave in the future.
Our CRM system can significantly decrease time and effort for creating and sharing documents between employees and with clients thanks to the document flow automation feature. A bunch of templates with a predefined design and layout, for example, can help to create a new document with a couple of clicks. Centralized access to digital documentation with searching, filtering, and sorting features allows working from any device that has access to the Internet.
Thanks to access to the mobile app, real estate agents can work with this CRM system using their smartphones and tablets.
Read also How to Choose The Right Components For A State-of-the-art Real Estate CRM
We received detailed feedback from our real estate client that allowed us to assess the efficiency of the CRM software we made:
transaction closing speed increased by 9%;
sales productivity increased by 12%;
customer satisfaction increased by 11%;
our client's satisfaction with the system equals to 100%.
Our client kindly allowed us to share a demo version of our real estate CRM system, so that you can test some of the features it includes and decide for yourself if its usability is good enough.
Conclusions
The ability to respond to changes in the market quickly determines the efficiency of your business. Since it's impossible to imagine a successful company that doesn't use specialized software, the flexibility and scalability of a CRM solution that you use plays no less important role than your ability to develop new business strategies. And that's precisely where custom CRM development can play a decisive role.
To learn more about our approach to custom CRM development and receive a free consultation, please contact us.