Modern logistics businesses require more than creating the mechanism of building connections between shippers and carriers. Successful delivery depends on a dozen factors, one of which is ensuring cargo safety. The theft of valuable goods can be costly. Also, it may result in reputational loss harmful to your business.
According to BSI & TT Club Cargo Theft Report 2020 (PDF), more than a third of cargo theft occurs during the transit process: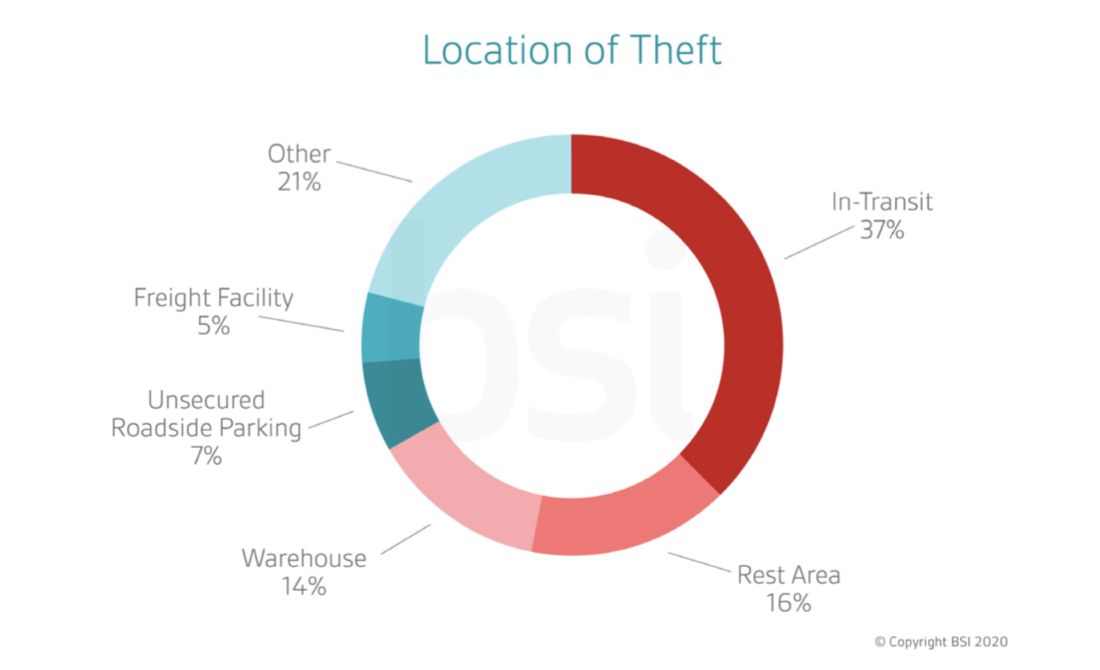 Such a state of affairs introduces new challenges since the cargo transportation process includes many uncontrolled factors. Fortunately, modern logistics software systems, along with digital devices installed on vehicles, can help you to reduce your company's exposure to theft of high-value cargo.
The most effective solutions tend to include both software solutions and procedural controls. Safety monitoring systems that communicate in real-time with GPS trackers and IoT devices installed on vehicles can guarantee that high-value cargo will be delivered on time and in inappropriate conditions. Drivers management systems can monitor the behavior of your employees to ensure that the human factor won't influence work efficiency. In this article, we'll consider how you can combine these and other software solutions to provide secure delivery of high-value cargo.
How Software Solutions Can Improve the Safety of Your High-value Cargo
Safe and timely delivery of high-value cargo requires the use of software solutions that cover each stage of the process from start to finish. Before your client signs the contract of carriage, you must ensure that your documentation complies with legal requirements. When you assign a driver's delivery order, you must ensure that his or her driving habits won't cause cargo damage. An automated confirmation message signaling proof of delivery can be sent to the client after the cargo has been delivered. In this chapter, we'll look in more detail on how these features work. Since the high-value cargo is most vulnerable during transportation, we'll mainly focus on preventing unpleasant events using an effective fleet management system.
Fleet Management
Long story short, the more tracking devices you have, the better. First of all, you have to ensure that all your vehicles are up and running. With a fleet management system, you can create a database of all your assets that will help quickly find the vehicle suitable for a particular client. Such a database can contain such data as vehicle type, current mileage, color, fuel type, full mass, performance history, repair history, and other parameters. The best part about software fleet management solutions is that various tracking devices can continuously measure variable parameters from this list. Such a system can automatically track each vehicle's current state to ensure that the fleet condition follows the standards. If it's time for the next service check, you'll receive an automated notification. As a result, you'll have the full information about the current state of your fleet and will be able to perform timely repairs if needed.
The use of a simple GPS tracker can provide you the location of any vehicle at any given time. Your fleet management system can analyze such data as stop durations, vehicle capacities, traffic jams, and drivers' lunch breaks to provide the shortest route and help to find a more fuel-efficient path between waypoints. Additionally, if you add some AI-driven functionality to your fleet management system, you can significantly improve cargo security. You'll know exactly where you're going, and the final destination will become something more than a point on the map. The AI-based route management system can take into account such factors as the time of day, usual traffic congestion, traffic lights, and speed limits to build the optimal route. In terms of cargo safety, it means that the driver should avoid the route that has multiple stops and starts. If the route includes points where the driver must slow down, for example, sharp turns, the system will mark them on the map. Also, drivers can receive automated notifications informing them about potentially dangerous sections of the route on which they should pay particular attention.
Read also Fleet Management System. How Keep Your Business Up And Running Without Draining Your Budget
If you use the same routes for different deliveries, your fleet management system can gather and analyze vehicle movement statistics and use it to detect possible harmful situations. For example, in case of long stops, stops outside destinations and traffic lights, excesses of speed limits, deviations from the route, the system will notify your dispatchers.
Creating a reliable 24/7 communication channel between your drivers and dispatchers also plays an important role. Your fleet management system can provide access to a mobile chatting app with audio/video calling support. The app can establish a communication schedule with a dispatcher or other assigned employee of your company. It could be an hourly check or a series of checks before and after crossing potentially dangerous sections of the route. Also, drivers can use this communication channel to advise dispatchers of any required detours or diversions during transit.
IoT devices can be used in transportations of goods that are sensitive to temperature, humidity, shaking, and other external influences. They control the contents of containers and refrigerators during shipping and confirm to interested parties that all conditions were kept.
During the transportation, all the doors should be locked. The driver should roll the windows when stopping and especially while driving through potentially dangerous areas. Electronic locks installed on a vehicle can inform the system if the doors are closed at a particular moment. If not, both driver and dispatcher can receive a notification. If needed, a dispatcher can lock the doors remotely. Also, your fleet management system can detect blows on truck body or windows and continuously monitor tire pressure and engine operating mode in order to notify you about emergencies.
Business Partners
The use of an integrated database will help you choose a reputable business partner, experienced in handling and transporting high-value cargo, uses appropriate equipment, and follows high-security standards if you deal with intermediaries.
You can ensure that you work with a company that verifies all data on the employment application and performs pre-employment screening to exclude employees with a criminal background or who practice poor driver behavior.
Document Management
Document digitization can help you to avoid dozens of routine tasks and optimize the workflow. With a fleet management solution, drivers can use their smartphones or tablets to capture delivery photos, get electronic signatures from clients, and take notes. All this data can be automatically downloaded to your database, and the copy can be sent to the client.
Using mobile devices, drivers can quickly investigate claims of overages, damages, or missed deliveries. Customer invoicing and payroll can also be accelerated thanks to quick access to digital documents. You can save time on drafting a document by using built-in document templates.
Custom software development companies with broad experience of cooperating with logistics companies can make your shipment documentation as generic as permissible by law or regulation. With a document management software installed on the driver's smartphone or tablet, it's pretty easy to receive documented accountability (sign-off of count and condition) when high-value cargo changes hands during transit. Also, automated clearance systems make declarations, perform risk management, undertake validation and processing, and eventually issue approvals to minimize the dwell time.
Drivers' Control
Cargo safety highly depends on the professional qualities of your employees, their behavior on the road, and their health. With custom-made software solutions for logistics, you can improve your control over these factors.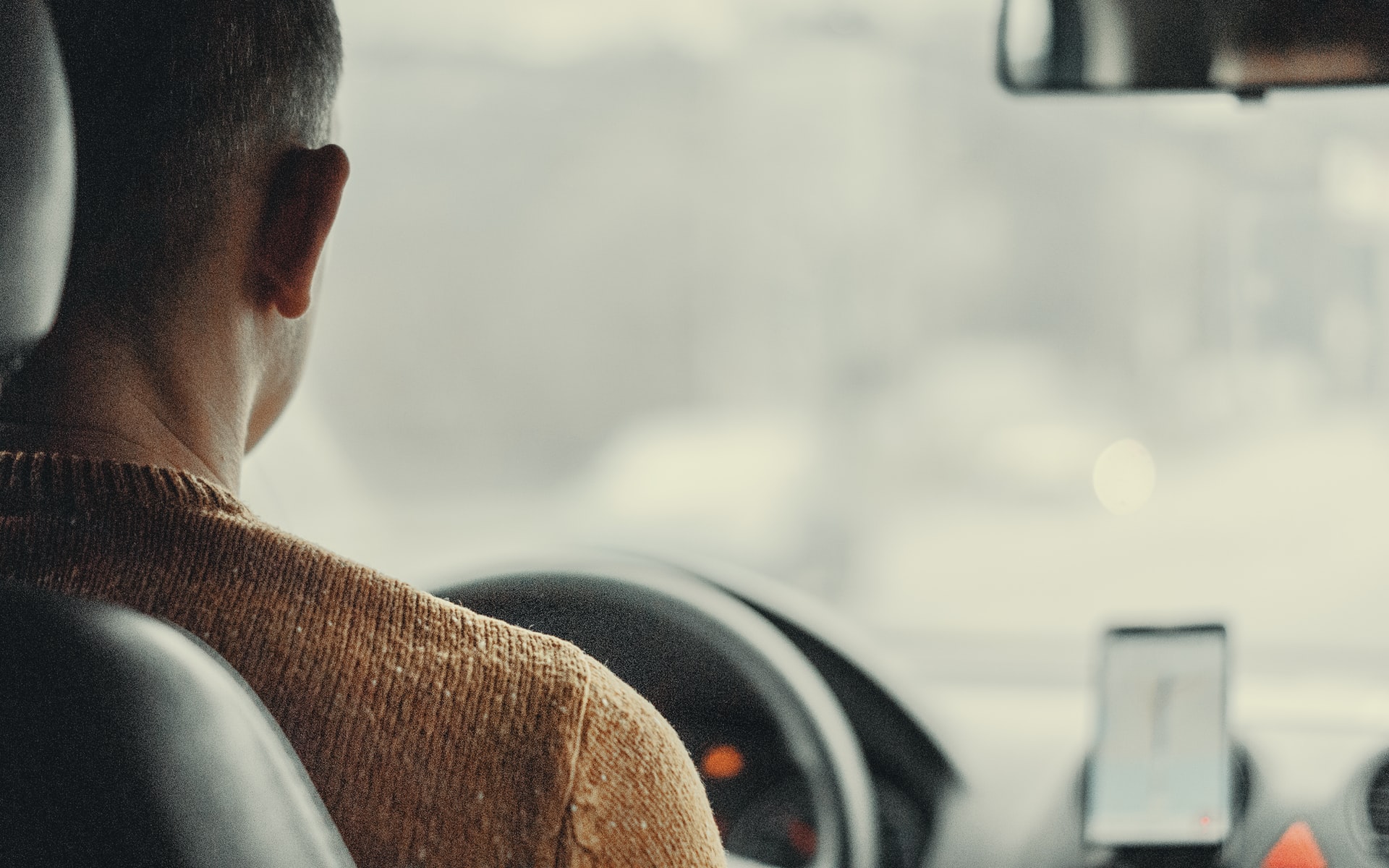 Software with the background check feature can provide your company with pre-employment screening information to ensure the integrity of potential new employees. Such software helps to streamline the screening process for new hires and organize the data collected during the screening process. The type of data provided by such apps can vary, but usually, it includes employment history, education, credit history, criminal background, and even drug screens.
After you hire a new driver, you'll probably want to be assured that the new employee is acquainted with the specifics of the upcoming work. At this step, all the data previously collected by your fleet management system can be processed to provide some useful training material. For example, your system can generate reports showing how the driver's behavior on the road affects cargo safety and what circumstances most often lead to harmful situations. Also, access to such data will help you determine potential risks and formulate more precise requirements for drivers.
Fleet management systems can automatically gather data from tracking devices to record and analyze drivers' working times. This feature will help you to comply with the requirements of the law demanding to prevent fatigued drivers from working. If a specific driver works longer than the specified number of hours, your managers will receive an automated notification. Besides, your managers can check if a particular driver has a valid driving license and has successfully passed the required medical tests.
Client's Involvement is the Must
To ensure your client that the cargo is safe during transportation, you must make your services as transparent as possible. Since your clients trust you with their high-value cargo, you should demonstrate them by which means you'll guarantee its safety.
Door-to-door delivery can be a good option that can be both an efficient and convenient way of shipment for the client. In this case, the customer is free of all the arrangements related to the container shipment, and you're in charge of the whole process, beginning with container loading and ending with arriving at the destination.
This multistage process can include such tasks as delivering the container to the shipper for the cargo loading, cargo insurance, documentation support, receiving cargo in the port, and preparing for further shipment, customs clearance at the port of destination, and delivery to the final destination.
With the help of custom-made software, you can automate the lion's share of these tasks and free your client from the necessity to carry this burden. But it doesn't mean that the client must be completely distanced from the cargo transportation process. Instead, you can make your client a part of your team who has access to all the information about the cargo movement and can make individual decisions.
During the route planning process, you can demonstrate to your clients all possible options and tell about potentially dangerous sections of the route. Using an interactive map, show them how the possible route will look like, where the driver should and shouldn't stop, and demonstrate how you monitor the vehicle during transportation to ensure cargo safety. Your client can even choose a particular driver. Since you have a driver management app, with a couple of clicks, you can open a driver's profile, which will show whether this employee dealt with the delivery of this type of cargo earlier. If a client knows that the person who'll deliver the cargo has no violations and is an experienced professional with many successful deliveries behind his back, the confidence in cargo safety will increase.
You can provide your client with all the necessary information about the current state of transportation during the process of moving cargo. Using an online map, clients can check the current location of cargo, and data received from IoT devices will help to monitor its current state. As well as your dispatchers, your client can receive notifications about important events. You can even provide your clients with access to the chatting app that allows communicating with the driver and receive up-to-date information first-hand.
Conclusions
Modern software systems for logistics companies are complex, and most probably will cost you a lot of money. But if you are dealing with something more valuable than a cargo of second-rate wood, such investment can be an excellent opportunity for attracting new clients who appreciate the speed of delivery and high safety standards. The use of custom-made software solutions can improve your control over the transportation process and reduce the risk of theft. In the long run, reputational losses associated with loss or damage to high-value cargo can bring much more significant financial losses that investment in a custom software system.