The use of custom-made fleet management systems is an efficient way of tracking assets and inventory for logistics organizations. An adequately designed software solution can handle a vast amount of data, and excellent scalability enables extensive customization opportunities based on your company's specific needs. In a constantly changing environment, both shippers and carriers need to have access to broader information than the truck's arrival time and vehicle characteristics. To run such business efficiently, company employees must have easy access to this data as maintenance scheduling, real-time vehicle tracking, drivers' behavior, fuel consumption, operation costs, and so on.
Since manually handling all this data is barely possible, thousands of companies take steps to adopt software solutions based on cutting-edge technologies. Fleet management systems for companies that manage dozens of vehicles may include a variety of different features. Still, there are some of them without which successful fleet management is hard to imagine. In this article, we'll consider some of the most important features for achieving the best results in terms of business efficiency.
Why Fleet Management Systems Are So Important
As you grow your business, more and more new factors to track appear. Each new vehicle brings the need to manage maintenance schedule, spare parts availability, fuel consumption control, and so on. At some point, your budget breakdowns become too complex to handle with them in an old-school fashion. You may even find that supporting all your Excel tables in a readable format has become one of the routine tasks that take too much time. Even if you make enough effort to record every transaction, further analysis of such data can become a pretty harsh task.
Let's look at the most usual breakdown of a large city fleet budget:
A deprecation (53%). is an item of expenditure that eats the lion share of your funds due to natural causes. Even if you accurately take care of your vehicles, you still can't avoid the decline in a car's value over its lifetime;
Fuel costs (15%). The "juice of life" for your fleet may be one of the hardest costs to predict due to a considerable number of factors affecting it. Besides, such factors as long engine idling during delivery can significantly increase fuel consumption, leading to additional losses;
Cost of Money/Interest (9%). The interest required for financing fleet vehicles can be substantial and fluctuate with market trends;
Maintenance (9%). To make sure that all your vehicles are in excellent condition, you should constantly monitor their condition and take care of regular inspection and repair. The labor and spare parts can also be considered;
Taxes & Licensing (6%). Each purchased car will lead to taxes that you will need to pay. Other applicable taxes and licensing fees are often recurring charges for vehicles in service;
Insurance/Collision Repair (5%). Insurance costs can be estimated annually. Collisions and accidents costs are hard to predict, and their tracking requires separate efforts;
Administration (3%). Administrative costs usually include procurement and disposal expenses. Besides, all transaction costs and indirect expenses should also be considered.
Breaking down costs by category may a daunting task in itself. Analyzing each factor that affects a certain category of expenses brings additional difficulties. The best approach that allows lowering the overall costs on your fleet is to analyze both your ownership and operations costs continuously. Representing every payment on deprecation, inflation, fuel consumption, downtimes, and other factors in an easy-to-read way is the key to understanding how your business is operating.
Fleet management systems help you make the most of your budget and help your fleet run more efficiently. Such software can generate reports and visual representations that will help you make the best decisions for your business and make data-driven market predictions. You'll be able to tell exactly how much a particular vehicle maintenance cost or how much you spend of fuel per month or week. To see how a software solution can help you to achieve this task, let's take a look at some essential features of fleet management systems.
Features to Keep Vehicles Up and Running and Improve Your Efficiency
In this chapter, we'll consider some of the most important modules of a fleet management system that will help you to lower your costs and optimize the workflow. Remember that these features are important but not obligatory. The needs of different companies vary and can change during time. Therefore the need for specific functionality can also change according to the circumstances. The best part about custom-made fleet management systems is that you can adopt a solution with a given number of functional modules, each of which provides functionality that you need right now. As your business grows, you can expand the range of available functions and add more features.
Get your live fleet management system demo for effective tracking, managing, and analyzing your fleet.
Route Management
The use of GPS vehicle tracking systems can serve multiple purposes. With the use of a driver's smartphone or a GPS tracker installed into the car, you can improve control over your assets, optimize route planning, gather and analyze dozens of important indicators.
A GPS locator allows using your fleet systems to track and study the vehicles in the fleet. The use of filtering and searching features can significantly simplify the process, which is rather helpful in case of an extensive fleet of cars.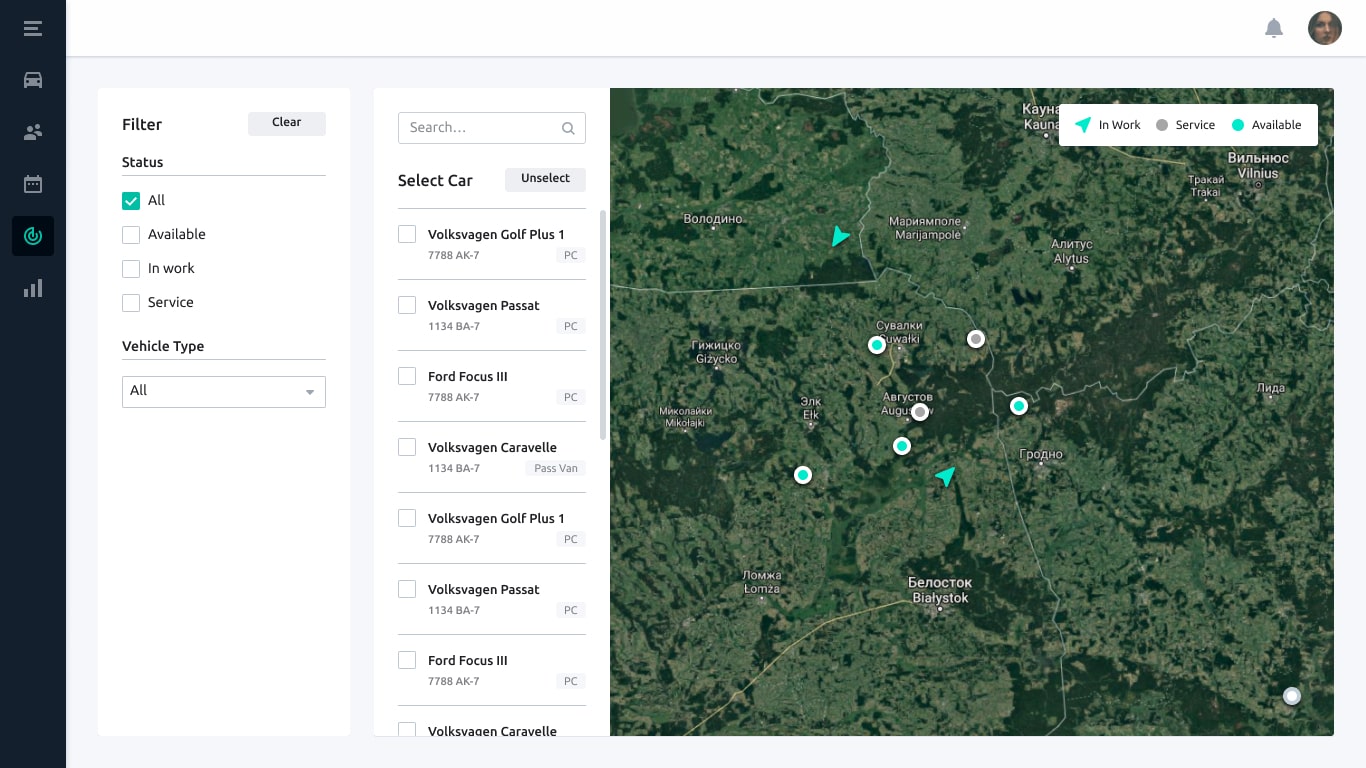 Besides knowing the current vehicle's whereabouts, real-time data can be used for effective route planning and optimization. Fleet management systems can take into account such data as stop durations, vehicle capacities, traffic jams, and drivers' lunch breaks. Analyzing all this data, the system can provide the shortest route and help to find a more fuel-efficient path between waypoints.
If you are dealing with repeating routes, the custom mapping will also be pretty helpful. Your managers will be able to design their own custom maps. Such an approach will be useful in case you're dealing with seasonal supplies. You won't need to re-create the same route plan each New Years' eve. Instead, you can use the saved pattern and make some adjustments if you work with different suppliers, for example.
Asset Management
Asset management is another irreplaceable feature for fleet management systems. It allows you to control every aspect of each vehicle that you have. You can create a hierarchical database of all your units, systems, and available components. Later, you can use this data to quickly find the required unit according to its operating and physical characteristics. The data available for each car can include the following parameters: vehicle type, current mileage, color, fuel type, number of seats, full mass, performance history, repair history, etc.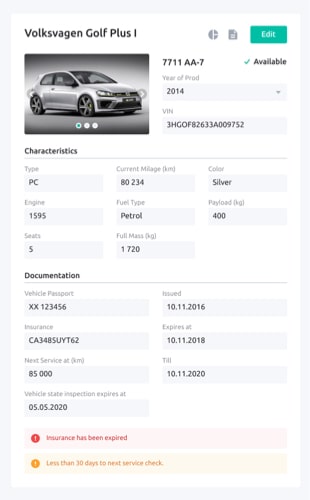 Moreover, your fleet tracking system can automatically track the current status of all your cars and send notifications when it's time for the next service check. The ability to track this data will provide you with full control over your assets and give your employees comprehensive data about the life-cycle of each vehicle in your possession.
Fuel Management
Fleet management systems with built-in fuel consumption control help significantly lower your costs thanks to minimized idling time and emissions. Automated systems can monitor fuel tanks of your cars and generate intuitive reports. For example, you can detect unwanted engine idling, one of the most common drivers' habits that lead to enormous losses and cause additional maintenance costs. One of the approaches that help to avoid such consequences is a monitoring system that will notify drivers when a car idles over a specific period of time.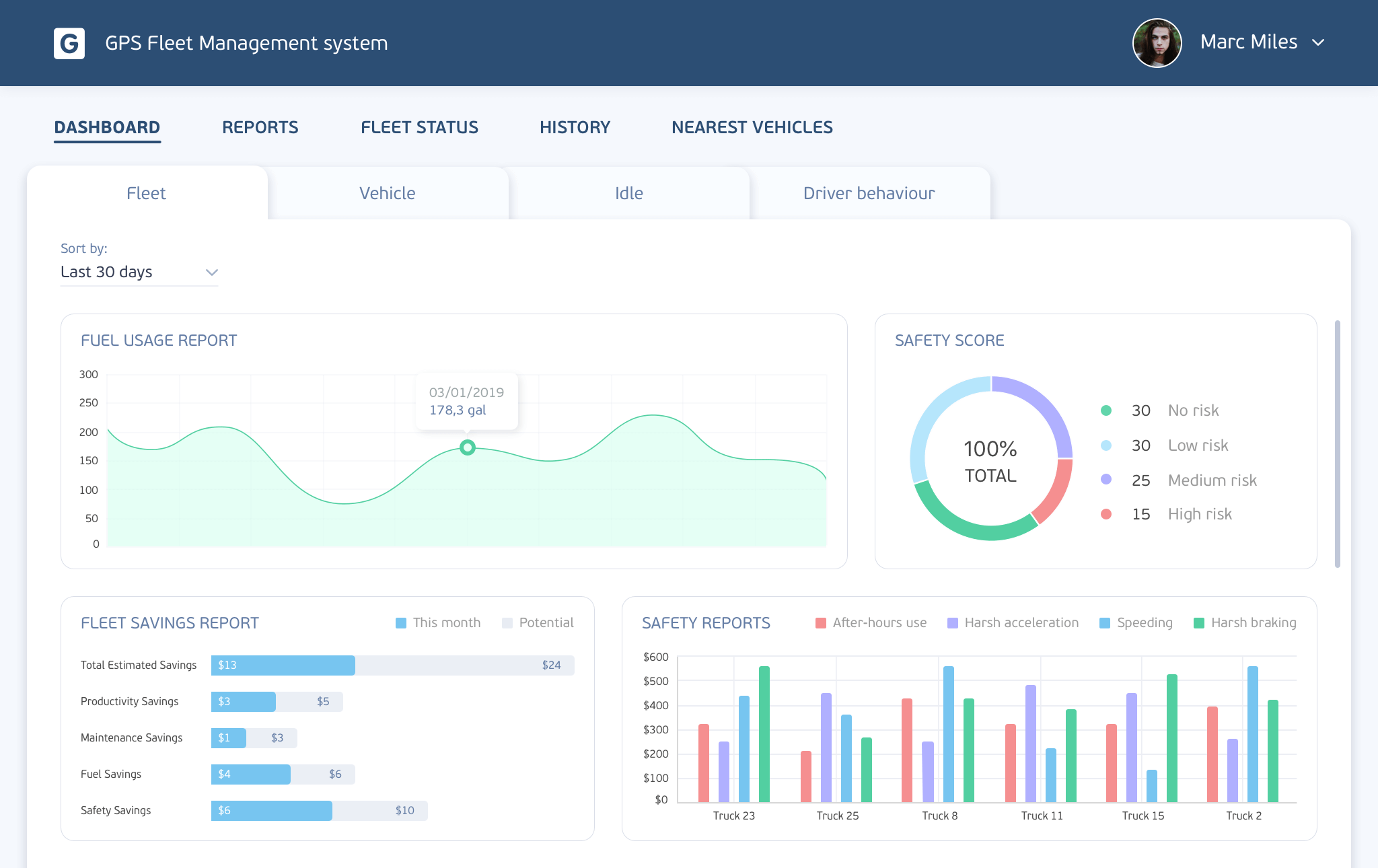 Fuel consumption reports can be an excellent way to control and optimize your fuel costs. Fleet management systems can automatically generate such reports weekly or monthly according to your needs. Such reports can contain info on every fuel purchase made. By keeping an eye on this data, you'll be able to determine whether your fuel consumption management approach is effective or not.
Inventory Management
Inventory management features can provide your employees with data that can help to manage all controllable aspects of your fleet inventory. A fleet management system can provide centralized access to a database containing ordered data about available spare parts.
This database can also help to manage spare parts across all workshops of your organization. If one of your drivers reports a car breakdown, you can use your fleet management system to find all available spare parts suitable for this particular car. Besides, such a system can inform you when it's time to reorder particular parts or even order them automatically.
Vehicles Maintenance
The vehicle maintenance module can help you to keep your fleet up and running by streamlining the process of diagnosing and inspecting. Your fleet management system can monitor all gathered data about your fleet, automatically plan checkups, and notify you about the upcoming diagnostics.
Vehicles that need replacement or arouse driver's suspicion can be marked in your list of assets and the availability or absence of required spare parts will be displayed along with this data. All data related to the vehicle's maintenance will be automatically saved in the system and used to generate detailed reports. This data can be used for analyzing maintenance costs and define what specific cars break most often.
Drivers Management
Besides ensuring that your fleet is working properly, you should also take care of your drivers. The drivers management system stores personal info on your employees and helps to analyze their performance. All your driver records will be up-to-date and organized. With a couple of clicks, you can easily access this data using your PC or mobile devices. Your managers can check if a particular driver has a valid driving license and has successfully passed the required medical tests.
Fleet management systems can automatically gather data from tracking devices to record and analyze drivers' working times. This feature will help you to comply with the requirements of the law demanding to prevent fatigued drivers from working. If a specific driver works longer than the specified number of hours, your managers will receive an automated notification.
Behavior Monitoring
Even high-skilled drivers sometimes exhibit bad driving habits such as speeding or engine idling. Fleet management systems provide functionality that allows monitor and, if needed, adjust drivers' behavior. By monitoring the driver's performance, you'll be able to avoid aggressive driving and law violations.
Tracking devices can gather and analyze such data as acceleration, braking, and cornering in real-time, which allows you to take immediate action if needed. Drivers who behave appropriately on the road can be rewarded with cash bonuses.
Incident Reporting
No one is safe from accidents. Accident detection and reporting system can become a source of valuable data and relief from dozens of routine tasks. If drivers happen to get into an accident, fleet accident software allows for capturing necessary data live from the field to further support claims and repairs.
Accident details can be analyzed by your managers, which will help in determining further repair costs. Also, your fleet management system can use collected data to provide some useful insights. For example, your system can generate reports showing how driver's behavior affects the possibility of accidents and what circumstances most often lead to them. It will help you to determine potential risks, formulate more precise requirements for drivers, and conduct training.
Shipment Management
Shipment management tools significantly simplify all tasks related to your fleet's workflow, orders, deliveries, and expenses. Such a system can be helpful both for your clients and your employees. The system allows scheduling goods delivery and shipments aggregation via a website or mobile app. All the compliance documents such as licenses, tax reports, or fuel transactions can be securely stored in your fleet management system. Additionally, you can receive an automated notification when a specific document is outdated.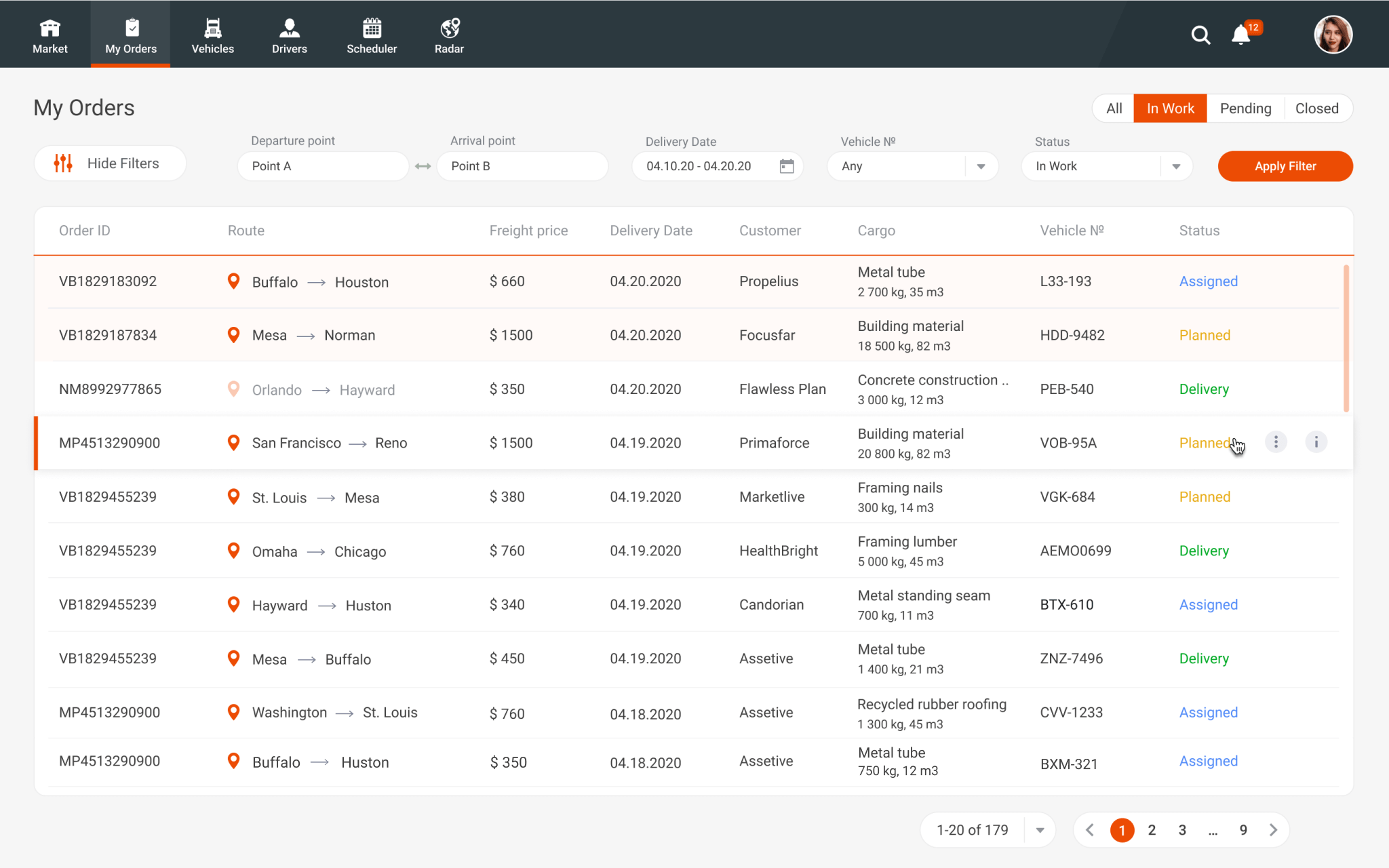 Cargo optimization tools will help you to ensure that you use cargo space efficiently. These systems can automatically analyze the volume, weight, and dimensions of cargo to calculate the most efficient weight for the vehicle. Inventory control features allow you to handle recording, tracking, costing, cycle counting, and automatic reordering to ensure availability and the right number of parts on hand, thereby reducing vehicle downtime.
Dispatch Management
Dispatch management module can help you streamline the process, finish more tasks in time, and keep productivity at a high level. Your dispatchers can use a real-time online map to find the driver closes to the location after you receive a request from a client. The built-in filtering feature helps to ensure that the vehicle type corresponds to the cargo to be delivered. If needed, dispatchers can receive some additional data from a client, such as step-by-step instructions for complex jobs. All this info can be sent to the driver's tablet.
After the job is done, drivers can send a confirmation message signaling proof of delivery. The message can also contain a photo made by the driver in order to confirm cargo safety. Appropriate notice will be automatically sent to the client. All this data will be saved in the system, along with time and location, to create a sustainable framework for accountability.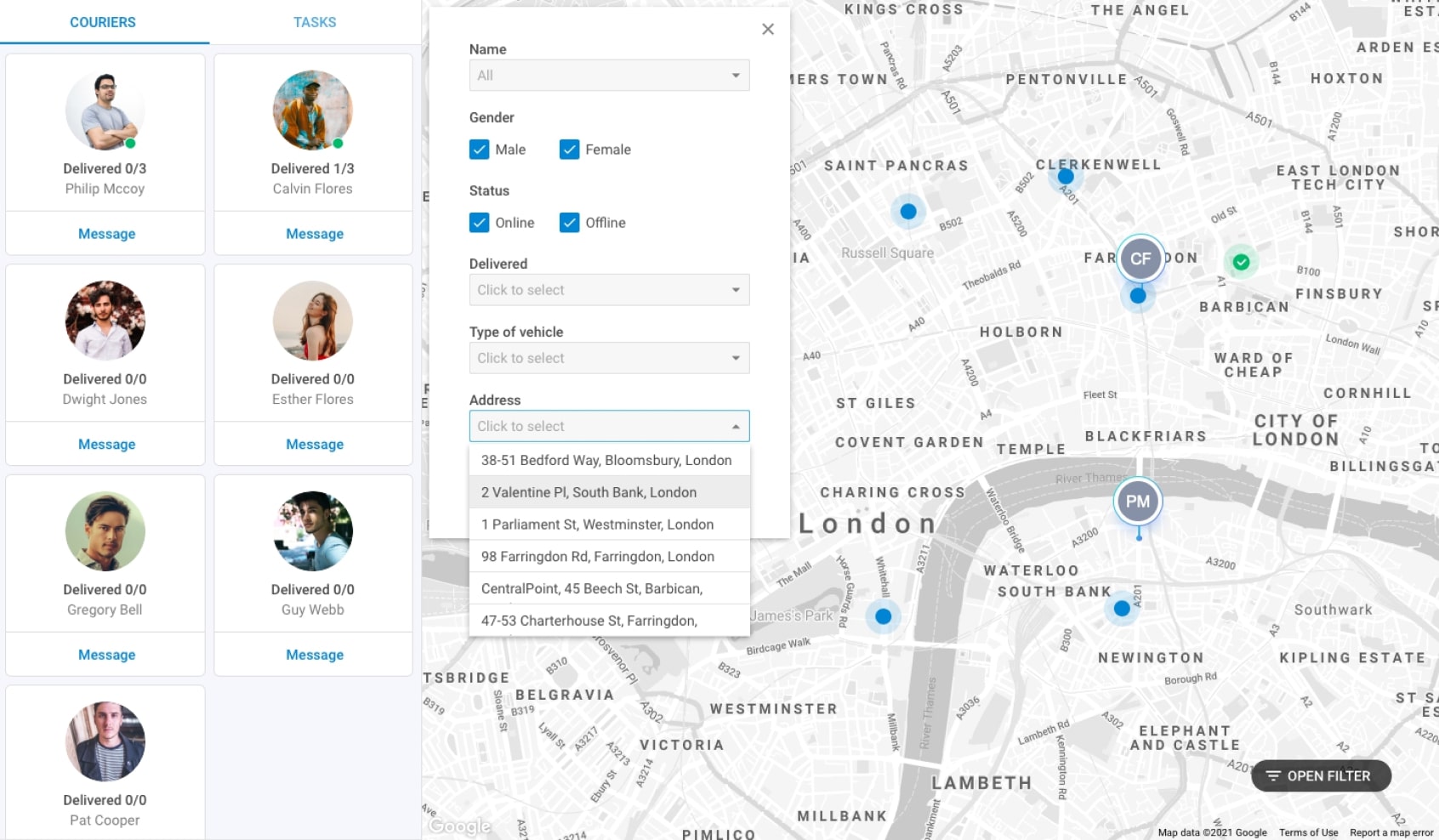 Work Order Management
Work order management functionality supports all aspects of asset maintenance operations, including shop operations and vendor management. Work management tools allow your staff to create customized workflows to cater to unique business needs and support various fleet operations. Work order formats can be customized to collect data that is relevant to the operation, type, or repair and shop floor.
A fleet management system with work order management support allows your fleet to reap the rewards of increased availability and performance of equipment while minimizing paperwork and clerical errors. Work Order Management is essential to the bottom line of a company that fleet professionals should view as a profit opportunity instead of an expense.
Fleet Reporting
Fleet reporting provides access to tools enabling the creation of easy-to-read data visualizations. Flexible filtering feature allows visualizing data related to particular types of cars, specific periods, or other parameters.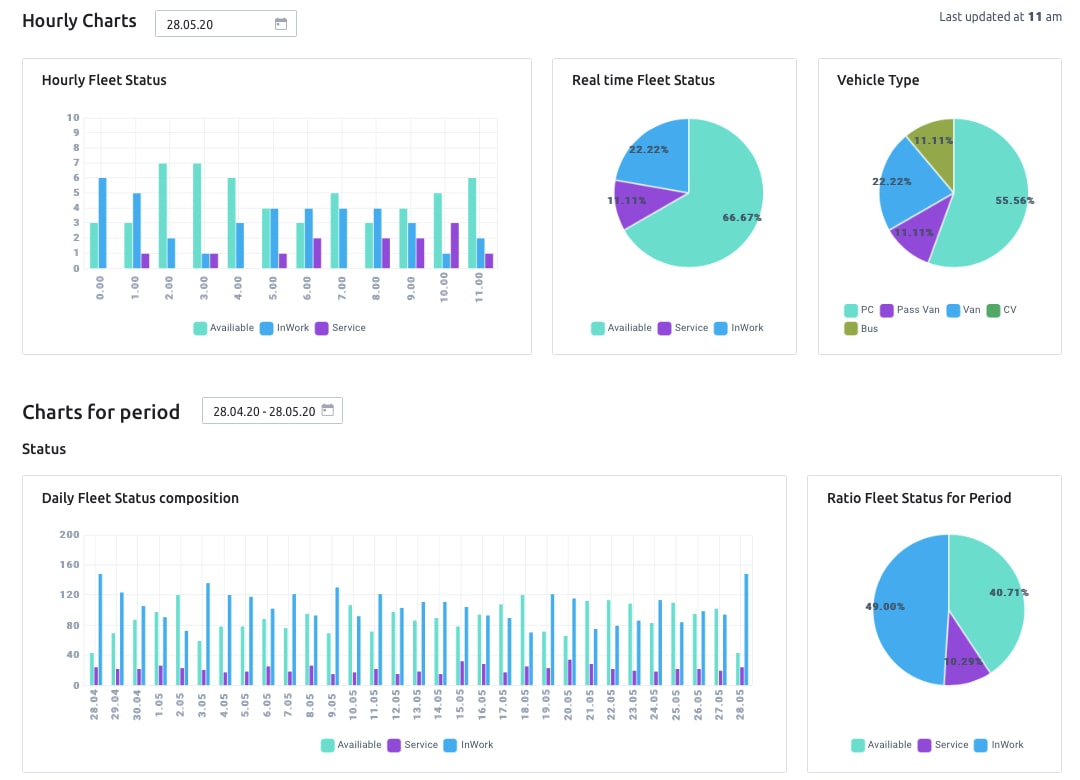 Fleet management systems can allow you to monitor operating cost your assets in real-time. It will help you to optimize your business strategy and make data-driven financial forecasts. With a couple of clicks, you can get access to comprehensive information about how your cars and equipment are being used. For example, you can review average mileage per day or vehicle assignments history.
To evaluate the efficiency of vehicle maintenance, you can track service tasks, the cost of spare parts, and the number of working hours spent on repairs. Using custom filters, you can easily determine how long it takes to perform routine repairs for a particular car or the whole fleet. Also, you can ensure that in-service vehicles are being inspected regularly.
Try an example of a custom fleet management software to track, manage and analyze everything about your fleet
Get a free demo
Digital Documents
Dealing with paper documents may become a real headache. Luckily, ubiquitous digitalization can help you to avoid dozens of routine tasks and optimize the workflow. With a fleet management solution, drivers can use their smartphones or tablets to capture delivery photos, get electronic signatures from clients, and take notes. All this data can be automatically downloaded to your database, so you won't worry if some document gets lost along the way.
Thanks to the use of mobile devices connected to your fleet management system, drivers can quickly investigate claims of overages, damages, or missed deliveries. Customer invoicing and payroll can also be accelerated thanks to quick access to digital documents. You can save time on drafting a document by using built-in document templates. Also, the drag-and-drop document editor can help to customize forms with ease to ensure your drivers capture all the right information.
Conclusions
Fleet management systems can serve different purposes. First of all, you can improve the efficiency of your logistics business by optimizing the workflow and automating dozens of routine tasks. Vehicle maintenance, dispatch management, shipment monitoring — all these tasks can become more streamlined with the use of a custom-made fleet management solution. Another important use of such systems is constant monitoring and analysis of all the data that you generate during the working process. Everything from fuel consumption to drivers' behavior can be analyzed in order to provide you with a clear picture of how your business operates and where you can cut costs. Various reports and visual representations will help you make the best decisions for your business and make data-driven market predictions.
At XB Software, we have significant experience in creating fleet management solutions, from GPS tracking apps to complex systems that can cover the needs of large transportation enterprises. We can offer a thorough analysis of your business that will help us find software solutions to your issues and build a comprehensive software solution from scratch. As an option, we can widen your current system's functionality by developing and integrating separate functional modules.
If you want to know more about fleet management systems and how they can help your business, feel free to contact us.