HRMS (Human Resource Management System) and HRIS (Human Resource Information System) are somewhat similar terms that mean a software system for advanced HR management. Such systems combine functions like talent management, time tracking, leave management, and many others. According to a particular company's needs, HRMS/HRIS systems may provide access to different sets of features. The modular structure allows software development companies to build HR modules with required functionality and painfully integrate them into the client's system.
In today's article, we'll perform a brief overview of some essential HRMS/HRIS modules that can automate your HR department's work, optimize the workflow, and reduce human error.
Essential HRMS/HRIS Modules For Workflow Optimization
Recruitment Module
A recruitment module provides HR specialists with all the features required for easy job creation, customization of job-specific questions, and access to job portals' filtered information. Such a module allows employers to place vacancies and advertisement info online, looking for CVs that correspond to particular criteria, choosing candidates with required skill sets, and contacting them. Built-in integration with popular social networks can expand your communication possibilities and help to work with a broader audience of potential employers.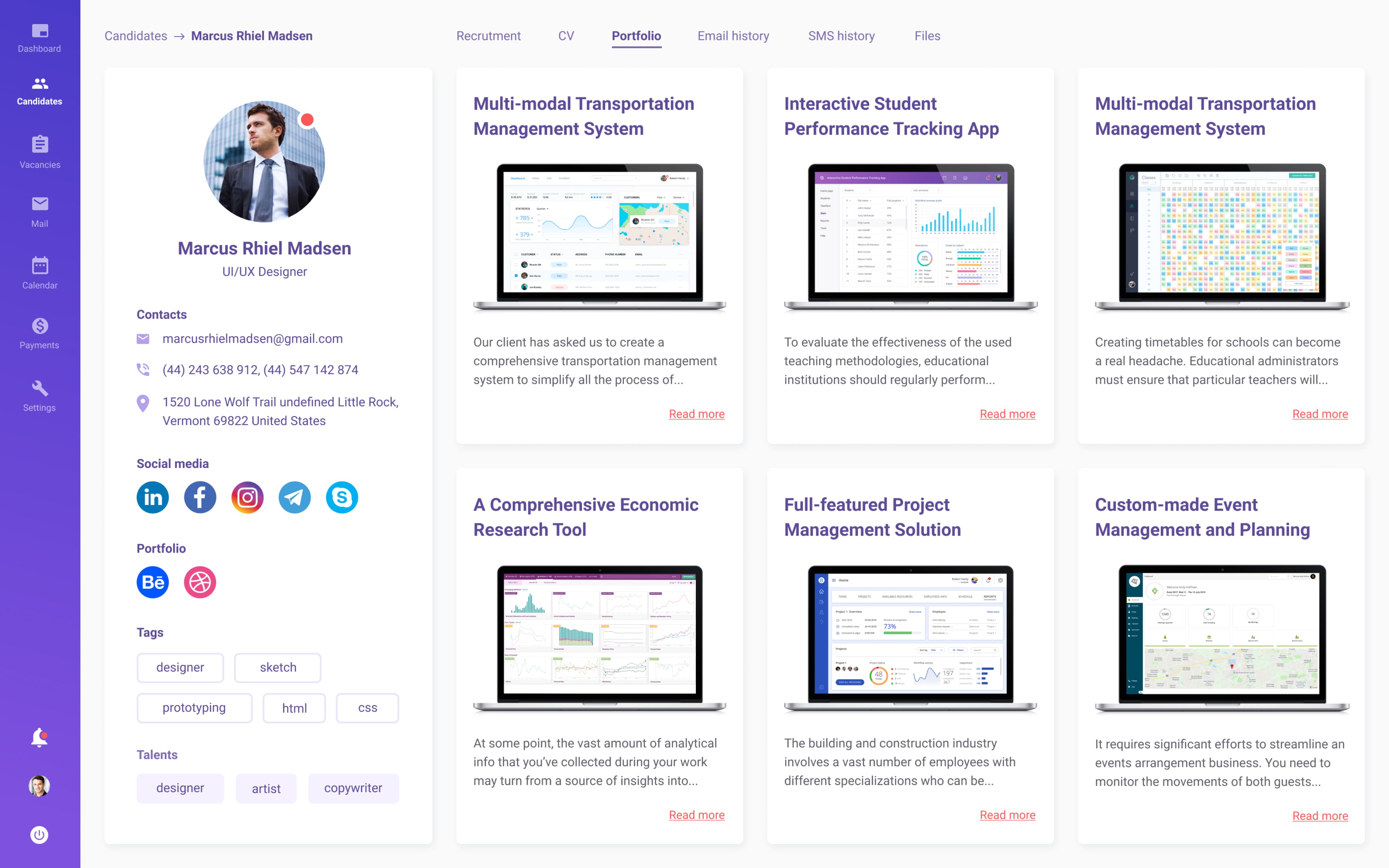 Additionally, recruitment modules allow adding promising candidates into the separate database and inform HR managers when a suitable position in the company becomes available.
Onboarding Module
The onboarding process's primary purpose is to make it easy for a new employee to become a part of your company and make a good impression on it. Newly hired employees need to know all the necessary people with whom they'll work every day. It's also important to share information and documentation regarding specific assignments the new team member might take care of during the working process. During the first weeks in the office, it may be helpful to provide an intuitive way of addressing any questions and concerns. Providing a list of regular tasks, goals, and KPI's may be a good starting point to ensure that a new employee knows what the company expects from him or her. Also, tech staff should create new accounts and provide access to the system that the company uses. As you can imagine, tracking all these and many other activities manually can become a pretty tricky task. That's why this part of the HR department's job can significantly benefit from automation, and that's where onboarding module adoption can become rather useful.
Performance Management Module
The performance management module helps automate the performance review process and efficiently track a specific employee or the whole company's KPIs.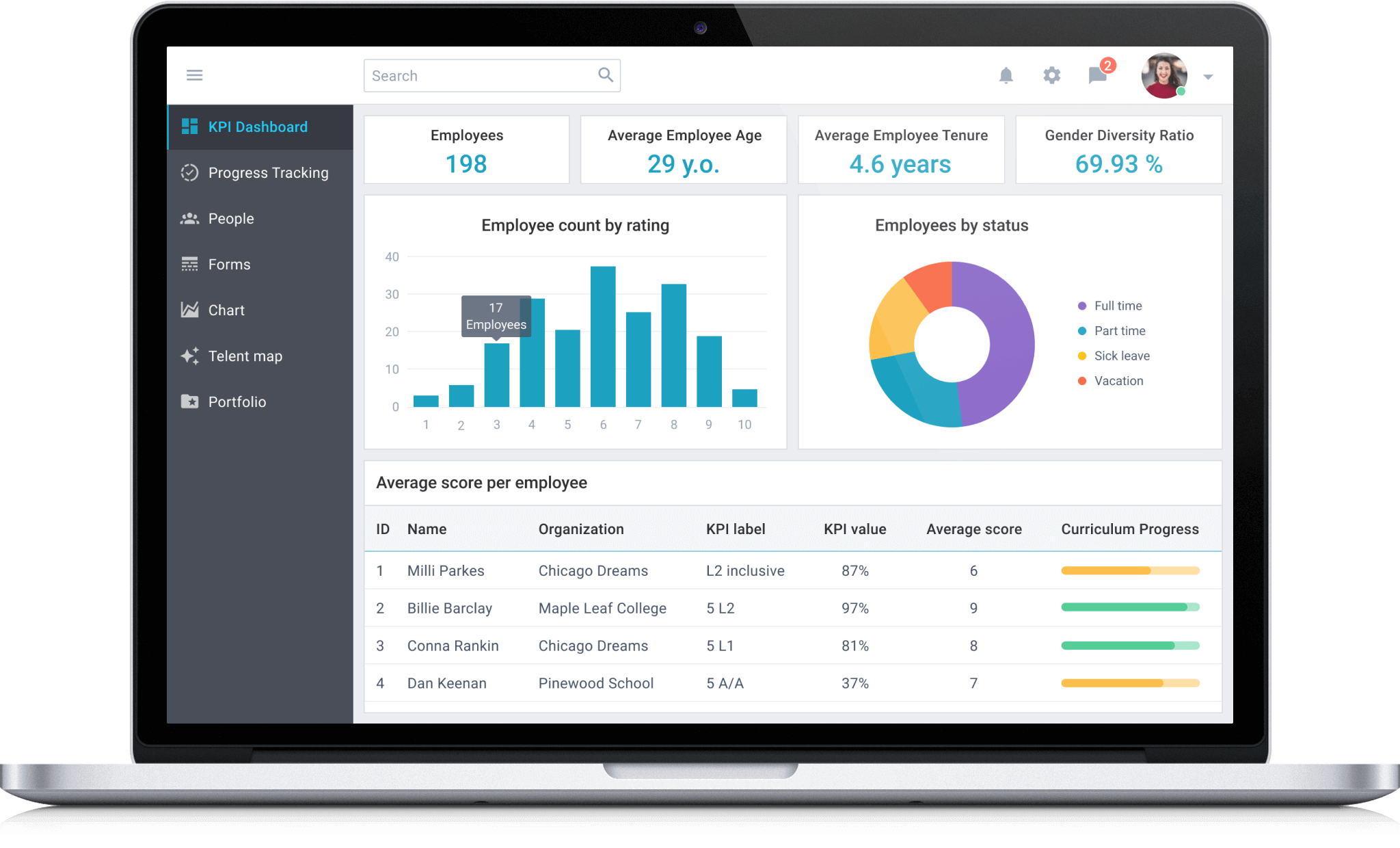 An HRMS/HRIS system with such a module helps you track the performance on an ongoing basis, set KPIs specific to your particular business area, and record short-term and long-term objectives. Personal performance indicators, for example, allow you to decide if a specific employee deserves a promotion, demotion, or salary increment since you can quickly define who's doing better with day-to-day tasks. Also, managers can use data generated by the performance management module to define improvement areas. Say, an annual report shows that particular employees or teams underperforming. In such a case, you can develop training and coaching programs to allow your employees to perform better.
Employee Learning and Development Module
Developing training programs and monitoring their completions in a company that consists of many specialists in various fields may not be so easy. Fortunately, using the performance management module's outcomes, you can outline your objectives and set goals for this process. The employee development module will help you during the next steps. It can provide access to the learning portal with individual training programs that offer recommendations according to a specific specialist's role. Education activities can be tracked, which allows control of cross-company progress and ensures the goals are met. Also, the module can send automated notifications to the employees to help them progress.
Time and Attendance Tracking Module
Attendance tracking is one of the most common features of HRMS/HRIS systems. It enables an effective mechanism of tracking time spent by a specific employee to solve working tasks and then saves this data in the database. Managers can easily access this data at any time via online or mobile applications. Regular reports help evaluate overall or personal performance. You can use this data to assess the efficiency of used business processes and apply some changes if needed. Additionally, such systems can help your company to ensure legislative compliance since managers can use them to control, for example, minimum mandatory rest breaks.
It's essential not only to track the time spent on work tasks but also to manage employees' absence time. HRMS/HRIS systems can help managers to track and monitor any absence from the workplace.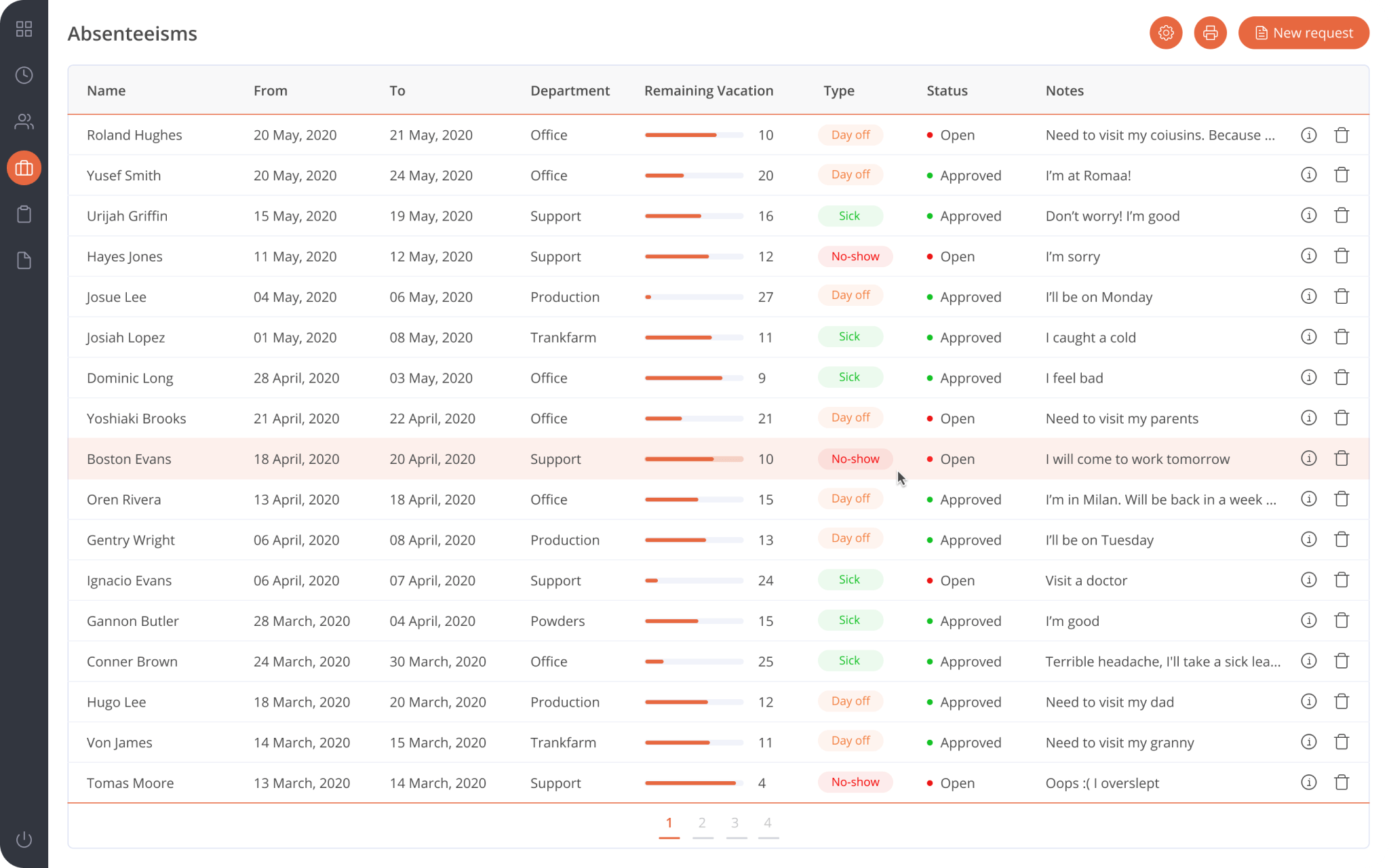 It may be for vacations, illness, parental leave, and other reasons. The absence management feature allows automating request and approval processes. The system will then use all gathered information to generate reports containing absence summaries and attendance charts.
Payroll Management Module
Payroll Management Module can free your HR department from tons of paperwork and repeating daily activities by automating all business processes. This HRIS module can use all the data gathered by the time management module to calculate salaries. All overtime, bonuses, deductions, allowances, and other aspects will be taken into account. Based on the salary details provided when adding an employee to the system, this module can generate salary sheets containing such info as a department, group, designation, work location, etc.
Conclusions
An HRMS/HRIS system built with your organization's needs kept in mind can bring dozens of benefits to your business. Automated software systems can decrease the need to input and manage data manually, eliminating the risk of errors and saving time. The adoption of a custom-made HR solution designed according to your business's specifics will help ensure the safety of your employees' sensitive data. Cloud-based software with such protection features as access restriction and two-factor authentication will ensure no data will end up in the wrong hands.
The variety of possibilities may be promising, but a lack of technical background may make it difficult for you to understand where to start from and which exact set of HR modules will guarantee the best outcome. In such a case, have no fear. An experienced business analyst can perform a scrupulous analysis of your business to identify issues and offer a software solution for them. If you have problems with HR management or everything work just fine, but you believe that there's room for improvement, contact us. We'll provide you with the essential information on how HRMS/HRIS solutions can benefit your company.