If you are not self-employed or don't own a business that doesn't require employees, you will need to have various departments each dealing with their own specific operations that create a complete organism. And, having a Human Resource department is a must if you want to let professionals with proper skills recruit new members, organize training, manage payroll processing and employee lifecycle, and deal with other administrative and people management operations.
Whether you are starting a new business or want to upgrade your current one to improve the inner processes, using software specifically developed for your HR department can be a game-changing experience. According to Gartner, recruiting is one of the top priorities for 46% of human resource leaders. That is why, in today's article, we are going to find out the differences between HRIS, HRMS, and HCM and take a closer look at the real examples of the platforms that were developed by our team for our customers.
HRIS vs HRMS vs HCM: What Are They?
Without having HR specialists in your company, it can be hard for employees to clearly understand their roles and address concerns they may have. Besides that, you will need to decide who will be responsible for the tasks instead of an HR specialist. Therefore, it is vital not only to create the HR department but also to provide it with the software that will help the staff workers to deal with day-to-day activities and reduce time spending on paper work, hiring, etc.
HR management software is evolving along with the fast-changing technologies, and one can also add specific features that will be individually implemented into a solution. Which is why many companies turn to the vendors who provide custom HR software development services. This way, it is possible to develop the exact application you need instead of spending your time on looking at the myriad of choices. While having a software outsourcing company beside you, it is possible to create perfection right away rather than searching for it for a very long time.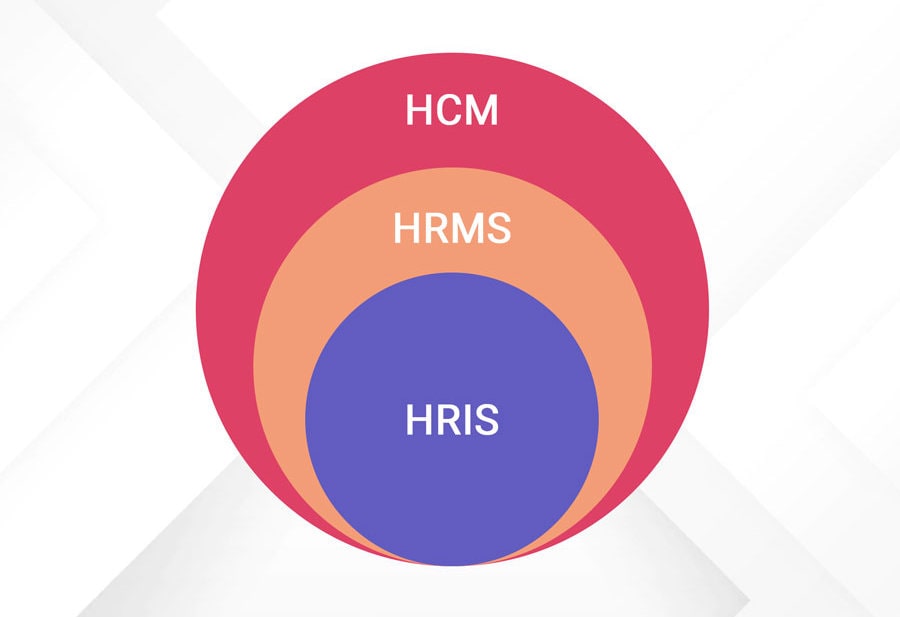 Both among ready-made and custom solutions, HRMS, HCM, and HRIS are the most common types of human resource management systems. Regardless of different names and functionality, all of them share the same goals as well. Some of these goals are the following:
Supporting staff management;
Monitoring hours each employee has spent;
Tracking and managing payroll, overtime, and bonuses histories;
Gathering and maintaining contact and personal information of newly hired and current team members;
Identifying workforce needs and creating performance reviews;
Providing and managing reports and documents on various business processes.
Read Also Off-The-Shelf Software vs Custom Software: Why Custom Option Wins
In order to better understand the similarities and differences of HR management software, let's dive into deeper details of each type.
HRIS
Among the three we mentioned, Human Resources Information System (HRIS) can be considered as 'basic' and thus the most popular option. This HR management solution mostly helps to cover the operations related to information. It means that the process of gathering every detail about your employees is automated and doesn't require much effort from HR managers giving them the opportunity to perform other tasks in time. Basically, HRIS is a storage of information about personnel, procedures, and policies in an organization.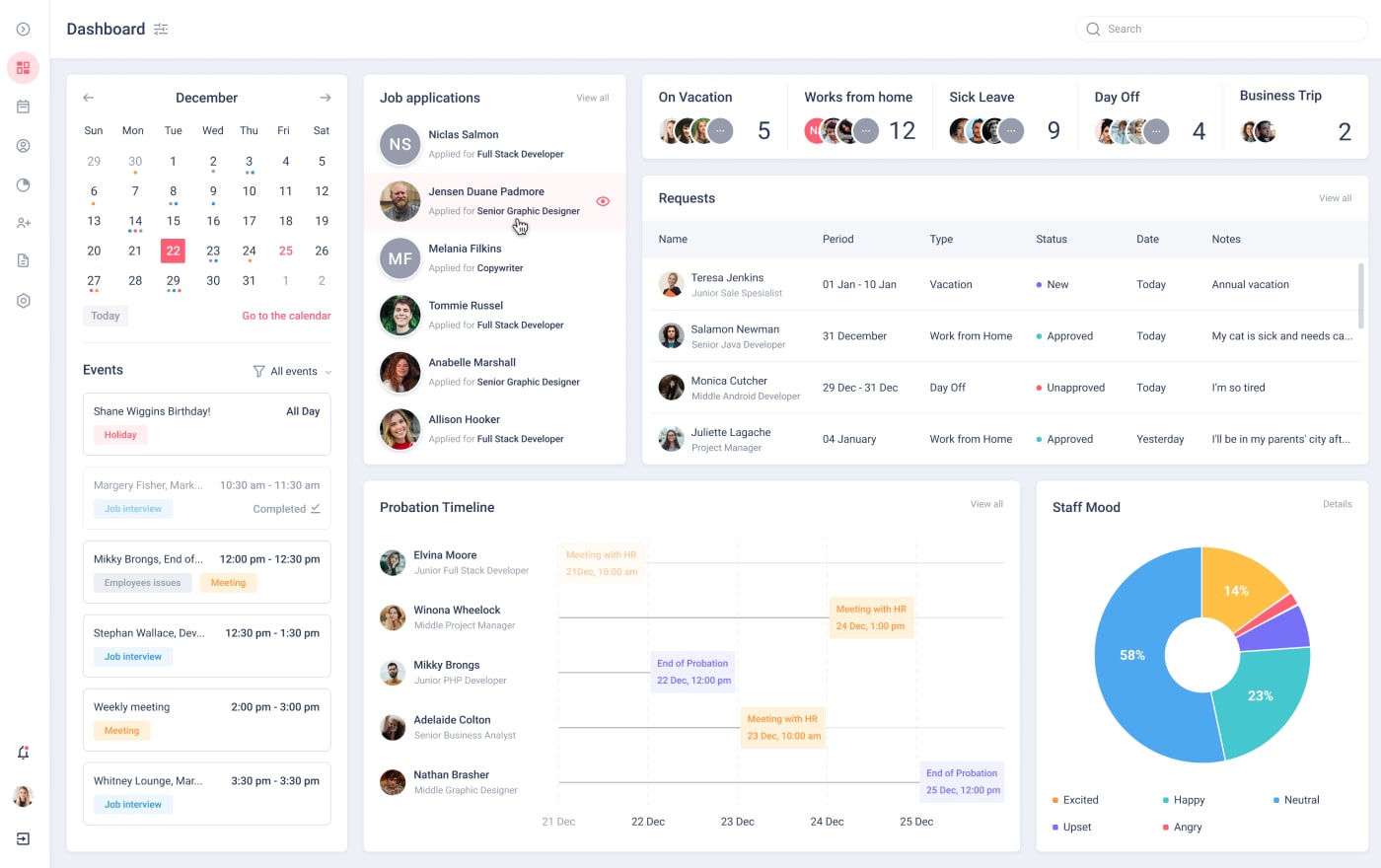 Source: HRIS
To understand HRIS better, let's look at the software we developed for one of our customers and see what it may include. A client asked us to integrate HRIS into the ERP system they used in their organization to make it easier to get access to all the info related to employees. They wanted to schedule and plan more efficiently and have an intuitively visualized business structure in their HRIS, which is why we offered to use DHTMLX and Webix.
As a result, using these Javascript UI libraries, our development team implemented the following features:
Integration with the most popular job portals. Such a function allows HR specialists to automate the recruitment process with just a couple of clicks. They are able to surf the candidate database, post job openings, and review resumes.
Recruitment funnel. The tool simplifies the recruitment process and optimizes the application process to identify the best strategy.
Built-in filtering and searching. It is possible to filter candidates by skill set, specific specialization, or work experience.
Built-in calendar and schedule with automated notification system. No employee can miss their deadlines or upcoming events, because all the needed information is added to the database, which allows HRIS to notify team members beforehand.
Personal accounts. Each team member has an account with their information that helps everybody to adapt and know each other better by viewing other colleagues' cards.
Time tracking and reporting. HRIS stores the data about the time spent on solving particular tasks and generates regular reports. The data on overtime and required bonuses is also gathered automatically.
Built-in payroll system and absence management tool. If an employee is absent, a manager receives a notification and marks their current status to let HRIS record this information for the further calculation of contractual and statutory sick pay.
As you can see, HRIS software is able to collect and store all employee-related data starting from the recruitment process and ending with offboarding. The analysis of this data helps to evaluate the efficiency of used approaches and make changes if needed.
Read Also Top 5 Custom Apps You Can Build with Webix UI Widgets
HRMS
Compared with HRIS that aims more on the gathering, monitoring, and documentation processes, Human Resource Management System (HRMS) focuses more on the recruiting funnel and talent management operations. HRMS helps to deal with time and labor management, providing more control on staff members schedules and project timelines tracking, and increases productivity and profitability.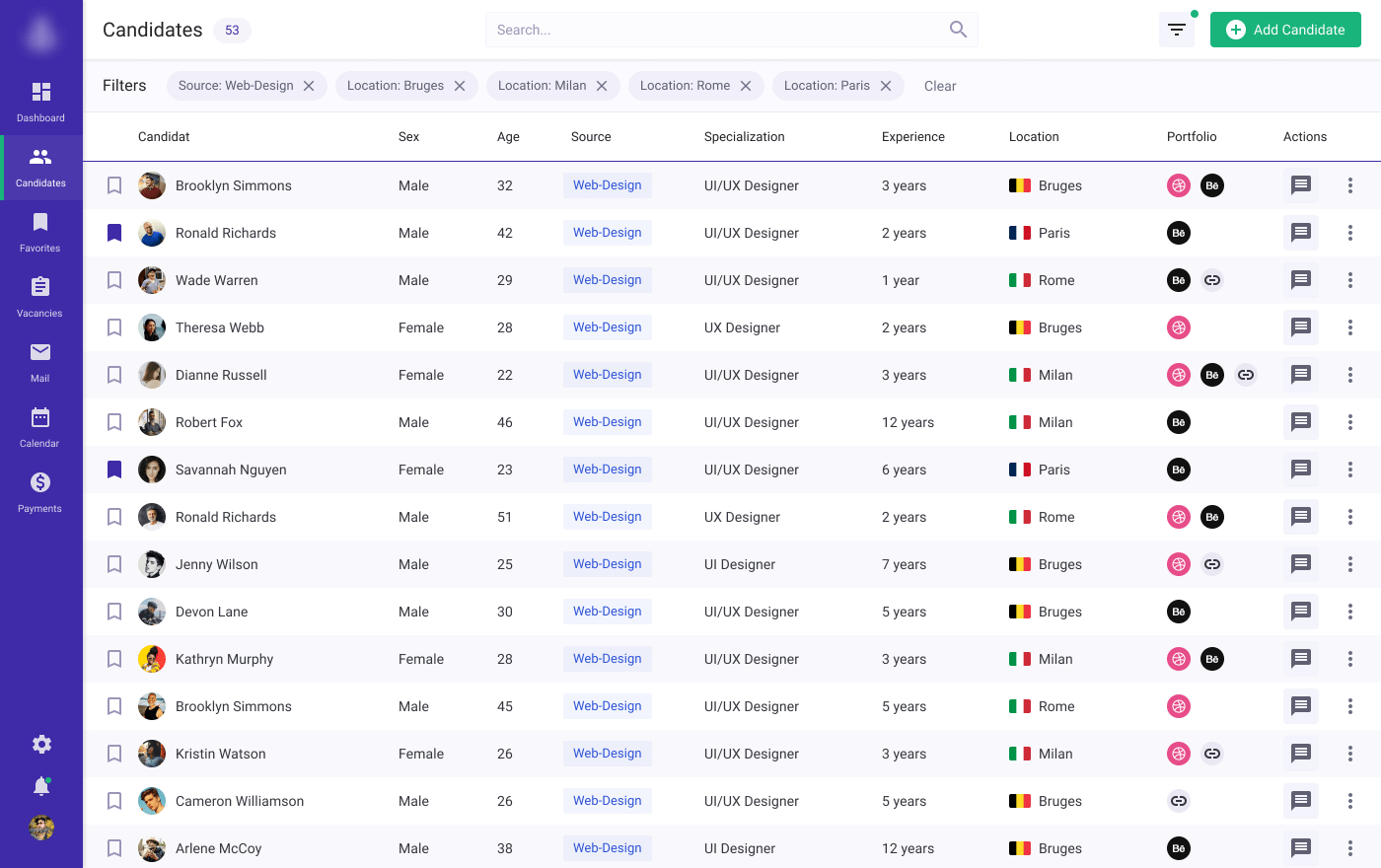 Source: Web-Based HRMS
Let's look at the real-life example of developing HRMS and which features you may implement. One of our clients requested to build a simple-to-use and user-friendly HR management system that is able to connect employers and candidates in one place.
Basically, HRMS has almost the same features that an HRIS may have, however they are more advanced. The key difference of HRMS is that it is two-sided, which means that both recruiters and candidates are able to use this platform and have simplified communication. All in all, in the HRMS the following was included:
Advanced search on potential hires and improved contacting. Your HR specialists can search, find, and meet potential candidates easier and faster. The negotiation and interviewing is simple and user-friendly for both recruiters and recruits.
Placement of CVs, letters of application, job opportunities, and company ads. HR managers can place job opportunities available at the organization, and job seekers are able to show their CVs to match with the company they want.
List of favorites. Users can create a list of favorite companies, monitor the selected proposals, and choose the vacancy to apply for with one click.
Smooth and quick work on various devices. PCs, laptops, mobile devices – users can open HRIS on different devices to complete operations in several steps.
It doesn't mean that any HRMS has the features we mentioned. The main idea is that it helps you to cover more operations than HRIS. However, it is also important to note that not every business requires HRMS. Many companies choose HRIS over HRMS, because the functionality it provides is more than enough.
Read Also Custom HRM: Why It's The Best Choice and What Benefits It May Yield to a Company and Its Employees
HCM
If you want to have an HRM software that covers even more than HRIS and HRMS, you may consider the Human Capital Management (HCM) system. HCM is a cloud-based system that consists of various integrated HR and other types of tools that help to process real-time data and deal with core HR operations, including workforce management and optimization. The data in HCM is gathered from several databases allowing to make well-informed and smart decisions and talent optimization strategies.
For example, besides sharing most of the features with HRIS and HRMS, HCM may also include the following aspects:
Usage of Machine learning and Artificial Intelligence technologies. You can enhance job seeker and employee experience by integrating AI and ML technologies into HCM. They may include multimedia-based training and self-service options, like chatbot assistants, FAQ pages, knowledge base, etc.
Multi-layered protection. The data compiled in the HCM have to be secured, while both global and local monitoring operations should ensure compliance with changing regulations.
Predictive analytics and forecasting. HCM usually not only helps HR specialists with planning, but also you will know how to grow your business further and have increased profitability.
Read Also How Adaptive AI Takes the Interaction Between Business and Customers to a New Level
Conclusions
In the current state of our modern world, it is difficult not to use any technology to help your company grow and thrive. That is why having at least any tool that will be of good assistance to your HR specialists is a must. To know which system to develop, whether it is HRIS, HCM, or HRMS, you need to understand what it will be covering and helping with. For example, you may have no reason to go for the most advanced option, and using HRIS can be a better choice for your team members so that they don't feel overwhelmed with unnecessary features.
It's all up to you, so if you are unsure what will be the best in your case, please contact us, and our experts will be glad to land you a helping hand.