When your business passes various development stages, you will inevitably face the necessity of introducing a software that would help to optimize the inner workflows. And here exists a dilemma: whether to choose a widely used off-the-shelf solution or to decide in favour of bespoke software.
Imagine that you chose a ready-to-use software with a wide array of features, which at first glance will satisfy all your requirements. But some time later it turns out that the product or its components do not work as it was initially expected and you have to invest your time and money in its customization. Taking into account that off-the-shelf solutions can be very slightly customized, the probability that your efforts to make a software responsive to your needs would be in vain is pretty high. That is the reason why many businesses turn their eyes towards bespoke software solutions, which will not require additional rework after its purchase.
Bespoke Software vs Off-The-Shelf Software
To make an informed decision, it's necessary to have a clear understanding of the difference between these types of solutions.
Bespoke software is a kind of solution which is tailored to the needs and requirements of the particular client, and therefore such a system is completely unique. The process of  custom software development is pretty long, since the lion's share takes diving into the client's business specifics and understanding of what final product a client expects to gain, and what functions it should perform.
As for an off-the-shelf software, it is positioned as a universal solution for any business. In other words, a ready-made software is a mass-market product created for millions of users with different demands. To start using it, a client needs only to pay for the license which can easily be prolonged. Such a system possesses a defined array of functions, and can be slightly customized if needed.
Why Custom Software Is the Better Choice?
Because Developed Particularly for You
When you decide in favour of bespoke software development, the dedicated specialists explore your business specifics and help you to formulate your requirements. On the basis of the received information, developers create the system, so in the result you will gain the product which will work exactly as you expect. All in all, bespoke software guarantees the availability of the requested features and the absence of the unnecessary functionality which overloads the entire system.
Because It's Fully Scalable and Flexible
Over the time your business expands, you acquire new employees, launch new ambitious projects. And at a certain point you may understand that you need additional features to be able to handle the work scope. Or maybe it may turn out that some functions became really outdated and just overload the entire system without giving any use. With the  custom software you will not have a headache related to the difficulties caused by software customization. New functionality can be added or obsolete features can be removed anytime.
Because of the Higher Security
With the rise of high technologies, we also received problems related to cyber attacks. Which is pretty serious if you work with sensitive data and information. Mostly, the efforts of cyber criminals are targeted at off-the-shelf solutions which have millions of users all over the world. And this factor leads such systems in the high-risk zone in comparison with the fully custom software designed for only one company.
Because You Can Select the Development Environment
You may prefer a particular tech stack for your software to be written with. For example due to the reason of the following support and maintenance which you are planning to do on your own, without engaging the third-party companies.
Because there Is a Wide Selection of Companies Offering Custom Software Development Services
The number of companies that develop bespoke software prevails over those who sell off-the-shelf mass-market solutions. Thus, you can select a company which seems to be the most appropriate. Just make sure it is a reputable company with relevant experience and expertise.
Another benefit is that you can discuss your future bespoke software solution with the software development company in detail. At XB Software, we help our clients identify the problems they are facing and come up with a solution that would meet their specific needs. After the analysis is done, we provide our clients with a rough estimate of the cost. When confirmed by the client, we work over a full specification and calculate the final cost.
Main Pitfalls of Bespoke Software
High Initial Costs
Notwithstanding the obvious advantages of bespoke software, not all companies can afford to invest in bespoke software development. Especially if we consider the fact that the payment is one-off, unlike an off-the-shelf system where you pay for the license monthly.
Time Required for Development
Formulating all the requirements, development of the software, its testing, following implementation — all these phases require a period of time, sometimes pretty significant.
Our Expertise
XB Software offers bespoke software development services for a wide selection of domains. As an example, let's consider the full-featured ERP software, our developers built for a manufacturing company.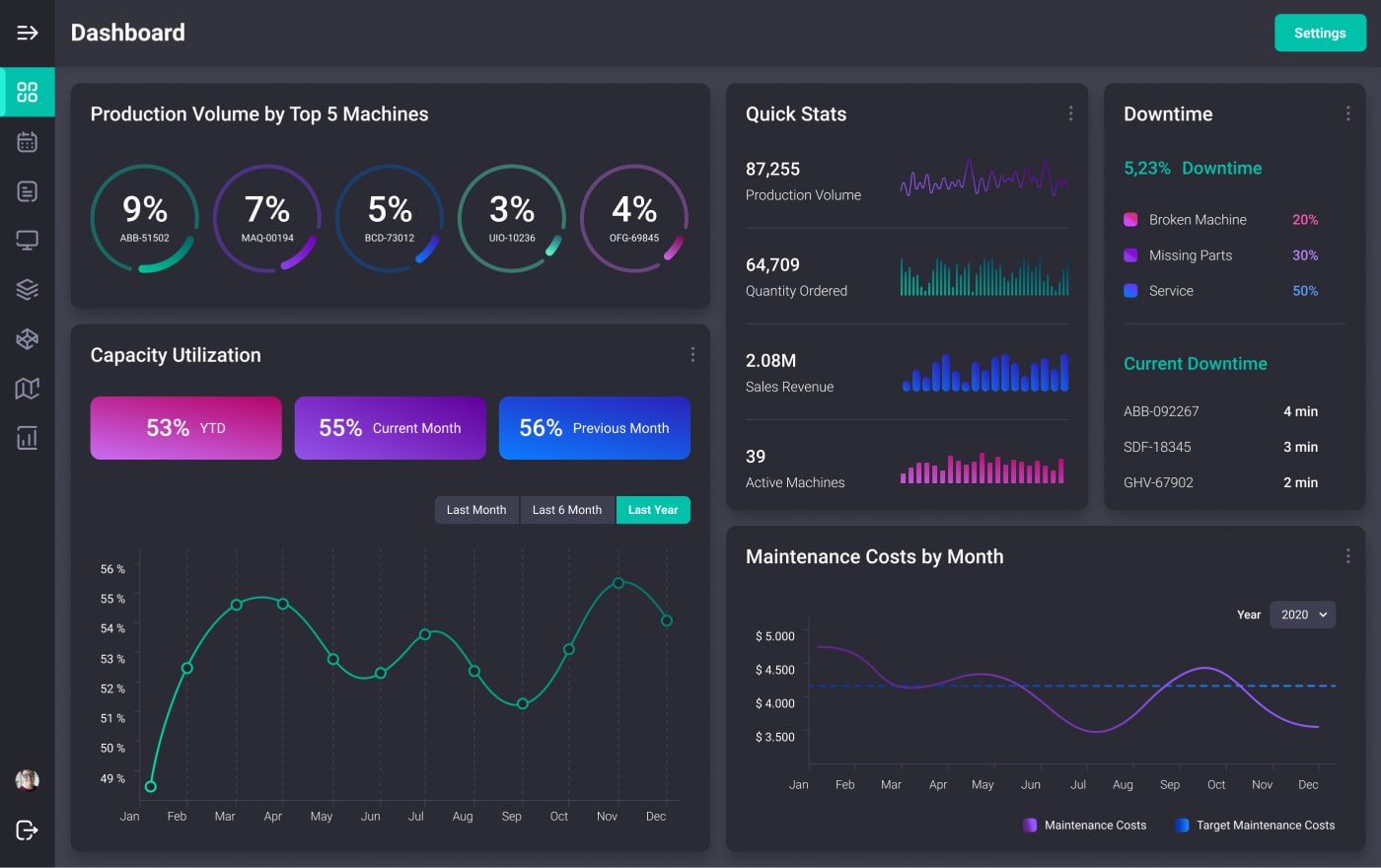 Screenshot from Advanced ERP Software for Manufacturing Company Case Study
ERP software created by our team gathers, stores and analyses enterprise-wide data. The reports reflecting such indicators as maintenance costs, raw materials expenses, average downtime time etc, can be generated easily within several seconds, which allows the entrepreneurs to monitor the company's overall efficiency. Due to an easy access to the real-time data, it's possible to control the availability of materials in the warehouses, and the system will send a notification in case of possible shortages, which ensures that customer orders will be satisfied without any delays.
Monitoring the machinery condition and prevention of possible downtimes became much easier with implementation of the machinery maintenance module in the software. The system constantly monitors the state of a particular machine, and notifies about any malfunctions.
Conclusions
Choosing between a custom solution and an off-the-shelf solution sometimes is a bit of a challenge. Both options have its advantages and pitfalls, therefore it's necessary to evaluate your business aspects and plans for the future, in order to make the informed decision. Obviously, a custom-made software is a more optimal and effective solution from the long-term perspective, and your investments in its development will be paid back relatively soon.
If you are currently looking for a reliable vendor that would be able to embody your idea into a comprehensive software, please contact us, we are always ready for a dialogue.