When you have a software idea and start making ambitious plans for its embodiment, there comes a moment when you wonder whom to entrust the project to. Which option is better: to hire an outsourced software development team or to deal with it in-house? What will be more effective, cost-efficient and reliable? There are no definite answers to these questions – both options, outsourcing and in-house have their advantages and disadvantages, and you should evaluate them to make an informed decision. In the article we consider the pros and cons of in-house development and outsourcing, which will help you to dispel any doubts and to decide in favour of the more suitable option.
Outsourced Development Team: Pros and Cons
In case of outsourcing, your software project is developed by an external team which may be located in any point of the world. Outsourcing model presupposes a contract between a customer and an outsourcing development company where all the agreements between the parties are outlined.
Outsourcing software development has been a constantly growing trend for several decades already. To track how the global market size of outsourcing companies was growing, let's check the statistics below: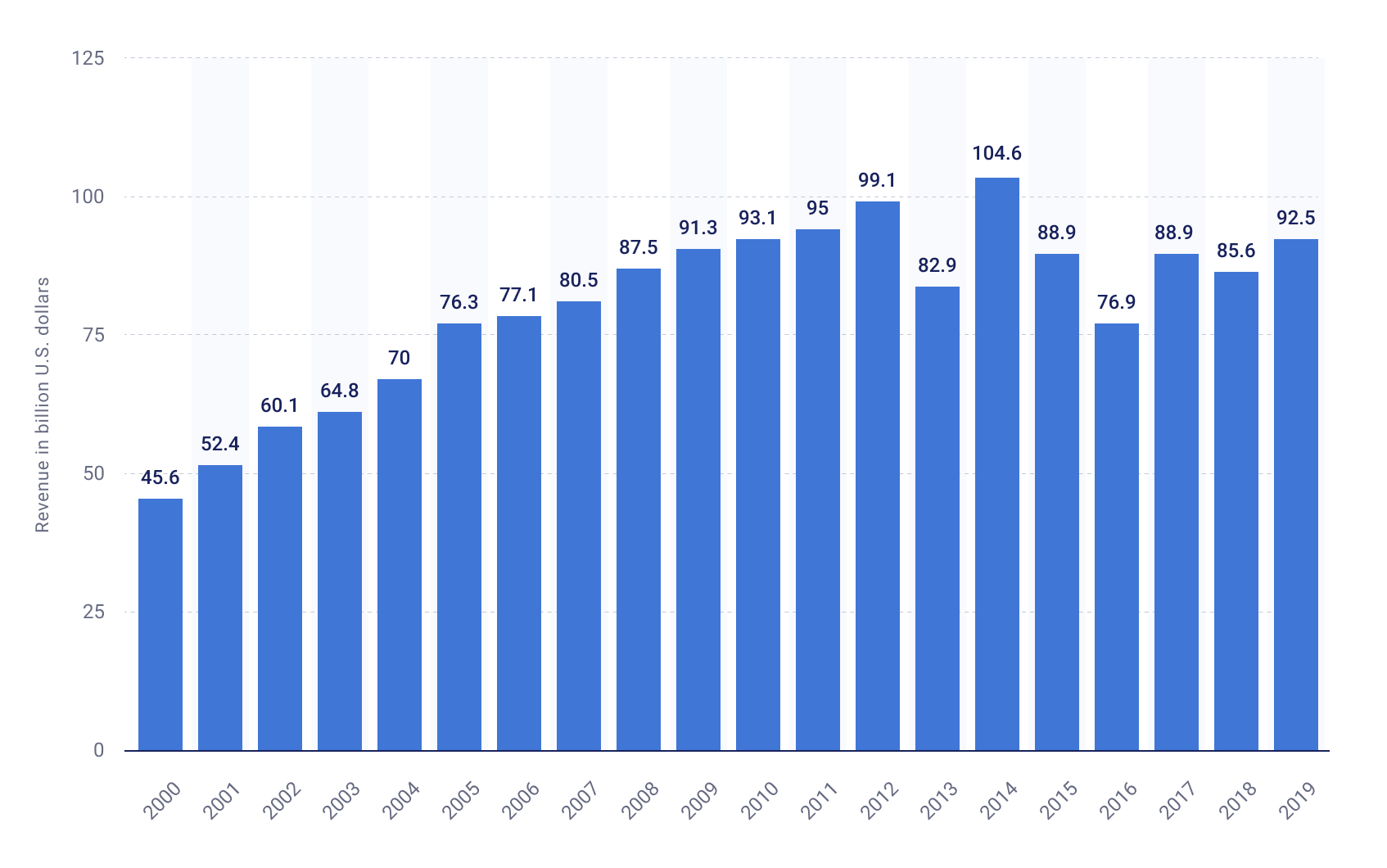 Image Source: Statista
Pros of an Outsourced Development Team
Lower Labour Costs
It was and remains one of the key reasons for customers to engage the services of the remote development  teams. If you are running a business in the country where costs for software development services are incredibly high, it becomes more reasonable to consider hiring an outsourced development team in a country with significantly lower costs. In this case the developers' expertise will be the same, but your expenses for the software project will not be that high, which is a substantial advantage.
Extensive Expertise
Typically, outsourcing companies employ a staff of professionals with an extensive development expertise and skill set. Therefore, the range of software projects a company deals with, is not limited to particular technologies or stacks.
In case you have your own development team in the company, it may happen that none of the team members has skills required for your project. Consequently, you will have to search for a specialist possessing the necessary expertise, which entails additional money pours and time expenditures. Opting for an outsourcing option, you will have a chance to get rid of the headache of searching and hiring an appropriate professional.
In-house Efficiency
Each employee in your in-house performs his/her particular functions and has a certain workload. In case you do not intend to hire a remote team for a new software project, you will have to assign the additional responsibilities to the existing employees. Such a move will inevitably influence the efficiency of your team members, since they will be obliged to switch to another project and fulfill the additional tasks. In case you engage an outsourced development team, your in-house employees will be able to concentrate on their core responsibilities and therefore keep their productivity at the higher level.
Cons of an Outsourced Development Team
Lack of Control
Although now the boundaries are blurred, and hiring of remote teams has become a common practice, the control issue still exists. The point is that an outsourced development team may have several projects at the same period of time to work on. Therefore, in case a customer has a problem, the response from the outsourced team may be not immediate, and a client will have to wait for a while.
Trust Issues
The number of companies providing IT outsourcing services across the globe is enormous, and the problem of choosing a reliable software vendor is the primary concern. To avoid any issues, starting from miscommunication ending with bad code, business owners spend much time and make many efforts for research and analysis of the expected development partners. Such an approach is pretty time-consuming, but in the end a customer may be sure that his/her project is in expert hands.
Cultural and Communication Barriers
If the development team working on your software project is located on another continent and a different time zone, setting up meetings may turn into a real challenge. Choosing time that will be suitable for both parties is itself not a simple task, and here we can add language and cultural barriers that may lead to miscommunications, which may affect the entire working process.
Read Also Off-The-Shelf Software vs Custom Software: Why Custom Option Wins
In-house Development Team: Pros and Cons
In-house development presupposes building your own team from scratch. In this case you hire specialists that will work for your company permanently, and go through all the stages of the hiring process, such as searching for a suitable candidate, interviewing and onboarding.
Pros of an In-house Development Team
You Hire Specialists That Meet Your Requirements
Each company has its values and philosophy it follows. Thanks to the hiring process, companies have an opportunity to take a closer look at the potential employee and to determine if he/she possesses the necessary qualities. Such an approach is beneficial for both parties, since it will considerably facilitate the working process, as all the team members will be "on the same wavelength".
Direct Access to the Team
When you have your development team beside you, you have an opportunity to convey the issues related to the software project immediately to the team, and the specialists may start working on it right away. Therefore there will be no need to send emails one after another trying to reach out. Also, unlike an outsourced team which may work on several projects simultaneously, an in-house team is fully focused on your project. All It will help you to perform better control over the entire workflow and make sure that everything goes as planned.
Absence of Communication Boundaries
If the team you have gathered is from the same country and has a similar cultural background, the risk of miscommunication is minimized. Moreover, if the time zone is the same, there will be no difficulty to find convenient time for regular meetings.
Cons of an In-house Development Team
Huge Costs
The most obvious and at the same time significant disadvantage of hiring an in-house team is cost. Since you offer your employees a permanent full-time contract, you have to pay a fixed salary monthly, despite the sick leaves, vacations, maternity leave etc. Moreover, you should take into account the fact that the recruitment process may take an extended period of time, which automatically postpones the project start.
You are Responsible for Staff Trainings
Companies that offer outsourcing IT services and focus mainly on software development services invest money for training of their team members, so they can sharpen the existing skills and develop new ones. If you choose in favour of hiring an in-house development team, you should ensure that your employees keep up to the changes occuring in the IT industry. To do that, you should keep an eye to the latest trends and realize that staff training becomes your responsibility.
Staff Turnover
The demand for experienced IT specialists is extremely high nowadays. Recruiters fight for the best talents offering higher salaries and various bonuses, so the risk of losing a valuable team member is pretty big. Dismissal of key development specialists that have been working on a software project for quite a long time may turn into a real disaster. If your project is very specific, there is a likelihood of spending an enormous amount of time to find a developer who can be a good replacement. Additionally, you should take into account time required for onboarding and initial training, so the new team member could get down to work.
Conclusions
The problem of choosing between in-house and outsourcing software development is always relevant, especially if both of them will help you to reach the desired result. Both approaches have their advantages and disadvantages, so you need to evaluate them thoroughly, and not to choose randomly without going into details. Clear understanding of strong and weak points of both these options  will help you to make an informed decision to reach an expected outcome.
If you have a business idea and intend to entrust the development of your software project to a team of professionals, please contact us, our specialists will be glad to assist.