We're proud to announce that we have successfully passed the certification audit and received the ISO 27001 Certificate in Information Security Management. We have successfully implemented and now maintain the Information Security Management System (ISMS), which means that the methodology we apply is based on the best practices for carrying out secure documentation procedures to ensure confidentiality of our clients' information as well as of internal data. XB Software has been able to build a reliable and robust management data system that has helped to comply with the highest level of Information Security.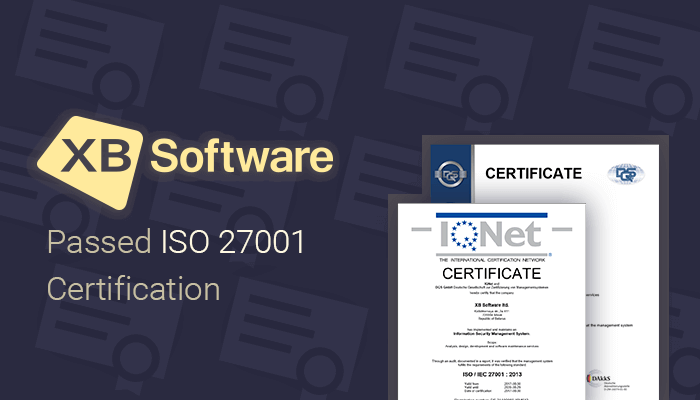 The audit was conducted in the scope of analysis, design, development, and software maintenance services. The audit documented in the report verified that the management system of XB Software company fulfills the requirement of the ISO 27001:2013.
ISO 27001 is an international information security standard that recognizes that the certified company has an effective security management system. Information Security is about how a company goes about the business processes and how it manages its data and IT systems by applying a risk management process. This Certification will ensure that all XB Software's systems and customers' solutions are securely managed. XB Software has implemented the complex Information Security Management System that sets out the information security policy, operations, and ensures necessary control.
DQS Holding GmbH has provided us with our official 2017/2020 certification.
About DQS Holding GmbH:
DQS Holding GmbH is headquartered in Frankfurt am Main, Germany. The group provides assessments and certifications of management systems and processes of any type. DQS Group currently has about 20,000 certified customers across almost all industries with approximately 55,000 certified locations in over 130 countries.
About XB Software:
XB Software is a leading custom software development and testing company from Eastern Europe with over 9 years of experience. Our best practices are proven by over 150 successfully finished projects throughout the globe and a lot of satisfied clients in USA, Canada, UK, and EU countries.
If you are interested in working with us, check out our featured case studies.