We want to announce that our company has successfully obtained two internationally recognized certifications: ISO/IEC 27001:2022 and ISO 9001:2015. We are very proud to have obtained these prestigious certifications. They reflect our dedication to excellence and continuous improvement.
What ISO Certifications Mean for Us and Our Clients
ISO/IEC 27001:2022 is the latest edition of the standard that specifies the requirements for establishing, implementing, maintaining, and continually improving an Information Security Management System within the context of the organization.
This certification demonstrates that XB Software has implemented effective measures to protect the confidentiality, integrity, and availability of the information assets, as well as our clients and partners.
ISO 9001:2015 is the most widely used standard for quality management systems, which specifies the requirements for consistently providing products and services that meet customer and applicable statutory and regulatory requirements, and enhancing customer satisfaction through the effective application of the system.
This certification confirms that XB Software has established a customer-oriented approach to the business processes, ensuring high quality of the software development services and products.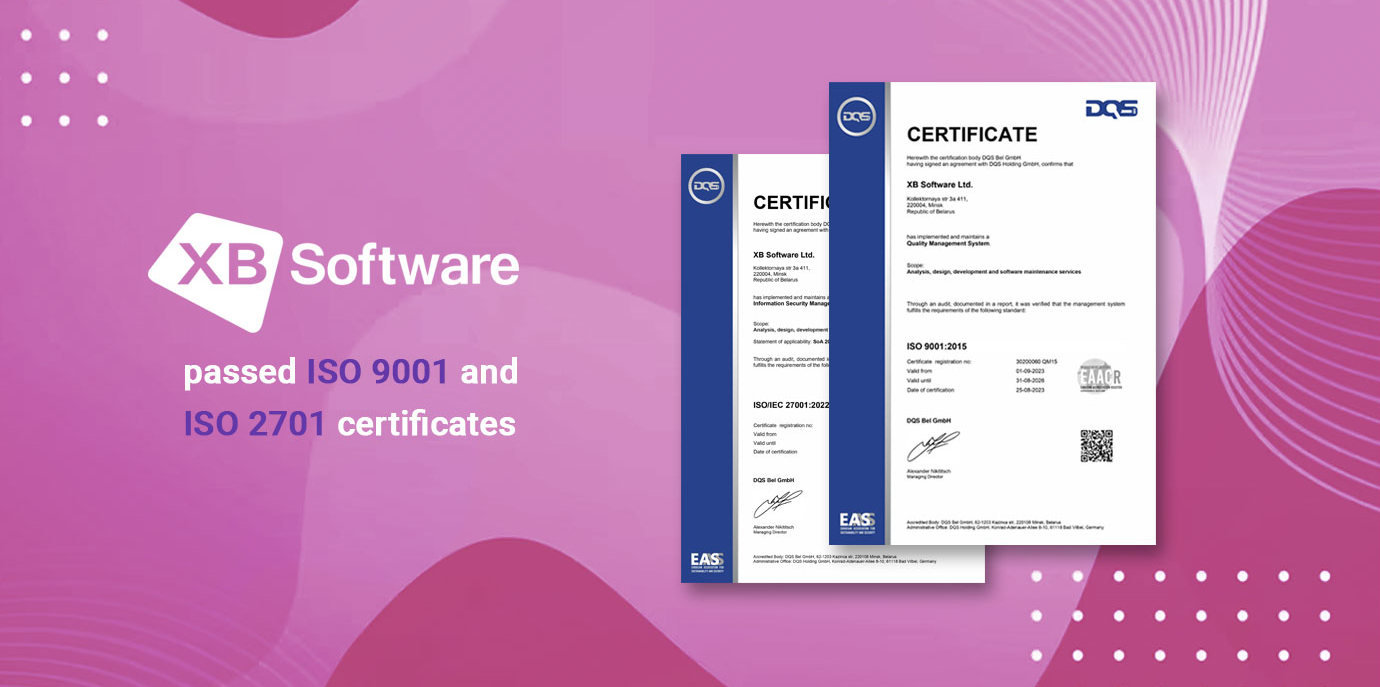 Why We Regularly Update ISO Certificates
By keeping these certifications up-to-date, we prove our commitment to meeting the highest standards of information security and quality management in the software industry. It also means that we have an ability to adapt to the changing needs and expectations of our clients and evolving regulatory and technological environment.
We believe that these certifications will enhance our reputation and credibility in the global market, as well as increase our customer satisfaction and loyalty. Our team will continue to strive for delivering the best software solutions to the clients, using our own products – Webix, DHTMLX – for different industries.
DQS Holding GmbH has provided us with the official certification.
About DQS Holding GmbH:
DQS Holding GmbH is a company that provides certification and assessment services for management systems worldwide. The company has 85 offices in 60 countries, and 2,500 auditors and experts who help organizations improve their management systems and organizational health. The company offers certification and audits for various standards, such as ISO 9001, ISO 14001, ISO 27001, ISO 45001, ISO 50001, and more.