We at XB Software are proud to announce that we have successfully passed another certification audit and received an ISO 9001:2015 Certificate in Quality Management.
To become ISO 9001:2015 certified, XB Software went through an evaluation process that included: analysis, design, development, and software maintenance services. Through an audit, documented in the report, it was verified by DQS Holding GmbH that the management system fulfills the requirements of the following standard: ISO 9001:2015.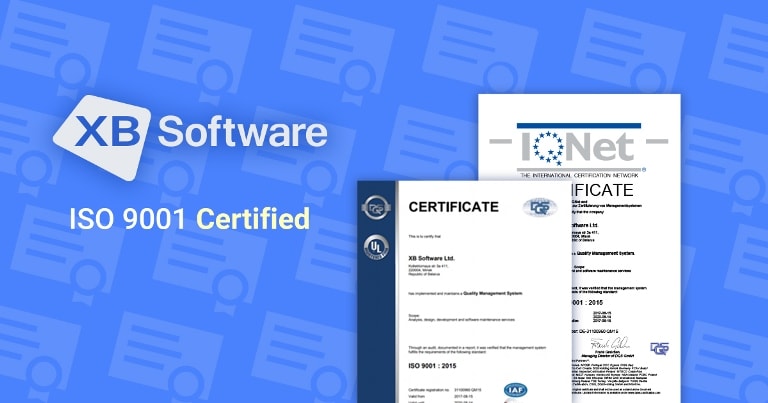 What is ISO 9001:2015?
ISO 9001:2015 is an international standard used worldwide for estimation of the quality of management process. Unlike the ISO 9001:2008, in the ISO 9001:2015 has been modified in the structure and the core terms to allow the standard to integrate more easily with other international management systems standards. Our quality management system was independently audited and achieved this prestigious certificate, in August 2017.
What does this certificate mean for XB Software?
First of all, this certificate illustrates our special attitude and adherence to the basic management principles, which imply that we follow high standards of services and a customer-centric approach. Our ISO 9001:2015 certificate also shows to our potential clients that we are committed to quality and use these principles in our everyday operations. We trust that we are a trustworthy partner for our present and future clients.
What does this certificate mean for our clients?
ISO 9001:2015 helps us to guarantee that our present and future customers get robust, high-quality solutions and services.
DQS Holding GmbH has provided us with our official 2017/2020 certification.
About DQS Holding GmbH:
DQS Holding GmbH is headquartered in Frankfurt am Main, Germany. The group provides assessments and certifications of management systems and processes of any type. DQS Group currently has about 20,000 certified customers across almost all industries with approximately 55,000 certified locations in over 130 countries.
About XB Software:
XB Software is a leading custom software development and testing company from Eastern Europe with over 9 years of experience. Our best practices are proven by over 150 successfully finished projects throughout the globe and a lot of satisfied clients in the USA, Canada, UK, and EU countries.
If you are interested in working with us, check out our featured case studies.