At the current moment mobile applications have conquered the extensive popularity among users. Now more and more people prefer using mobile apps over the desktop apps due to their simplicity and user-friendliness. You couldn't agree more, that our smartphones are with us throughout the day, and we use it at our convenience for a variety of purposes. Ordering a cab, pizza delivery, purchasing new clothes or tech devices — all it becomes more convenient via a special app installed on your smartphone. Even if we do not intend to purchase something right away, in most cases we look something up via a smartphone.
Let's check the research, published by Google below: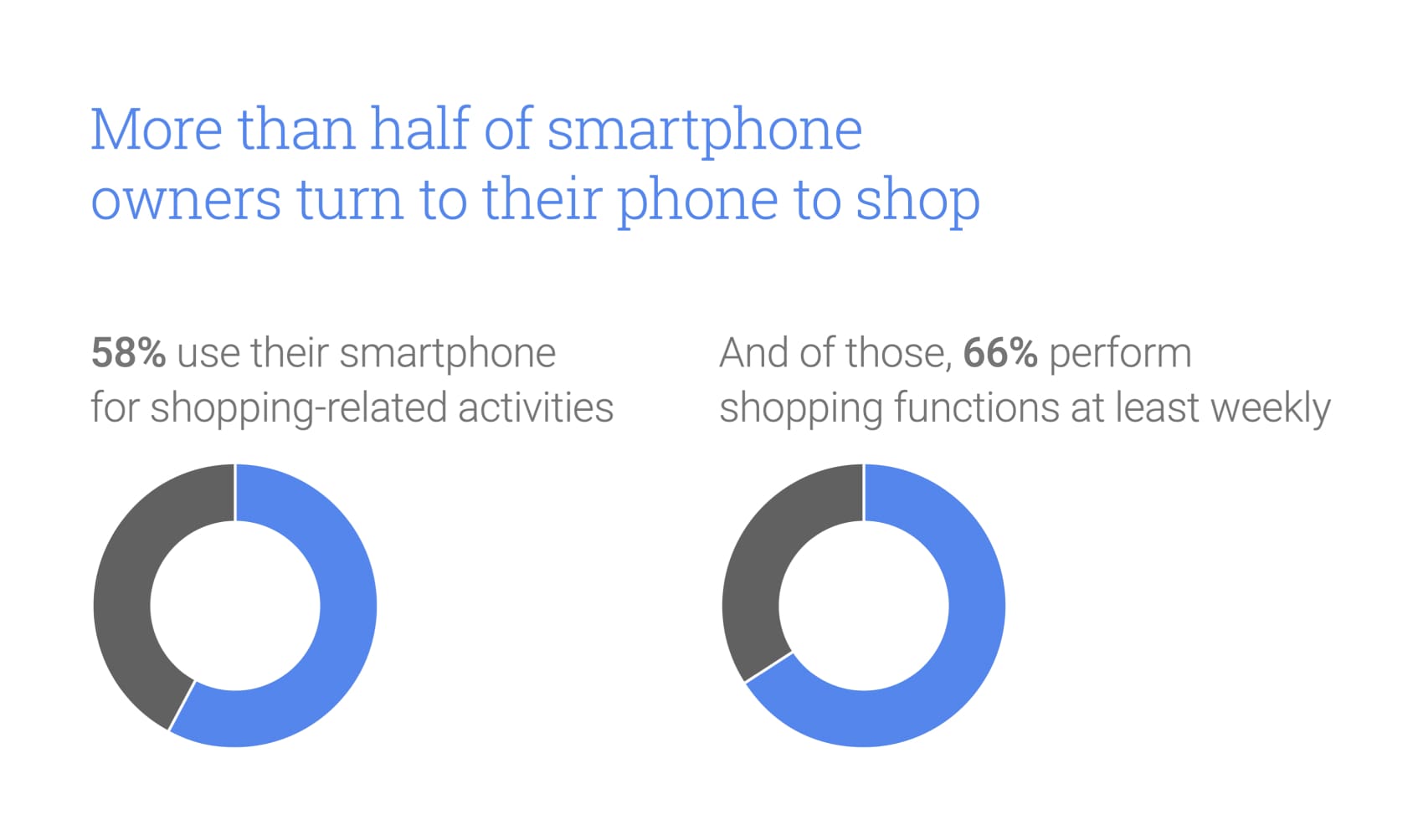 So does your online marketplace really need a mobile app? The answer is self-evident: yes! And furthermore let's consider the list of reasons that prove the significance of a mobile app for e-commerce business.
Mobile Application or Adaptive Design?
At first glance adaptive design may be a great alternative to a mobile application. And indeed, this option has a number of advantages that may convince you to choose in its favor. First of all, adaptive design is compatible with any mobile devices and doesn't require any settings. Everything you need to start working with a website via a smartphone — only a browser and stable Internet connection. But at the same time, it's a big disadvantage too. Since it's impossible to do without flawless Internet connection, pages' loading speed may be annoyingly low. Also, it's almost impossible to adapt all the elements, images and animations for correct display of the webpage. Also problems with scaling, and optimization may arise with high probability, meanwhile, these issues can be avoided if there is a mobile application developed.
Reason 1: Creation of Loyal Audience via a Mobile App
Among the most important strong points of mobile applications is their contribution into creation of the audience loyal to a brand. According to statistics, approximately 67% of Internet buyers, which use their smartphones for doing shopping, had better use applications offered by their favourite companies and brands. That is why mobile solutions create strong correlation between a marketplace and its customers through:
Faster Content Loading
Very few marketplace owners take seriously the reality that a slowly loading website may be disruptive for business development. Customers feel strong irritation if page loading time is too long and with high probability would visit another website right away. That's the reason why a marketplace should function pretty fast if it is aimed at customers retention, and of course, new clients acquisition. In this aspect mobile applications have a significant advantage over the websites. Since mobile apps may perform basic functions in offline mode, such as products' features comparison, price verification, they efficiently use the device performance. What about a website, it can not be reached offline, it needs constant and stable Internet connection for content updates.
Better UI Provided by an Application
Since there is no need in constant Internet connection, this aspect increases the applications' user-friendliness significantly. Owing to this advantage, apps' capabilities include fast loading of animations or high-resolution images, which makes the design of an online marketplace mobile app more attractive, which also facilitates better user experience.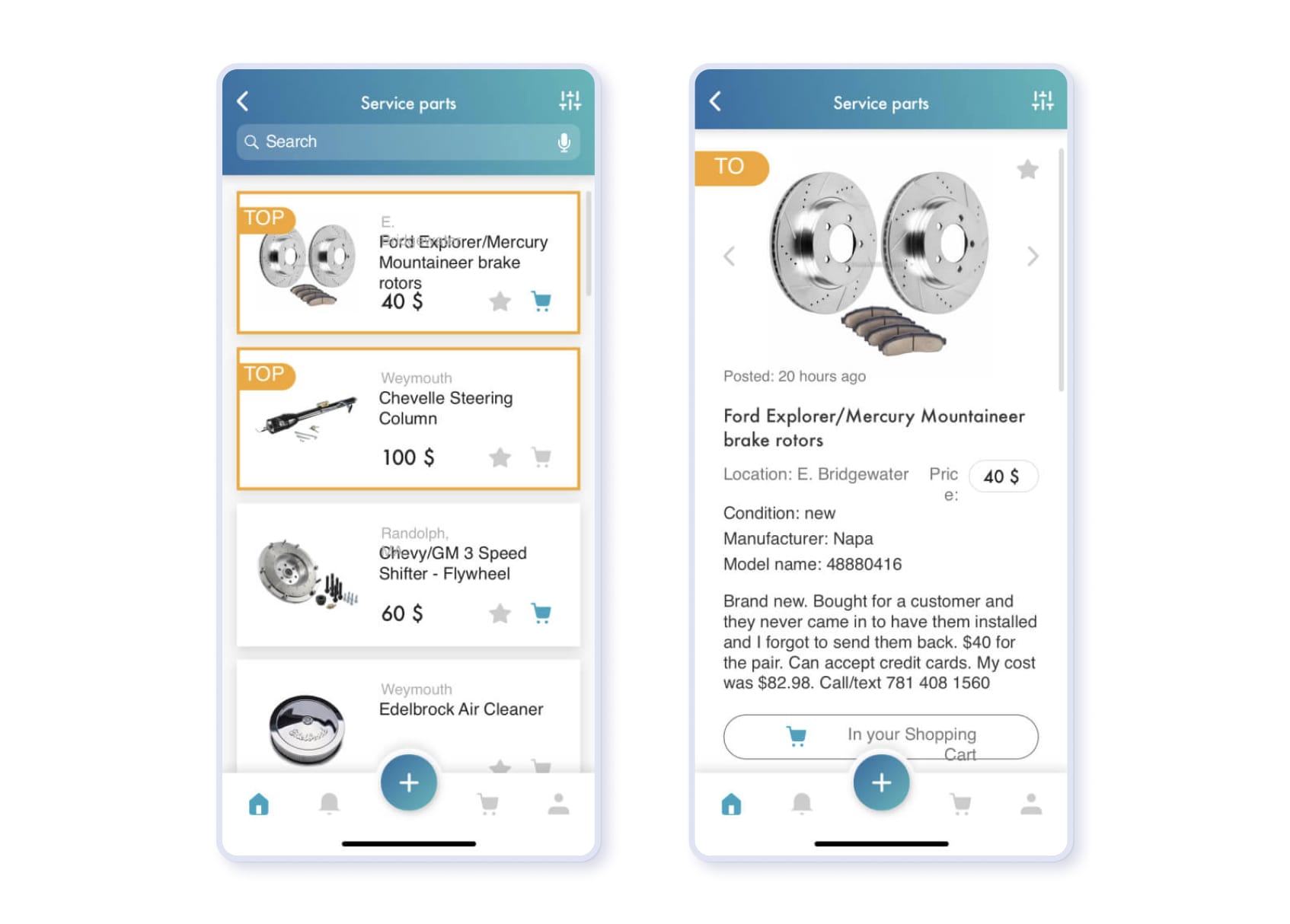 Screenshot from Online Marketplace for Cars and Spare Parts Selling Case Study
Reason 2: Trend of Using Mobile Apps and Mobile E-commerce Market are Increasing
Dynamically growing market of e-commerce helps businesses to strengthen the link with their customers. Currently, purchasing products from an online store located in another country without getting out of the chair has never been easier. Online shopping has radically changed the way people make purchases. Such possibility significantly saves our time that can be spent on other activities, and taking into consideration the current world situation, helps to maintain our health. During the coronavirus era, there hasn't been a more appropriate moment for mobile application development.
Now people tend to use applications installed on their smartphones more often, which can be clearly seen if we check the chart by Flurry Analytics: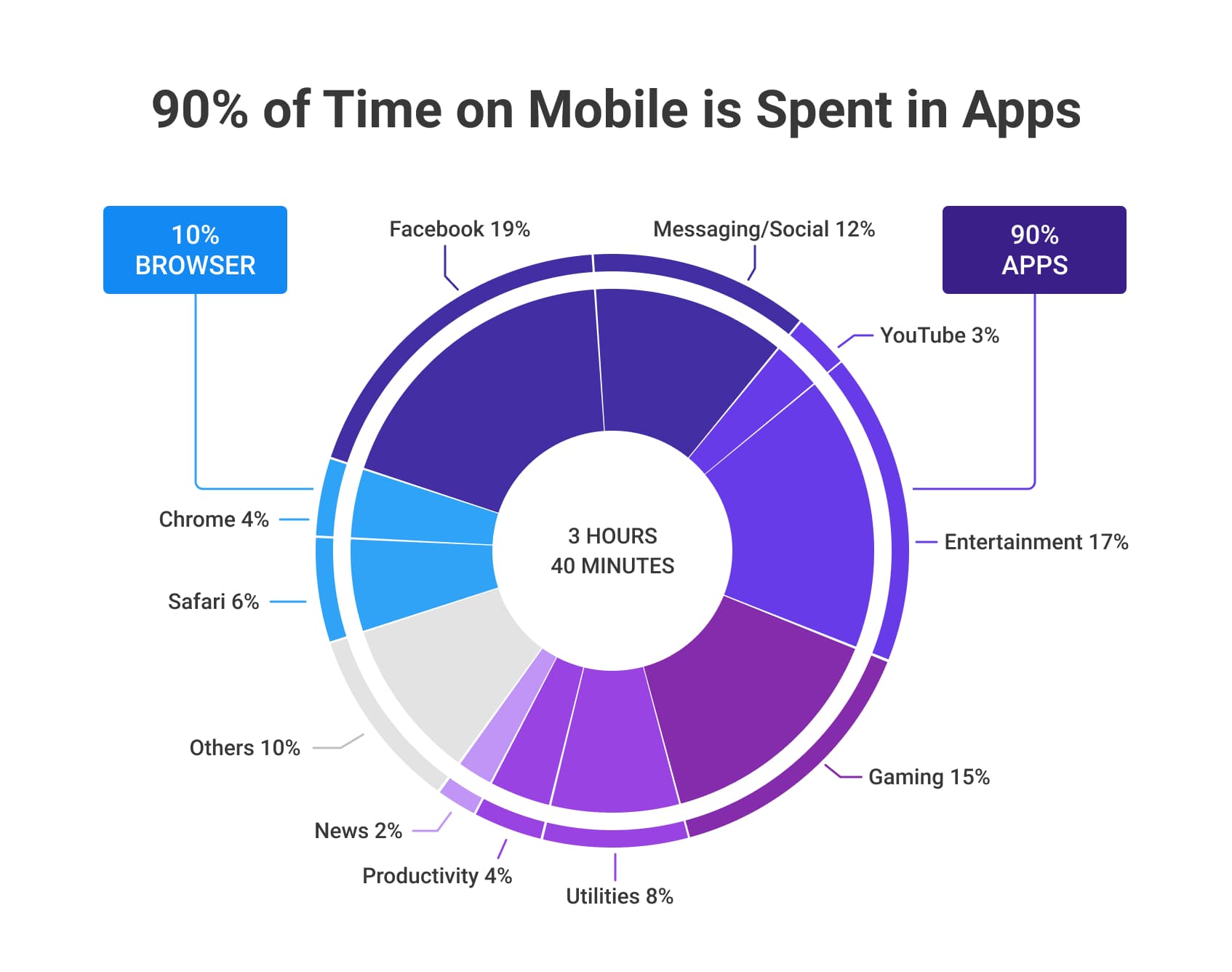 As you can see, apps take most of users' time spent on mobile devices. On Statistics, more than 75% of users have at least one e-commerce app installed on their mobile phones.
Reason 3: Enhanced Marketing Strategy via E-commerce Mobile App
Expanded functionality implicit in mobile apps allows online marketplaces to perform better control over the users' interaction comparatively with websites, and gain more detailed analytics. These values help businessmen to personalize the content more precisely, and introduce improved recommendation systems for conversion increase subsequently:
An E-commerce Mobile App Can Use Mobile Devices' Built-in Functions
For example, unlike a mobile app, website's capabilities do not allow customers to use a built-in camera to enhance interaction with a customer. One more possibility to increase customers' engagement — implement the voice recognition function, which facilitates better interaction between a customer and an app due to the better menu navigation. Also, owing to the GPS function on your smartphone, your mobile application will be able to specify the location of the nearest offline store.
Read Also Geolocation Apps. How They Work and Why They are Loved
Conversion Increase due to Push-notifications (PN)
Statistics says that owing to push-notifications, the possibility that a client would return to an application, is doubled. PNs are frequently sent to smartphone owners by the majority of mobile apps. Text of the notification appears on the user's home screen, and the probability that a potential customer will open it will be redirected to a mobile application is pretty high, especially in comparison with messages in mailboxes, which also may get to spam box. PN time and frequency can be scheduled, for example in accordance with users' local time, and they are multilingual, which is another big advantage. Notifications can be translated into various languages and sent to a user in accordance with language on his/her device.
Conclusions
We live in the digital age, when everything is rapidly changing and developing. Several decades ago we couldn't even predict that such thing as a phone would perform a wide set of functions and would help us in our daily life. Nevertheless, it's our current reality, and doing without a smartphone and applications installed on it seems improbable. As you can see from statistics provided by different resources, the use of mobile apps has been an increasing trend for last decade which can not be ignored.
The main thing with mobile apps for e-commerce business — nowadays this kind of development is an important step that should be taken by business owners. If you intend to conquer the significant share of the market, and remain competitive, it's better to pay attention to the development of the mobile app, which may drive your business growth and provide your customers with positive user experience. Please contact us if you wish to embody your idea about a mobile application for your e-commerce business, we help you with pleasure!