Making purchases or ordering various services via the Internet has become a new normal. Judge for yourself, there is no need to go out from home, wander around a shop, stand in a queue… It's much more convenient to make an online order, without any extra actions. Such opportunity worked just fine when the coronavirus era came, and governments of various countries started to impose restrictions and even lockdowns. In such circumstances people had no choice other than dealing with online shopping. As a result, sales on online platforms increased significantly in the recent year. In this article we will discuss the difference between two very similar business models: E-Commerce Marketplace and Aggregator, go over features of both of them and distinguish their advantages, benefits as well as some disadvantages.
Marketplace Business Model Features
Marketplace with its brand name sells products of other brands
An online marketplace is a platform with its own brand name, which offers a variety of products but doesn't own them. Items belong to different companies and presented under their brands.
Earnings on commission
As a marketplace sells items from other vendors, it's correct to say that it just provides a platform for sellers to offer their product to buyers. This way, a marketplace gets income from the commission of each purchase a user has made at the marketplace.
No responsibility for shipping, and product features
Being just a connecting link between a seller and buyer, a marketplace is not responsible for products shipping, and consultation about product details – all the responsibility lies with a vendor.
Wide range of quality
Due to the enormous number of items and vendors at a marketplace, quality of similar goods offered by different sellers may vary.
Price range
Prices for the similar goods presented on a marketplace also may differ due to the same reason described in point 5.
Marketplaces are now very popular among both buyers and vendors. Such world known marketplaces as Amazon, Ebay, TaoBao are predominantly used by small and average companies.
Some Pros for Marketplace Business Model
Simplification of the selling process
In order to start operating, a vendor just needs to register a profile, which doesn't require much time and investments
 High level of trust to a marketplace
Of course, here we consider marketplaces with solid reputation, such as Amazon. According to the statistics for 2019, most users look up the products they want to buy on the marketplace first:
In this way, your potential buyers are already there, and you may do without advertising and necessity of your website promotion.
No responsibility for the security of your clients' data
Marketplaces take responsibility for the security of the clients' data, so there is no need for a vendor to worry about it.
Some Cons for Marketplace Business Model
Gaps in quality
Since the quality at the marketplaces may vary, and the marketplace itself is not responsible for goods' quality, there is a risk for a customer to have a bad shopping experience.
Various terms & conditions
Each provider at a marketplace establishes own terms & conditions, delivery terms, etc., which may be not convenient for a customer.
Aggregator Business Model Features
Services are provided under the aggregator name
Aggregators don't own the goods or services offered. We can consider an example of one of the most famous aggregators we know is Uber. Taxi service is provided under its name, although there are plenty of business providers.
Earnings on commission
Like a marketplace, aggregator receives income from commission that is being paid by the vendors from each transaction.
Almost same level of quality
Aggregators are focused on goods and services' quality they offer, as their own brand name is involved. So all the products and services presented on an aggregator will be of more or less equal quality, big gaps are excluded here.
Price 
Like the quality, prices on the aggregator will also not vary significantly, since services are provided under one brand name of an aggregator.
Belong to the same industry
All goods and services presented on the aggregator come from the same industry, for example taxi service, transport tickets, online logistics platforms, etc., they are just united under one brand.
Aggregator business model is also very popular nowadays. Aggregators act as mediators, but in contrast to other platforms, they keep strict control of the experience of its users.
Main Benefits of Aggregator Business Model
Convenience for users
Due to the absence of big gaps considering quality and prices of goods, users initially know what they would get when making a purchase.
Beneficial for vendors
Vendors pay commission to an aggregator only for goods that have been sold.
Terms & Conditions
Since the services provided by vendors are united by a brand of an aggregator, terms and conditions, delivery terms and etc., will be the same for each product or service offered on a platform
Nothing can be perfect, and the aggregator business model has its disadvantages too.
Some Cons of Aggregator Business Model
Limited choice
As it was mentioned, all providers of an aggregator belong to one particular industry, and there is no such huge choice of products that you may find on a marketplace.
Tough competition between aggregators
As aggregators' providers belong to the same industry, and their number is quite limited, so it cannot be excluded that vendors may work for other platforms as well.
Read also How Much Does MVP Development Cost
Let's sum it up and take a look at the table where pros and cons of each business model are mentioned: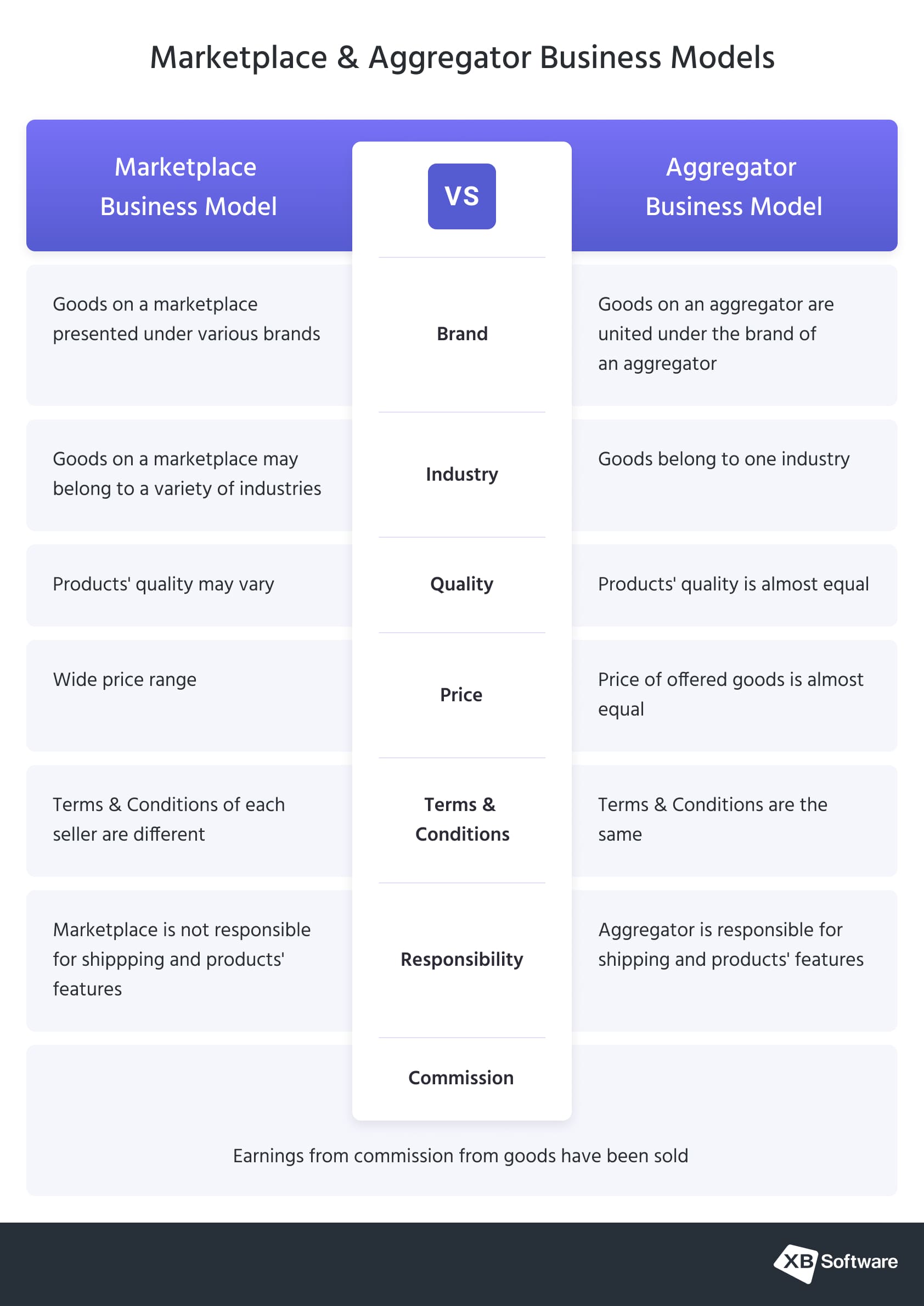 Conclusions:
Online shopping has become an inseparable part of our life. People sell, buy via the Internet in order to reduce time, make a process more convenient for themselves and, which is especially important at the pandemic time — limit the contacts for safety reasons. We already know that our life will not come into normal in the near future, so it can be expected that online shopping will remain one of the main trends in the coming years. Here we have considered two e-commerce business models: marketplaces and aggregators. It's an undeniable fact that these two business models have much in common. Both of them offer goods and services from various vendors, and both are operating online. Nevertheless, they have features that differ them from each other, and it's up to you which model to choose.
If you have a business idea which you wish to embody as a marketplace, an aggregator or any other business model, please contact us and our team will assist with pleasure.