The ever-increasing competition on the market brings new challenges for businesses trying to win their customers' love. The thing is, the pace of modern life brings new challenges for everybody, and often your clients are too busy to get in contact with you using traditional means such as phone calls. Moreover, the simplicity of purchasing your products and services plays no less important role than their quality.
These aspects have led to the growing interest in on-demand apps. Their primary purpose is to give customers what they want here and now without having to wade through the thorns of your corporate website or hang on the phone waiting for the operator to become free. The use of on-demand applications can benefit businesses from various industries and make your company more recognizable among potential clients. Today, we'll consider the main features of on-demand apps and learn what benefits they can bring to your business.
Answering Your Customers' Demands in a Blink of an Eye
An on-demand app is a mobile and/or web app that allows customers to reach your services the shortest possible way. The app should satisfy a specific need, such as delivering fresh food at home or driving from point A to point B. As an example of services that a business can provide via on-demand applications, you can think of any daily routine task that a business can take care of.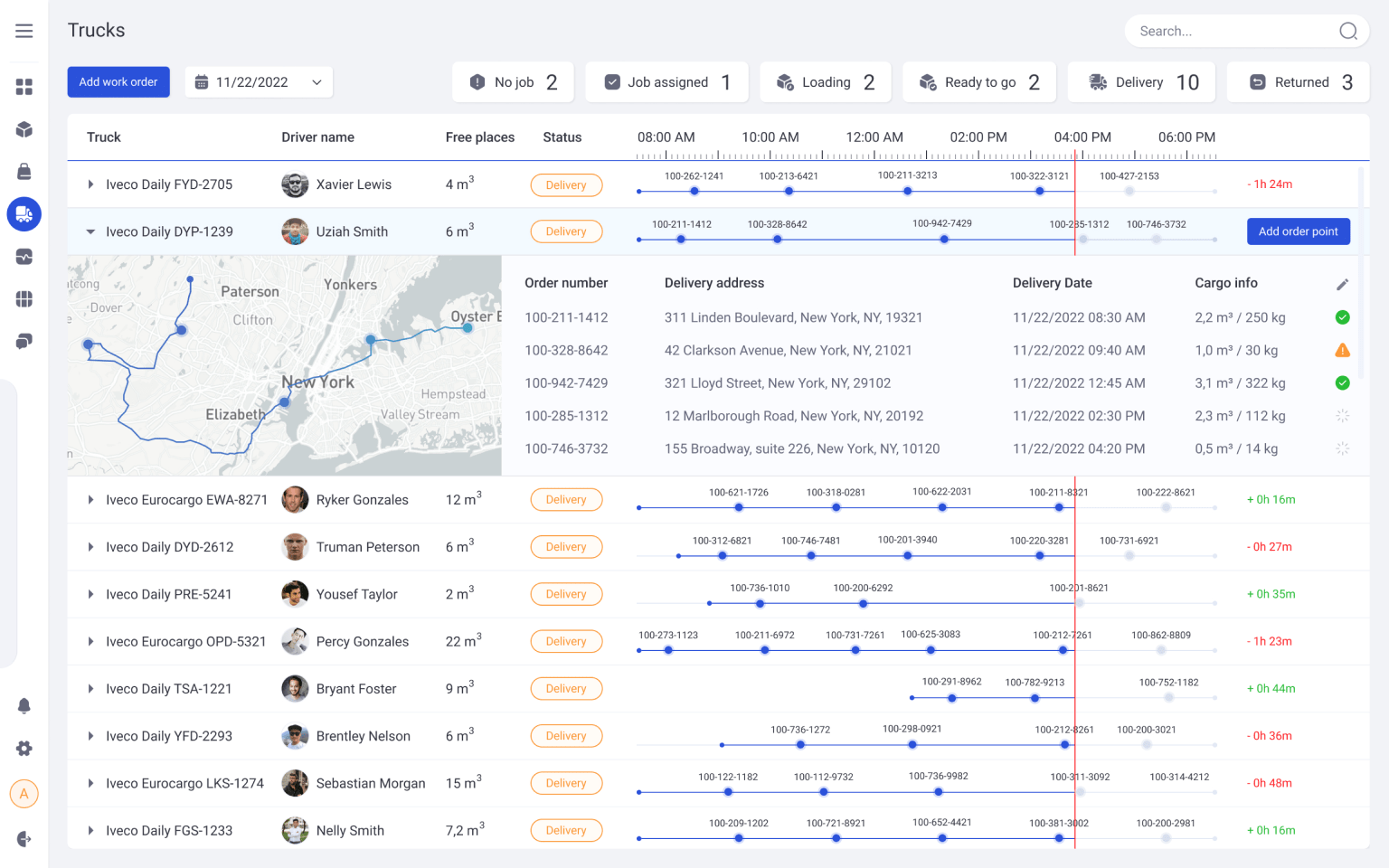 Screenshot from Delivery Management System Case Study
A company that deals with housekeeping services may, for example, allow clients to book a cleaner or plumber visit for a specific day of the week. On-demand apps for retail can become an excellent option for those who face the need for the spontaneous purchase of some goods. It can be a perfect opportunity for a business to inform users of limited-time offers and current discounts.
Thanks to the increased number of portable devices such as smartphones and tablets, it's pretty easy for customers to access on-demand apps. The main task for businesses is to provide a set of features that will ensure the best possible user experience. Push notifications, for example, can inform clients about special offers and advertise products that they may want to purchase according to previous order history. Also, your on-demand app can use notifications to notify a customer about a change in the order's current status.
Read Also: Off-The-Shelf Software vs Custom Software: Why Custom Option Wins
Besides the current state of the ordered package, it'll be a good decision to allow users to track its current location. GPS tracking will enable clients to receive the actual location of their ordered goods or drivers if we talk about Uber-like apps. If a customer isn't sure about his intention to purchase, the item can be added to the wish list. For a business, this feature can become a valuable source of information. You can analyze which goods users add to their wish lists the most to plan your discount strategy.
An easy-to-use system of online payments providing multiple options can free your customers from the need to mess with cash or pay for services in an unusual way. In addition, the built-in feedback system will make clients feel that your business values their opinion and is ready to improve the service in case of need. If you decide to cooperate with a custom software development company, ensure that they will implement those described features that better suit your business specifics.
Strengthening the Connection Between the Business and the Client
Now, let's talk about how on-demand apps can benefit your business. First of all, on-demand apps can simplify the scalability of your company. For example, you can start as a small online shop that sells books. Then, as your business grows, add new product groups, increase the number of cities you deliver to, or even allow other small businesses to use your marketplace for a reasonable fee.
You can collect user data, store it, and analyze it to develop new insights and change your marketing strategy accordingly. For example, you can measure how much time an average user spends on a specific product, what products more often appear in wishlists, and what types of products are bought together more often. Also, you can measure seasonal demand for specific goods to make sure you have the required number of items in stock in advance.
The feedback and rating system that your on-demand application provides may become a valuable source of information irreplaceable for efficient customer service improvement. With this info before your eyes, you can quickly determine whether your delivery department works without any delays or there is room for improvement. In addition, quality of products and services provided, communication of your staff with customers, speed of resolving appeared issues, and much other important information can be provided by your users if you have a properly designed on-demand app in your possession.
If your business is not online, consider that it does not exist at all. You may not like it, but that's the world we live in. On-demand apps can help you to increase the online presence of your company. Nowadays, having a website is a must, but having a mobile application is another significant step towards your clients. Especially if you cooperate with a custom software development company with enough expertise to implement your innovative ideas. Suppose your customer wants to buy some beef using your on-demand app. In that case, why not provide some recipes of yummy beef dishes and offer to purchase extra ingredients that will turn an ordinary dinner into a feast of the gods? Be creative while designing your on-demand app, and your fame will thunder all over the internet.
Read Also Key Reasons Why Your E-commerce Business Needs Mobile App
Your own on-demand app can reduce the need for any third parties and provide a digital platform that connects two major stakeholders: you and your clients. When you don't depend on any third-party marketplaces, you can directly define the rules of doing business without fear that a change in the policy of a large company may somehow affect you.
Last but not least, if you don't plan to become a multinational company with a multi-billion dollar turnover in the next year and want to start with something small, on-demand app development can be an excellent decision due to relatively low initial investment. All you need is an idea and a team of developers to implement it. There's no need to invest in database servers and maintain them since you can rely on cloud technologies. Also, the amount of data to process is relatively low, and there's no need to hire an extensive staff of data analysts. Instead, you can get all the vital information from the BI dashboard of your on-demand platform that can represent data in an easy-to-understand way.
Read Also The Importance of Business Intelligence Solutions for Modern Business
Conclusions
The on-demand economy isn't about to stop growing. Such popularity can be explained not only by the convenience for the customer but also by the not-so-pleasant consequences of restrictions caused by COVID-19. The need to reduce the number of interpersonal interactions and people's intention to keep the usual way of life has increased the demand for such service delivery models. Therefore, if you were thinking about making an on-demand app a part of your business, probably, today is the best time to make a final decision.
If you want to boost your business by adopting an on-demand application and want to discuss your project, feel free to contact us.