Working in a rental business, you face some additional competitions. For example, you have to deal with extra insurance liabilities and make significant efforts to sure all your equipment is in excellent condition and available for the customers at any time. At the same time, like any other company, you should do your best to keep your clients happy. This task consists of dozens of different components such as accurate invoicing, availability of your services, and timely equipment delivery.
Keeping an eye on both your clients and the rental equipment that you offer is barely possible without utilizing properly designed software tools. In this article, we'll consider how a custom-developed system for online booking and GPS tracking tools can improve user satisfaction and loyalty, and increase the revenue of your rental business.
Things to Remember Before Starting an Equipment Rental Business
Let's start with some general tips that will help you to form your business strategy and achieve the loyalty of your first customers.
Before even starting to come up with a name for your future company, you have to study the local market of rental equipment. It'll be hard to compete with a company that already has some experience and an extensive client base. So, check if there are any companies in the rental area and study what exact kind of rental equipment they provide. Even if there is a big player in the rental market, don't be upset. There are different groups of people, each of which has specific preferences and needs. Since it's barely possible for a single company to cover all these needs, most probably, you'll be able to find your niche. For example, you can specialize in renting cheap cars with low fuel consumption or offer your potential clients high-end mountain bicycles.
Knowing the exact rental preferences of your potential customers is not enough. You have to do research that will allow you to estimate the amount of the required rental equipment. With this info in mind, you'll be able to not overspend on the equipment at the start of your rental business. Most probably, on the first days of your work, you'll have only a couple of clients, so there's no need to start with an extensive fleet of vehicles that potentially can cover the needs of the whole city. Instead of that, buy a minimal amount of inventory based on your research of the market and expand the number of the most popular rental equipment as your business grows.
After you decide what will be your target audience, find top-quality equipment to offer your future customers. Even if you're focused on the lower price range, it doesn't mean that your clients will be pleased to rent an old Buick that saw better times. In other words, do not confuse cost-saving offers with cheap ones.
Remember that even for a small rental company there's no need to invest all your time and money to increase the online presence. But the task is vital since your potential customers more probably will search the info on the rental equipment they want to rent online. Therefore, at the very least, you need a neat website that contains the information on what you're offering. And don't forget about social media. Whether you rent to ordinary clients or other businesses, the chances that your potential customer will check Facebook or LinkedIn are far above zero.
Leveraging Modern Technologies to Keep Your Rental Equipment Safe and Customers Satisfied
In this chapter, we'll make a small review of the benefits that you can get from adopting modern custom-made software solutions for rental business. We'll focus on two types of applications: online booking systems and GPS tracking tools. The use of a booking app designed according to the needs of your rental business can provide benefits both for you and your customers. Each client will get the possibility to apply for your rental services online 24/7, and you'll be free from the necessity to perform dozens of repetitive actions manually. A custom tracking system allows ensuring the safety of your equipment, improving maintenance, and reducing associated costs. Let's consider the features of tracking tools in more detail.
Make Your Rental Business Available for Customers 24/7
Most probably, your potential clients use the Internet outside of business hours. Also, there's the possibility that a customer from abroad plans to visit your country and want to apply to your rental services while being in a different time zone. In both these situations, it'll be useful to provide access to your services via the Internet and make your equipment available to rent 24 hours a day.
A rental booking application designed in accordance with the needs of your business is capable of collecting and processing data on your clients from various locations. Also, such software can significantly simplify the booking process by providing your potential customers with the availability calendar displaying the dates in which the equipment is available to rent.
Below you can see an example of how a car rental app can look like: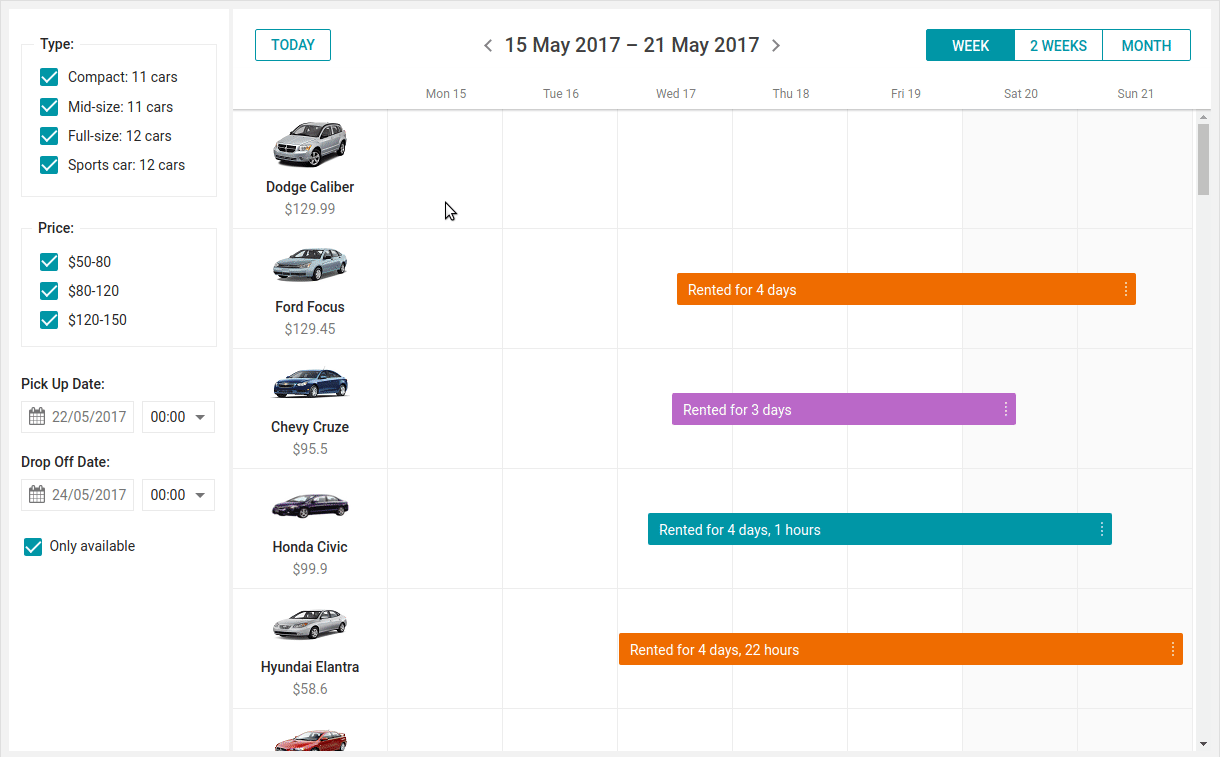 The car type filtering allows choosing between compact, mid-size, full-size, or sports cars. Also, customers can filter cars by the price and availability. With a built-in date picker, clients can choose to pick up and drop off dates.
Minimized Workload
The next significant feature of online applications for rental business is the possibility to automate dozens of tasks that you have to perform manually otherwise. A properly designed booking app can handle the following minimal set of routine tasks:
ensure that equipment in which your customer is interested in is available to rent
receive all the info required for the booking process and free you from the need to request missing information
send confirmation messages and emails automatically
update the info on the availability of your rental equipment
An equipment rental system can do all this work for you and free you from tons of paperwork.
Simple and Secure Online Payments
To simplify and automate the equipment booking process for your customers, you can integrate an automatic payment system into your online software. Such functionality will reduce manual workload and provide your clients with an easy-to-use and safe mechanism of booking and paying. Offering multiple payment methods, you can make rental booking more comfortable for the clients since paying in cash isn't an ideal model for the online-based business model.
Modern equipment booking software for rental business can effortlessly be integrated with other applications frequently used for various financial operations. The list may include point of sale, accounting, and customer relationship based tools.
Easy Access to Structured Customers Data Via Centralized System
One of the key aspects of a successful rental business is strong relationships with clients. If you provide services that make your clients happy, most probably, they'll return to you again. To market yourself to your previous customers, you should pay due attention to the accumulation, processing and structuring all the data that you work with. Equipment booking software can handle all clients' info, emails, and booking details and provide you with easy access to this data via the centralized system. This customer list is often one of your best-valued resources in a business, and you want this data both accessible and structured.
Decreased Risk of Equipment Theft
In the rental business, one of the main possible causes of unexpected losses is equipment theft. If we talk about the car rental industry, the issue is pretty obvious since in this case company assets are equipped with wheels and engines. The same goes for bicycles, boats, helicopters, or any other thing of value that can be controlled by a human being.
Losing one piece of equipment causes various consequences for rental business. The most obvious one is the loss related to the vehicle itself which can cost tens of thousands of dollars. If you think that your problem ends with that, we have some bad news. Replacing the stolen equipment requires not only money but also time. You can face decreased productivity, delay in providing services, and, as a result, low user satisfaction. Therefore, keeping track of rental equipment location at all times will allow not only preventing losses but also protect your company's reputation.
Read more Why Equipment Rental Business Should Care About Digital Transformation
Better Logistics and Improved Customer Service
Your vehicles aren't stolen. Great. What's the next step? GPS tracking systems are excellent tools for optimizing logistics to improve your efficiency and make your clients happy. You can be assured that your rental vehicles or equipment will be delivered to customers on time. Also, as you know the exact location of your vehicles, you can inform a client that it will be delivered soon by using SMS or push notifications for mobile devices. With the use of traffic info, you can avoid traffic jams and organize your timetables more effectively.
For example, we developed a GPS vehicle tracking system which is an excellent example of how tracking helps to improve the vehicle management process.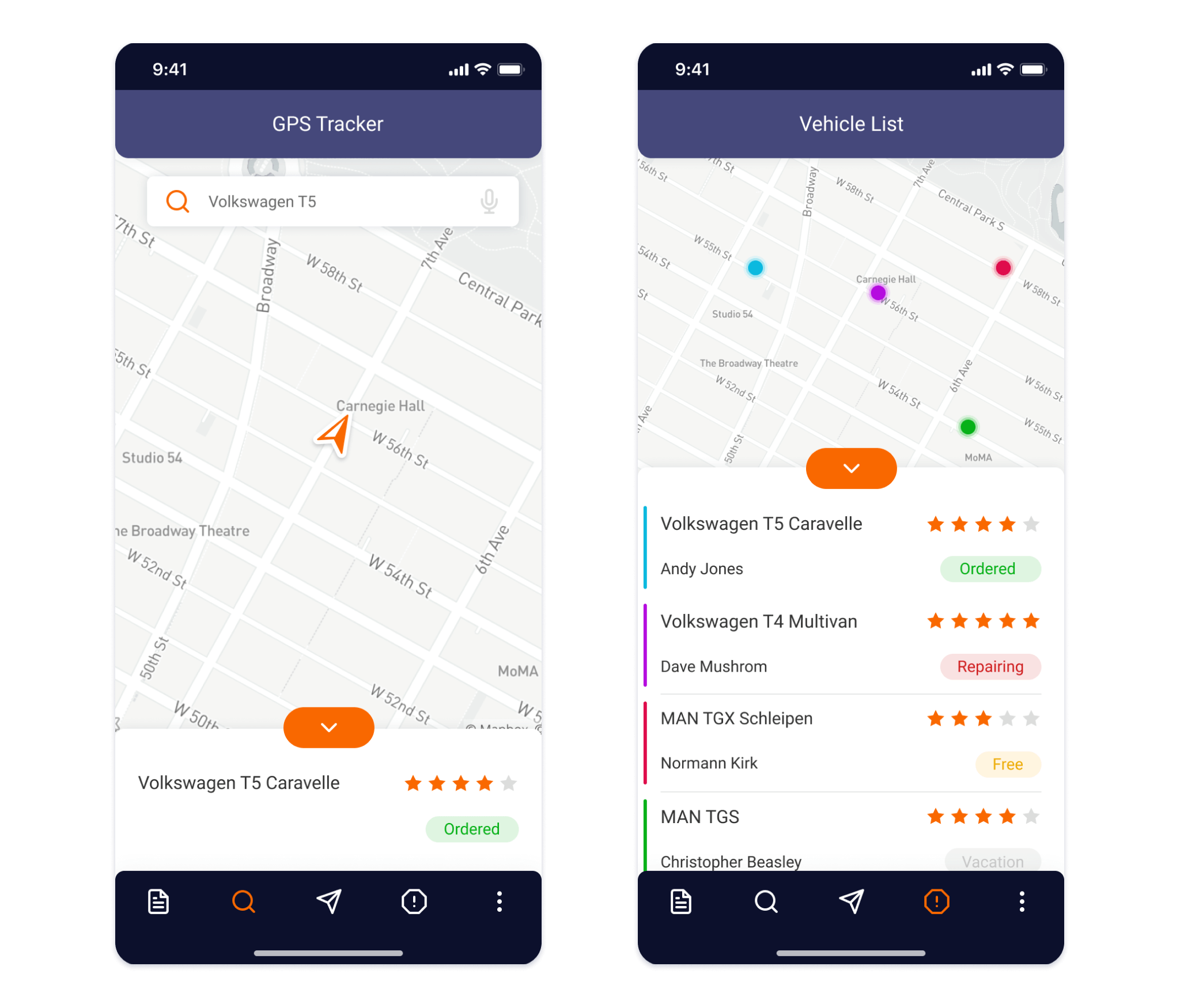 This app with the support of mobile devices provides reliable real-time information about the location of all available vehicles. Also, users can receive onboard information about the cars which helps to monitor their current state and schedule service maintenance if needed.
Improved Maintenance
GPS systems for rental companies allow leveraging vehicle tracking possibilities to monitor and analyze maintenance needs. With GPS tracking systems, you can keep records of actual runtime instead of relying on the approximate values. Knowing the exact time when the equipment maintenance should be performed, you can plan all required tasks ahead and avoid customers' complaints caused by unpredicted downtime. Moreover, modern software systems for rental business allow setting up automated notifications via email or mobile devices to inform you about planned maintenance.
Effective Invoicing
Besides providing you with the info on the optimal maintenance date, runtime tracking also can help your company to increase invoice accuracy. Most probably, your billing policy is based on the runtime of the equipment or vehicles that you offer. Tracking-based runtime monitoring allows automating the billing process and makes it more accurate.
Conclusions
Comprehensive web-based software for rental business can provide benefits both for a company and its clients. Custom-made software solutions are designed according to the specifics of your business and include features that correspond to your requirements. With a properly designed web-based system for rental business, you can get the following benefits:
increased accessibility of your business
minimized workload
easy access to clients data
decreased risk of equipment theft
improved maintenance
effective invoicing