It's no secret that the trucking industry is a complicated business. In fact, it's one of the most complex industries in the world. With so many moving parts, it can be difficult for any company to keep track of everything that needs to happen to keep their fleet on the road and their customers happy. Delivery, transportation, and supply-chain management involve many parties. These include shippers, carriers, drivers, dispatch offices, inspectors, third-party logistics (3PL) service providers, and many others.
A lack of automation in one of the links of this chain can significantly prolong the delivery of items from one point to another. If tasks were done manually at each step, delivery would take forever. Luckily, software development companies can increase the efficiency of every involved part. Today, we'll consider the importance of using trucking dispatch apps and their major features that help guarantee competitive advantage.
Importance of Trucking Dispatch Systems Development
Trucking dispatch software development enables the delivery of digital platforms that help logistics businesses to automate their daily operations. When you think of this business, these apps can improve everything that comes to mind. Can you help with building a better delivery route? Monitoring the vehicle to ensure it'll reach the destination point? Optimizing document flow? "Sure, why not" such a system will answer. Helping companies deal with these and other tasks is nothing for an expert software development company.
On a more global level, trucking dispatching software development can help solve fundamental business issues. Sometimes communication between all involved parties takes too long. For example, you need managers, dispatchers, and drivers to communicate effortlessly to deliver a particular item. However, it's hard to verify that all team members are on the same page if you don't use a centralized software solution for communication. Contacting them one by one, in this case, can cause delays.
Fuel costs are one of the most extensive expense items for logistics companies. Therefore, it's vital to eliminate routing difficulties. Trucking software development can help build routes considering factors such as traffic conditions, total distance to be traveled, number of stops, and many others. It enables reduced fuel consumption and decreases engine idle time, which helps cut maintenance costs.
Additionally, developing such apps helps deliver faster to make the client happy. There's nothing worse for a client than late delivery. And all the research shows that such accidents prevent people from ordering in the same place again. Additional automation also helps customers feel involved. Automated notifications enable almost real-time information regarding the current state and location of cargo increasing the feeling of control over the delivery process.
If your logistics company struggles to achieve efficiency in one or more described fields, you may need to invest in trucking software development. If you need help figuring out where to start formulating requirements for such a system, let us share our vision of the essential features of such software.
Must-have Features for Trucking Dispatch Software
Scheduling. Coordinating efforts is essential for every project involving more than two people. In logistics, you often deal with more complex tasks than picking up an item from the warehouse and delivering it to the client's porch in the same city. Trucking software development companies can implement scheduling functionality, allowing you to track every sub-task between picking up and dropping off shipments. Configurable templates can automatically add specific activities related to certain types of deliveries to the schedule, such as passing customs control. Thus, at the stage of the schedule development, you'll be able to assess the overall delivery time.
You can either build a scheduler app from scratch or create an integrated module to expand the functionality of the system you already have. The second approach will help you to save money, and the use of such tools as DHTMLX Scheduler, for example, will reduce development time. As a result, you can provide your employees with additional possibilities without interrupting the usual course of things by enabling access to a full-functional integrated scheduler: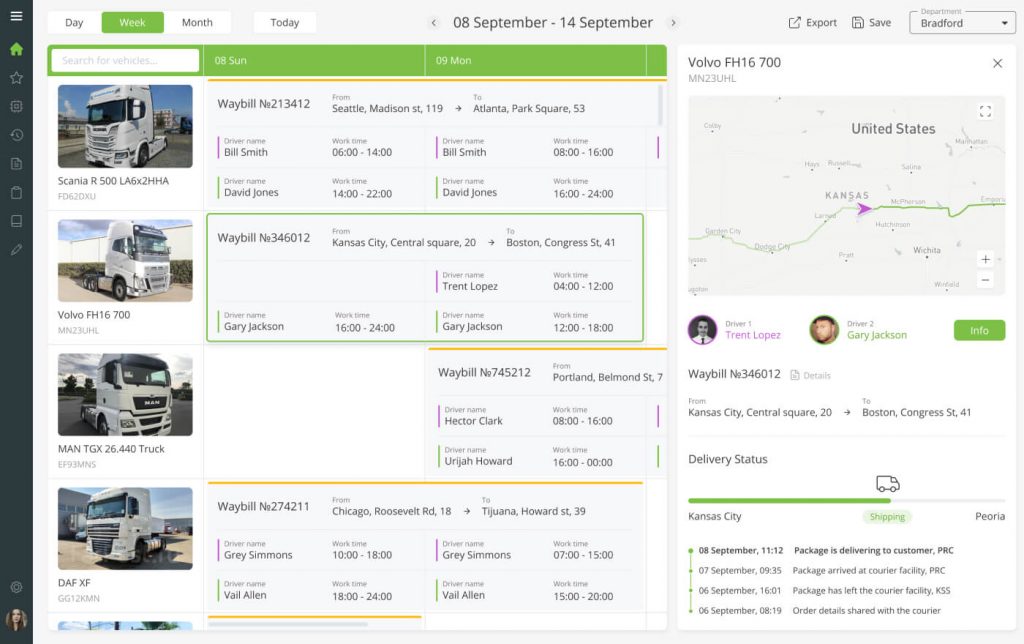 Cargo monitoring. Suppose a logistics company deals with delivering something more fragile and susceptible to shipping conditions than bricks and scrap metal. In that case, real-time cargo monitoring may be helpful. Software development companies have long learned to work with IoT devices and can adapt them to the needs of your app. You can receive real-time data regarding the current temperature and humidity. Also, you can control the shaking of cargo during transportation to ensure it'll be delivered in an appropriate condition. If a specific indicator goes beyond the permissible values, all involved parties will receive a notification via the app.
GPS tracking. It is an essential feature for every software solution in logistics. With the previous two, you know that every employee knows what to do, and you can check if your cargo is fine. The next step is to ensure you have an efficient way of monitoring the vehicles. GPS tracking devices are common these days, and with some investment in software development, logistics companies can significantly increase their efficiency. Trucking software that knows the location of vehicles and can access detailed and accurate maps can do more than just build the shortest route from one place to another.
With a proper development approach, you can adopt GPS tracking software that will inform drivers about approaching a dangerous section of the road or control their poor habits on the road, such as speeding or extensive idling. Moreover, such software can collect all the information, analyze it, and help you extract valuable insights. Drivers' performance, the number of deliveries, the section of the route that causes the most problems, the number of stops required by the driver for the comfortable delivery of cargo to a specific station, and other indicators will help you to understand your logistics company better.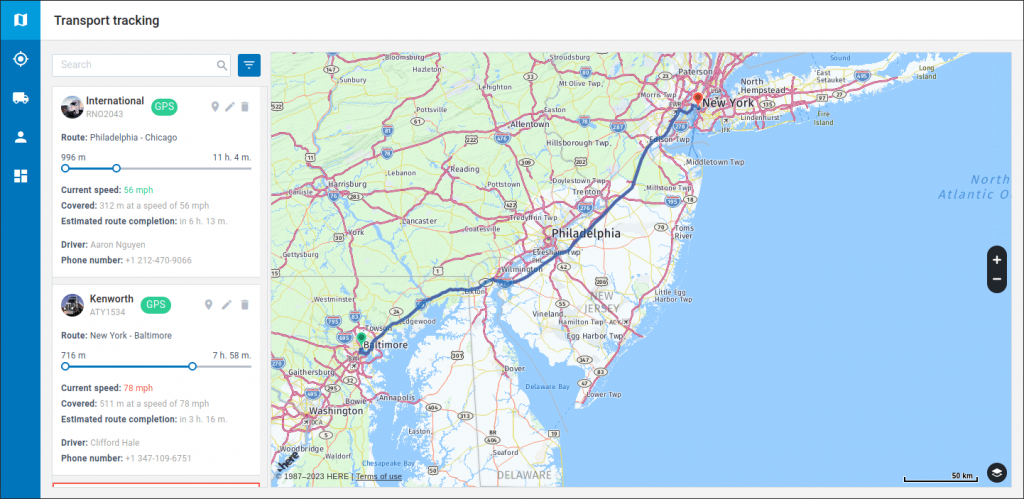 Electronic documentation. Only a few people like paper documentation. Paper documents can get lost, and it's hard to find the one you need right now. Tracking them is a labor-intensive task, and when the pile of documents becomes big enough, carrying them is quite a problem. Electronic documentation software, in its turn, can fit in your smartphone and enable countless advantages. The development of a mobile version of your trucking app will require little effort. In return, your employees will be able to arrange and store documents as efficiently as possible.
Read Also Handling Cargo Trucking With a Few Taps. How Mobile Apps Change the Logistics Business
The development company can deliver software helping drivers to upload digital tickets into the system with a few taps on the smartphone's screen. Also, regulatory compliance will become much more manageable. When drivers receive a new task via the trucking app, they can access documents regarding common safety standards and those specific to this type of cargo. This feature will be helpful if your logistics company deals with chemicals or drugs, for example.
Fuel management. Fuel is what keeps the logistics business up and running, provides its further development, and at the same time, causes the most cost. Trucking apps, among other things, can help you control fuel consumption. This app can gather information from other systems included in your logistics platform. For example, GPS tracking can help analyze how route optimization affects fuel consumption and make adjustments if needed. Developers can include this functionality in a truck monitoring system without overloading the UI. On a separate tab, the user can see how much fuel is required for each vehicle, control fuel consumption, and define the possible ways of cutting fuel costs: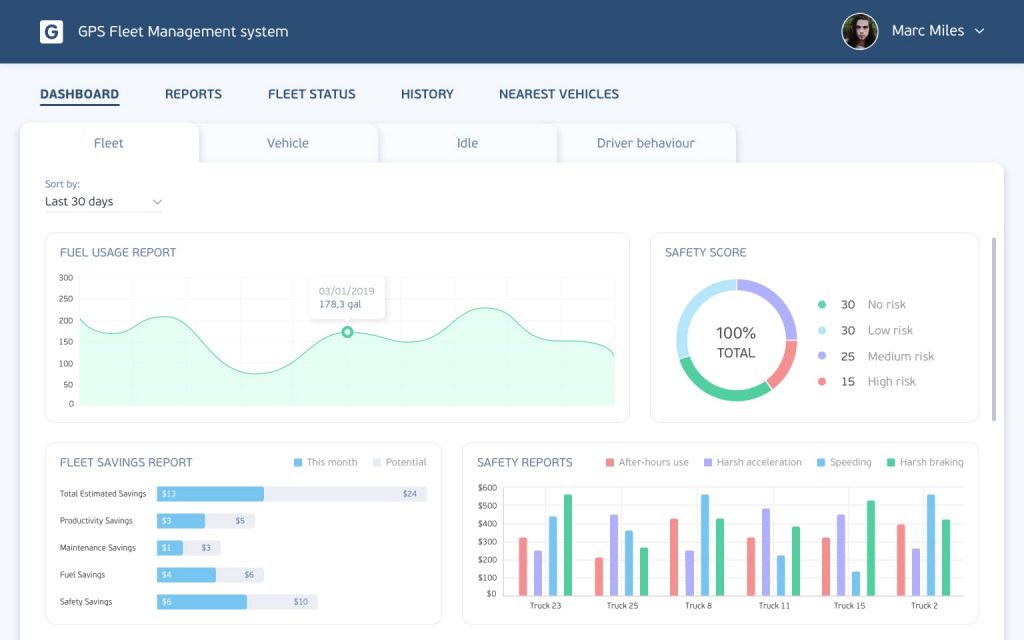 Analytics and reporting. Creating a solid business development strategy is only possible if you know your weak spots. A business intelligence app can be an excellent tool to be added to your trucking dispatching system. It can gather all the information that can help to find the bottlenecks and understand which links of the delivery chain require attention. Detailed reports can be generated weekly, monthly, or quarterly, depending on your requirements. Investing in BI app development will help you to find transportation patterns and trends to make data-driven decisions.
Conclusions
Today, the development of trucking dispatching software includes innovative approaches such as data science and IoT devices, for example. However, it's essential to architecture such systems in a way allowing different modules to exchange data without barriers. The reason is that in the logistics business, all parts are interconnected, and access to the route optimization system is necessary for the fuel management app to become functional.
Contact us if you want to improve the efficiency of your logistics company and are looking for a development team to deliver you a cutting-edge trucking system.