GoodFirms is a B2B research and review firm that aligns its efforts with finding the top mobile app & web development companies delivering unparalleled services to its clients.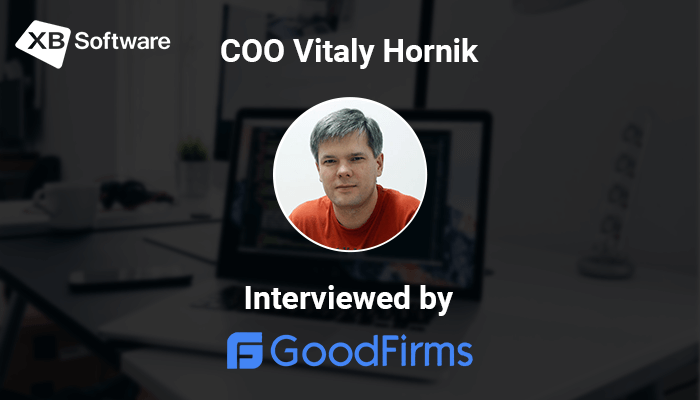 XB Software has been rated as Top Software Development Company from Belarus in 2017. Therefore, GoodFirm has interviewed our COO Vitaly Hornik. Here is the sneak peek of the interview.
What is your company's business model–in-house team or third party vendors/ outsourcing?
XB Software is a full-cycle development company of custom Enterprise and eLearning solutions as well as own IT products. XB Software has an in-house team and implements IT projects using its own resources.
What are the key parameters to be considered before selecting the right platform for a web application?
The overall goal of our work is to benefit our customers' business by increasing the level of their clients' loyalty. That's why, before developing a project, our business analysts carefully study all business areas and the features of the future project, discuss the functionality and other issues with the customer. We are always based on the received information and positive experience in developing similar projects. On this basis, we make a decision on what platforms and technologies will be implemented.
What industries do you generally cater to? Are your customers repetitive?
Our clients request to develop apps and projects that belong to different industries. The key industries we are focused on: Business Services, Consumer Services, Healthcare, Financial Services, Logistics and Transportation, Education, Information Technology. XB Software offers the development of complex solutions that represent a bunch of integrated application modules as a custom ERP service provider. We build different EAS solutions: booking, scheduling, project management systems and fully integrated and customizable ERP modules. Moreover, we have great experience in сross-platform cloud solutions development with excellent data visualization capabilities. Most of our clients are repetitive because we keep the high-quality source code, have constant dedicated development and QA team, and provide only high-end solutions. Our client retention rate is 70%.