We are happy to inform that our team gains one more award to our collection. Corporate Vision Magazine (CV Magazine) has announced the winners of the Technology Innovator Awards 2018. XB Software has been granted the title of the Best Custom Software Development Firm 2018 and Award for Excellence in IT Staff Augmentation according to CV Magazine. This recognition has made our team all the more committed and gives us more strength to continue our undertakings in IT development.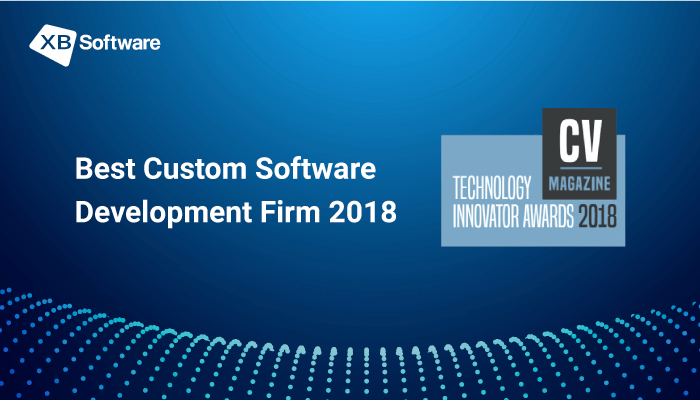 XB Software team has over 11 years of web development experience and for this time has successfully realized over 175 projects and still maintained a focus on the development of quality products, both own web, and its clients' products, applying the best practices and most innovative technologies. Moreover, we pay great attention to the development and enhancement of our partner networks and programs to increase brand awareness and strengthen our technical expertise.
CV Magazine Awards are dedicated to operating around the clock to shine a spotlight on the brightest, best presented and most deserving firms and individuals from around the whole business world. The Technology Innovator Awards acknowledged the brilliant individuals, teams, and companies that provide the best, and high-end products and services in their industry. The annual award guarantees that the selected Engineering companies stay at the forefront of innovations to meet the needs of the customers and be a step ahead of the competition.
XB Software is an experienced developer of custom Enterprise systems including research and analytics platforms, enterprise content management tools, ERP solutions, collaboration apps, and eLearning solutions with extensive UX and UI.
If you are seeking to work with us, please view our successfully implemented projects.
About
CV-Magazine
:
CV Magazine is an invaluable resource for leaders and decision makers looking not only to be informed but to improve the way to manage business processes, workflows, technology and develop business partnerships. The magazine was created by a highly experienced and passionate team of business experts, advisors and insiders to provide readers worldwide with the latest news, features, and comment on the corporate issues.
XB Software is a reliable developer of custom Enterprise and eLearning solutions as well as own IT products. It has an in-house team and implements web-based projects using its own resources. They render web and mobile app development, software testing and staff augmentation services. They are ISO27001 and ISO9001 certified.