At some point, almost any business faces the need to develop a custom business app to guarantee constant growth. If a company has sufficient funds and a team of experienced IT experts, it can afford in-house software development. Such software is usually produced by a company to use it within the organization. But, in most cases, business relies on a custom software development company due to various reasons.
The question is, should you hire a software development company or a freelancer. To help you deal with this decision, we gathered together some pros and cons of both options.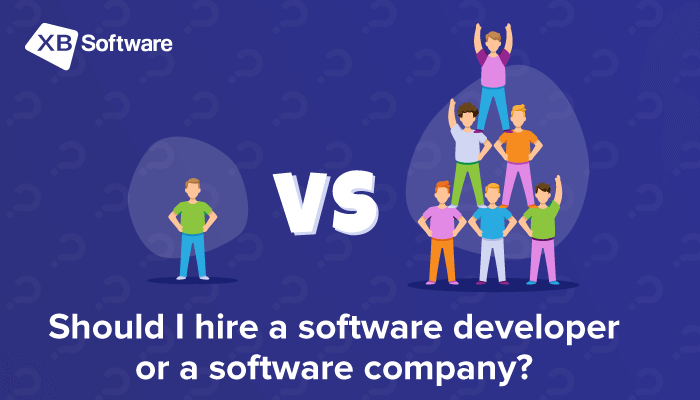 Pros of Hiring a Software Development Company
1. Reliability
A software development agreement between the customer and development company describes different aspects of their relationships. For example, it defines what confidential information will come into possession of a software development company. It also contains the list of deliverables that describes what exactly this company will deliver to a customer. Such agreement guarantees that your software will be designed, developed, and tested in time and according to your requirements. There are fewer risks compared to the collaboration with a freelancer.
2. High Quality of the Final Product
Unlike the freelancers, software development companies work hard to deliver high-quality software to all their customers. Full testing covers all main stages of the project lifecycle to ensure quality control of the final product. The QA department of a company is involved in the project from the requirements gathering stage to the deployment phase. Such an approach allows creating user-friendly applications that meet the needs of the target audience.
3. Scale your team with ease
At any development stage, a software company has enough resources to satisfy clients' needs for hiring a developer with in-depth expertise in a specific technology. For the customer, it means there is no need to spend time and effort on recruiting new team members. In the case of unpredicted circumstances, a particular member of the development team can be replaced with another skilled specialist immediately.
4. End-to-end Development Process
In a software company, dozens of people are involved in the development process. Requirements are well documented as well as mockups, design elements, and other essential project aspects. For you, as a customer, it means that in case of collaboration with a development company, you'll receive a well-designed and bug-free end product.
5. Development Companies Are Intended to Build Long-term Relationships with Clients
Reaching customer loyalty is the task that requires an excellent corporate reputation, which implies high-quality products and positive feedback from clients. Software development companies with solid background can't disappear in a blink of an eye so that you won't face any difficulties due to the developer's unavailability. Compared to hiring a freelancer, the probability of delays is pretty low.
6. Diverse Experience
When you work with a software development company, you hire a big team of professionals with diverse skillsets and broad experience in different fields such as business analysis, UX/UI design, software development, project management, and QA testing. An experienced team will do its best to ensure that your company will be satisfied with the results.
Cons of Hiring a Software Development Company
1. High Costs
Outlined advantages look pretty attractive until we mention the costs of hiring a development company. When you hire a software company, the software development life cycle will include additional necessary stages that freelancers usually ignore. At the very first development stages, the company may perform research and in-depth business analysis to understand your business processes and provide you with a solution. By the way, if you already have a team working on your project, we may offer you IT staff augmentation services.
2. Communication Issues
Sometimes, when you hire a software development company, some communication issues may arise. When you work with an outsourcing company from another country, different time zones and the language barrier may become an issue that can't be underestimated. Based on our experience of working with clients worldwide, we have found a simple and effective solution to this problem. An experienced BA or PM can work together with the development team and take care of each project's communication tasks. For the customer, it means that when you pay for the hours of a technical specialist, you pay only for his expertise.
Read also Role of a Project Manager in a Software Development Project 
3. Sometimes It's Better to Know the Exact Person You're Working
When you deal with a freelancer, you can get to know each other. You'll receive the full info on your contractor's skill set and previous experience. When you hire a development team, you can't say who exactly will be working on your app. At XB Software, we are confident that the client should get to know the team assigned to the project for a successful partnership in the future. That's why, before starting working on the project, we hold a kick-off meeting, where all the team members can be introduced to the client.
Pros of Hiring a Freelancer
1. Low Development Cost
Low development cost is especially crucial for small companies or startups. Many freelancers will work for a lower hourly rate compared to what you'll find at a software development company. But it is essential to understand that when you're looking for a skilled freelancer with good communication skills and fluent English, it's better to be prepared to see relatively high rates.
2. Availability
We should also mention that the availability of experienced freelancers is the fact. If you do a little research, you will find out dozens of contracting websites such as Upwork, Toptal, or AngelList. Each of them offers the services of a vast number of specialists with broad experience in different fields.
3. High Flexibility
Freelancers can adapt to the specifics of your project and adjust their schedules if needed. To finish the work faster, a freelancer can work on weekdays. Since a freelancer's working day does not follow strictly defined office hours, as in the case of a company employee, it'll be easier for you to stay in touch in case you need a brief consultation.
4. Good for Small Projects
It's pretty hard to be a professional in all fields. Freelancers are not an exception from this rule. Usually, they strive to get as much experience in a single area as possible. Therefore, if your project doesn't imply using a wide range of technologies, hiring a freelancer can be a decent choice. Such specialists usually share their experience and skillset, so you can define if a particular person can cover your project's needs.
Cons of Hiring a Freelancer
1. Limited Skillset
The complexity of modern software development requires involving a wide range of technologies. Developers should keep in mind dozens of aspects such as specifics of running on mobile and desktop platforms, database architecture, UI/UX design, and so on. Not every freelancer can cope with all these issues alone. Even if you find a gifted freelancer who's excellent at coding, it does not mean that he or she can develop your app's unique and eye-catching design. From this point of view, sometimes it's better to rely on a dedicated team of highly specialized professionals.
2. Quality Assurance
Quality assurance issues also play a role. It may be pretty hard for some freelancers to write some code and test the results with their own hands. The practice of separation of the software development team to those who create a product and those who test it can lead to better results.
3. Poor Project Management
If you don't want to let things slide, you have to organize the project management process. Prioritizing tasks and continuously tracking the overall progress is crucial if you want everything to be done according to the initial plan. Software development teams have project managers who can guarantee the required results. In case you hire a freelancer, you have either to monitor workflow by yourself or to pay someone who will do it for you.
4. No Guarantees
There's always a risk that a freelancer will disappear before finishing the job. Freelancers can work on several projects simultaneously. From time to time, customers face the situation when a freelancer revises his priorities and refuses to continue working on the current project in favor of another. From this point of view, working with a freelancer can become a real problem. Since you can't predict all possible consequences, it'll be a good idea to prepare a Plan B if you decide to prefer a freelancer over a software development company.
5. Lack of Maintenance
After the job is done, the freelancer is gone. It's not a rule, but it is a pretty common situation when a freelancer leaves the project after it's finished. But it's rather unlikely that the software product will be bug-free. Such a state of affairs will put you in an uncomfortable position. When bugs appear, you'll have to look for someone who will fix everything, which will take some time. It would help if you realized that the new contractor would have zero knowledge of your project. Thus, be ready for additional time losses associated with researching the specifics of your software.
Conclusions
To make a proper decision while choosing a reliable partner, you have to pay attention to many different factors. Among them are the possible project budget, the result that you want to get from that collaboration, and the amount of time you can spend delving into different aspects of project management and development. If you are ready to choose a development company we are here to help, don't hesitate to contact us.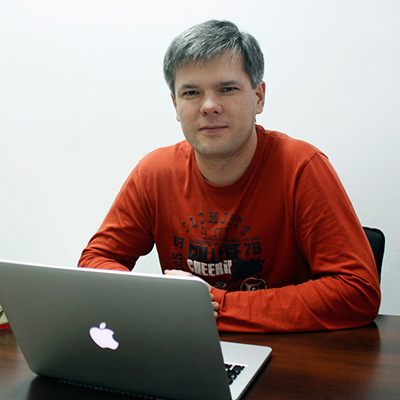 Vitaly Hornik, the Chief Operating Officer of Delivery Department of XB Software, has commented:
The main goal for developers of startups is getting the fruitful outcome asap, say, today (yesterday is even better). Freelancers allow achieving such a result, but you have to spend your time on project management. On the other hand, if you are striving to get a reliable development service for creating a robust solution, a mid-size development company with a good reputation is your best choice. Such companies have enough resources to cover all technological processes and implement the cutting-edge technologies required for getting the best user experience.