Almost any business at some point faces the need of developing a custom business app to guarantee constant growth. If a company has sufficient funds and a team of experienced IT experts, it can afford in-house software development. Such software is produced by a company to use it within the organization. But in most cases, business relies on custom software developer.
The question is should you hire a software development company or a freelancer. To help you deal with this decision, we gathered together some pros and cons of both options.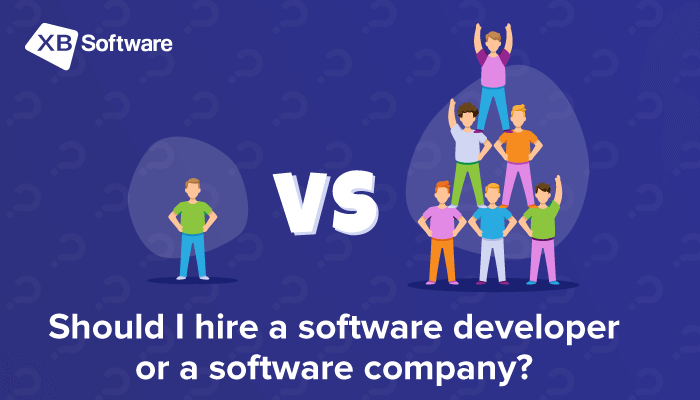 Pros of Hiring a Software Development Company
1. Reliability
Software development agreement between the customer and development company describes different aspects of their relationships. For example, it defines what confidential information will come into possession of software development company. It also contains the list of deliverables that describes what exactly this company will deliver to a customer. Such agreement guarantees that your software will be designed, developed, and tested in time and according to your requirements. There are fewer risks comparing to the situation when you hire a freelancer.
2. High Quality of the Final Product
Unlike the freelancers, software development companies work hard to deliver high-quality software to all their customers. Full testing covers all main stages of project lifecycle to ensure quality control of the final product. The QA department of a company is involved in the work on the project starting from requirements gathering stage and completing with deployment stage. Such approach allows creating user-friendly applications that meet the requirements of the target audience.
3. Continuity of Software Development Process
In case of a software company, dozens of people are involved in development process. Requirements are documented as well as mockups, design elements, and other important info. For you, as a customer, it means that even in case of unexpected events the whole process won't stuck. Collected data will help to continue from the point where everything was broken, and a particular member of the development team can be replaced with his colleague in the case of need.
4. Cutting-edge Technologies and Standards
To compete with other development companies, each organization should follow current trends and implement cutting-edge technologies, development methodologies, and standards. Following the intention to maintain a high level of produced software, development companies are constantly evolving.
Your Success Begins Here. Get a Free Consultation for Your Project.
5. Development Companies Are Intended to Build Long-term Relationships with Clients
Software development companies spend significant resources on finding new customers. From the financial point of view, it's preferable for a company to build relationships of trust with its customers and develop projects for them over the long term.
Reaching customer loyalty is the task that requires high company reputation which implies high-quality products and positive feedback from clients. Software development companies with solid background can't disappear in a blink of an eye so that you won't face any difficulties due to unavailability of the developer. The probability of delays is pretty low since one developer can be replaced with another in case of force majeure.
6. Diverse Experience
When you hire a software development company, you hire a big team of professionals that have a diverse skill set and wide experience in different fields such as design, development, project management, etc. During the professional career, an employee of a software development company works on many types of software projects which results in great expertise.
Cons of Hiring a Software Development Company
1. High Costs
Outlined prospects look pretty attractive until we speak about the costs. When you hire a software company, the software development life cycle will include additional stages that are usually ignored by freelancers. We already mentioned the testing process that is carried out by a QA team. Moreover, at the very first software development stages, the company may produce research to gather the info about your target audience to understand it better. Such approach will result in better customer satisfaction, but the additional resources spent on this task will cost you.
2. Communication Issues
Sometimes when you hire a software development company, some communication issues may arise. Especially in case if you work with an outsourcing company from another country. There may be different sources of troubles. Sometimes the language barrier can become a significant disadvantage. Employees of your vendor company may not be very good at your language which can lead to misunderstandings. When you're dealing with a company that works in a different time zone, communication breakdowns may become an additional issue to be solved.
3. Sometimes It's Better to Know the Exact Person You're Working
When you deal with a freelancer, you can get to know each other. You'll get the info on your contractor's skill set and previous experience. When you hire a development team, you can't say, who'll be working on your app. Sometimes, there's a situation when a development company builds up the ratings on an account with the best developers it has, and use novice developers while working on the project after you apply for the services.
Advantages of Hiring a Freelancer
1. Low Development Cost
The most obvious advantage of such approach is low development cost. This aspect is especially important for the small companies or startups. Many of freelancers will work for a lower hourly rate compared to what you'll find at a software development company. There's a lot of offers on contracting websites, so it won't be hard to find one that better fits your requirements and budget.
2. Availability
We should also mention that the availability of experienced freelancers is the fact. If you do a small research, you will find out that there are dozens of contracting websites such as Upwork, Toptal, or AngelList. Each of them offers the services of a huge number of specialists with wide experience in different fields.
3. High Flexibility
Freelancers can adapt to the specifics of your project and set their own schedule if needed. To finish the work faster, a freelancer can work on weekdays. Since freelancer's working day does not follow strictly defined office hours as in case of a company member, it'll be easier for you to stay in touch in case you need a brief consultation.
4. Good for Small Projects
It's pretty hard to be a professional in all fields. Freelancers are not an exception from this rule. Usually, they strive to get as much experience in a single area as possible. Therefore, if your project doesn't imply the use of wide range of technologies, hiring a freelancer can be a decent choice. They usually share their experience and skill set, so you can define if a particular person can cover the needs of your project.
Disadvantages of Hiring a Freelancer
1. Limited Skillset
The complexity of modern software development requires involving a wide range of technologies. Developers should keep in mind dozens of aspects such as specifics of running on mobile and desktop platforms, database architecture, UI/UX design, and so on. Not every freelancer can cope with all these issues alone. Even if you find a gifted freelancer who's great at coding, it does not mean that he can develop a unique and eye-catching design of your app. From this point of view, sometimes it's better to rely on a team of highly specialized professionals.
2. Quality Assurance
Quality assurance issues also play the role. It may be pretty hard for a freelancer to write some code and then test the results with his own hand. The separation of software development team on those who create a product and those who test it can lead to better results.
3. Poor Project Management
If you don't want to let things slide, you have to organize the project management process. Prioritizing tasks and tracking the overall progress is crucial if you want everything to be done as it should be. Software development teams have project managers who can guarantee the required results. In case you hire a freelancer, you have either to monitor workflow by yourself or to pay someone who will do it for you.
4. Lack of Maintenance
After the job is done, the freelancer is gone. It's not a rule, but it is a pretty common situation when a freelancer leaves the project after it's finished. But it's rather unlikely that created software will be bug-free. Such state of affairs will put you in an uncomfortable position. When bugs appear, you'll have to look for someone that will fix everything which will take some time. You should realize that the new contractor will have zero knowledge of your project. Thus, be ready for additional time losses associated with researching the specifics of your software.
5. No Guarantees
There's always a risk that a freelancer will disappear before finishing the job. Freelancers can work on several projects simultaneously. From time to time, customers face the situation when a freelancer revises his priorities and refuses to continue his work on the current project in favor of another. From this point of view, working with a freelancer can become a real problem. Since you can't predict all possible consequences, it'll be a good idea to prepare a Plan B if you decide to prefer a freelancer over software development company.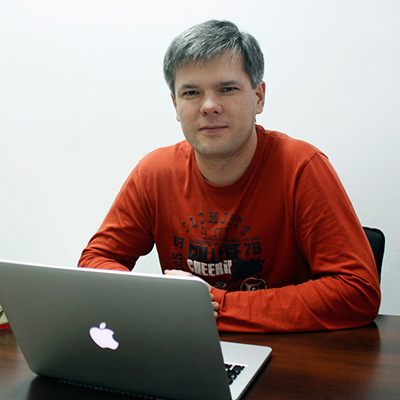 Vitaly Hornik, the Chief Operating Officer of Delivery Department of XB Software, has commented:
The main goal for developers of startups is getting the fruitful outcome asap, say, today (yesterday is even better). Freelancers allow achieving such result, but you have to spend your time on project management. On the other hand, if you are striving to get a reliable development service for creating a robust solution, a mid-size development company with a good reputation is your best choice. Such companies have enough resources to cover all technological processes and implement the cutting-edge technologies required for getting the best user experience.