Digital transformation not only affects the way we entertain ourselves and communicate with each other. The healthcare industry has also transformed. With your laptop or smartphone, you can not only order food or listen to music online, but also book an appointment with a doctor within minutes. Modern software and EHR applications in particular provide dozens of benefits both for healthcare organizations and their patients.
However, people's health is a pretty sensitive topic. Because of this reason, there are some characteristics software has that one should keep in mind while designing and developing them. Today, we'll consider the major benefits of EHR apps that help to take care of people's health. Also, we'll look at the major features you have to be aware of if you decide to build one for your company.
What's an Electronic Health Record  System and Why You May Need It
Electronic Health Record app, or EHR, is a software solution that stores personal records related to a patient's health and enables its sharing among different specialists with required access level. The best part about such systems is that these paperless solutions enable instant access to all required information. For example, a laboratory can send an electronic test results to other specialists from another city with a few clicks which speed up the diagnosis.
Properly built Electronic Health Record  software is extremely reliable. With healthcare, times matter a lot. Therefore, developers do their best to ensure that EHR software works quickly and is accessible from any compatible electronic device. Also, one of the key features is due attention to the backup system that can minimize the probability of losing sensitive data related to health problems.
Read Also How to Ensure That Everything Is Under Your Thumb While Developing an Admin Panel
There's no secret that a doctor's handwriting is in most cases barely readable. It's not good, it's not bad, it's just something we have to live with. EHR software relies on electronic records and therefore, to some extent, allows to reduce possible mistakes caused by bad readability of handwritten text. Making electronic prescriptions with a laptop or tablet may take longer time, but once inserted into an EHR app, such info will become easy-to-read for everybody.
Unfortunately, sometimes, the healing process can take a long time, months, or even years. Doctors must jump from one treatment program to another, try different medications, and so on. In this scenario, quick access to historical data stored in electronic format may become pretty helpful. Healthcare specialists can, for example, make a quick review of how prescribed drugs affect the health of patients and add or remove some of them from the treatment process.
Although adopting a custom-made software system requires some significant investments, it's important to keep in mind that such a move will help you reduce costs in the long run. Obviously, such software won't carry all the tests and won't determine what's wrong with a patient's health. In some scenarios, you can't replace high-skilled professionals. However, properly designed EHR software can become a huge helper in case of non-clinical labor costs thanks to electronic document management and automatization.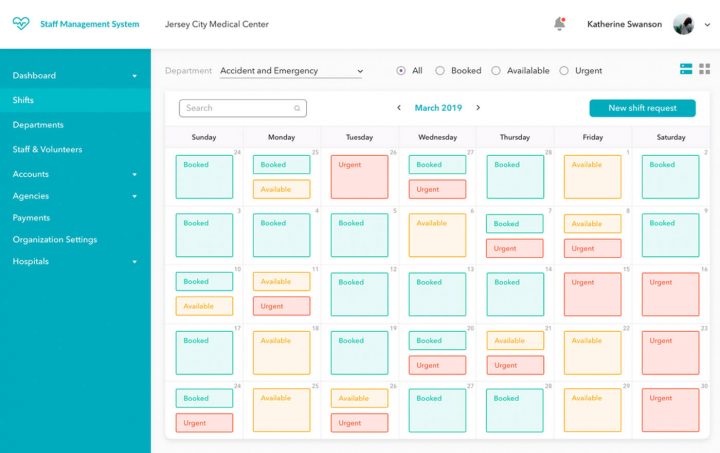 Source: Staff Management and Notification System for Medical Institutions
Besides a more efficient workflow of healthcare organizations, EHR software adoption can also make the life of patients much easier. For example, if you have some issues, you can get help in a timely manner. There's no need to go to the hospital if your condition worsens and you can rely on an electronic solution. Specialists can consult you remotely and are available 24/7.
If there's a need for a doctor to see you in person, Electronic Health Record software can also become pretty handy. Appointments can be made online with any electronic device connected to the Internet.
Turning your paper documents into electronic ones can become as easy as never. An EHR app can help users to scan their documents, such as prescriptions, doctor's opinions, or insurance cards to store them securely in the system and share with specialists.
EHR Features That Can Turn Electronic Devices Into Life Savers 
The benefits we discussed earlier may sound pretty promising. But the thing is that you can count on them only in case you implement the right set of features. If you prefer to cooperate with a custom software development company instead of relying on off-the-shelf software, there will be plenty of functionality to choose from. It's important to remember that you can always start with an MVP version of the product to see how things go, and then add as many extra features as you want. However, here's the list of functions you may want to consider as the solid basis for your business and health of your patients.
Patient portal is something that creates a first impression about your healthcare organization. If somebody has health problems and doesn't want to make any phone calls to make a doctor appointment, the patient portal will be a starting point on the path of healing. Here, patients can share some basic info regarding their complaints, age, chronic disease, allergies, medical insurance details, etc. Doctors can use this data to obtain the first information and form primary conclusions about the health problems that the patient has.
Electronic document management system is another step towards outstanding workflow efficiency. Every step of your clients, starting with the first booked doctor visit and ending with writing a prescription, must be turned into an electronic record and stored within the system. This will not only allow you to review historical data in a few clicks, but also help to reduce the chance of errors that may have implications for the health of clients.
Another important feature for any EHR software system is an efficient task management system. People whose health problems cause discomfort won't be happy if you make them wait for too long until their tests will be carried out because there was a missing bottleneck in the task queue for the lab. An efficient task management system will help you ensure that every specialist of your company is well aware of what tasks he or she must complete during the working day. Also, such a feature of the EHR software will help you determine the best possible way of optimizing your workflow.
Read Also ERP and MRP: Going for the Suitable Choice One Step at a Time
An electronic prescription management system will help your patients to take better care of their health and ensure that the efforts of your specialists will not go to waste. Recipes written on a piece of paper have one big drawback: it's pretty easy to lose them. Our smartphones, on the other hand, are not among those things that we lose regularly. With an EHR app installed on your smartphone, you can always get quick access to all your electronic prescriptions and receive valuable information, such as side effects, for example. Also, an automated notification system will inform you when it's time to take your medication.
Integration with laboratories can help you implement barrier-free exchange of information between doctors, lab specialists, and patients. As soon as the lab tests results are ready, the doctor will be notified which will help to start the treatment process as quickly as possible.
Integrated chats can make your EHR software solution more user-friendly. If there's a minor question that somebody wants to discuss with a doctor, probably, there's no need to book an appointment. For example, there is no reason to go to a meeting with a doctor to clarify how to take medicine or discuss side effects. Also, with some Artificial Intelligence, your EHR app can provide access to chat bots. Of course, they can't replace real specialists. At least for now. But they can ask people about their health problems before deciding which particular specialist must be involved.
Conclusions
EHR software won't replace qualified medical staff in the near future. It's not its purpose. What it was invented for is to help healthcare companies work more efficiently on every level. Using such apps can help each individual employee not to find themselves buried under tons of tasks thanks to efficient task management mechanisms. The possibility of seamless data exchange between all users registered in the system helps to improve the work of the team as a whole and ensure that patients will receive timely care.
If you're looking for experienced developers to build a medical app for your company, please contact us.