In 2020, 6.1 billion people will use smartphones, according to a new study by Ericsson Mobility Report. Think these numbers over. This year it is expected 7,8 billion of the whole population. It's no wonder that we speak about the global coverage of the mobile Internet and an increase in the number of purchases through it. People value their time a lot and prefer to save it doing shopping online, ordering goods, food and dishes. It's no surprise that such services as food delivery are flourishing, especially today, when people are concerned about maintaining social distance and self-isolation. Food delivery is not a new phenomenon, but of a constantly growing demand, that's why new players permanently appear on the market. Now, this market segment is experiencing intensive growth, and for startups, it's the ideal time to create an on-demand food delivery app.
Typically, business models of food delivery startups fall into 2 big categories:
a service that works as an aggregator and connects customers and local restaurants
a service that represents a platform for users and a logistics delivery system for local restaurants
Any of them can use these monetization models:
a fee is taken from the food delivery app users, it may be fixed or depend on the delivery districts, distance, price of the order, etc.
a fee is paid by restaurants, some percent of the order price is taken
a little order fee represents itself a minimum fixed price for the delivery
advertising in the delivery app
Read Also Marketplace Business Model vs Aggregator Business Model
Pros and Cons of the Food Delivery Apps by the Business Model
The first variant of a food delivery service is a marketplace with a good catalog, navigation, and filtering, where restaurants, cafes, bakeries, pizzerias meet their customers. The main idea is to provide users with the best buying experience, especially on the part of the speed and diversity of choice. For businesses, these third parties increase the coverage of potential customers, on average, they register the rise in the number of orders by 5-10%.
The biggest plus in this approach is the speed and ease entrance on the market. The food delivery startup builds partnerships with local restaurants and promotion campaigns among potential users. In this case the app only confirms and processes the order and payment, it usually doesn't take the care of the delivery. It is the duty of a restaurant to arrange order delivery and ensure, that a customer received what one needs.
Despite the fact that it seems easy to launch a food delivery startup, the competition in this segment is very tough, and restaurants need in this case additional delivery capacities, which is a new challenge for them. Frankly speaking, they are ready for the partnership with food delivery startup only if they need to expand their coverage of potential customers. It is a limitation, a bottleneck of the acquisition of restaurant partners for this type of food delivery startups. They spend much time to find the matching partners to develop the business according to this scheme.
The second variant takes more investments at the start with MVP but is much more effective at the go-to-market stage. Actually, it is easier to monetize and takes less time to do it, as this is the very service that all participants need – restaurants and customers.
When a startup established partnerships with delivery companies, payment processors, and has a launched MVP, it's already a demanded partner and it is beneficial for restaurants to start the work with it as soon as possible. They don't have to worry about deliveries, paying drivers, or maintaining vehicles.
The Core Features of a Food Delivery App
Let's recollect what features a food delivery app should contain to drive the most significant value to all parties.
Sign up/login feature and a personal account are essential to provide users with the order and delivery service, gather some information about their food preferences, common locations like home and office, to provide them with the personalized ads, promo actions, and discounts. The login feature with the social network/google account should be present in the delivery app, as it speeds up the process and provides extended opportunities for promotion.
A handy search and extended filters. There's no need to write much about these features as it's obvious that they must be worked perfectly. Scenarios should be provided in case of the absence of search results and other options for dishes and food should be offered instead of the absent ones. Many users prefer quick sorting features, like sorting by price, popularity, amount of calories, etc. The history of the previous search results, comparative features are also a must for a good food delivery app.
A map with the user's geolocation. With the help of a map and geolocation, an app user determines the order delivery address in a few clicks. The delivery service receives this info after the order confirmation and starts the delivery. Geolocation shows the nearest food points to the user and displays special offers of the nearest ones. This ensures a fast delivery because of the closeness, and user's satisfaction with the service.
Eye-pleasing and user-friendly interface. The interface in the food delivery app has a range of common requirements. It should be clear, intuitive for users, contain good quality, eye-pleasing pictures, be adaptive for various devices.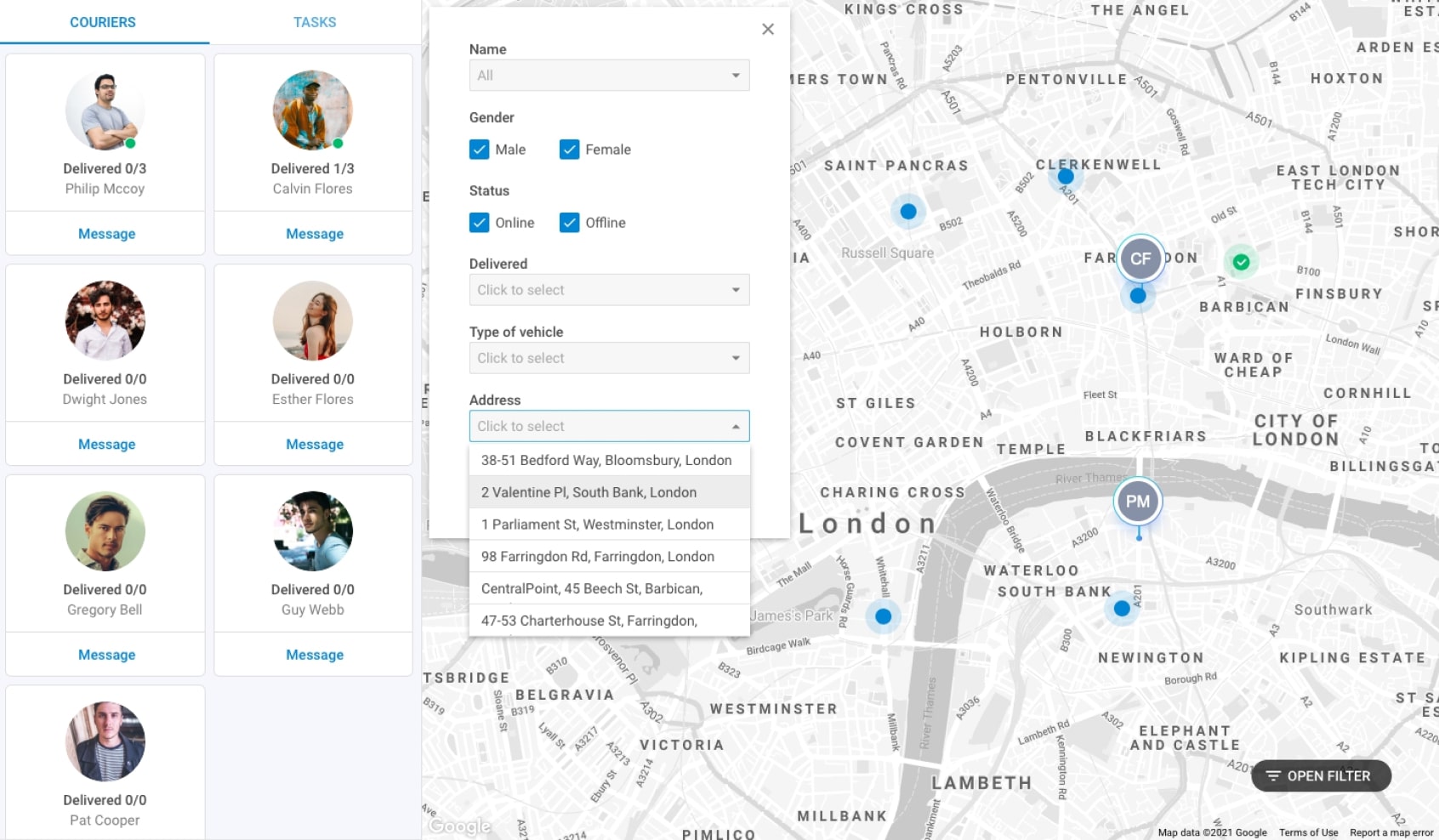 Secure payment system. After placing the order in the cart a user should be able easily to pay for the order using a built-in payment system. Third-party payment systems are integrated into an app, and provide secure payment transfers, as well as personal data storage. Mind adding the cash on delivery option either in your app.
Real-time delivery tracking. It's easier to wait when you see that the process is not staying still. Thanks to GPS tracking on a courier's smartphone, a user sees the current location of his order on a map.
For sure, this is not the full list of the delivery app's features and it can be extended during the app evolution, which is necessary to meet the user's demands.
How to Create a Food Delivery App
Research. First of all, a successful business always starts with market research, which includes at least a competitor research and making a customer's profile. Targeting the most active and common auditory, you should think why they would like to choose your delivery service. Before you submit a project to development, you need to read customer reviews about competitors' delivery apps and take the best from them and avoid weak spots.
USP. If you are ready to offer your auditory what they really need and simultaneously your competitors haven't got it, then we speak about a unique selling proposition. A unique selling proposition may be a feature developed when you create your own food delivery app or on the consequent stages of the app evolution.
Design and Development. You should rely on professional UI/UX designers to prepare mockups of your future delivery app, it need to has clear and intuitive UI. The architecture of the food delivery application is built with the possibility of scaling the project, which is very important, as many startups decide to start with an MVP and then proceed with the extension of their on-demand food delivery app development.
Read also Why Starting With Minimum Is Not Always a Bad Idea. How MVP Can Help You Startup
Intense testing. It should be run on every stage of app development till product deployment to make sure your product works as well as it should.
From practice, before starting the development of delivery app it's essential to pay attention to the following things:
UI/UX should be created by a professional designer. It is vital for it to be intuitive and user-friendly.
The food delivery app should demonstrate stable work and good performance under high loads.
To save your budget on food delivery app development and ensure that your app looks good on any device and platform, choose the progressive web app as an option.
Because of the active and intense competition in the niche and presence of strong competitors like UberEats, GrubHub, Deliveroo and a range of others, it is easier to start on a local market, for instance, a mid-sized town with a spread net of little restaurants, bakeries, pizzerias, etc.
Finally, launch your food delivery app to the market and gather as much information as possible to find growth points. Feedback, in-depth interviews, support tickets can help you in with it either. After getting enough information for improvements, you can ask your food delivery app developer to add features that were identified as necessary for your target audience.
Conclusions
The food order delivery app is a perspective startup idea, especially now, in the times of pandemic. A business model with logistics support is a more preferable service for restaurants and they go to cooperation more willingly. To save the budget on development, it's good to start with MVP and develop a web app. XB Software has got special development services for startups. Our team will give you a thorough consultation. Contact us today.