Business models along with technologies are rapidly developing, and when it's time to pick up the most appropriate software for business, there is a necessity to take into account long-term perspectives and consequences. The main aim is to reach a maximum flexibility of the product, which will be able to allow a businessman to keep up to date and remain competitive. Also, the software should be affordable, and this aspect will allow to concentrate on business tasks' completion from the very start.
Currently, there is a wide selection of software on the market. There are so many options to choose from: a variety of software development companies offer services on custom software development along with off-the-shelf solutions or SaaS (software as a service) applications. In this article let's take a closer look at the second option, reveal SaaS' benefits and discuss why it's a good alternative for custom made software.
Essence of SaaS
Software as Service (SaaS) has already moved the world of information technology. Gartner identifies SaaS as a software, which belongs, supplied and managed by one or several providers remotely.
Using SaaS, customers don't own the software but pay for the license and functionality that is really needed for doing business. Payment is made via web interface or an application for the use of the software solution only. The crucial distinction between the local software and SaaS is that local solutions are installed on the hardware, and should be managed and supported by your team. Cloud solution is provided to you as a service and doesn't require knowledge of development process, administration, backup and updating — all it is SaaS solution supplier's responsibility. Due to its convenience and ease of use, such a solution has conquered the wide popularity on the market. Let's take a look at the Worldwide Public Cloud Service Revenue Forecast (Millions of U.S. Dollars) by Gartner: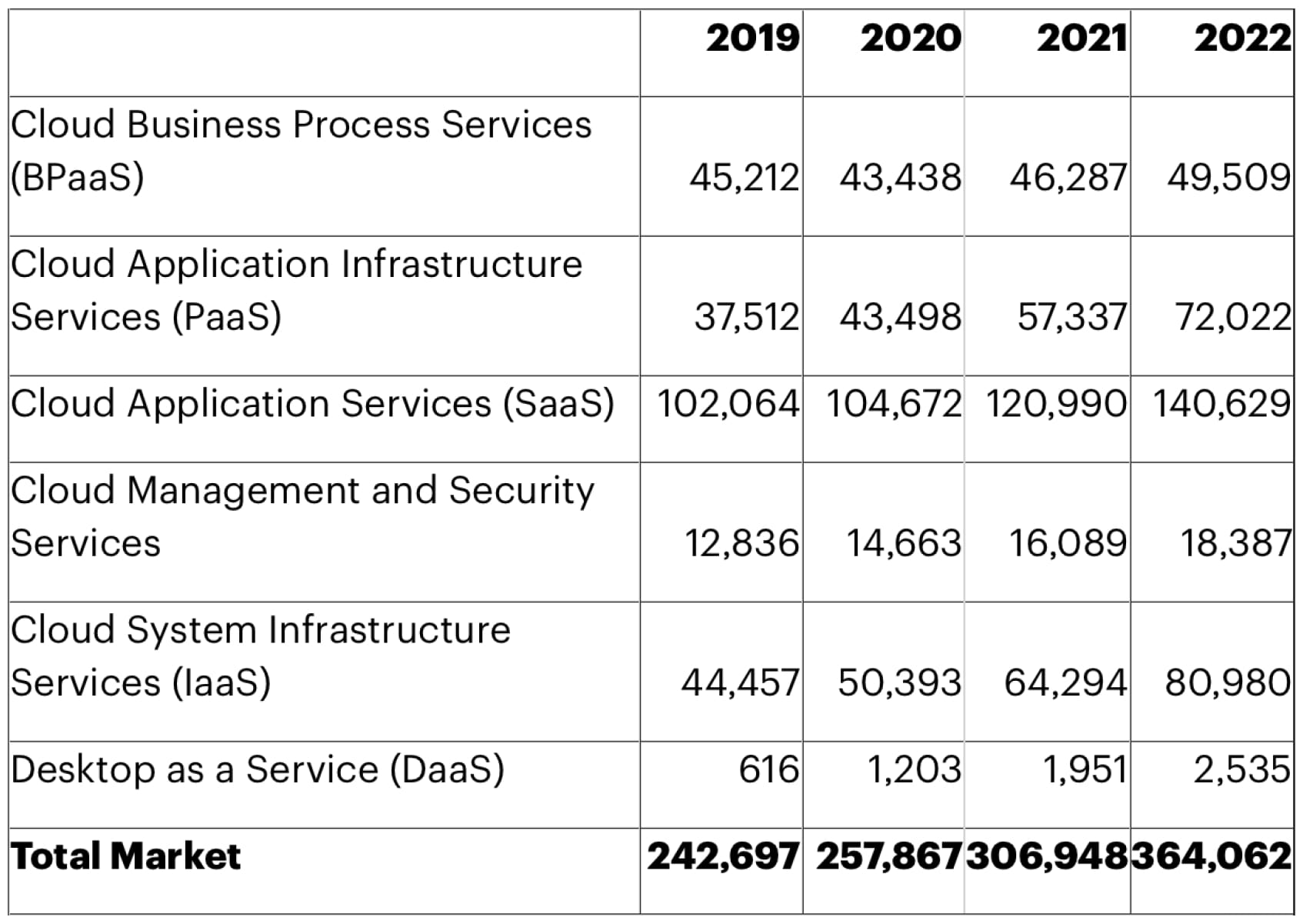 Source: gartner.com
Read Also: How to Build a Successful SaaS Product
Benefits of SaaS Software
Let's list the main benefits of software as service, which may be helpful for an entrepreneur to make an informed decision considering the choice of a software for the company:
Affordable Cost 
In most cases initial expenses for a cloud SaaS software are significantly lower than for a custom software. There is no need to proceed with long-lasting development of your own software at a high cost. Using SaaS and you pay only for what you really need, with no necessity to purchase the specific equipment and remuneration of technical specialists.
Maintenance 
Using a SaaS application, you have no need to deal with its maintenance, since it's the supplier's responsibility. Due to that, the risk of downtimes is minimal, as the supplier has a highly professional team, and as a rule, any issues are resolved in the shortest time possible.
Software Updating
All updates are carried out by the supplier of SaaS, the supplier is also responsible for delivering the latest version of the software to you.
Rapidly Scaling
There is no need for a long period of time for scaling the cloud solution. You do not have a necessity to purchase the additional equipment, which means that you don't have to waste time for buying and establishing the IT infrastructure. You may add more active users to the application in accordance with your business growth without taking care of the improvements of the hardware. Cloud systems were created for ensuring the maximum productivity and are adapted to your needs.
No Binding to a Concrete Workspace
If you have the Internet connection, you may access SaaS software from anywhere in the world. The users may have access to the necessary data and work from any place more efficiently, which gives an opportunity to work remotely with no need to apply additional solutions.
Weak Points of SaaS Software
From written above you can see the impressive list of benefits of SaaS applications, but they also have some weak points, which must be taken into account when you choose a platform for your business processes' automation:
Lack of Flexibility
In most cases, solutions offered by various SaaS systems are universal for a concrete business niche, and flexibility of them is relatively small. That is why when you choose the necessary software, you should select an option maximally suitable to your needs and requirements, and take into account the possibility of application modernization and development of the system in compliance with your aims in future.
Security
Using a cloud software you have to transfer your data to a vendor, which may be not safe in some cases, especially if you work with sensitive information. Since many businesses use cloud solutions, cyber criminals usually target specifically on them, so the possibility of data breach is higher than in case you choose in favor of a custom solution.
Less Opportunities for Integration
In comparison with other types of software, SaaS has less possibilities of integration with other systems, that is why it's vitally important to evaluate all the capabilities of the software to make an informed decision in favor of a SaaS solution.
Dependence on the Internet
This aspect is simultaneously an advantage and disadvantage. On one hand there is no binding to a concrete workspace, on the other you need a stable Internet connection to access the system. The speed of the system functioning also depends on the Internet speed.
Our Expertise
XB Software offers SaaS application development services and has an extensive experience of software as service creation. Let's take a look at SAAS CRM System and Online Appointment Service, developed by our company.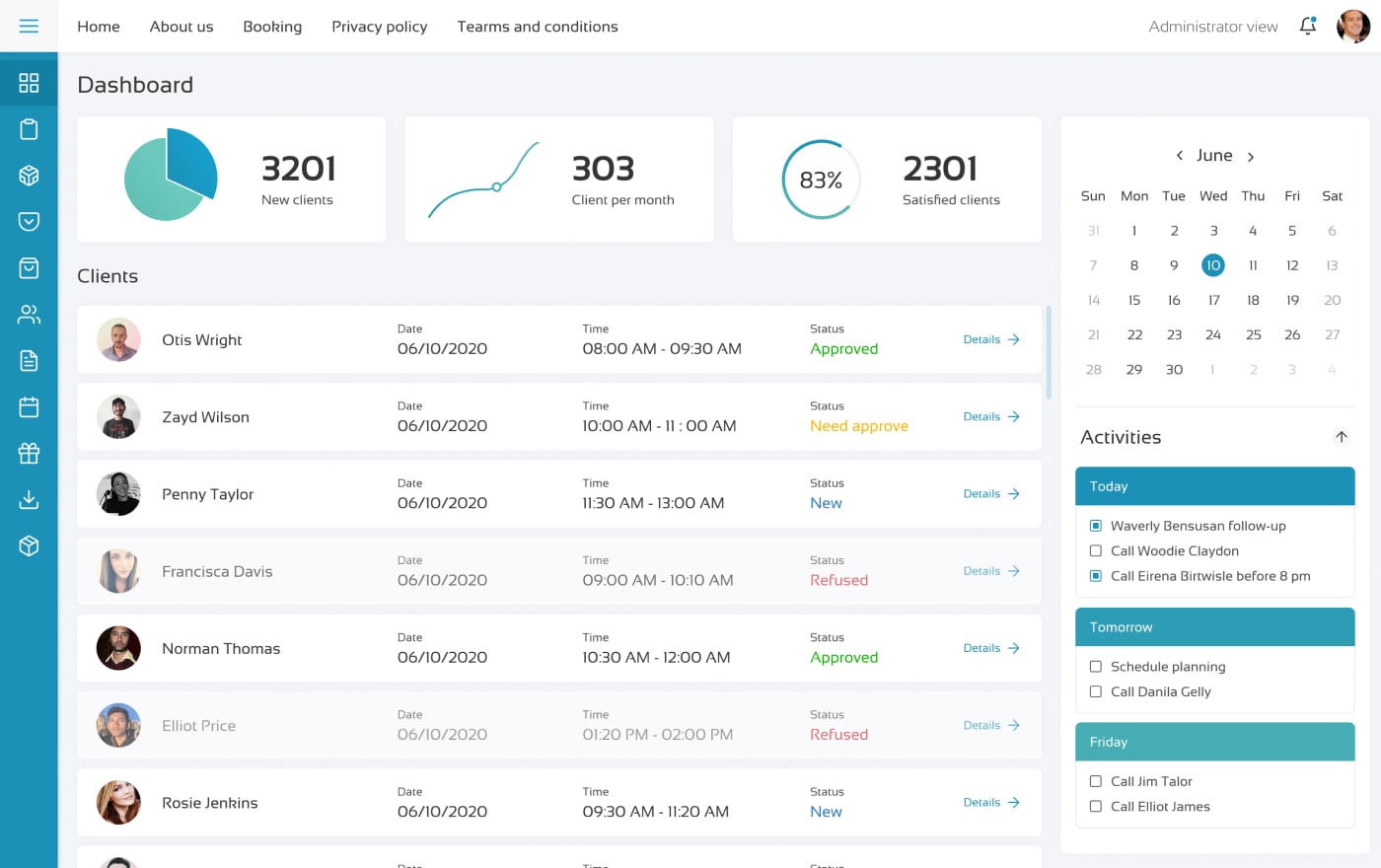 The main task of our team was to create the solution which would allow managers to interact with their customers most efficiently. Among the capabilities of the software there are such key features as customers' booking management, payments control, setting up appointments and tracking their statuses, quick report creation.
The SaaS software contains the customizable calendar integrated into the system, which facilitates the convenient search of the existing clients, allows to add new customers, set up appointments (including multiple appointments in various locations). Our user-friendly client management system also allows to send out and receive notifications and reminders considering the appointments' statuses and accept online payments.
Conclusions
Nowadays SaaS solutions are widely used by various businesses, which proves their usefulness and efficiency. The platforms have a wide array of features that are able to yield benefits to a company at a reasonable price and minimum efforts from the side of a customer using software. In fact, this type of software suits best to companies of small or average size. Meanwhile, custom made software is the best choice for big companies that need a wide set of features that SaaS is not able to offer, and really use all of them.
If you wish to use our broad experience for SaaS software development or custom software development, do not hesitate to contact us.