At XB Software, we have always believed that hard work pays off. And, we proved it again! Yes, XB Software has now been proclaimed as one of the top UI/UX Development Companies of 2021!
One of the review agencies, TopDevelopers.co has listed us as one amongst the best UI and UX designers of 2021. This accolade is a shining example of the hard work and dedication put by our professional design team in creating stunning and elegant UI/UX designs for our clients' web and mobile apps.
The credit for this recognition goes to:
Our well established processes;
Our drive for innovation;
Valuing the trust of our customers;
Always having the customer at the centre.
The above mentioned principles of work have made us a name among the efficient web developers and we are one of the leading Node.js Developers worldwide.
A quick client story:
Our team was excited when one of our clients came to us for developing an app for city services. The move was to create an online system for simplifying and automating communication between principal institutions and citizens.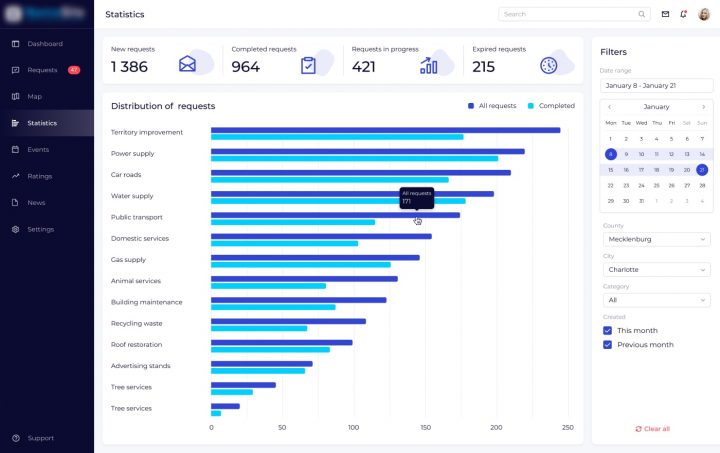 The client asked our web application development team to build an online solution that would allow users to prepare and send reports regarding particular civic issues to the municipal institutions. The client wanted an app that should decrease the amount of paperwork and enable a more efficient workflow.
Our expert developers have built a progressive web app (PWA) that works flawlessly on both mobile as well as desktop devices. You can find more such success stories on our portfolio.
PHP development is another area where we have proven our expertise. TopDevelopers.co has previously considered us among the top PHP development companies in the industry.
The team at TopDevelopers.co is a charm to work with. They assess the ability of an organization according to various parameters and guide them on how to improve their online presence by analyzing their market presence and guiding them in improving their ranks on the portal. This directly helps any particular IT service provider to reach out to potential clients.
When you visit our XB Software's profile on TopDevelopers.co, you will find that we have an equal focus on web and software development, mobile app development, and UI/UX design services. This proves that we can offer a complete package of web development services to our clients and provide them with a comprehensive working solution based on their business requirements.
Who is TopDevelopers.co?
TopDevelopers.co is a directory and review platform for IT service providers. They offer unbiased service among the leading research platforms online. By providing seekers with the listings of genuine and highly professional IT firms, TopDevelopers.co helps the service seekers in achieving their goals by hiring proficient technical service providers.